Design Portfolio
7 Projects You Need In Your UI/UX Portfolio To Get New Clients Quickly
Get a list of of web design projects to add to your UI/UX portfolio. Attract new clients and get more UI/UX design leads.
December 10, 2021
Build Your Portfolio
Art by Diogo Kpelo
Whether you want to expand your client base or land your dream design job, you need to make sure your UI/UX portfolio looks great first. Clients will judge you based on what you show them. As a UI/UX designer, your portfolio is your primary tool, so it's essential that it meets client standards.
Not only does your design portfolio need to look good, but it should also be complete, too! Many clients want flexible designers who can tackle different tasks and projects. So how can you maximize your portfolio to help you gain even more work opportunities?
In this article, we'll look at the seven types of projects you should include in your UI/UX portfolio to help you land new clients and even more design jobs in 2022. Ready? Let's go!
1. An e-commerce website
E-commerce is on the rise. That means more companies are likely looking for designers to make their brands stand out online.
An e-commerce website is hard to design. That's because apart from the aesthetics, you have to think about how the website works. An e-commerce website should function as an online extension of a physical store. It should allow visitors to put products in their cart, purchase them, and pay for them while offering a seamless user experience.
You must also understand the wants and needs of the e-commerce website's target customers. That will enable you to prioritize the user experience so you can optimize conversions. Should the checkout page include a back button? Should there be multiple call-to-actions, or just one? All these are questions you should be able to answer when creating an e-commerce website.
In other words, if you include an e-commerce website in your portfolio, you'll definitely wow your potential clients.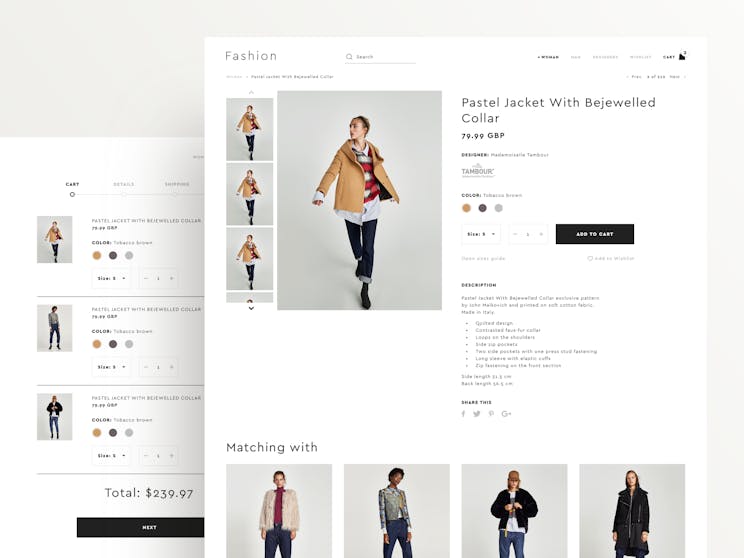 gde.design
2. A SaaS Website
A software-as-a-service (SaaS) website is precisely that: a website that sells software as a service. That means that like e-commerce websites, the website doesn't just have to look good. It also needs to sell the product effectively.
According to Spot On
, a great SaaS website has the following characteristics:
It has a responsive design. Visitors should be able to access the site across devices, including mobile.
Its design is data-driven. Designers should assess the site's effectiveness as they go along, making the necessary changes along the way.
It should take SEO into account. The website should be discoverable when consumers query search engines.
It should focus on the right audience. The website should use its target audience's preferred tone and contain content the audience will like.
It should offer a free trial. SaaS sites should give visitors the option to try out the product. That option should be visible and easy to find.
It has a compelling call-to-action. The CTA is the company's final instruction to the website visitor. Visitors should understand the CTA and be able to follow it easily.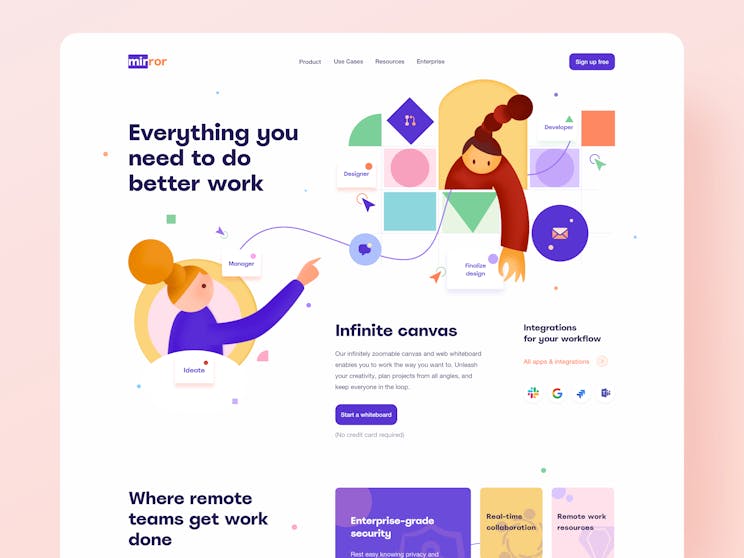 Art by 阿凡达
Design skills are not enough to create a SaaS website. You need to understand how specific consumers behave so that you can encourage purchases and sign-ups. If the company sells a timesheet app, you need to know employers' pain points and address those on the website to get results.
3. Artist/Personality Website
Potential clients will also look at your ability to design websites that center on specific personalities. These websites exist to inform fans about developments in the artist's personal and professional life and promote the artist's brand and engage with fans.
Designing this type of website requires that you understand the artist's brand. Visitors (who are likely avid fans) should recognize this when they land on the website. The website is the artist's extension of themselves. It should encapsulate who they are.
The site should also be user-friendly, easy to navigate, and have a logical layout. Finally, make sure you include social media buttons on the site so that fans can easily find the person elsewhere online. Include these websites in your portfolio, and you'll prove that you're a designer who knows PR.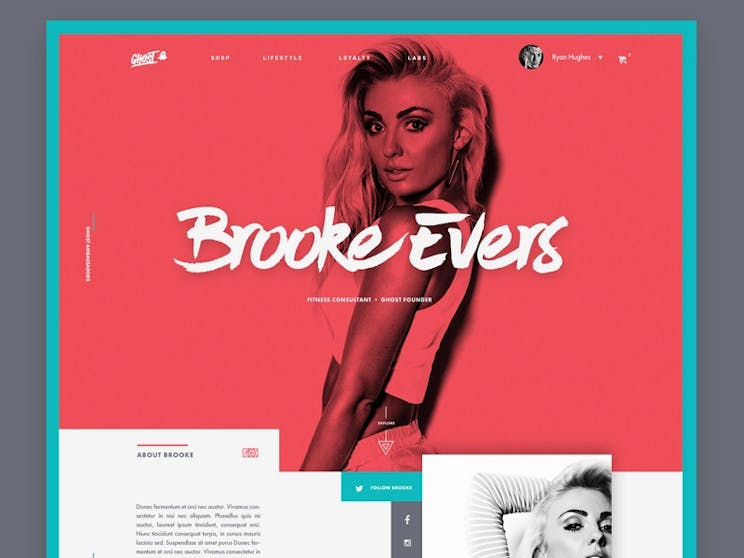 Art by Nick Franchi
4. Your Personal Portfolio Website
It's always a good idea to have an online version of your design portfolio. That gives clients an easy way to find all your work samples in one place. It also serves as an extension of your brand and an opportunity to show off your skills.
You should invest some time and effort in designing your portfolio site. It might be the first thing potential clients see. When that happens, you want them to have an excellent first impression.
So pay attention to detail, make the layout logical, and consider user experience. In other words, ensure your site shows you off at your best.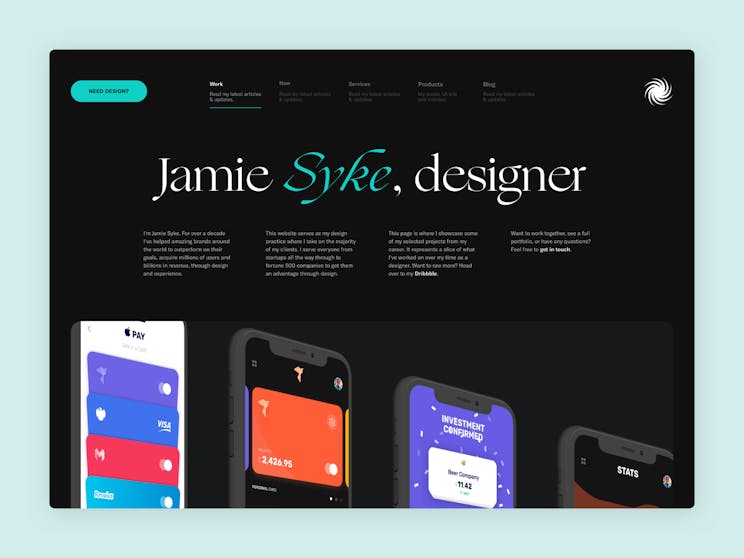 Art by Jamie Syke
5. A Blogging Website
Blogging is now an essential part of many companies' marketing strategies. That means when potential clients look at your portfolio, they will expect to see blog websites included.
You'll show yourself to be a great all-rounder if you include this type of website in your portfolio. That's because it means you know how to create a comments section that's user-friendly, mix pictures with text, and increase conversions with opt-in forms and pop-ups, all while offering useful and engaging content.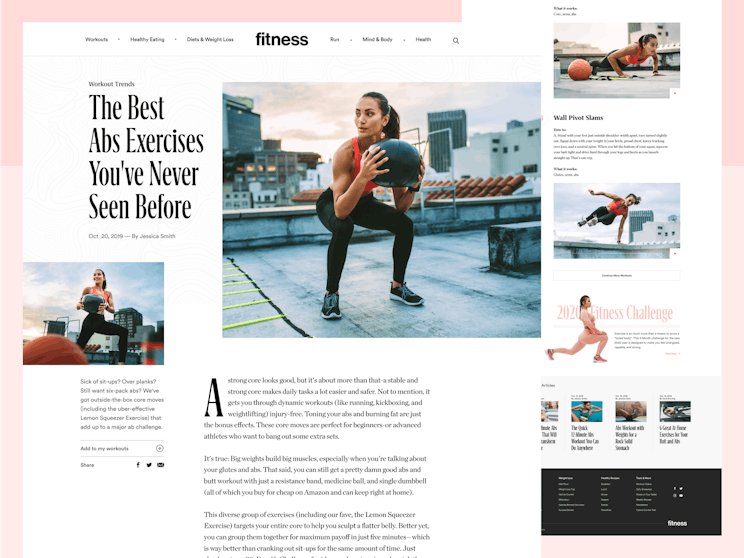 Art by Jason Kirtley
6. A website for a specific product
A website that showcases a specific product is different from a traditional eCommerce site. That's why it's a good idea to include one in your portfolio if possible.
With this type of website in your design portfolio, you prove multiple things to potential clients. First, you show that you know how to create a logical layout that makes the product stand out.
Second, you indicate that you can choose appropriate images that put the item in the best light. Finally, you show that you know how to create a seamless user flow that leads to conversions.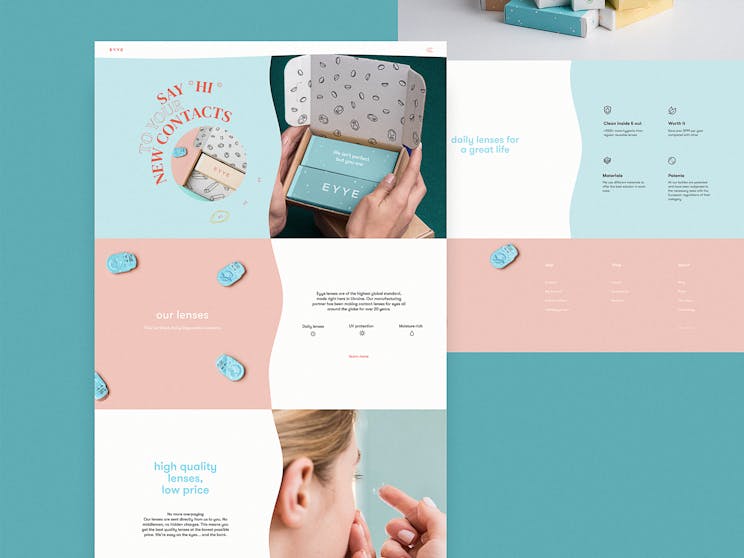 Art by tubik
7. Digital Agency/Consultancy Website
Products and people are not the only things you should be able to sell. If you want to land that job, you need to show potential clients you can sell services, too.
Including a digital agency or consultancy website in your portfolio will prove your ability to create websites that showcase a brand's personality and culture. That shows that you know how to build a deep understanding of a client and their audience and craft a website that effectively communicates their message.
If your consultancy website drives conversions, potential clients will also see you as a designer who understands how to get results.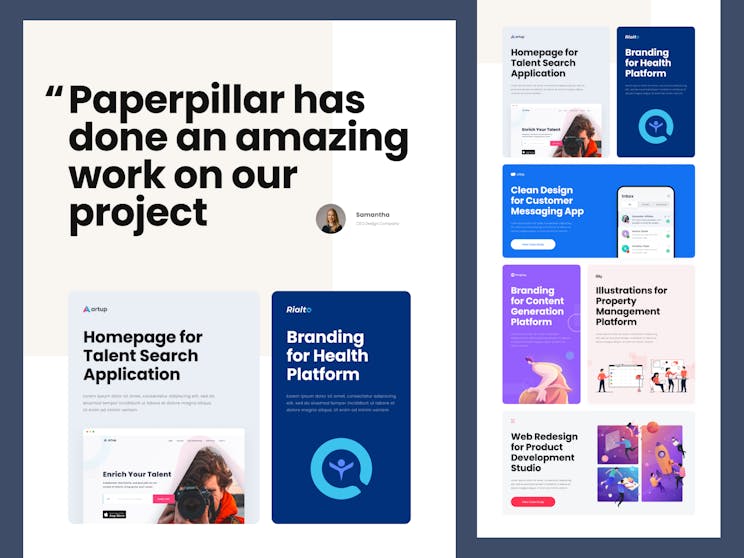 Build a UI/UX portfolio that gets you hired
Designers need to show flexibility to land the best jobs. By offering a varied UI/UX portfolio, you can give prospective employers and clients the impression that you're that person. If you're a new designer and haven't done work on some of these yet, don't worry. You can always create concepts instead to show what you're capable of.
Now it's over to you. Just put in the time and effort, show your talent, and you'll see you'll be landing your dream job in no time.
Build your portfolio & unlock new 
opportunities with Dribbble Pro
Learn more now
Create an instant portfolio in minutes

Exclusive access to 1000s of leads

The #1 creative community online

Promote your goods seamlessly