Design Portfolio
How To Build A Design Portfolio That Clients Love (Webinar Recap)
Get essential design portfolio takeaways from our latest webinar with former Google hiring manager and Playbook CEO, Jessica Ko.
December 10, 2021
Build Your Portfolio
When Jessica was part of Google's early design team in 2007, she interviewed, reviewed, and hired hundreds of designers. Later, she became the Head of Design at Opendoor, overseeing the multi-billion dollar company's product and brand design and building the design team from scratch. Needless to say, she's reviewed tons of design portfolios, from abysmal to freaking awesome.
Here are some top takeaways and quotes from the event. You can follow along with the full, 50-page lecture notes at Playbook.com/p/workshop2021.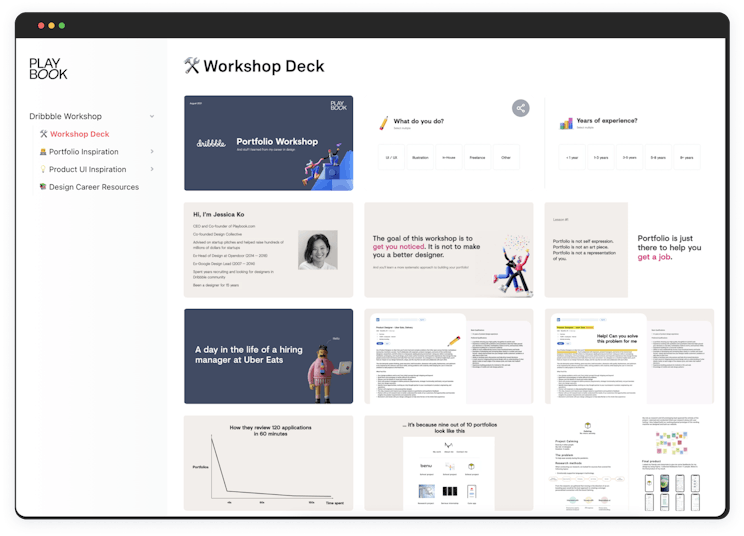 dribbble-workshop
3 essential portfolio tips & takeaways
A portfolio is not a form of self-expression. A portfolio is not an art piece. A portfolio is not a representation of you. A design portfolio exists to help you get a job. "You're the product. Your portfolio is just packaging."
What matters in a job posting is often not the years of experience or skills you have, but the problem space that the hiring teams are in, and whether you're capable of solving that problem.
In any large company, hiring managers often have less than an hour a month to review hundreds of applications. The first 6 seconds make or break an opportunity. Make sure you grab someone's attention by hitting them with visual awesomeness right from the start.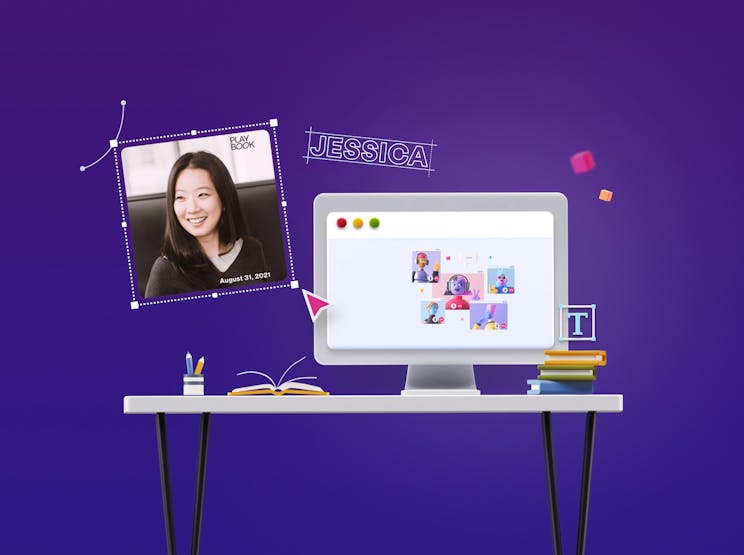 Build your design portfolio like a pro
Follow these four steps to help you build a professional design portfolio that gets you hired.
✔️ STEP 1:
Pick a recognizable brand. Interested in working at Uber Eats? Pick Doordash. Why? "People are drawn to brands and problem spaces that they're familiar with. It'll grab their attention immediately."
✔️ STEP 2:
Pick a small UX problem in that space. "The best places to find these problems are consumer review websites where real users complain about real problems.''
✔️ STEP 3:
Find patterns and inspirations from existing products. "Try not to reinvent the wheel. The best solutions are often boring."
✔️ STEP 4:
Prototype. Make it move. "Human vision is drawn to things in motion. This ability helped us hunt for food and protected us from predators. We don't live in the jungle anymore, but some of that natural biology still remains in us today."
✔️ RINSE & REPEAT
Rinse and repeat until you're satisfied with the solution. Once you're satisfied with the final prototype, go ahead and fill it in with your design process, wireframes, and screenshots of sticky notes.
"Hiring managers look for people who seem warm and competent."
What comes next after the first 6 seconds of dazzle? "Hiring managers look for people who seem warm and competent." This lesson was so important, in fact, that Jessica spent the whole second half of the workshop teaching how to let personality and competence come through your resume, writing, and portfolio.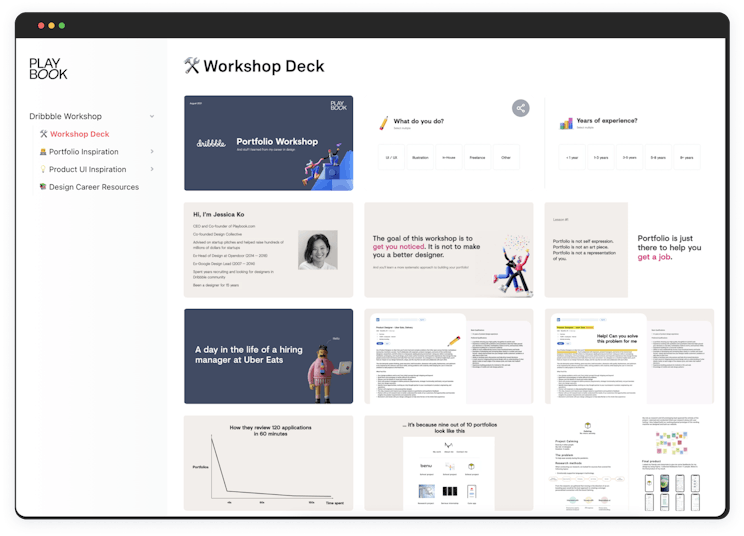 dribbble-workshop
That's it! The workshop was a blast.
Dribbblers, be on the lookout for future workshops on Dribbble.com/learn and sign up on Playbook.com if you'd like 4TB of free storage for your creative files (exclusively offered to designers). 
Thanks to our friends at Playbook for sponsoring this blog post!
Build your portfolio & unlock new 
opportunities with Dribbble Pro
Get started
Create a client-facing portfolio instantly

Get hundreds of new leads weekly

Connect with the #1 creative community

Promote your goods seamlessly