Design Portfolio
The UI/UX Designer Cover Letter Guide
Learn how to write your best UI/UX designer cover letter to land your next job. Get inspired by top UI/UX cover letter examples and templates.
October 21, 2022
Browse UI/UX jobs
Art by Uran Duo
Designers often put a lot of thought and effort into their portfolios — and with good reason. A great portfolio showcases your abilities and processes as a designer. But in a job hunt, these essential elements are only two legs of a stool. The third leg is a great UI/UX designer cover letter. For UX designers in particular, where great written communication is necessary for user research and collaboration, cover letters are crucial to getting hired for work.
What is the purpose of a UI/UX cover letter? 
Put simply, a cover letter helps bridge the gap between a hiring manager or recruiter and your designer resume and portfolio. A great cover letter captures the attention of the reader and compels them to take a closer look at you and your work. 
Cover letters let you address the company directly, highlight your experience and personality, express your enthusiasm for the company, and convince the person reviewing your application why you're a great fit for the position. That said, designers ask this question time and again:
Do we really need to send cover letters? Isn't a great portfolio and resume enough?
As designers, we expect our work to speak for itself. And when we've created an excellent UI/UX portfolio, it most certainly does. When the portfolio is paired with an excellent resume, it creates a duo that results in invitations to interviews. But in a sea of stiff competition, where hiring managers receive dozens or hundreds of resumes and portfolios for every posting, a compelling cover letter might be the key element that sets you apart. 
What are the most important elements of a UI/UX cover letter?
Generally speaking, there are some fundamentals that every cover letter should include, which we'll get to in a moment. That said, there are exceptions. Cover letters are personalized to the company or individual you're applying to, so you'll need to do your homework before writing them. 
Many companies tell you what they want to see in a cover letter. If this is the case, the most important elements should flow from these instructions. Use them as guideposts for how you structure your letter and what to include. 
Otherwise, your UI/UX cover letter should include:
A header with all your contact information and relevant links, including your full name, email address, and a link to your portfolio (phone number, optional)
A personalized salutation followed by a strong first sentence that catches the reader's attention
A brief explanation of why you want the position you're applying for
A brief explanation of why you believe you're a great fit for the job
A sign-off that thanks the reader and invites them to contact you
How to write a cover letter for a UI/UX design position
Along with the elements listed above, there are a few key concepts to keep in mind when you set out to create a design cover letter. As a cover letter is a written document, many of these concepts apply to principles of strong writing. For example:
Be concise and use plain, simple language
Strive for clarity and simplicity
Write to your audience (your potential future employer!)
Writing principles aside, as a UI/UX designer, you should give your cover letter the same design considerations you give your portfolio and resume. 
Use the same fonts on your cover letter that you do on your portfolio and resume. Likewise with any colors or logos you've created as part of your personal brand. Recruiters and hiring managers should recognize your cover letter, resume, and portfolio as a trio that represents only you.
All that said, let's start the writing process.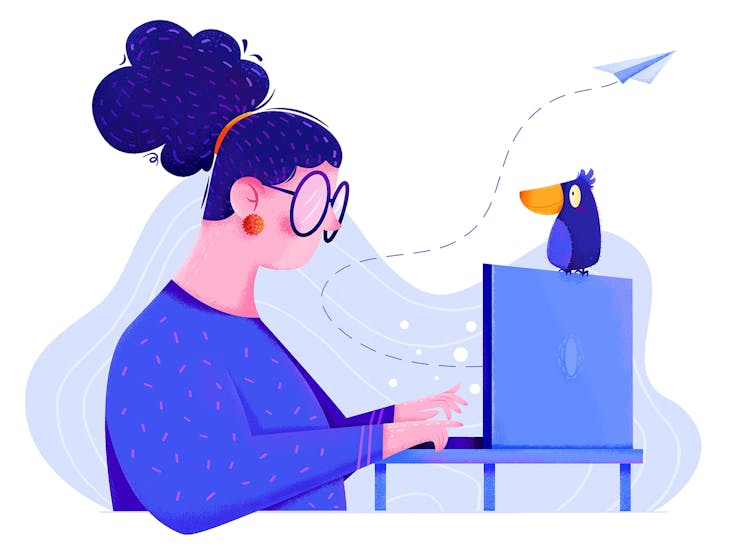 Art by Uran Duo
🔍 Research the company and job description
All good writing starts with research. Since cover letters are personalized documents, you should spend a good amount of time reading and re-reading the UX designer job description as well as everything you can about the company. Take notes about anything that stands out to you that you might want to mention in your letter. 
For example, if one of the company's values appeals to your own, make a point to include it in your letter. Similarly, if there's something in the job description you can connect with past work or if it simply ignites your enthusiasm, write it down. If the company puts a heavy emphasis on UI design principles, make note of it and address it in your letter.
Finally, while you're researching, pay close attention to the brand voice of the company. This will come in handy a little bit later.
📝 Create an outline and draft
Once you're finished researching, it's time to start writing. If you're intimidated by the blank page, outlining is a great way to begin. Pulling from the elements discussed earlier, your outline should consist of:
An introduction
A paragraph explaining you want the UI/UX position you're applying for
A paragraph explaining why you believe you're a great fit
Closing remarks
Once you've jotted the above outline, go back to the notes you took and start fitting them into place. Think about what you want to say to address the hiring manager and recruiter as well as the company. At this stage, don't polish every word — simply get your thoughts on the page.
✍️ Write and refine your cover letter
With everything outlined and the research done, you can start the writing process. This may take a few tries, but keep at it until you've polished what you want to say to a fine point. Whether you're applying to a UX design internship or a senior position, always write with confidence. Let the reader know with conviction that you're the right person for the job. 
Coming back around to the brand's voice: Try to reflect the same voice in your writing.
While you should certainly be yourself in your writing, cultural fit is an important aspect of finding the perfect job. If you're applying to a quirky startup with a fun voice, lean towards casual in your writing. On the other hand, if you're applying for a UI/UX position at a law firm, you'll probably want to be a little more professional. 
✏️ UI/UX design cover letter template 
If you're feeling stuck on writing your cover letter, a good template can help get things moving. When you're finished writing your cover letter, maybe with the help of one of the templates or examples below, check out our collection of resume templates too.
Here's a UI/UX design cover letter template you can use as a starting point:
Dear [Hiring Manager's Name],
As a passionate UI/UX designer and a fan of [Company Name] for many years, I was thrilled when I saw that you were searching for someone to fill the role of [Job Title]. I'm confident that the skills and experience I've honed throughout my career are exactly what you're looking for. 
I have years of experience working in the design field, most recently at [Company Name], where I worked my way up to [Job Title]. While I was there, I sharpened my skills by creating and improving design systems, leading user research teams, and pushing design thinking across the product team. And in fact, I lead the UI and UX efforts for [Project Name], bringing [Company Name's] conversion rates up by [Percentage].
I'm certain that my expertise in turning user pain points into solutions with real results makes me a great fit for [Company Name]. More than that, I'm excited about the growth potential of being the new [Job Title].
I'd love to hear more about this amazing opportunity and talk to you and the design team about how my experience can help. I've added my resume along with a link to my [Portfolio Link].
Thanks so much for reading! I'm looking forward to hearing from you.
Sincerely,
[Your Name]
UI/UX designer cover letter examples
If you're still feeling a little stuck, here are a few great examples of cover letters to draw inspiration from. 
✐ UI/UX internship cover letter example
Hello John Dribbble,
As I'm nearing the end of my coursework, I began a search for a place to apply my new skills. As a fan of [Company] for many years, I was delighted to find you were offering an internship for UX design candidates. 
In 2023, I'll graduate with a Bachelor of Science in Human-Computer Interaction and Graphic Design. Aside from my coursework, I've also completed several personal passion projects that demonstrate how I approach design problems with the user in mind. Even though I've sharpened my practical user interface design skills with software, I bring an emphasis on design thinking and user research to every project I work on.
My passion for UI and UX is a big part of why I'm a loyal [Company] customer. In fact, this same appreciation for usability is what led me to study UI/UX design. It would be a dream come true to learn from [Company's] design team and begin my UI/UX journey by growing in exciting and innovative ways. 
Again, I'm delighted about this opportunity and I'd love to speak with you about what [Company] expects from its UI/UX interns. I've attached my resume as well as a link to my portfolio that includes course and personal projects. Thank you for your consideration, and I hope to hear from you soon.
Best regards,
Jane Doe
✐ Entry-level UI/UX designer cover letter example
Hi John Dribbble,
I'm excited to write to you about the UI/UX Design opportunity you recently posted on LinkedIn. As a graphic designer with three years of experience, I've found myself drawn more and more to user-focused design.
Over the last 2 years with [Company Name], I've shifted from graphic design to web design, focusing on creating rich user experiences and pixel-perfect interface designs. As an intrinsically motivated person, I took it upon myself to improve my UX skills and convinced [Company Name] to implement user research, prototyping, and design thinking into its design process. Most recently, I was the key designer on [Project Name], where my push for UX helped the project succeed wonderfully.
I'm confident that my enthusiasm, drive, and relevant design experience will enable me to excel in this opportunity with [Company]. Even though I started my career in graphic design, I feel my level of commitment to the user is what [Company] is looking for in a UI/UX Designer. 
You'll find my resume, portfolio, and contact information attached. I'd appreciate the opportunity to speak with you more about the position and explore ways my skills and experience can help [Company] succeed in its UX efforts. Thanks so much for your consideration. 
I hope to hear from you soon,
John Doe
✐ Mid-Senior level UI/UX designer cover letter example
Hello John Dribbble,
I was recently looking at the new web design for [Company Name]. As an experienced UI/UX designer, I was so thoroughly impressed that I went searching to see who designed it. Imagine my excitement when I found my answer and that [Design Agency] was hiring for a new Lead UX Designer.
Over the last 6 years, I've honed my skills in web design, UI, and UX. In my current position, I've helped [Agency Name] launch dozens of successful e-commerce sites. Most recently, I was key in the redesign of [Company Name's] website. Wireframing, interface design, and user research were essential skills I brought to those projects. I'm also well-versed in front-end development skills, including HTML, CSS, and JavaScript, making me an excellent collaborator with development teams on web projects.
Given [Design Agency's] focus on creating great user experiences for the web, I truly believe I'm an excellent match for the Lead UX Designer position. More specifically, as [Design Agency] moves into the e-commerce space, I'm certain my expertise and leadership can help this transition succeed. 
I'd love to speak with you about this opportunity and explore ways I can help [Design Agency] grow in the area of UX. You'll find my resume attached as well as a link to my portfolio with case studies. Thanks for reading, and I look forward to speaking with you.
Best regards,
Jane Doe
What is the most important part of a cover letter?
Some would argue that the most important part is the introduction. And without a doubt, you should strive to write an intro that hooks the recruiter's or hiring manager's attention. 
But a good hook without an excellent letter body won't get you far. And in fact, some readers who parse a lot of cover letters may skim or skip over the introduction to get right to the heart of the matter: Your skills, experience, qualifications, and why you want the position. 
How long should my cover letter be? 
As with your resume and portfolio, brevity is key in your cover letter format. Aim for succinct paragraphs and get straight to the point. In almost all cases, your cover letter should fit on a single page. 
Remember, cover letters serve as the entry point to your resume and portfolio. The objective is to get the hiring manager or recruiter to read your letter and start learning more about you and your work. 
In other words, your cover letter is a call to action. 
Find your next best UI/UX design job 
Whether you are just beginning your career or you're a seasoned designer, writing cover letters is a skill you shouldn't ignore. A great cover letter often results in you sitting in front of a creative director and answering job interview questions as opposed to your job application sinking to the bottom of the stack. 
If you're looking for your next best UI/UX design job, Dribbble's job board is the perfect place to hone your newfound skills and land amazing opportunities. So what are you waiting for? Your new job is waiting. Get your word processor ready and start browsing UX designer job postings today.
Build your portfolio & unlock new 
opportunities with Dribbble Pro
Get started
Create a client-facing portfolio instantly

Get hundreds of new leads weekly

Connect with the #1 creative community

Promote your goods seamlessly