Design Portfolio
9 Design Portfolio Examples With Strong Personal Branding
Get inspired by design portfolio examples that showcase a strong personal brand. Learn how to incorporate your personal brand into your portfolio.
December 10, 2021
Create your portfolio
pinquitte
This article was sponsored by our friends at Squarespace—the all-in-one solution for anyone looking to create a beautiful website.
As a creative professional, strong personal branding is amust. Not only does it demonstrate your unique value to prospective clients, it also serves as a key differentiator from other creatives in your space. Strong personal branding makes you and your work that much more memorable, while adding credibility to your craft.
"Strong personal branding makes you and your work that much more memorable while adding credibility to your craft."
So, how do you effectively incorporate personal branding into your own portfolio site? For starters, it goes way beyond the logo. It's all about how every element comes together to communicate your message and paint a picture of who you are—from carefully selecting a color palette, typography, your choices in photography, copywriting, and even the projects you choose to showcase.
Today, we're highlighting nine stunning Squarespace portfolio sites that each exemplify powerful personal branding. As one of the best portfolio website builders for designers, much of what these designers were able to achieve was done through simply selecting a Squarespace template that set them up for success. So, without further ado, here's how these creatives have used Squarespace's powerful customization tools to showcase an authentic visual brand.
1. Designer & Lettering Artist
As a lettering artist and designer, Lauren Hom's personal branding does a great job of reflecting the distinct style of her work. For starters, her logo is custom-lettered. Plus, you'll find expressive lettering styles, illustrations, and typography sprinkled thoughtfully throughout her site. As a client, you can immediately understand what to expect from Lauren if you were to hire her.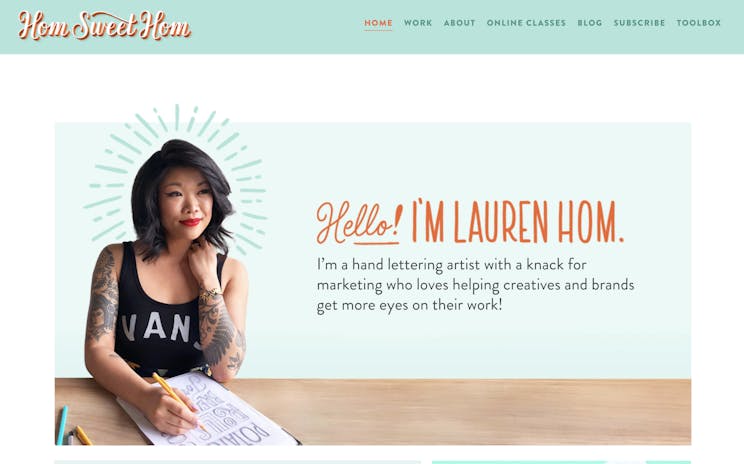 2. Senior Presentation Designer & Illustrator
Ellen Skye Riley's portfolio is a perfect example of branding that gets personal. Front and center of her homepage, you'll find an illustrative self-portrait that shows off her illustration skills while also giving a glimpse into her personality. You'll also notice the orange and blue tones in the illustration are consistently used throughout the rest of her site. The typography choice in her wordmark logo matches her website's headlines, adding to a consistent brand look and feel.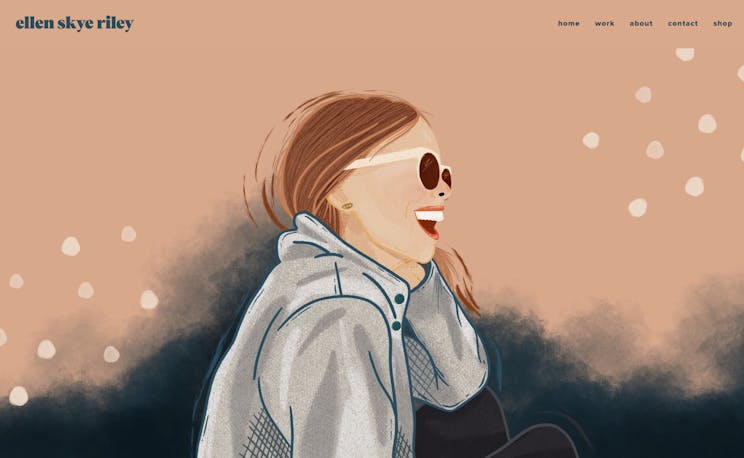 3. Brand Consultant & Copywriter
As a brand consultant and copywriter, Hannah Silverton has effortlessly succeeded in showcasing her expertise through her website's visual branding. Muted tones and refined serif typefaces lay the foundation of her brand, while the photography choices throughout all carry a cohesive look and feel. For any potential client, this certainly builds trust and credibility in her work.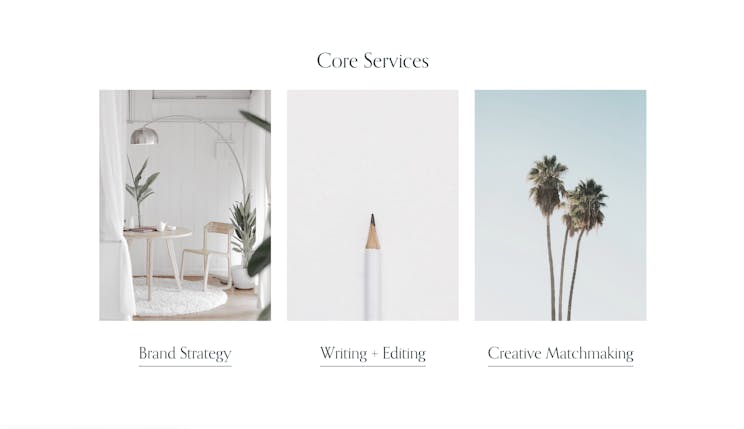 4. Product Designer & Creative Director
You don't always need to overtly assert your branding to make an impact. Personal branding can be incorporated subtly, and still make for a memorable portfolio. Moises Hernandez's website is a great example of branding that lets the work speak for itself and take center stage. Instead of overshadowing his work with loud typography and color choices, photographs of his work act as an integral part of his visual brand.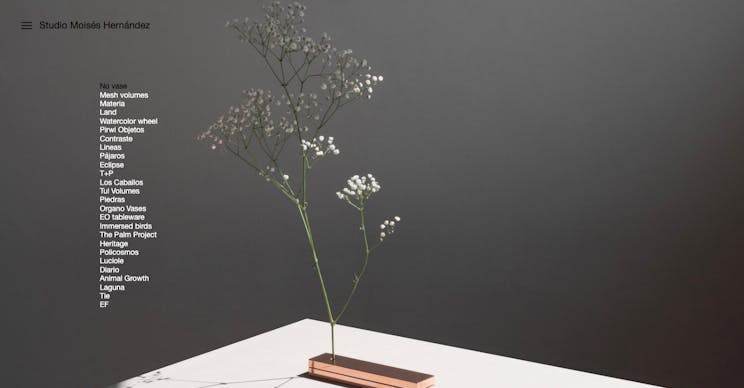 5. Designer
Coastal, tropical vibes are what defines Cass Deller's personal brand. Not only is this the overarching theme of her work, but it also shines through the design decisions made in creating her portfolio website. Cass's work is heavily inspired by her home in the Sunshine Coast, Queensland, and her website successfully tells this story through a heavy palm tree motif and colorful photographs of her watercolor work.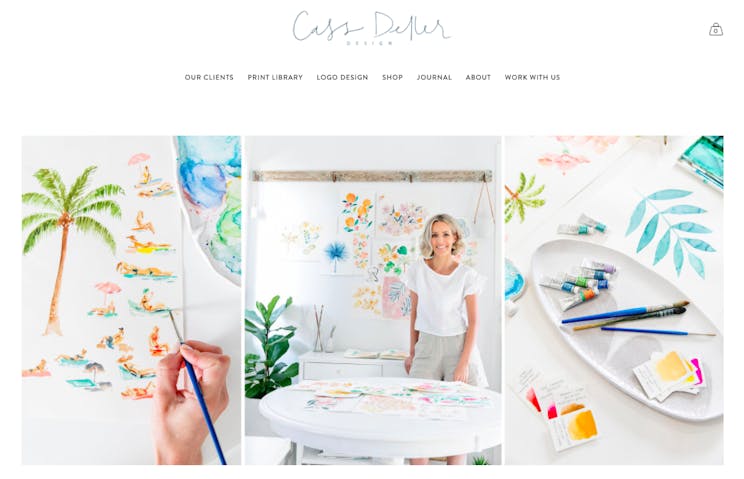 Photos by Mezic Studio
Create an instant portfolio that puts your best foot forward on Dribbble.
Get started
6. Artist & Designer
Land on Aaron Lowell Denton's portfolio website, and you'll immediately be transported to a groovy, psychedelic wonderland. This is another great example of letting the work speak for itself. Aaron's logo design is only there to support his distinct design style, and the work showcased serves to attract a certain type of client looking to achieve this same style.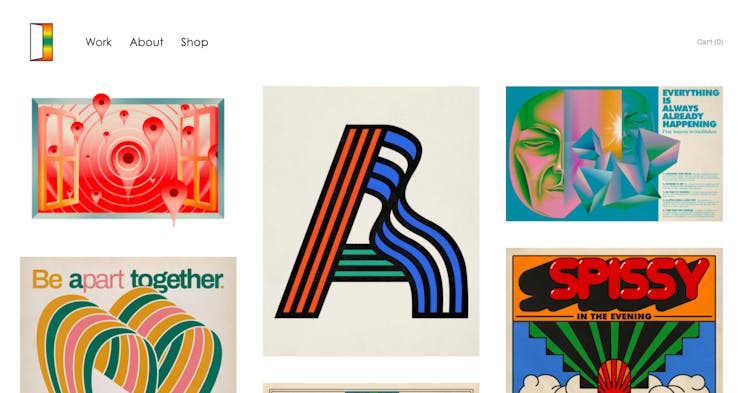 7. Photographer
Calm, timeless, and elegant vibes define Marie Keverdenius' photography business's branding. Founder of Verdenius Photography, Marie thoughtfully chose neutral colors and classic serif fonts to support her visual brand. These branding choices authentically reflect the style of work she's an expert at, and help to give clients a taste of what they can expect with her photography.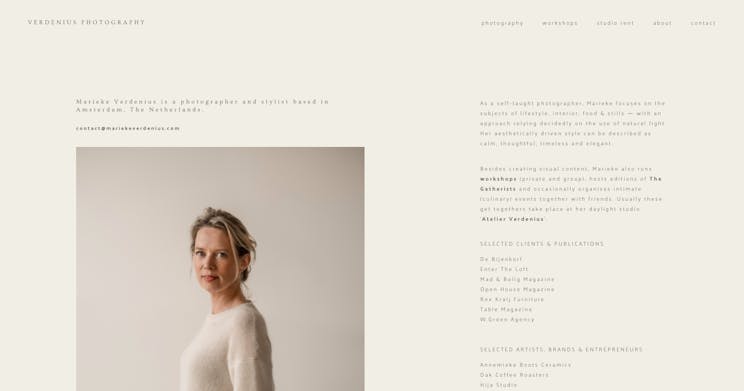 8. Animation Director
Jamie Wolfe's animation portfolio screams high energy, loud, and offbeat. Her hand-drawn style, wild, untamed lines, and bold color palettes are all defining characteristics of her personal brand that are reflected throughout her website. Even the copywriting in her About section supports her branding: "Through her frenetic, animated characters, she seeks to tap into the raw volcanic energy that simmers within all of us."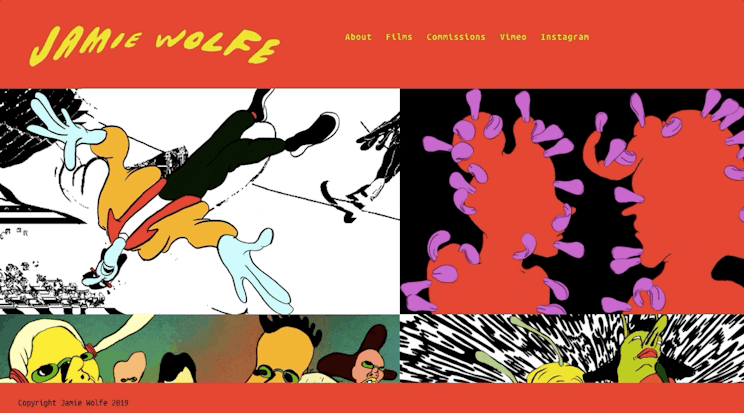 9. Potter
The personal branding of Samuel Sparrow is made up of organic colors and photography that reflect the style of pottery he creates. The hand-made feel across all elements of the website reinforces simplicity, functionality, and beauty. This is also what you can expect from the pieces Samuel creates.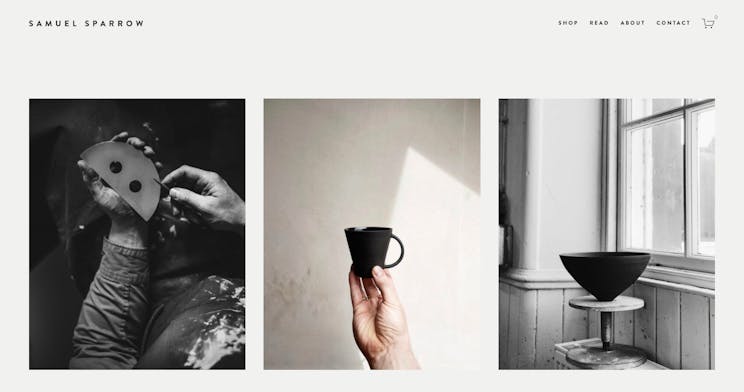 Use personal branding to strengthen your design portfolio
When it comes to your design portfolio, don't underestimate the importance of personal branding. Using Squarespace, you have the power to customize a portfolio template that authentically represents your brand, and showcases your work in the best possible light.
To wrap things up, here's a quick rundown of what to consider when designing your own portfolio on Squarespace:
Keep it consistent: Ensure colors, typography, and any visuals carry a consistent look and feel across your whole website.
Be authentic: Don't shy away from injecting your personality into your website's branding, while also pulling from the overarching themes of your work.
Consider your audience: What do you want to communicate to your visitors? Use your branding to tell a story that captivates potential clients, and paints a picture of who you are as a creative.
Start your free Squarespace trial today! And when you're ready to launch your own website, use our dedicated code "DRIBBBLE" for 10% off.
Build your portfolio & unlock new 
opportunities with Dribbble Pro
Get started
Create a client-facing portfolio instantly

Get hundreds of new leads weekly

Connect with the #1 creative community

Promote your goods seamlessly