Design Hiring
How to write a UX designer job description (template)
Learn how to write the perfect UX designer job description to attract top candidates. Use our free template to write the best job description for your open role.
September 15, 2021
Hire Designers Today
Art by tubik.arts
A UX designer is one of the most important roles on a design team. They're responsible for ensuring that the designs your company produces meet the needs of users while also achieving business goals.
If you're hiring for the role, it's important to take the time to craft an excellent UX designer job description to share on design job boards and with recruiters. Use the template below as a starting point to write a job description that will attract the most qualified UX design applicants.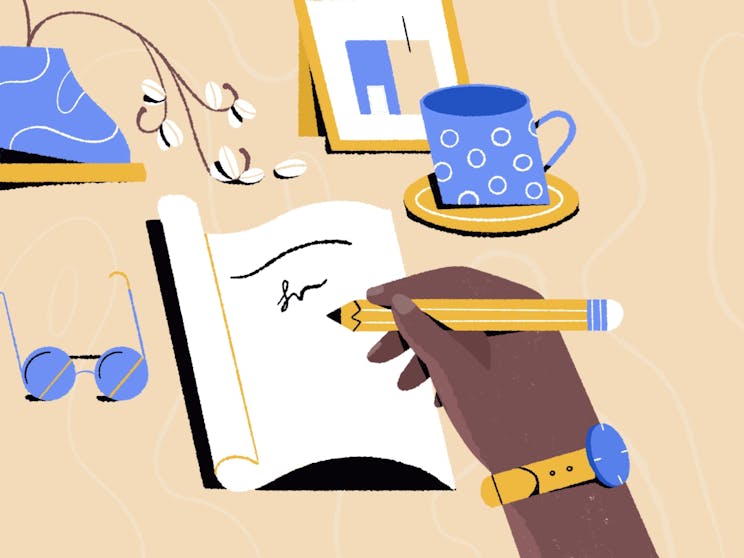 Art by Bulma illustrates
What is a UX designer?
UX designer (or User Experience designer) can be used as a catch-all term for several different positions, ranging from UX researcher to product designer. Because of the variety of positions that can be referred to as "UX designer," it's important to first define what a UX designer position is at your company. 
At smaller companies, UX designers are often generalists who can handle the entire UX process, from user interviews to creating wireframes to UX testing for final designs. Some smaller companies may even combine the UX and UI designer roles, hiring UX/UI designers who work on projects from start to finish.
At larger companies, however, you're more likely to have specialized UX roles that may include:
UX Researcher
UX Strategist
UX Analyst
Information Architect
Product Designer
You may also find some generalists at these companies, but they're less common.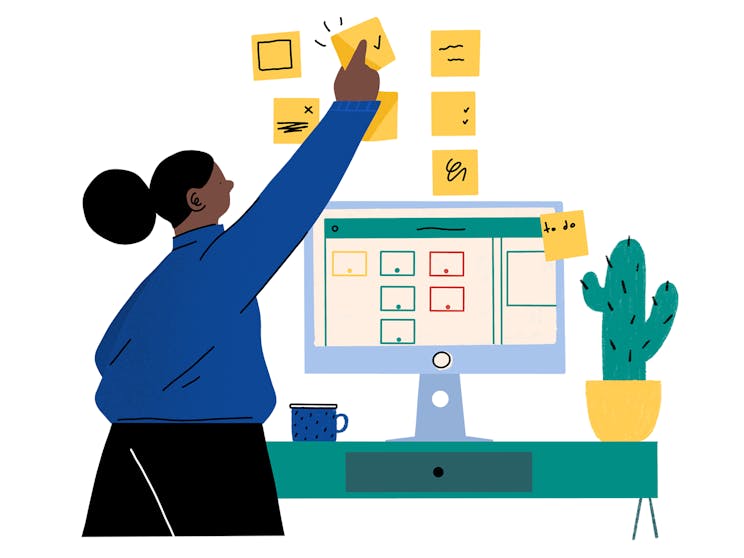 Art by Ally Jaye Reeves
UX designer job description template
Depending on the exact UX designer position you're hiring for, the specifics of your job descriptions will vary. However, these basic parts of the job description will stay the same: company overview, duties and responsibilities, and desired skills and qualifications.
Company Overview
Write a short paragraph describing the company you're hiring for. Include information around your company's culture, benefits, and perks of working there. Describe the company's office hours, remote working options, and other exciting opportunities or claims to fame.
Pro Tip: Keep it simple and provide relevant links to company pages or social profiles.
Job Description
UX designers at [Company Name] are responsible for enhancing usability or "ease of use" across our digital products and services. As part of a cross-functional team, you'll work on some of our most challenging and high-impact UX problems, helping to develop and execute a shared product vision and strategy. 
Duties & Responsibilities
The UX designer will report directly to the Product Manager, working under the product team to ensure a pleasurable user experience and seamless interaction between our users and our product:
Communicate with clients to understand their goals for the design project.
Conduct and/or evaluating user research.
Develop user personas and user stories.
Analyze competitors and customer needs.
Conduct usability tests.
Create wireframes, user flows, storyboards, sitemaps, and screen flows.
Develop prototypes.
Analyze user feedback and make adjustments to designs to better meet user needs.
Review user interface designs to ensure they are user-friendly and meet company goals.
Note: You may add or remove tasks based on the exact role you're hiring for, or functions already performed by other design team members.
Desired Skills & Qualifications
As far as UX designer requirements go, this should include things like years of experience and education, any certifications you're looking for, and desired soft skills.
[1 -5 years] of professional experience in UX design, product design, and/or interaction design.
Experience creating user flows, wireframes, prototypes, and user interface specifications for web and mobile products.
Passionate about user-centered design.
Possess excellent communication skills with the ability to work in a cross-functional team.
Strong problem-solving skills and attention to detail.
Experience with usability testing, information architecture, and project management is a plus.
Bachelor's degree in design or computer science is preferred but not required.
Note: Think of the skills and requirements section of your UX designer job description as a wish list. You're unlikely to find a UX designer who meets every single item on the list. Be somewhat flexible when evaluating applicants to find the best fit. Most requirements and skills can be learned on the job by a designer who already has the basics down.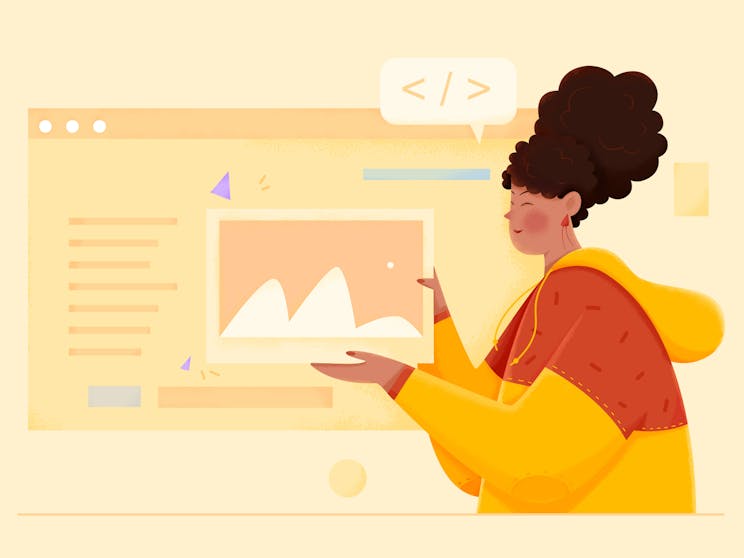 Art by Uran Duo
Next steps
Remember, the more specific your UX designer job description is, the better quality of candidates you'll receive. While you wait for applications to come in, start preparing potential interview questions to ask qualified candidates. Check out a list of UX interview questions to help you better prepare.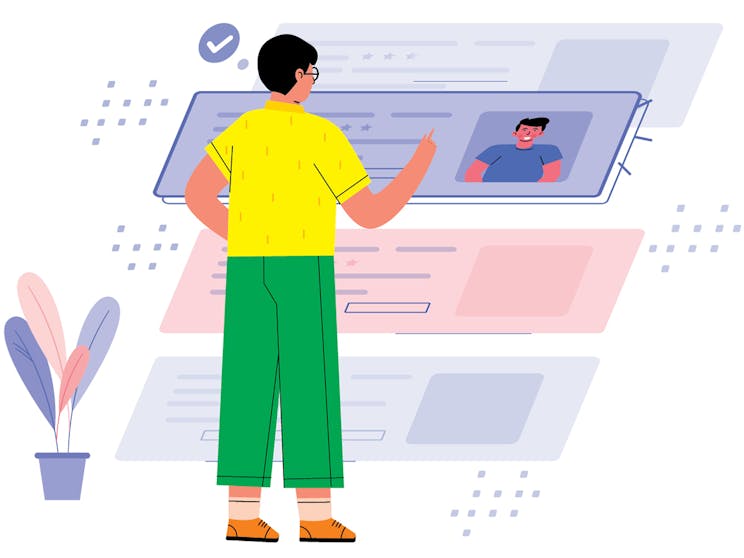 Art by Tiep Nguyen
Hire a UX designer today
A well-thought-out job description can make a huge difference in the quality of the applicants you get for UX designer jobs.
One thing to keep in mind is that experience generally trumps education when it comes to user experience design. UX designers with a couple of years of real-world experience—especially at an agency where they're working on diverse projects—will generally be more effective than a UX designer with a four-year degree but no experience. 
Need to hire a different type of designer? Check out our Graphic Designer Job Description and Product Designer Job Description templates for additional hiring resources.
Hire the world's top designers on Dribbble.
Find a designer
#1 Design Job Board

Advanced search filters

Unlimited messages