The world of design is divided into many different roles. Understanding the different types of designer jobs, especially when hiring for a specific role like product design, will ensure that any designer you hire meets the needs of your team.
In this article, we'll explore the role of a Product Designer, and what you should include in your product designer job description for a smooth and successful hiring process. Plus, we'll provide you with a handy product designer job description template you can use to get started.
Let's get straight into it.
What is a product designer?
Product Designers are involved in the holistic approach of building a new product (usually web and mobile applications) from start to finish. This encompasses everything from conducting market research, identifying customer needs, prototyping solutions, product development, and everything in between.
Because "Product Designer" can be a bit of a catch-all term, it's important to take some time to explore the different types of product designer jobs that can fall under the product designer umbrella:
User Interface Designer
When designing the front-end interface of a software product, emphasis on the visual look and style of the app or software is known as user interface (UI) design. These professionals focus on creating visually pleasing designs and assisting with the user's interaction and enjoyment of the product.
User Experience Designer
Often going hand-in-hand with UI design, user experience (or UX) design focuses on creating enhanced usability or "ease of use" in their products. This process aims to create a pleasurable experience or interaction between the consumer and the product. Product designers should incorporate UX design throughout their process, along with the UI. 
User Researcher
User researchers (or UX researchers) work cross-functionally with product development, design, and marketing teams, to determine end-user needs and trends to ensure the best product experience possible. 
Interaction Designer
The interaction design process takes into account users' interaction experiences when developing interactive digital products. Specialization in IxD includes interactive digital products, environments, systems, services, and physical products; it isn't just for software.
Information Architect
An information architect (IA) will organize, structure, and label content effectively and sustainably. They may utilize content libraries or CRMs for the users or simply find ways to provide information and complete tasks, no matter what the structure.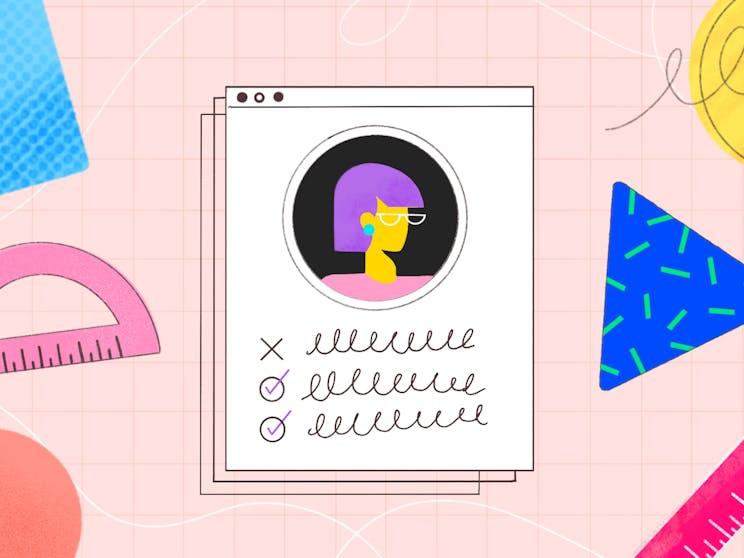 Art by Renee Fleck
Ultimately, the role of a Product Designer is to create a compelling user experience for a product, generally following directions from product management regarding business goals. This may include all or some of the above roles. While some job titles may overlap in responsibility, specifying the needs of the product and recognizing where you already have your bases covered is a good start. 
Even though many companies do not hire product designers from the beginning, as their products grow in functionality and features, the investment of a product designer makes it easier to ensure a smooth experience.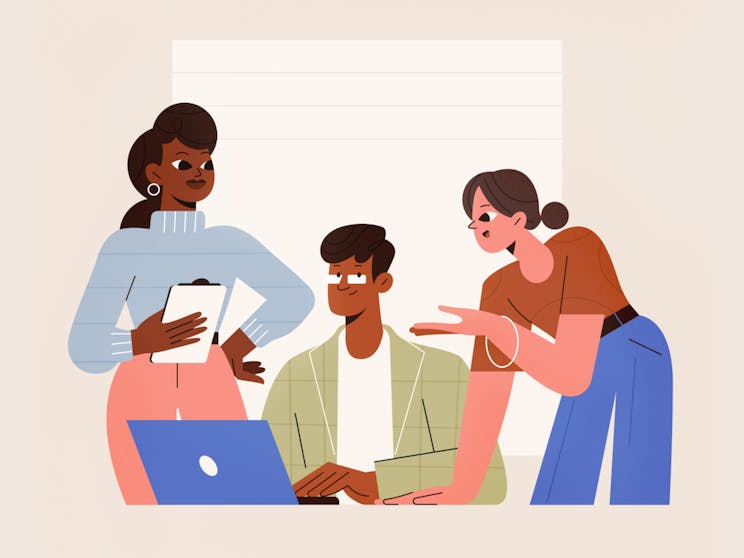 Art by Darya Semenova
Product Designer Job Description Template
Once you're ready to hire a product designer, use this template as a starting point and customize it to your company's specific needs and requirements.
Company Overview
Write a short paragraph describing the company you're hiring for. Include information around your company's culture, benefits, and perks of working there. Describe the company's office hours, remote working options, and other exciting opportunities or claims to fame.
Pro Tip: Keep it simple and provide relevant links to company pages or social profiles.
Job Description
Product Designers at [Company Name] are passionate about providing customers with an intuitive solution that makes our products easier to use. Ultimately, your designs will be visually appealing and fit within brand guidelines, with the main focus being on the customer's needs.
As part of a cross-functional team, you will collaborate with other designers and use qualitative and quantitative data to make informed, design-related decisions.
You should be proficient at converting requirements into practical product features and have a keen eye for color and shape.
Duties & Responsibilities
As you partner with our cross-functional teams, you will turn your insight into beautiful and functional products in an environment where leadership skills are essential, and creativity is a must. The product designer will report directly to the Lead Product Designer working under the product team.
In more detail, here are your responsibilities:
Conduct user research and set design requirements based on findings.
Collaborate with cross-functional teams (including development, design, and marketing) to create beautiful consumer experiences and products. 
Identify opportunities for product or feature enhancements. 
Remain up-to-date on industry trends, market conditions, and consumer preferences.
Iterate existing designs to meet industry or consumer needs.
Present product design ideas to leadership and external partners and take direction whenever necessary.
Use appropriate software [list your stack] to produce prototypes and test functionality. 
[Include any other duties and responsibilities you can think of…]
Desired Skills & Qualifications
One of the most critical parts of your job description is your product designer's skills to bring to the role. In addition to soft skills (like communication, collaboration, etc.), this list should include any technology they need to be familiar with (including software). 
[Company Name] values experience over education. We want to know that you've worked on all phases of the design process, including user research, copywriting, wireframing, prototyping, design, interaction, and usability testing. Specifically:
[1 -5 years] of professional experience working on a product design team.
Sharp attention to detail. 
Intuitive experience identifying customer needs beyond the prominent features and functionality.
Collaboration with cross-functional teams. 
Ability to conduct, interpret, and present qualitative and quantitative feedback and research. 
Effectively communicate design concepts and roadmaps. 
Problem-solving and delegation skills. 
Understanding of client objectives and execution of said objectives. 
Experience as a Product Designer with a well-rounded portfolio.
Time and project management skills.
[List education level, certifications, or specific program experience/computer tools]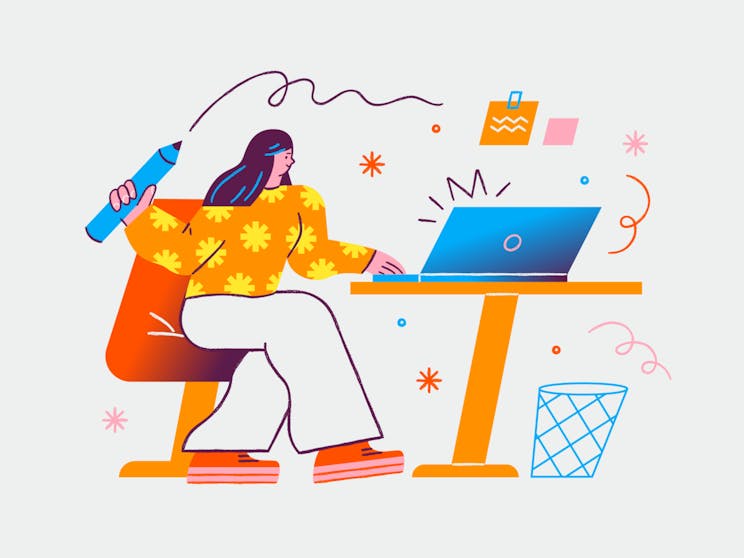 Art by Ksu Angeltseva
Next Steps
Remember, the more specific your product designer job description is, the better quality of candidates you'll receive. While you wait for applications to come in, start preparing potential interview questions to ask qualified candidates. You can check out a list of product design interview questions to help you better prepare.
Hire a product designer today
As product designers act mainly as collaborators and problem-solvers when creating user-centered products, they are in more demand than ever before. This requires flexibility, a multidisciplinary skillset, as well a capacity for research and teamwork. 
Are you looking and for a new Product Designer to join your team? Post your Product designer job description on design job boards like Dribbble to start meeting top product designer candidates right away!
Need to hire a different type of designer? Check out our Graphic Designer Job Description template and UX Designer Job Description template for additional hiring resources.
Hire the world's top designers on Dribbble.
Find a designer
#1 Design Job Board

Advanced search filters

Unlimited messages