Design Hiring
How to write a graphic designer job description (template)
Learn how to write the perfect graphic designer job description to attract top candidates. Use our free template to write the best job description for your open role.
September 16, 2021
Hire Designers Today
Art by Olga Davydova
Looking for a new graphic designer to join your team? You'll need to create a job description for the role first.
Your graphic designer job description is the first impression candidates will get of your business, so it's important to invest time in drafting it. You'll want to let your company's personality and culture come through, and make sure that you accurately describe the graphic designer jobs you're hiring for.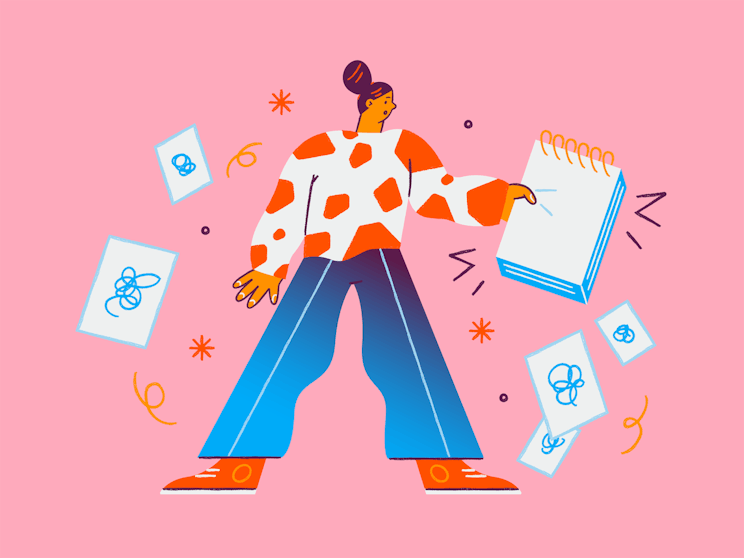 Art by Ksu Angeltseva
What is a graphic designer?
"Graphic designer" can be a bit of a catch-all term that some companies use without really defining what the job entails. At its most basic level, graphic designers create visual assets to communicate ideas and concepts specific to your business needs.
Take some time to explore the different types of designer jobs out there and make sure that "graphic designer" is the best job title for the role. 
Here are a few roles that can fall under the "graphic designer" umbrella:
Brand Designer
These designers are responsible for creating the brand identities of the companies they work for. They design everything from logos to signage to business cards.
Print & Publication Designer
These designers work for publishers, whether they're book, magazine, or newspaper publishers. They design page layouts, covers, and similar materials.
Marketing & Advertising Designer
As the name suggests, these designers focus exclusively on creating designs for marketing materials (including social media posts) and ads. Some may specialize in specific aspects, such as print materials (ads, postcards, flyers, etc.) or social media posts.
Packaging Designer
These designers create the packaging that physical products come in. It's a very specialized field, especially due to the legal requirements packaging and labels often need to include.
Illustration Designer
These designers create illustrations for products, including everything from websites to packaging to logos. Illustration designers have an extra level of skill over artistic illustrators, as they have to understand the principles of design and how to convey a message with their illustrations that support a brand or product's goals.
Visual Designer
Visual designers create UI elements and other digital designs in collaboration with a web designer. They may also create related digital marketing materials, overlapping with a marketing designer role.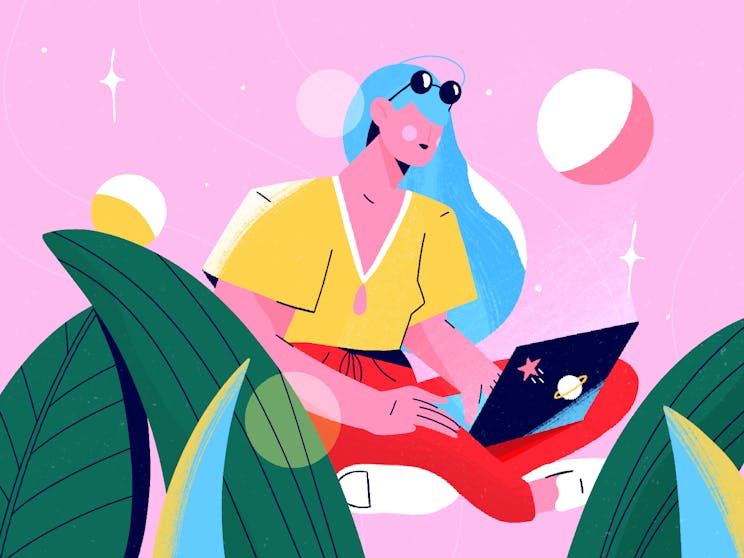 Art by studiokat
If one of those types of graphic design sounds like a better fit for the position you're actually hiring for, then be sure to use the appropriate job title to find the best-qualified candidates for the role.
Graphic designer job description template
Use this graphic designer job description template as a starting point and customize it to your company's specific needs and requirements.
Company Overview
Write a short paragraph describing the company you're hiring for. Include information around your company's culture, benefits, and perks of working there. Describe the company's office hours, remote working options, and other exciting opportunities or claims to fame.
Pro Tip: Keep it simple and provide relevant links to company pages or social profiles.
Job Description
Graphic designers at [Company Name] are passionate about visually communicating complex ideas that ultimately help drive business goals. Your graphics will be visually appealing and fit within brand guidelines, with the main focus being on [advertising / social media / web design...]
As part of a cross-functional team, you'll collaborate with other graphic designers and use qualitative and quantitative data to make informed, design-related decisions.
You should be proficient at converting requirements into engaging, aesthetically pleasing graphics and have a keen eye for color and shape.
Duties & Responsibilities
As you partner with our cross-functional teams, you'll turn your insight into beautiful and engaging graphics.
In more detail, here are the graphic designer job responsibilities:
Design and develop eye-catching creative assets across all media (print, digital, social, video).
Work closely with the Creative Director and creative team to further develop and advance the [company name's] brand and visual identity.
Refine designs based on feedback from project leads and creative partners.
Maintain our asset libraries with current logos, product images, and other brand materials. 
Collaborate with other teams including product & marketing to fill project needs.
Ensure company and brands design guidelines remain consistent across all visual assets.
Follow and stay up-to-date on emerging industry trends and design guidelines
[Include any other duties and responsibilities you can think of…]
Hire a graphic designer today
The more specific your graphic designer job description is, the better quality of candidates you'll receive. Just remember: A strong portfolio mixed with good soft skills like communication and collaboration are a better predictor of success than having a degree in graphic design or number of years of experience. In fact, some of the best graphic designers don't even have a Bachelor's degree in graphic design.
Keep that in mind as you review applicants and start preparing potential graphic design interview questions to ask qualified candidates! Best of luck.
Simplify hiring your next designer today with Dribbble Hiring
Learn More Now
Top quality candidates 

Advanced filtering & search

Connect directly with designers