Design Hiring
Graphic Designer Roles & Responsibilities (2022)
Explore the most common graphic designer responsibilities in 2022. Learn how to write a graphic designer job description that attracts top graphic designers.
September 16, 2021
Hire a designer
Art by Olga Davydova
Graphic designers are professionals who rely on creativity and data-driven methodologies to solve unique business problems. They use their skills to create visual assets that communicate ideas, inspire action, and delight people — qualities that lead to improved customer outcomes. 
"Graphic designers are professionals who rely on creativity and data-driven methodologies to solve unique business problems."
Graphic designers are critical in sales, marketing, and product development. They are also invaluable to any client-facing business. In this article, we'll explore the main roles and responsibilities you'll find in graphic designer jobs in 2022.  
What does a Graphic Designer do?
In the design world, the title of "graphic designer" is a catch-all term describing a variety of skill sets and positions. In a sentence, a graphic designer creates assets to visually communicate and illicit ideas and feelings that help a business achieve its goals.
These visual assets can vary across disciplines and typically include:
Logos and other aspects of visual identity
Illustrations
Assets for publications, like books and magazines
Packaging
Marketing materials and advertisements
Interfaces and interactions for websites and apps
The skills required for each of these are diverse — many designers focus on one or a few and specialize. Many also work in specific categories of each area. For example, some create the graphics used in packaging for various types of retail products while others may work on the visual design used on a book jacket.
In short, take the time to explore the various design jobs and determine which one is best for your business. Here are a few roles that fall under the umbrella of graphic design.
✏️ Brand Designer
These designers create visual identities for the brands they work for. They design logos, stationery, business cards, and other materials aimed at communicating a brand's values and identity visually.
📰 Print & Publication Designer
Print and publication designers focus primarily on print media. They're the ones who design book jackets, magazine covers, and newspaper layouts. They may also work on posters and other print media. 
✨ Marketing & Advertising Designer
These designers focus on marketing output by designing materials used in advertisements. These could be print advertisements, such as flyers and banners, or digital banners, such as those used in social media campaigns.
📦 Packaging Designer
A package designer focuses on the creation of compelling packaging for physical products. Because of the legal requirements necessary for labels and other packaging, package designers are often specialized in this area of design. 
🎨 Illustration Designer
Designers working in illustration create marketing-driven artwork in various mediums and formats. Their work includes illustrative logos, decorations for packaging, and artwork used in advertising or on products. Often confused with artistic illustrators, they actually rely on additional skills to create designs that support business objectives.
💻 Visual Designer
Visual designers create interfaces and user interactions for digital products. These might include an interface layout for a website or mockups for a mobile application. Their work often includes digital marketing materials, overlapping with the skills of marketing designers.
Related - Visual designer vs. Graphic Designer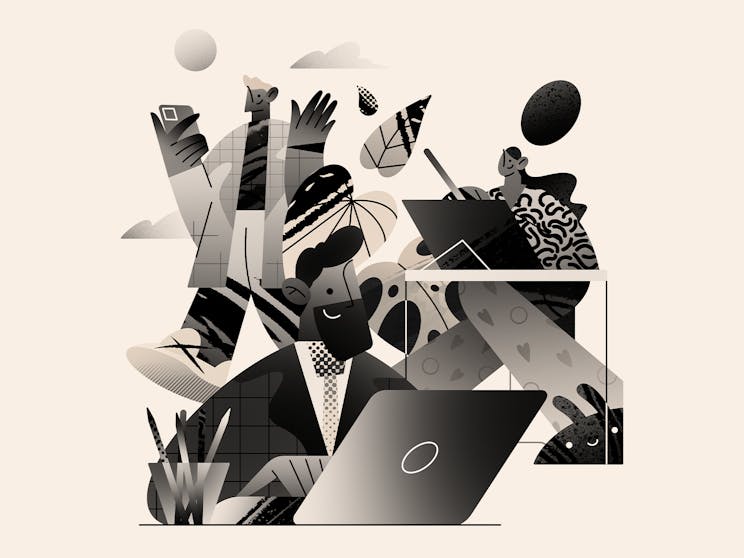 Art by Kristina Pedos @13chrisart
Graphic Designer vs. Graphic Artist
People in other fields often confuse the roles of graphic designer and graphic artist. Both use creativity and visual expression in business environments to communicate ideas. Many even use the same tools and design software. The distinction, however, lies in the processes and intended outcomes of their creative work. 
"The difference between a graphic designer and a graphic artist lies in the processes and intended outcomes of their creative work." 
Graphic designers use their skills in the process of solving business problems. Developing a memorable brand identity that conveys specific meaning to that business's customers is one example. Another is designing delightful packaging that improves the customer experience. 
The work of graphic artists, on the other hand, leans more toward artistic expression than business needs. They're often commissioned to provide artwork in different mediums and formats, such as murals, book illustrations, or billboard artwork. Like traditional artists, most graphic artists develop a specific style that sets them apart from others in their field.
Typical Graphic Designer Responsibilities 
As much as graphic design varies from individual to individual, it also varies from business to business. Smaller brands bring designers in to create memorable customer experiences and sharp visual identities. Bigger businesses have teams of designers working on complex marketing campaigns or digital products. 
While it's possible to break into the graphic design field through self-teaching, many graphic designers attend design school or university to learn their craft. They often have a bachelor's degree in graphic arts, design, or a similar field. 
It's worth mentioning that, while graphic design communicates through visual assets produced with creativity, they're equally analytical. They create solutions to problems through the visual medium based on how it affects audiences.
They develop these solutions through a variety of skills, including: 
In-depth knowledge of color theory, composition, and typography
Understanding of customer behavior and perception
Expertise in user research and market analysis
Expert skills using design programs, such as Photoshop, Illustrator, InDesign, and others
Graphic design also overlaps significantly with product-focused design fields, like UX and UI design. A lot of experienced graphic designers transition into these fields to apply their skills in more rewarding work. The higher salaries help, too.
Why Hire a Graphic Designer?
For some start-ups and small businesses, cutting corners on design is common practice. Many of those businesses later realize their mistakes after a slurry of bad customer feedback or languishing brand perceptions. Whether it's for a new product or a brand identity, quality design has a big impact on the success of any business.
Graphic design requires creative expertise. It's much more than making things look pretty — it's about understanding business goals and implementing creative design solutions to achieve them. A good graphic designer knows how to best identify and communicate with your target customers, and they know how to differentiate your brand from the competition. 
"A good graphic designer knows how to best identify and communicate with your target customers, and they know how to differentiate your brand from the competition." 
In a global marketplace with razor-thin margins, design thinking is often the single differentiator between competitors. Brands wanting professionally polished visual identities that speak to their target market need designers. Businesses focused on creating successful digital products need designers. And companies that provide any manner of digital services to clients definitely need designers. 
Regardless of the type of business, there comes a time when hiring a designer is necessary. But the design discipline is vast; its practitioners varied.
If you're managing a brand needing a skilled designer, asking yourself a few key questions will help narrow things down:
What do I need from a graphic designer?
Do I need a full-time or part-time graphic designer? 
Would my business benefit from a graphic designer's touch on multiple projects?
Answering these questions will indicate whether you need a more experienced, specialized designer or someone with a general skill set. If you just need essential identity and branding work, a generalist is sufficient. For more advanced projects, such as UI/UX or product design, you'll probably want a specialized candidate.
Likewise, they help identify whether you need an in-house designer or if a freelancer working on one-off projects is sufficient. The benefits of a full-time designer are apparent, but freelancers are often more economical for start-ups and smaller brands. Bigger companies in need of multiple designers can go with a combined approach.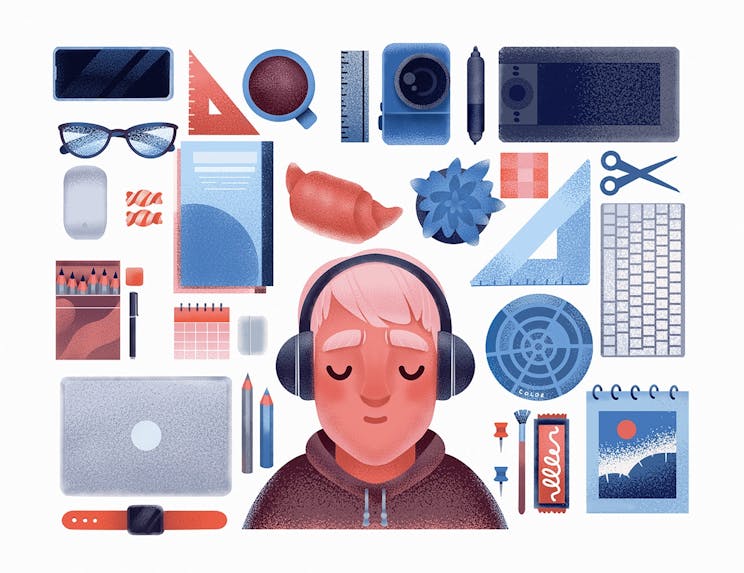 Art by tubik.arts
✏️ Graphic Designer Job Description Template
If you've thought about your brand's graphic design needs and you're ready to add a creative problem solver to your ranks, here's a template to use as a starting point. Drop your business name in, tailor the rest to your needs, and start interviewing graphic designers.
✔️ Company Overview
Write a short paragraph describing the company you're hiring for. Include details on company culture and values. Also include the necessary practicalities, like compensation, working hours, benefits, and the perks of working there. Lastly, if your business offers any unique benefits, such as remote work opportunities, include them here.
Pro Tip: Keep it succint and provide relevant links to company pages or social profiles.
✔️ Job Description
Graphic designers at [Company Name] solve real business problems through visual communication. They face complex challenges, but they're supported by a passionate team. 
Your work is powerful, and your visual design skills are sharp. You're dedicated to improving your craft and work diligently to align your creative output to business objectives and brand guidelines. 
As part of a cross-functional team, you'll work with design colleagues and other departments to make informed design decisions based on research and real-world data. You're proficient at turning requirements into appealing visual concepts that produce results.
✔️ Duties & Responsibilities
As you partner with our cross-functional teams, you'll turn your insight into beautiful and engaging graphics.
In more detail, here are the graphic designer job responsibilities at [Company Name]:
Design and develop eye-catching creative assets for print, digital, social, and video initiatives
Work closely with and follow the guidance provided by the Creative Director and other designers to continue developing the brand's visual identity
Refine and improve designs based on feedback from project leads and other stakeholders
Maintain asset libraries with current company logos, product images, and other brand materials
Ensure the consistency of company design guidelines across visual assets
Collaborate with other teams, including product and marketing, to facilitate other projects and initiatives
Keep your finger on the pulse of design by staying abreast of emerging design trends and new innovations
Find Top Graphic Designers on Dribbble
The more specific your graphic designer job description is, the better quality of candidates you'll receive. Just remember: A strong design portfolio mixed with good soft skills like communication and collaboration are a better predictor of success than having a degree in graphic design or number of years of experience. In fact, some of the best graphic designers don't even have a Bachelor's degree in graphic design.
The Dribbble community is home to some of the best designers on the planet. Dribbble Hiring opens the doors to connecting and engaging with talented designers in every field and specialization. You'll find the perfect designer for your business in record time. The world's leading brands rely on Dribbble for their design talent. Yours should too.
Hire the world's top designers on Dribbble.
Find a designer
#1 Design Job Board

Advanced search filters

Unlimited messages