Design Portfolio
Top 15 Graphic Design Skills to Get You Hired
Get a list of the most important graphic designer skills employers & clients look for. Learn how to improve your graphic design skills and build your career.
January 19, 2022
Build Your Portfolio
Art by tubik.arts
As a new graphic designer, you're about to embark on an exciting adventure. Whether you're applying for graphic design jobs at an agency or want to venture into the world of freelancing, you'll be getting paid to use your natural creative talents. To distinguish yourself from other graphic designers in the job pool, you need just the right combination of graphic designer skills. In this guide, you'll learn what technical and soft skills you need to get hired and succeed in your career.
Visual Designer vs. Graphic Designer
First, you need to determine whether you want to be a graphic designer or visual designer. While there are similarities in skill sets, understanding the difference between graphic design and visual design will help you build a career that best suits your talents and interests.
Graphic designers are responsible for using text and images to communicate a specific message. Logos, print advertisements, and brochures are all examples of projects completed by graphic design professionals. 
Visual designers are responsible for building brands on digital media. Although they use some of the same skills as graphic designers, their goal is to create a consistent brand image across multiple digital platforms such as websites, apps, social media, etc.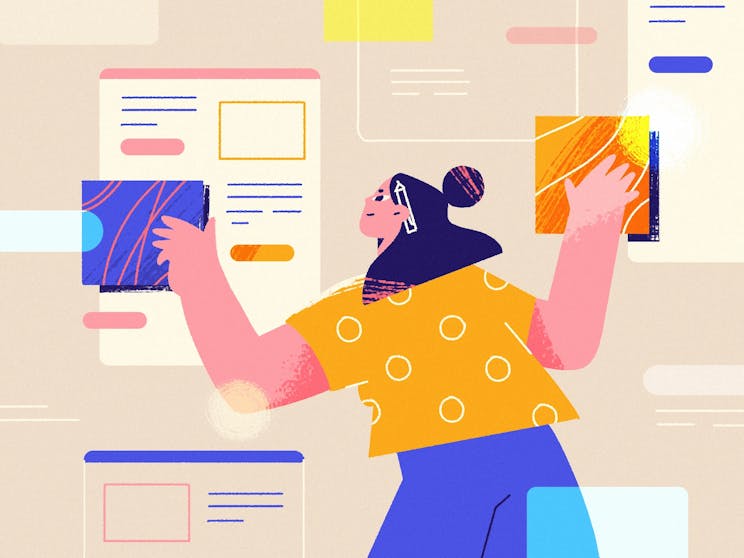 Art by Julia Hanke
Skills needed to be a graphic designer
Graphic designer skills can be classified as technical skills or soft skills. Technical skills are specific to your job, while soft skills are the skills and personality traits that allow you to succeed in any role. For a graphic designer, one of the most important technical skills is the ability to use Adobe Suite (Photoshop, InDesign, Illustrator) to complete design projects.
Technical skills for graphic designers
Employers look for versatile graphic designers who have the technical abilities needed to hit the ground running. These are some of the most desirable technical skills for a graphic designer:
Typography skills: As a graphic designer, you must be able to arrange words and letters in a visually appealing way.
Font selection: Font type, size and weight all affect the appearance of your designs and may influence the way people perceive your message, so you must be able to choose an appropriate font for each project.
Ability to follow branding guidelines: Branding guidelines are standards used to determine how a brand will be presented to audience members. To succeed in the industry, you must be able to follow these guidelines closely.
Design principles: Successful graphic designers know how to use white space, color, hierarchy and other principles to compose well-balanced designs.
RGB and CMYK: You must be able to choose the right color set for each project. CMYK is ideal for print projects, while RGB is typically used for digital designs.
UX design: Skilled graphic designers understand how to create simple designs that are useful and meet established accessibility guidelines.
Digital technology (HTML, CSS, JS): Technology skills are especially helpful if you plan to design websites or work as a visual designer.
Picture skills (photography)/photo editing: You may have to incorporate photos into your graphic design projects, so it's important to know how to edit stock photos or take high-quality photos of your own.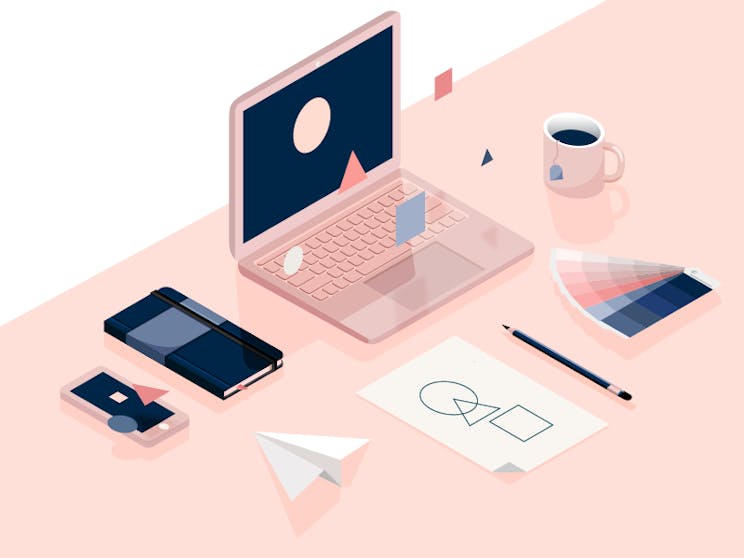 Art by Joanna Nowak
Soft skills for graphic designers
No matter how good your technical skills are, it's difficult to succeed in the design industry if you don't have the soft skills employers desire. As we noted earlier, soft skills are personality traits that can help you succeed in any industry. These traits help you communicate effectively, collaborate with others and build positive relationships with colleagues and clients. As a graphic designer, you should have the following soft skills:
Collaboration skills: Good collaboration skills make it easy to work with others in pursuit of a common goal. A skilled collaborator listens to others, communicates consistently, and owns up to their mistakes.
Emotional intelligence: People with high levels of emotional intelligence excel at managing their emotions, allowing them to resolve conflict and reduce stress on their team members.
Communication skills: You must be able to communicate effectively with colleagues, clients, and other stakeholders. Potential employers are always looking for graphic designers who have strong communication skills that can express their ideas clearly and consistently.
Time management: Graphic design is a deadline-driven profession, so you must be able to manage your time effectively.
Creativity: Creativity refers to the ability to generate new ideas and use them to solve problems or communicate with others. Successful graphic designers are highly creative and innovative, making sure to stay up to date on the latest graphic design trends.
Storytelling: If you're trying to appeal to a specific group of people, storytelling is a great way to find out what audience members need and show them how your employer can help. Storytelling skills are especially helpful for visual designers charged with building consistent brand images.
Art by Darya Semenova
How to improve your graphic design skills
Now that you know what skills you need to become a graphic designer, it's time to start building your portfolio. Here are some of the best ways to enhance your graphic design skills or build on your existing expertise.
Take online classes
If you don't have a degree in graphic design, there are plenty of ways to develop the skills you need to succeed as a designer. Taking online classes is one of the best, as it gives you an opportunity to learn from experienced professionals and complete projects that can be used to build your portfolio. Some organizations even offer free classes, making it easier for designers of all ages and backgrounds to access high-quality education. If you're ready to learn, check out these options: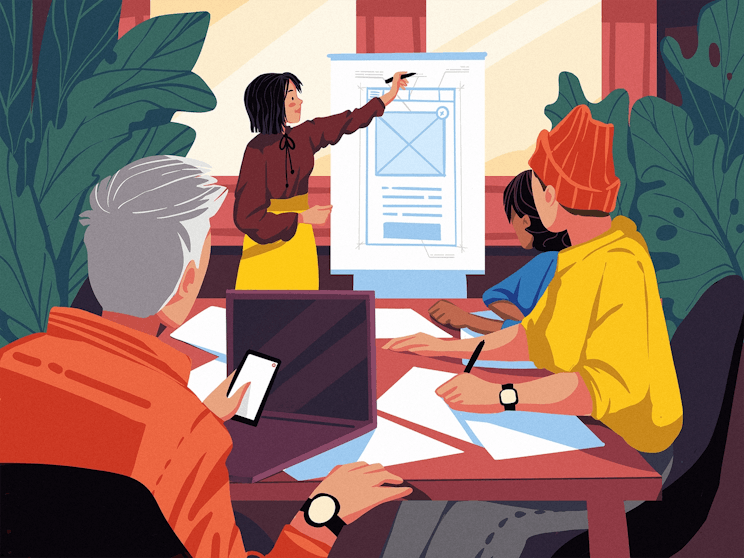 Art by tubik.arts
Read graphic design books
Reading graphic design books is an inexpensive way to learn specific skills, refine your design process, or get a better idea of what it's like to be a professional designer. Check out these books the next time you need some inspiration or want to learn a new skill:
Thinking with Type: In Thinking with Type, Ellen Lupton explains the principles of typography, focusing on spacing, alignment, shape, and order. You'll learn more about using style sheets, captions, ornaments, font licensing, and enlarged capitals, among other typography topics.
Designing Brand Identity: In some cases, it's not enough to be a great designer. You also need to know how to use your design skills to build cohesive brands. In Designing Brand Identity, Alina Wheeler explains how to develop and implement effective brand identities. The book includes 30 case studies to show you how well-established companies have used graphic design to build consistent brand images.
100 Ideas That Changed Graphic Design: Steven Heller and Veronique Vienne provide an overview of how graphic design has changed throughout history, commenting on how new ideas led to technological and stylistic advancements in the field.
The Non-Designer's Design Book: If you're just starting out in the graphic design field, you might benefit from Robin Williams' guide to the fundamental principles of design. Williams explains how to design with color and type, work with multiple typefaces and think from a design perspective. The book also includes tips for completing specific types of design projects, including newsletters and brochures.
How Do I Do That in InDesign? Once you understand the fundamentals of design, you'll need to be able to use industry tools to work on projects. In How Do I Do That in InDesign, Dave Clayton and Scott Kelby explain how to complete specific actions in Adobe's design software. You'll learn how to add grids to each document, drag out ruler guides, check for errors, change the pasteboard size, and much more.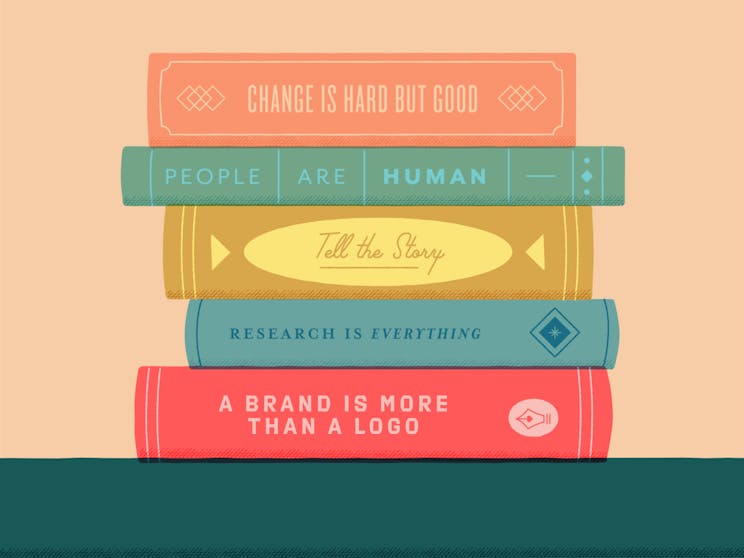 Art by Lauren Castro
Find a design mentor
Everyone can benefit from working with a design mentor—someone who has experience completing a wide variety of design projects and collaborating with others. To find a design mentor, designer Jenna Freitas recommends reaching out to famous graphic designers via social media. She says:
"DM your heroes. I'm serious. Reach out to them. This sounds crazy but we are so lucky to have social media as a platform to connect to all these people we admire."
Many designers remember how difficult it was to find their footing when they first entered the industry, so you might get a few responses. If you don't hear from any of the people you contacted, check out the LinkedIn profiles of successful designers. LinkedIn profiles are a good place to find out what skills successful designers have, the schools they attended, and what organizations they recommend joining to advance your graphic design career.
Create self-initiated projects
Completing paid projects is great, but if you're always following someone else's guidelines, you won't have many opportunities to improve your design skills or develop your own signature design style.
Maria Galybina comments, "In my opinion, the most important thing is to focus on creating things you really love. Then, you won't feel like you're putting in so much effort, and the art of creating will fill you with joy." Take Maria's advice by setting aside some time to create self-initiated projects. These are projects you complete simply for the joy of improving your craft. You don't have to follow a client's style guide or adhere to an established set of brand rules; you just have to sit down and start creating.
Another benefit of working on self-initiated projects is that they can help you branch out into other types of design. Graphic designer Patrick Moriarty states:
"One of the best pieces of advice that I've received is to create the work you want to get paid to make."
If you've been spending all your time on logos when you really want to be designing brochures or annual reports, use your personal time to create samples that align with the type of work you want to do.
Antonka
Ask for feedback
If you never ask for feedback, you won't know what people really think about your work, causing you to miss out on valuable opportunities to improve your graphic design skills.
Although it's important to get feedback from design professionals, you should also be asking non-designers to look at your work and tell you what they think. This is especially important if you focus on business-to-consumer design rather than business-to-business projects. Someone who isn't a professional designer can look at your portfolio and tell you if the designs are visually appealing and easy to understand, two hallmarks of effective graphic design.
Online forums and communities like Dribbble are a great resource for graphic designers looking to get feedback on their work. When people can't see your reaction to their feedback, they're much more likely to be honest. If you ask a stranger for feedback, you also won't have to worry about how it will affect your relationship.
Sign up for design communities, post your recent design project, and ask people to provide constructive feedback that you can use to make improvements. You'll be surprised by how many people are willing to take a few minutes out of their day to help you grow as a design professional.
Showcase your graphic design skills in your portfolio
Graphic design is a rewarding career filled with creative challenges. But to become a graphic designer, you'll need to showcase graphic design skills in your portfolio and resume that demonstrate using design software, selecting fonts, and following the basic principles of design throughout your creative process. You'll also need to demonstrate strong collaboration skills, creative thinking, effective communication, and that you can come up with innovative ideas. If you build just the right combination of technical and soft skills, you'll have a better chance of landing the design job of your dreams.
Build your portfolio & unlock new 
opportunities with Dribbble Pro
Get started
Create a client-facing portfolio instantly

Get hundreds of new leads weekly

Connect with the #1 creative community

Promote your goods seamlessly