Freelance
The Freelance Graphic Designer Resume Guide (Templates & Examples)
Get a list of everything you need to include in your freelance graphic designer resume. Stand out and impress new potential graphic design clients.
April 19, 2022
Get freelance work
Art by Andrew Colin Beck
If you've always wanted to start your own freelance graphic design business, now is a great time to branch out on your own. Business owners are more accepting of remote work, and many of them understand the benefits of using freelancers instead of hiring full-time designers.
If you're ready to land your first client, here are some tips for putting together a freelance graphic designer resume that makes hiring managers sit up and take notice of your professionalism and skills.
What is a freelance graphic design resume?
A resume is a professional document that gives potential clients an overview of your education, skills, and employment history. It should include past graphic design jobs, a list of your hard skills and soft skills, and an overview of your educational credentials. If you've been a freelancer for a while, it's also helpful to list some of the graphic design projects you've completed for clients.
Do you really need a freelance graphic designer resume?
Yes. When first starting out, many freelance graphic designers assume they don't need a resume if they already have a visually appealing portfolio. Although some clients hire based on portfolio samples alone, others want to see a professional resume that includes your employment history and a graphic design cover letter to support it. Depending on the type of freelance work you want to do, hiring managers may also want to know that you have the ability to coordinate graphic design projects or lead a creative team.
"While some clients hire based on portfolio samples alone, others want to see a professional resume that includes your employment history."
If you're trying to land a freelance gig with a large company, you also need to understand how the hiring process works. The hiring manager may have the human resources department screen applications and narrow them down to the top two or three candidates. If the screener has no experience in graphic design, they may not include you in the final list of candidates unless you have a stellar resume to complement your design portfolio.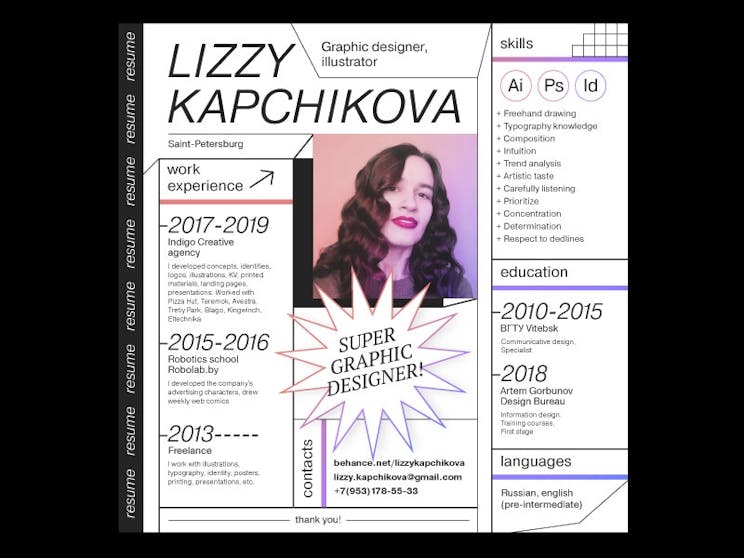 Art by Lizzy Kapchikova
What clients look for in your graphic design resume
For most freelance graphic designers, the visual elements of a resume are the most important. But you also need to make it easy for the hiring manager or HR representative to determine if you meet the requirements outlined in the job description. That means your resume should include the following information.
1. Employment history
Even if you're applying for a freelance position, your resume should list your previous job titles and duties. If someone is skimming through the document to see if you might be a good fit for the role, listing your previous job titles makes it easier to determine if they should take an in-depth look at your application. Summarizing your past job duties also helps the hiring manager determine if your experience matches the company's requirements.
You don't need to list every job you've ever held, just the most recent ones. For example, if you've had two graphic design jobs over the past 7 years, it's fine to list those and leave out the retail job you had in high school or the non-design internship you completed in college.
2. List of clients
If you have extensive freelance experience, make sure your resume includes a list of clients, especially if you've worked with major brands. A bulleted list works well in this section because it allows potential clients to quickly scan through the information. Instead of just adding each company's name, include a sentence or two about the work you completed.
When adding a client list to your graphic designer resume, make sure you follow the terms of any nondisclosure agreements you signed. Some clients don't want you to share their information with other people, so you would need to omit those companies from your list.
3. Professional certifications
Potential clients want to know that you have the skills needed to follow their design guidelines and use your creativity to help them market their products, services, and charitable causes. If you have any professional certifications, be sure to add them to your resume.
Adding certifications makes it easier to demonstrate that you have specific knowledge and skills.
If you don't already have at least one certification, you may want to obtain one before you update your resume. While you're working on the certification, you'll have the opportunity to complete sample projects, which can help you build your portfolio if you're new to the design field.
Although you have many options, the Adobe Certified Professional credential is one of the most well-recognized certifications in the industry. When potential clients see this certification on your resume, they know you're skilled in using Adobe Creative Suite to complete design projects.
If you're a graphic artist with an interest in managing complex projects, it can also be helpful to add relevant business certifications to your resume. For example, if you have a design degree and the Project Management Professional (PMP) certification, you'll have an easier time convincing a potential client that you have what it takes to manage a team of creative professionals and make sure every project is completed on time and according to the company's specifications.
4. College degrees
Completing a degree is a big achievement, so make sure you include your educational credentials on your resume. Each entry should include the name of the institution, the dates you attended, and the full name of the degree you completed.
If you're new to the graphic design field, it's helpful to include a list of relevant courses, especially if your degree is in business, marketing, or a non-design discipline. Adding a list of courses can help you convince potential clients that you have the skills necessary to succeed in a design role. For example, you may want to include coursework in UX design, color theory, Adobe Photoshop, and other design topics.
5. Professional memberships
Membership in a professional association shows that you're dedicated to the design industry and interested in building relationships with designers, copywriters, and other creative professionals. That's why it's important to add relevant professional memberships to your resume.
The American Institute of Graphic Arts, the Society of Illustrators, and the International Color Consortium are examples of organizations that offer memberships that can help you grow as a professional and wow potential clients with your commitment to career development.
6. Relevant volunteer work
Adding volunteer work to your resume serves several purposes. First, it shows potential clients that you have a track record of helping community members. If you're trying to land a gig with a nonprofit organization, this can help your application stand out. It also shows that you're capable of following through on your commitments.
If you're new to the design field, adding relevant volunteer work to your resume can also help you transition into a new career. Your recent work experience may have nothing to do with design, but volunteering to create brochures, logos, email templates, and other items shows potential clients that you have the skills needed to succeed in a design role.
7. Professional skills
Employers frequently use software to determine if an applicant is a good fit for a job opening. Each software package typically searches a resume for specific keywords. If those keywords aren't in your resume, there's a good chance you'll lose out on the opportunity to interview for the position. That's why it's so important to include a list of your graphic design skills.
A list of skills gives you more opportunities to add keywords to your resume, making it easier to make it through the initial screening and increasing the chances of having a human review your application. Include any skills you think might be helpful for landing freelance graphic design jobs, such as UX design, corporate branding, marketing collateral, web design, art direction, brand identity, personal branding, and illustration.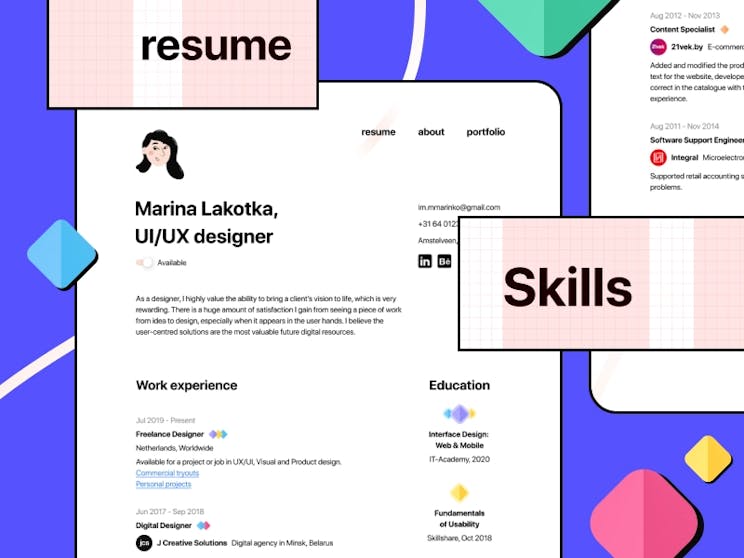 Art by Marina Lakotka
Your Freelance Design Resume Checklist
Now that you know what a good freelance graphic designer resume should include, here's a checklist to follow as you go through the process of creating your own.
✔️ Contact information
Including a physical address isn't as important as it used to be, but if a potential client wants to have in-person meetings, consider including your address to let them know you live close enough to visit their office on occasion. Otherwise, it's okay to include just your email address and telephone number.
✔️ Professional summary
Some companies receive hundreds of applications when they post a freelance design job. Lighten the reader's load by including a short summary of your professional experience and skills. You may also want to include one of your top achievements in this section.
✔️ Work experience
Unless you have limited work experience, add your work experience before your educational credentials. Reviewers typically want to see your previous jobs listed in reverse chronological order, or from most recent to least recent. If you're looking for a career change, consider creating a functional resume, which organizes your previous jobs by the skills you used instead of the dates you were employed.
✔️ Education
If you have multiple degrees, list the most recent one first. Be sure to include the name of the school, the degree earned, and your graduation date.
✔️ Certification
Include the name of the certification, the sponsoring organization, the date you obtained the certification, and the date of expiration, if applicable.  
✔️ Skills
Consider grouping similar skills together and using bulleted lists to organize them. For example, you can have one heading for design skills and another for skills related to project management. Don't forget to include soft skills, which are the characteristics that help you manage your own workload and collaborate with others.
✔️ Volunteer work
If you decide to include relevant volunteer work, list the most recent experience first. You may also want to include a short description of how your work benefited each organization.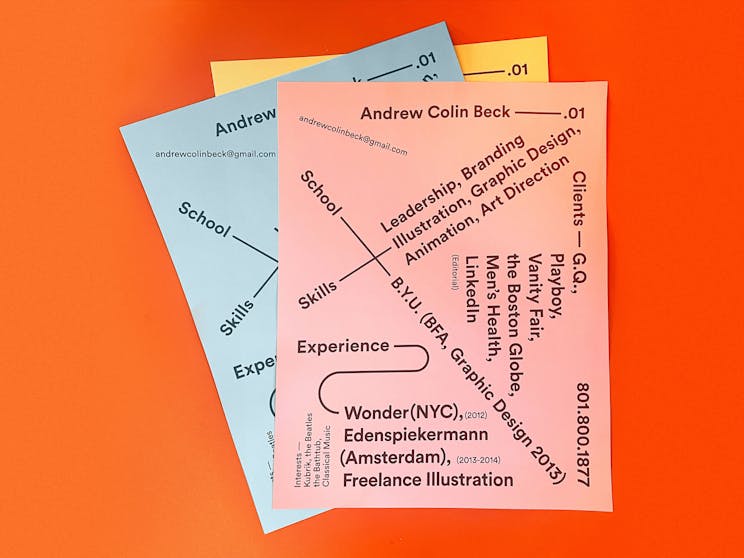 Art by Andrew Colin Beck
Tips for your first freelance design resume
If you're new to the design industry and don't have a lot of job search experience, here are a few tips to follow when you create your first resume.
📌 Tip #1: Pay attention to formatting
One way to improve your chances of landing a job is to make it as easy as possible for the person reviewing your resume to determine if you meet the minimum requirements. Include plenty of bold headings and bulleted lists to break up large chunks of text and make it easy to scan the document.
The format of your resume is just as important as the quality of the samples in your portfolio. If it looks like you just filled in a template without taking the time to add custom design elements, the reviewer may question your abilities or wonder if you're really committed to a career in graphic design.
📌 Tip # 2: Leave plenty of white space
White space makes text and visual elements stand out from the page, making your resume more attractive and easier to scan. Use plenty of white space around headings, bulleted lists, and paragraphs to make the document visually appealing for reviewers across a wide range of industries.
📌 Tip #3: Show off your design skills
Even if you use a template, you should at least add a personal logo or a few other design elements to your resume to show that you understand the principles of graphic design. If you don't have a logo, a simple monogram at the top of the first page is a good alternative. Choose a professional color scheme that doesn't hide any of the text on the page or make your resume difficult to read.
📌 Tip #4: Proofread carefully
You're applying for freelance design gigs, not writing jobs, but it's still important to communicate professionally. That's why you need to proofread your resume several times to make sure it doesn't have any embarrassing typographical errors. If proofreading isn't your strong suit, ask a friend, classmate, or trusted family member to do it for you.
Start with a resume template for designers
When it comes to creating a freelance graphic designer resume, you have a few options. The easiest is to download a resume template and customize it with design elements and text. Using templates saves time, which can be helpful if you want to create several versions of your resume to use when applying for different types of freelance jobs.
Another option is to design your own resume from scratch. This gives you more control over how the finished version looks, but it takes more time than using a template. Depending on how your portfolio is set up, you can also add your resume to your portfolio site to make it easier for potential clients to learn more about you.
Check out a few of our favorite freelance graphic designer resume templates to kickstart your resume design.
Modern & Creative Resume Template
For a modern and colorful resume that stands out against a sea of design applicants, use this resume template by Rosa Maglione. With customizable colors, fonts, and an extra photo filter included, the resume template allows you to show off your creativity and unique approach to design. The full template includes a 2-page resume, cover letter, and references.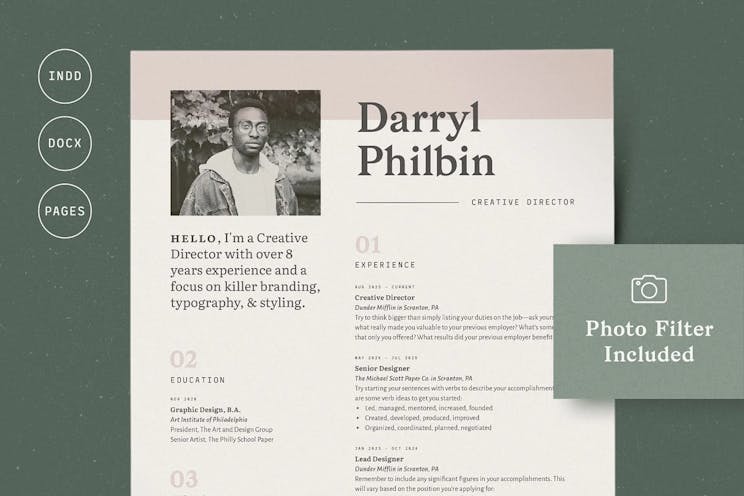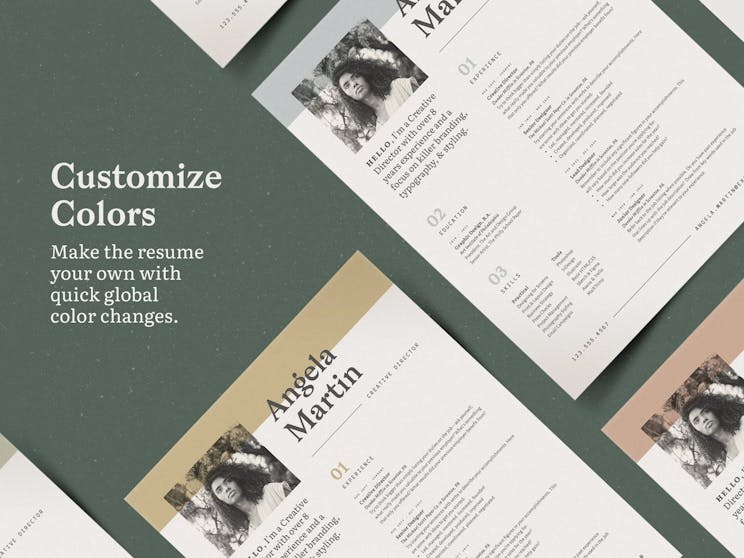 Minimal Graphic Designer Template
For a quick and easy design solution that doesn't compromise beauty, download this straight-shooting resume template by Rossy Fitrika. This graphic designer resume template gives you ample room to display your skills, references, areas of expertise, and anything else you want to showcase.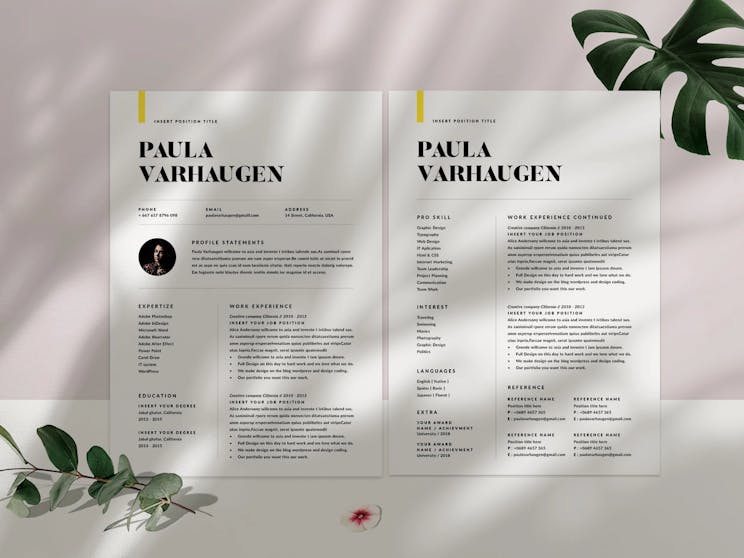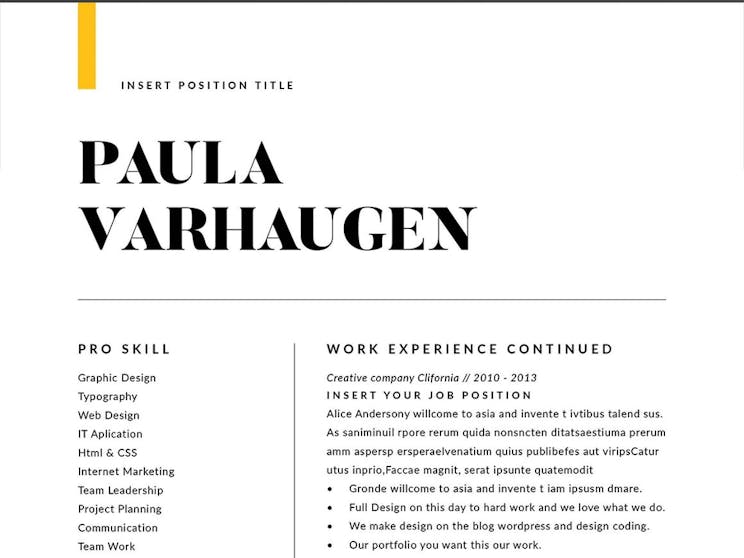 Simple & Beautiful Template
Impress your target clients with a resume that truly reflects your design skills. Customize this stunning template by Rosa Maglione for an opportunity to wow prospective clients and show off your incredible design skills through a thoughtfully designed resume.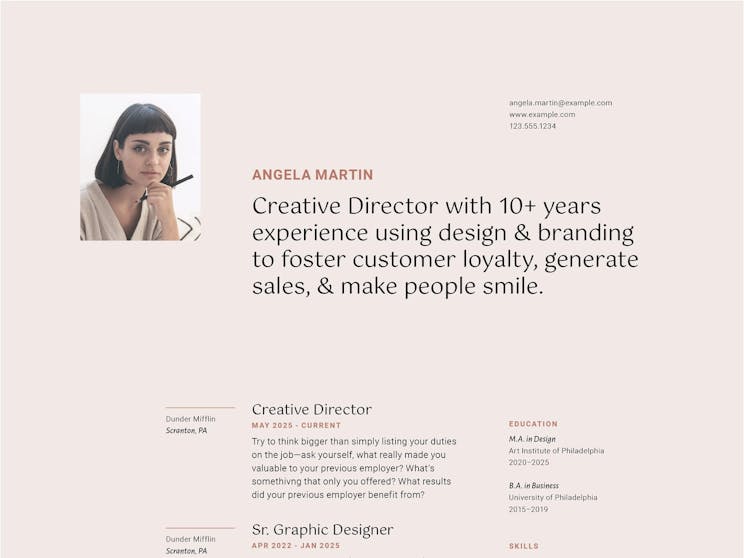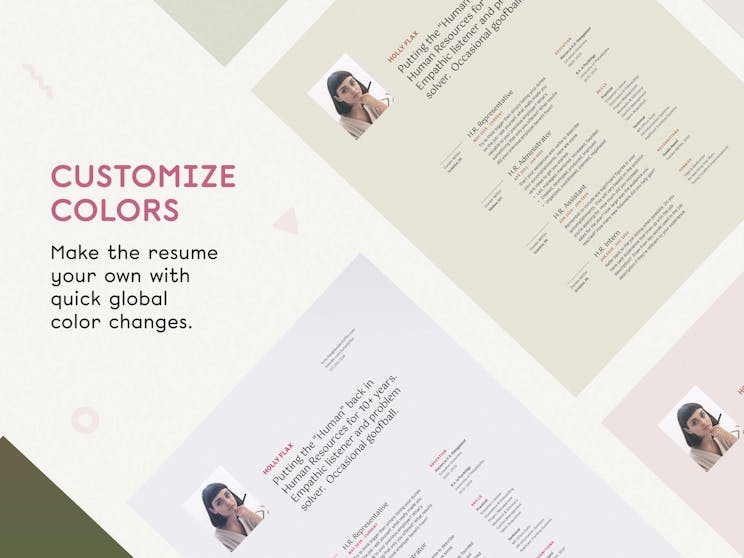 Create a freelance design resume that lands work
A professional-looking resume with relevant keywords can help you make it past the initial screening, improving your chances of landing the perfect freelance design gig. Start with these tips and let your creativity guide you as you craft a freelance resume that helps you book exciting projects.
Build your brand & unlock new 
opportunities with Dribbble Pro
Learn more now
The #1 creative community online

Exclusive access to 1000s of leads

Create an instant portfolio in minutes

Promote your goods seamlessly