Design Portfolio
Write a Stand-Out Graphic Design Cover Letter (2022)
Learn how to write a graphic design cover letter that stands out to hiring managers. Explore graphic design cover letter examples, templates, and tips to get started.
September 19, 2022
Find design jobs
Art by Lucas Wakamatsu
Great graphic designers put a lot of thought and effort into curating and presenting their work because they know a designer's portfolio is one of the most important tools in the job hunting toolbox. 
But as every graphic designer knows, each project you work on requires more than one tool. So whether you're seeking your next freelance gig, agency job, or landing your first internship, you also need a great resume and cover letter. Already have a great graphic designer resume? In this article, get tips for perfecting your graphic design cover letter so it stands out to hiring managers.
The goal of a graphic design cover letter
The field of graphic design is competitive, so breaking through to recruiters and hiring managers is challenging. Even with a beautiful portfolio, if your application doesn't grab someone's attention, it could sink beneath a sea of other applications. If no one ever bothers to open your application, the design portfolio you spent so much time on goes unseen. 
A graphic design cover letter is a summary of you, your skills, and an explanation of why you want the design job and why you're the right fit.
A cover letter is the first step in catching the attention of prospective employers or others. It's a summary of you, your skills, and an explanation of why you want the graphic designer position and why you're right for the job. For designers, submitting a job application without grabbing the reader's attention is like publishing a magazine without a cover. 
What should your graphic design cover letter include?
Before getting into specific elements of a good cover letter, it's important to note that cover letters should be concise. When speaking to potential employers, the goal is to spark interest, not tell a grand narrative — which might be a relief for designers who don't think of themselves as writers.
With that being said, let's take a look at the essential elements of a cover letter:
An attractive header: Every cover letter you send should include a header that matches your personal and professional brand. It should also have all of your contact info, such as your phone number and email address, and relevant links, such as your portfolio, Dribbble, and LinkedIn profile.
An engaging introduction: The initial personalized salutation and the introductory paragraph of your cover letter should serve as a way to grab the reader's attention. Address the hiring manager or recruiter by name and briefly explain why you're interested in the job and company.
Convincing body paragraphs: In two or three paragraphs, the body of your letter should tell the reader who you are as a designer, why you believe you're a great fit for the job, and what you like about the position and company's mission. Include the kind of graphic design experience you have as well as any successes to back up your stated experiences, such as design awards, certifications, or any other achievements.
A call to action: Finally, your cover letter's sign-off should thank the hiring manager for their time and encourage them to learn more about you. You might also briefly reiterate your interest and enthusiasm and include an additional link to your portfolio or other contact information.
There are exceptions to these rules, of course. Some companies tell you what to include in a cover letter, so be sure to read the job description carefully. But besides any unique requests by the business, the checklist above is widely accepted and expected in graphic design. 
How do I write about myself as a graphic designer?
It's not uncommon for designers, especially those early in their careers, to recoil at the thought of writing a strong cover letter. But writing pulls from the same skills that designers already have, specifically communication and creative problem-solving.
Writing pulls from the same skills that designers already have: Communication and creative problem-solving.
The key to writing about yourself as a graphic designer is to take a step back and look at the problem objectively. Imagine yourself as the employer, and ask yourself about the design projects you've worked on, your achievements, and your strengths as a designer. The answers to these questions are the essence of what you'll write in your cover letters.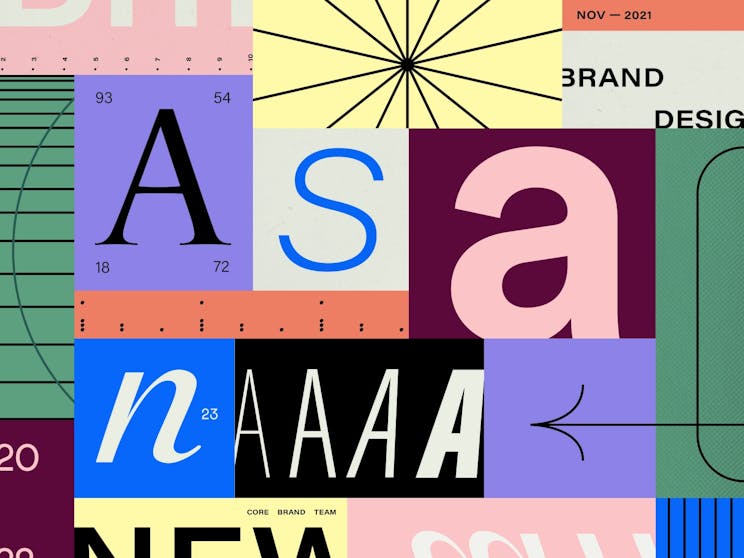 Art by Kristyn Braden
How to write a cover letter for a graphic design position
Writing a cover letter that packs a punch still takes some practice, but starting with a process can help ease you into the practice. After writing a few cover letters, you'll find the process becomes second nature. And hopefully, by this point, you'll find yourself in a position where you're designing rather than writing. 
✔️ Learn everything you can about the company and position
Before you tackle the writing part of your cover letter, sit down and read through the graphic design job description. Take note of anything that stands out to you, such as when the description mentions tools you excel at or skills you feel you demonstrate well. 
Once you've done this, head to the company's website and explore what it does. Take note of anything that stands out or resonates with you, including overall web design. As a graphic designer, you'll probably examine the company's brand identity. Apply this same skill to its brand voice and write a few adjectives describing it. 
Lastly, if you haven't found out already, make an effort to learn the name of the person who receives the applications. If at all possible, avoid opening a cover letter with "to whom it may concern" or other generic greetings. Instead, address the hiring manager or recruiter directly with a simple salutation and their first or last name. 
✔️ Turn your notes into an outline
The best way for new writers to tackle writing projects is by breaking them down via outlines. Borrowing from the elements listed earlier, designate an introduction, two or three paragraphs for the body, and a sign-off. You can simply jot down ideas for these sections in bullet points. This is your outline.
Now you can go back to your notes and start fitting them into place. Most of your writing should be in the body, but if there's something that excites you about the company or position, you can include it in the introduction. Likewise, you can weave this theme throughout, mentioning it in your sign-off.
✔️ Draft (and rewrite) your cover letter
Now it's time to start writing. Hopefully, by now, your research and note-taking put a few ideas in your head. Write them down without judging them. As you go through this process, you'll get better ideas about what to say and how to say it.
Keep in mind, a cover letter is a hook — not a complete story or resume. While you should talk about your work experience and graphic design skills in a broad sense, avoid explaining something like your proficiency in Adobe Creative Suite. Keep these mentions in your resume alongside those about Adobe Photoshop and Adobe Illustrator.
Think back to the brand of the company you're applying to. Try to match the tone of your wording to that of the company.
Finally, once you know what you want to say, you can rewrite and polish your words. At this stage, think back to the brand of the company you're applying to. Try to match the tone of your wording to that of the company. For example, if you're applying to a business that has a playful, casual brand, write a little casually. On the other hand, if you're applying to an agency that services clients, you'll want to write a more professional cover letter.
Get new freelance design jobs emailed to you every morning.
Sign me up!
✏️ Graphic Design Cover Letter Template
A good template is a great way to get your writing mind moving in the right direction. Below is a graphic designer cover letter template that you can fill out and use as a starting point for your own letters:
Dear [Hiring Manager's Name],
I'm writing about the job listing on the [Company Name] website for a new graphic designer. I've always found inspiration in [Company Name]'s work, and I'm excited to offer my creative talents and expertise!
Throughout my career, I've worked with companies like [Company Name] and [Company Name] to build brands that form lasting impacts on their audiences. My work spans all types of graphic design, from print and packaging to logo design and visual identity.
Experience aside, [Company Name]'s mission and values resonate deeply with my own, and in addition to my passion for graphic design, I bring a deep sense of commitment to [Company Name]'s overall mission. 
I'd love to speak with you more about the graphic design opportunity and explore how my skills can help [Company Name] achieve its goals. I've attached my portfolio and resume. 
Thank you for your time and consideration!
[Your Name]
Graphic design cover letter examples
As all graphic designers know, great examples lead the way when it comes to inspiring your creativity. Here are a few cover letter samples to get you moving. 
✏ Design internship cover letter example
Hello John Doe,
I'm writing about the internship you posted for [Company Name]. As a passionate graphic designer set to graduate this year, I'm thrilled about the opportunity, and I'd like to take a moment to tell you why I'd be a great fit for the role.
As mentioned, I'm graduating this year with a Bachelor's in Graphic Design from [University]. When I began my formal education, my skills in creative problem solving and practical design tools were already well-honed. During my sophomore year, I won the Indigo Design Award for Graphic Design of the Year.
This brings me to the internship opportunity at [Company Name]. The work your company does is inspirational and innovative, and that work is one of the reasons I started designing at such an early age. I'm certain that the opportunity to challenge myself in such an inspiring environment would have a profound impact on my talent as a designer. In turn, I would strive to exceed the standards set for this opportunity.
I would be grateful for the opportunity to speak to you more about the internship. I've attached my resume as well as a robust portfolio through which you can explore my work in detail. Thank you for considering me for this amazing opportunity, and I hope to hear from you soon.
Sincerely,
Emily McDribbble
✏ Entry-level graphic design cover letter example
Hi Jane Doe,
I came across the posting on [Design Agency's] website for a new graphic designer, and I wanted to write to express my interest. As a close follower of [Design Agency's] work from the beginning of my career, the word "interest" is a bit of an understatement.
Since graduating 2 years ago, I've worked for [Agency Name] as an intern designing logos, infographics, visual identities, advertisements, and a handful of billboards. In fact, I was a key designer on [Company Name's] brand refresh last year!
While I love the work I do, over the last year, I've immersed myself in design thinking and collaborative design while learning HTML and CSS in my spare time. I believe I'd make a great addition to the [Agency Name] team since the position entails split responsibilities between branding and creating design systems for web applications. 
I've attached my resume and portfolio, and I'd love the opportunity to speak to you further. I appreciate your consideration, and I look forward to hearing from you.
Sincerely,
Emily McDribbble
✏ Freelance design cover letter example
Hi John Doe,
I noticed on LinkedIn that you were looking for a freelancer for your company's rebranding project. I'm a freelance graphic designer specializing in brand identity, and it just so happens I'm wrapping up some client work and looking for my next project. 
I have over 6 years of experience working with boutique, high-value brands. My most recent work includes a rebrand of [Company Name] and the visual identity for a new startup, [Company Name]. My expertise and skills span logo design and visual identity, packing design, and design systems for websites, to name a few. 
I have a few ideas regarding your aim of reaching higher-value clients. Not long ago, I helped [Company Name] accomplish this same goal. Having taken an inventory of your brand's identity across your web and social media presence, I'm certain I can help. 
If you'd like to see more of my work, you can visit my freelance portfolio at graphicdesignportfolio.com where you'll also find some helpful case studies. When you have the time, get in touch and we can set up a quick call to see if we're a good fit for each other.
Thanks for reading,
Emily McDribbble
✏ Experienced designer cover letter example
Hi Jane Doe,
I'm a senior graphic designer with a decade of experience, and I'm as passionate about the work now as when I first started. I leap at the opportunity to solve difficult creative problems that result in helping brands grow and evolve. For this reason, I believe I'm a great fit for the Lead Graphic Designer position at [Company Name].
Having worked on countless design projects across print and digital — and with teams large and small — I'm confident I can lead [Company Name's] design team to new heights. In my current role as Lead Designer at [Company Name], I've had the opportunity to lead other designers in creating print and digital material through multiple ad campaigns. Our most recent efforts resulted in a 47% increase in conversions on our website. 
Design skills aside, I hold [Company Name] in high regard as an inclusive business that takes diversity seriously. I feel that the qualities of a great leader are humility and empathy, and I make a conscious effort to lead in this manner. I'm certain that my expertise can help [Company Name] become a better company, and [Company Name] can help me become a better individual.
I want to thank you for taking the time to read this, and I hope we get the chance to speak more about the opportunity.
Sincerely,
Emily McDribbble
Build your portfolio and grow your design career on Dribbble.
Get started
How do you answer "Why should we hire you?" 
This notorious question is asked at nearly every graphic design job interview and for many designers early in their career, it can be a tough one to answer. Fortunately for you, if you followed the process outlined above, you've already set the stage for why the company should hire you. To top it off, all the research and thinking you did as part of the writing process is the material you'll draw from when your great cover letter lands you an interview. 
Get hired in graphic design
The job search for the right graphic design job can be tumultuous. If there's an edge you can give yourself that improves your chances of landing a position, by all means, go for it. Great cover letters can be one of those edges.
Likewise, if you're on the hunt for a new graphic design role, a great place to start is the Dribbble job board, where you can find the latest opportunities in graphic design and related fields. Dive in, find a job, and start practicing your cover letter writing skills today.
Build your portfolio & unlock new 
opportunities with Dribbble Pro
Get started
Create a client-facing portfolio instantly

Get hundreds of new leads weekly

Connect with the #1 creative community

Promote your goods seamlessly