Design Hiring
The Role of a Lead Designer
Explore the roles and responsibilities of a design lead. Learn the skills needed to be a successful lead designer and how to write a design lead job description that attracts top talent.
March 12, 2022
Start hiring now
Art by tubik.arts
The demand for top-tier designers is surging. Business leaders are beginning to understand how necessary good design is for the success of their brands and products. Those same companies need capable coaches and mentors to get the most from their designers. 
This puts designers with strong leadership skills, in particular, in high demand. But if your brand wants to snag one of these coveted coaches and craftspeople, you'd better write a compelling job description to reel them in. 
What is the Role of a Lead Designer?
The role of a design lead (sometimes called principal designer) is twofold. 
On one hand, design leads are seasoned professionals. They're often experts in their chosen design specialization with the expertise to oversee every aspect of a project. As such, they usually have considerable experience in the field. They bring a lot to the table, including impressive design skills, effective communication, and a proven ability to innovate.
"What makes a great design lead is their ability to maximize the potential of your design team."
But these qualities also apply to a senior designer. What makes a great design lead is their ability to maximize the potential of your design team. They're coaches and mentors focused on leading digital design teams. As leaders, they're capable of identifying each individual's strengths and weaknesses. And as coaches and mentors, they're intent on helping their team members grow, bringing out the best in the design department.
Design leads are crucial on cross-functional teams. In their leadership capacity, they help drive cross-functional meetings from the design perspective. They're diplomats between their design team and other stakeholders, and advocates for the brand's customers, championing human-centric approaches and design thinking.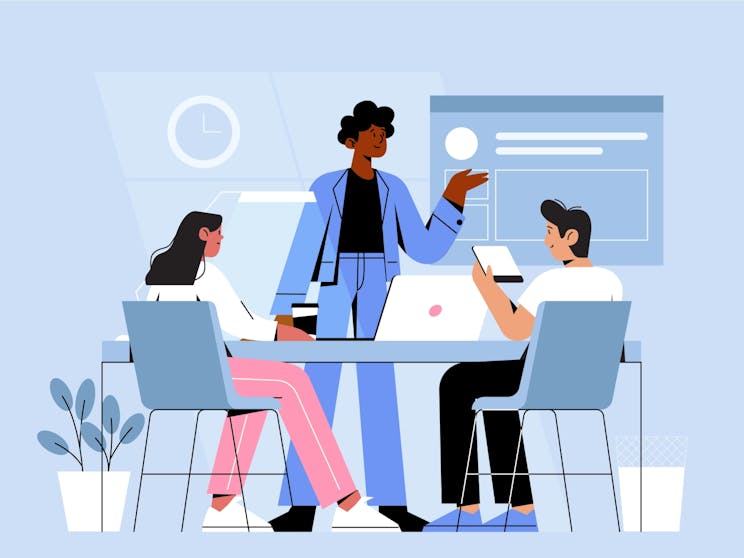 Art by Karina
Why Hire a Lead Designer?
In any collaborative environment, be it sports or business, if you want the most from a team, you give them a leader. Someone with creative vision and incomparable standards that guides them. An individual who inspires each team member to be the best version of themselves.
A design team is no different. Whether it's small or expansive, it benefits from clear leadership.
A great design lead is someone who easily traverses the scale between minutia and big-picture. They're intimate with the end-to-end experience of design objects and how those objects translate into business value. They manage design projects from beginning to end and ensure design efforts meet both customers' needs and business goals. 
At the end of the day, your business exists for a singular purpose: to deliver value to your customers. Designers occupy an immensely important aspect of this collaborative effort, so it's important to leverage their talents by providing them with effective leadership.
Design Lead Skills & Qualifications
Put simply, design leads are leading performers who prefer to manage projects over people. They have a proven ability to lead projects through to delivery. But while they aren't managers, they are leaders. 
As mentors, they're skilled at inspiring their team and knowing what makes each designer tick. As diplomats, they have no qualms convincing stakeholders of the efficacy of design principles and the value it brings to the business.
Here are some other characteristics and skills of a great design lead:
Disruptors and innovators in their field of specialization
Equally talented in analytics and creativity
Capable of looking at the big picture and diving into details
Has the ability to solve difficult design problems and create frameworks from these design solutions
Strong, confident communicators with colleagues below, above, and adjacent to them
Inspiring leaders with deep insights into the personal motivations of their team members
Design leads often have many years of experience and a bachelor's degree in their field. That said, they aren't necessarily experts in specialization. They should know their field inside out, but they needn't be the best at using Illustrator or Photoshop. A typical day in the life of a design lead is split between leading projects, mentoring team members, and advocating design thinking in all directions. 
In other words, deep domain knowledge, great communication skills, and excellent leadership abilities are far more important than hands-on technical knowledge.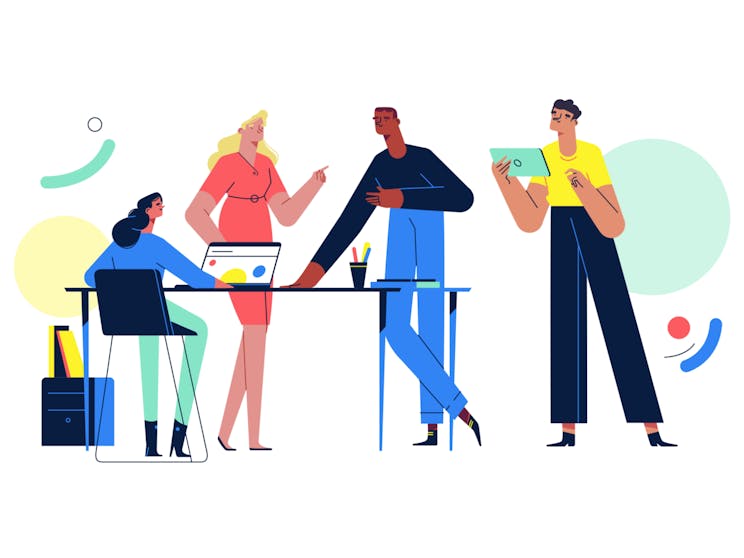 Art by Ilona poliszczuk
How to Write a Lead Designer Job Description
When you're writing any lead designer job description, regardless of specialization, focus on purpose. Designers as a whole are usually passionate about their profession, but design leads are a rung above. They're leaders, and they want to lead their team and guide the design process with their deep understanding of design. 
Here are some of the attributes common across all design lead positions:
Shifts from planning projects to planning programs with ease
Has proven processes and frameworks for complex design problems
Excellent communicators, confident writers, and speakers
A strong ability to lead a design team through influence and inspiration
An outstanding design portfolio demonstrating wider strategic design thinking in their projects 
Experience interacting with and influencing cross-functional teams
Continuously explores new practices and patterns for their problem-solving toolkit
Uses creativity from a wider perspective in terms of re-framing problems and approaches
⚙️ Product Design Lead Job Description
The most in-demand of all the specializations, a product design lead oversees digital product design and leads the design team in building and shipping products. Their specialization gives them deep insights into product design and broad UI and UX principles. They're also skilled at making design decisions based on insights from analyzing user research. Use this product design job description as a guide.
Other qualifications and responsibilities of a product design lead may include:
Experience leading multiple projects while sharing work with other product designers and collaborating with cross-functional leadership 
Product and design decisions that are driven by a deep concern for the customer
Ability to guide user research and create new frameworks for approaching user analytics
Capable of capturing insights from user interviews, interaction, and observation
A robust portfolio of successful products demonstrating their design thinking abilities and how their decisions impacted the success
✏️ UX Design Lead Job Description
A UX design lead guides a team of UX designers. UX design focuses on the interactions users have with products and guides their design decisions heavily on user research. It's often the most analytical design specialization, so a UX design lead should demonstrate deep domain knowledge in user analytics. And because user interactions and experiences are often ephemeral, they should be skilled at translating and connecting UX to abstract business concepts. 
Other qualifications and responsibilities of a product design lead may include:
Experience guiding UX and other design teams through the creation and application of UX strategies 
Deep knowledge of translating concepts into wireframes, mockups, and prototypes
A thorough understanding of research through conducting user interviews
Ability to turn user research into representative personas, user stories, user journeys, storyboards, and other design thinking representations 
A strong portfolio linking their design decisions to successful outcomes in a product
🎨 Lead Graphic Designer Job Description
Graphic design often describes the field of design in broad terms. Those seeking a graphic design lead likely have a team of generalist designers with no specific approach. Medium businesses, for example, are a good match for a graphic design lead.
Some of the responsibilities of a graphic design lead include:
Guiding creative teams in the creation of creative assets for digital, print, social, and video projects
Experience working closely with creative directors and art directors to develop a brand's visual design identity
Helping to guide brand and marketing designers through mentorship and feedback
Innovating new approaches to graphic design problems and creating frameworks or optimizations for common speedbumps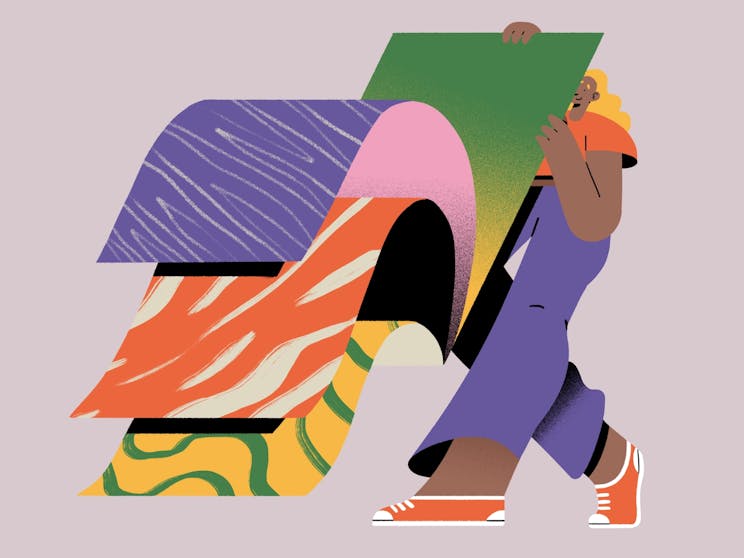 Art by Lucas Wakamatsu
How Much Do Design Leads Make?
The average salary for a lead designer in the United States sits at roughly $96,000. The low end of that average is around $58,000 while the high end is a whopping $158,574. These ranges depend on a variety of factors, including location, certifications, education, and experience. 
Specializations affect these salaries significantly, so if you're looking for a specific lead designer, keep this in mind. For example, it's not uncommon for an experienced lead product designer to make well over $200,000.
Supercharge Your Team With a Design Lead
Is your brand looking for a talented lead for your design team? Look no further than Dribbble Hiring. Countless talented designers depend on Dribbble to showcase their work and engage with potential clients and employers. We make it fast and easy to connect with them. The world's leading brands use Dribbble to attract top design talent. Yours can too.
Hire the world's top designers on Dribbble.
Find a designer
#1 Design Job Board

Advanced search filters

Unlimited messages