Education
Your Ultimate Guide to Finding a Design Mentor
Learn how to find a design mentor based on your unique goals. Discover how design mentorship can accelerate your skill development and career.
July 19, 2022
Get mentored in design
Art by MyTeam.Art
For aspiring designers today, the creative industry and its many subgroups might seem like exclusive clubs full of talented designers. The internet is crawling with designers with refined styles, thousands of Instagram followers, and perfect aesthetics everywhere you look. It's no wonder the world of graphic design can be intimidating at first. 
The good news is that the community is highly accessible, and design mentors can help you figure it all out.
By finding a mentor instead of navigating the rapidly evolving design landscape alone, you can accelerate your design goals while enjoying an enriching learning experience. On top of helping you jump-start your design career and develop your skills, you might even make a new friend. 
But where do you find a good design mentor? The answer is right here. 
"Mentorship is vastly important for new designers, learning what it's actually like in the industry instead of just reading from a book or working on a sample project." — Andrew Daniels, Dribbble Mentor
What is a design mentor?
A design mentor is someone who is a practicing design professional. They could be from any area of the design community—graphic designer, UX designer, product designer—you name it. The purpose of a design mentor is to help share relevant knowledge from a professional perspective with new designers.
They act as a leader by providing direction to designers looking to advance their careers, develop a portfolio, build technical skills, and can offer relevant connections and resources when applicable. 
Design mentoring is helping less experienced designers to learn and progress towards their goals. 
What do design mentors do?
A good mentor is a teacher, leader, and advisor, wrapped into one. But what helps a good design mentor stand out is that they are invested in your professional development and genuinely want to help you succeed. 
An ideal mentor will help you gain knowledge and grow your career opportunities. They will also help you make connections, act as a sounding board for your ideas and aspirations, provide feedback on your design portfolio, and be a champion of your work. 
A good mentor should:
Be passionate about the field of design and helping others develop their craft
Communicate effectively and be pleasant to interact with 
Have enough time to take questions and help you promptly
Be ethical and promote industry standards/best practices 
Support your work and form connections/make introductions 
Not all mentors will be your perfect match. Before choosing your future mentor, have a few meetings or virtual coffee chats with the person to make sure you get along with them and enjoy their communication style.
While you shouldn't judge a book by its cover, there is a lot you can discern from a few simple meetings with prospective mentors. 
​​"The expert at anything was once a beginner." – Helen Hayes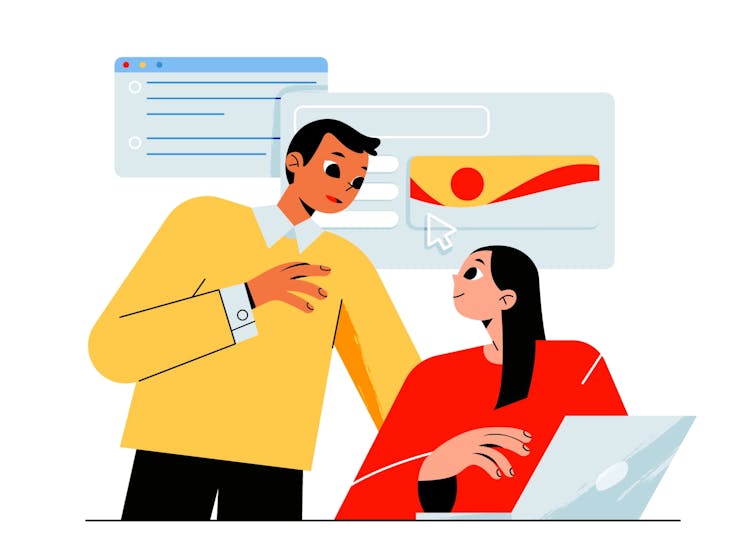 Art by MyTeam.Art
How to find a design mentor
Just like design itself, knowing how to find a mentor (the right one for you) may seem daunting at first. Finding someone in your field, at your skill level, which is available and you get along with, could be a difficult feat without proper resources. Luckily, there are many different ways you can meet the right mentor for you. 
Here are four places to find a design mentor today:
Bootcamps and online courses
Dedicated mentorship programs 
Online design communities 
Your workplace or professional network
You don't need to look in all of these places! Choose a few that you are most interested in and start there. 
✏️ Bootcamps or online courses
Whether you're new to design or eager to build your design skills, bootcamps and online UI/UX design courses can be a great place to find a design mentor. If you're looking to get mentored by the best designers in the business, check out Dribbble's industry-leading online design courses.
All of Dribbble's courses combine on-demand learning with live, weekly mentorship sessions to create a comprehensive yet flexible learning experience. Whether your goal is to learn UI design skills or get hired in Product Design, Dribbble will match you with a seasoned mentor to help you accomplish your goals.
Coming from reputable design-forward companies, Dribbble's mentors are equipped to guide you through course materials, projects, and career prep as you learn alongside an intimate cohort of student peers.
"Connecting with my mentor and a few of my fellow cohort members during Dribbble's course has been such a valuable experience. My mentor was patient, encouraging, and thoughtful in his design and career advice, and I credit a large part of my success in the job hunt to him." — Tiffany Yeh, Dribbble Graduate
🤝 Dedicated design mentorship programs
Because the field of design is so incredibly vast, there are many dedicated design mentorship programs hosting several mentors.
If you're self-taught or aren't planning on taking a course or Bootcamp but still feel you could benefit from some expert guidance, design mentorship programs are a great option.
Here are a few excellent design mentorship programs to check out:
🌐 Online design communities
The internet is vast, and finding your niche or subgroup here can take a while if you don't know where to start. There are hundreds (if not thousands) of online communities centered around design where you could find potential mentors.
As the largest online community for designers, Dribbble is the perfect place to start. Connect and build relationships with a global network of creative professionals.
More communities to source mentors: 
Slack communities like Designer Hangout or any of these
💼 Your workplace or professional network
Working at a larger design-forward company certainly has its advantages, and mentorship is usually one. Ask your manager or team lead if there is a mentorship program, and if not, no worries, you might just get some funding to join one! 
Reach out to your network on LinkedIn or Dribbble (or wherever else you keep in touch with professional contacts) to see if anyone in your field of design may be interested in taking on a mentee.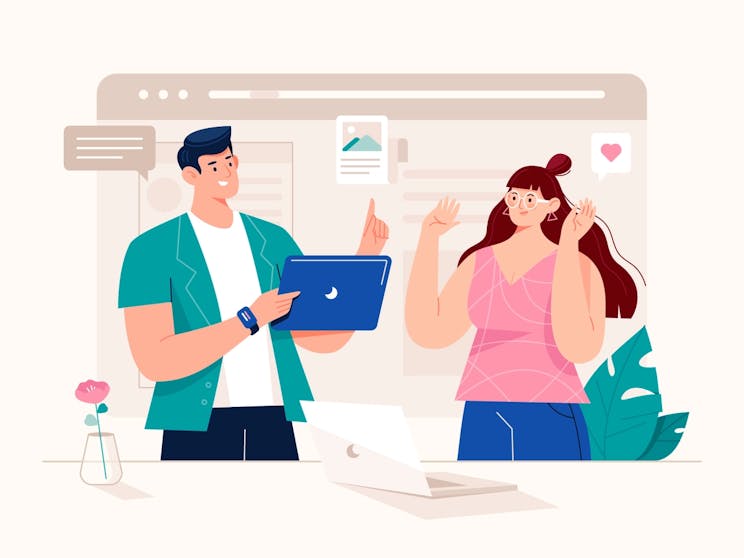 Make the most out of your design mentorship
Once you have secured a mentor, you don't want the relationship to fizzle or become too one-sided (e.g., only contacting your mentor when you have specific questions or get stuck). While you may have entered into the relationship with one question in mind, it's always good to follow a protocol to make the most of your experience. 
These great tips can help you to get the most out of your mentor-mentee relationship:
Set goals and expectations 
Stay professional 
Be prepared for your meetings
Keep an open mind when it comes to feedback
Trust your mentor
Be thankful (and let them know!) 
Mentees can learn more about creating a win-win relationship with mentors here. 
Find a graphic design mentor to grow your design career. 
Ready to grow your design skills through hands-on mentorship? Get matched with an expert mentor by enrolling in one of Dribbble's industry-leading online design courses. Develop your digital design skills on your own schedule alongside your dedicated mentor and a global community of design peers. Learn more now.
Learn design online with industry leaders on Dribbble.
Upskill today
Design mentorship

Flexible learning

Hiring connections