If your company does any type of digital design, it's essential to have a visual designer on staff. An experienced visual designer can use their design skills to make your projects more successful, bringing in more revenue and making it easier to run a profitable business. We put together this visual designer job description to help you understand what a visual designer does and help you hire the right one for your team.
What does a visual designer do?
A visual designer creates and executes design concepts for websites, mobile apps, video games, movies, and other digital projects. In addition to coming up with design concepts and creating artwork, visual designers also collaborate with people from other departments to develop prototypes and make sure their concepts are feasible from a technological perspective.
Related: Visual Designer vs. Graphic Designer - What's the Difference?
A visual designer creates and executes design concepts for websites, mobile apps, video games, movies, and other digital projects
Visual Designer Job Description Template
If you're ready to hire a visual designer for your team, it's important for the job description to provide an accurate representation of the required duties and work environment. When you publish accurate job descriptions, you're giving applicants a chance to opt-out if they don't want to perform some of the required duties or aren't well-suited for certain working conditions. A good job description also makes it easier for hiring managers to screen applications.
Use the visual designer job description template below for inspiration as you put together a job description that reflects your company's needs.
Job Overview
Dribbble Productions seeks an experienced visual designer with a strong command of Adobe Creative Suite to produce scalable designs for mobile applications. The ideal candidate will have 5+ years of experience with graphic design, user interface design, interaction design, and/or product design.
At Dribbble Productions, the visual designer is part of a cross-functional team responsible for developing visual concepts and bringing them to life. Our mobile applications aim to make it easier for consumers to manage their finances. Employees contribute to a variety of design projects, including our debt payoff calculator and mobile budgeting interface. 
Essential Roles & Responsibilities
The selected candidate should be able to perform the following duties, with or without reasonable accommodations:
Create mockups of mobile app features with Adobe XD, Mockingbird, or Fluid UI
Apply best practices in typography to make visual designs more appealing
Use Adobe Photoshop, InDesign, Illustrator, and other design software to create mobile app layouts and animations
Develop social media infographics, logos, and other promotional designs as needed
Collaborate with the UX designer, UI designer, and other design professionals to achieve team goals
Select appropriate fonts, shapes, and other design elements for new apps
Redesign existing apps as needed to meet users' changing needs
Required Knowledge and Skills
Ability to meet deadlines consistently
Skill in using HTML, CSS, JavaScript, and other languages to produce visually appealing digital designs
Excellent communication skills
In-depth knowledge of graphic design principles
Extensive knowledge of UI design principles
Strong problem-solving skills
Ability to apply constructive feedback
Education and Experience Requirements
The ideal candidate should have a bachelor's degree in graphic design, fine arts, visual communication, or a related field. Job seekers must also have experience in web design, digital design, and graphic design. Experience in any of the following areas is a plus:
Product design
User experience design
Prototyping
Wireframes
Experience brainstorming with other designers
Creating a brand identity from scratch
Salary
The average design salary for this position varies based on education, experience, skills, and abilities. Dribbble Productions offers a competitive compensation package that includes health insurance and a 5% retirement match.
Application instructions
Apply at the Dribbble Productions website. Include a link to your design portfolio with your completed application.
How to assess visual designer skills
It's important to ask the right interview questions, but the interview is only one piece of the puzzle. Once you receive a few applications, start screening them to determine if each applicant has the right skills for the job. It's helpful to create a screening matrix to help you make objective decisions. A matrix makes it easy to compare applicants based on their credentials instead of on subjective criteria.
Here's what a screening matrix should look like: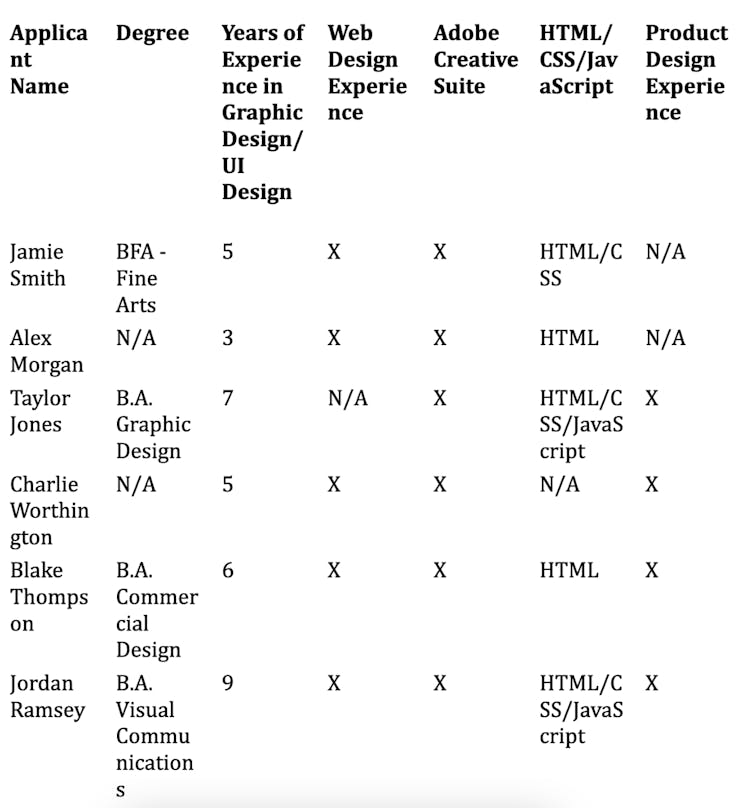 As you can see, a screening matrix makes it a little easier to determine if each applicant meets the minimum requirements for the job. Based on the matrix above, you'd likely exclude Alex Morgan and Charlie Worthington from further consideration based on their lack of a required bachelor's degree.
Of the remaining candidates, Taylor Jones and Jordan Ramsey seem the most promising, as they have more than 5 years of experience, meet the minimum requirements for web design and Adobe Creative Suite, and have that "nice-to-have" experience in product design. Before you move forward with interviews, check each candidate's portfolio to make sure their design style is a good fit for your organization's needs.
Hire a visual designer
Whether you're looking for a full-time visual designer or a freelance visual designer to help you with a one-time project, Dribbble is the best place to find design talent. Some of the top employers in the world use our job boards to find experienced visual designers, graphic designers, product managers, and UX/UI professionals. Sign up today and make your job postings visible to thousands of design professionals worldwide.
Hire the world's top designers on Dribbble.
Find a designer
#1 Design Job Board

Advanced search filters

Unlimited messages