Product Designer salary in the United States
Confidence HIGH
$84,202 USD/Year
Expected Base Pay
The expected Product Designer salary in the United States is $84,202 /yr
Need to hire a graphic designer? Use the graphic designer salary calculator to determine how much graphic designers earn on average per year. Then, keep reading for career insights that shed light on the different variables influencing designer salaries, along with best practices for communicating your salary range with your graphic design candidates.
What is the average graphic designer salary?
How much does a graphic designer earn in 2021? The answer is, it depends on a few variables:
Education level
Years of experience
Design specialization
Geographical location.
We'll dive into how each of these variables influence graphic designer salaries below.
However, the average salary for a graphic designer with 3-5 years of experience in the United States can range anywhere between $50,000 and $75,000 USD.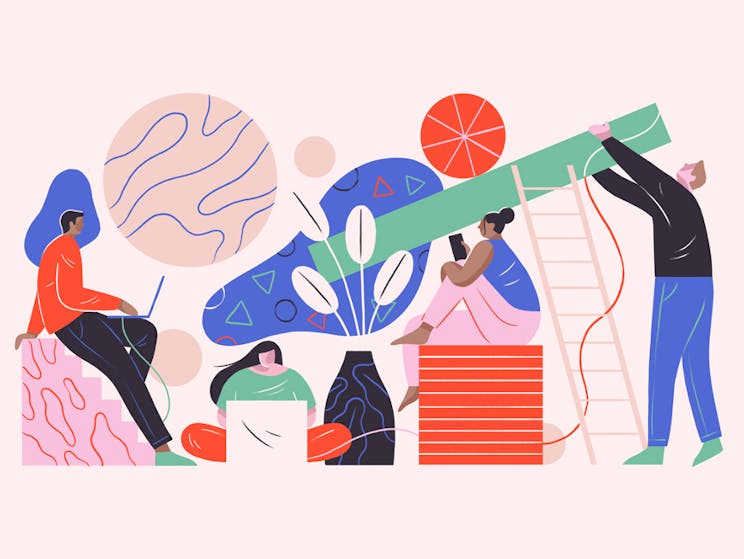 Art by Brad Cuzen
Factors that affect graphic designer salaries
Learn how different variables influence the salary for a graphic designer.
Education level
Education plays a big part in determining graphic designer salaries—at least at the very beginning of a graphic designer's career. Did they attend an accredited design school? Do they have a Bachelor's degree in marketing, communications, or graphic design? Are they self-taught? The level of their education entering the industry can affect what a graphic designer's starting salary is.
Years of experience
The level of professional experience a graphic designer has also affects salaries. Are they an entry-level graphic designer just coming out of school? Do they have 4-5 experience under their belt? Have they been practicing graphic design for over 10 years? The more years of experience a designer has, the higher salary they'll earn.
Specialization
Another variable that affects salary levels is the job title you're hiring for. Designer jobs vary in complexity and skills. The average salary for web designer jobs will differ from the salary for UX designer jobs, for example. Remember: The type of design discipline you're hiring for will affect the average base salary for that given role.
Geographical location
Geographical location is another consideration you'll have to make, especially with remote work on the rise. Your base salary offer should meet the cost of living standards in the graphic designer's respective location.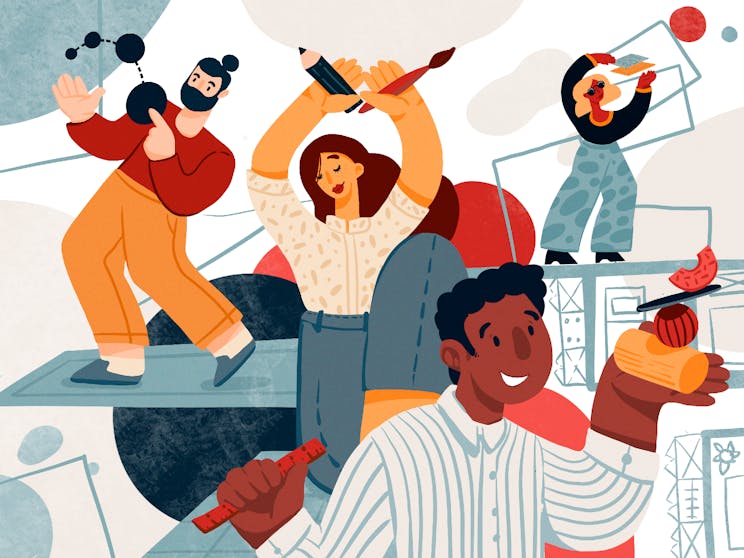 Art by tubik.arts
It's not all about salary...
According to Dribbble's Global Design Survey data, over 50% of graphic designers identified competitive salary as the most important factor they seek out in a job. But as much as salary is important, it's not all that matters. After salary, graphic designers identified these three factors as essential in a role:
Good company culture
Flexible hours
Creative freedom
This is your opportunity to sell design candidates on why they should work for you. Remember, the best applicants can be choosy about where they even apply. They're going to pick and choose from job listings out there to try to find the best company for them.
Use your job description to spell out why a graphic designer would want to work for your company. What's the culture like? What are the perks they get beyond just the standard compensation package?
If you're a big corporation that's been around for decades, stress how stable and secure the company is. If you're a small startup with a fast-paced environment, emphasize the variety of work and challenges designers will be able to solve.
Company culture can play a huge role in which company a designer chooses to work for. Even things like whether remote work is possible (or preferred or even the only option), whether the company does annual retreats for their staff, or things like wellness programs can be a deciding factor for many designers.
Art by Justina Leisyte
Talk about benefits & compensation
At the same time, discuss other benefits you offer. In the United States and some other countries, offering health insurance can be a huge perk for many employees. Things like retirement plans can also be important, as it shows you believe in investing in your employees. Be sure to include the amount of paid time off employees receive in a year, too. This can be a deciding factor for some applicants, especially if the PTO is generous.
Hire a graphic designer today
Ready to hire a full-time graphic designer? Use the graphic designer salary calculator above to determine the average salary range for the role you're hiring for. Then, post your job description on design job boards like Dribbble to start the hiring process!
Simplify hiring your next designer today with Dribbble Hiring
Learn More Now
Top quality candidates 

Advanced filtering & search

Connect directly with designers