Design Hiring
The Ultimate Guide to Hiring a Designer
Learn how to hire the right designer for your team. Get job description templates, salary guides, interview prep resources, and more.
September 16, 2021
Start hiring
Art by Renee Fleck
Did you know that hiring a designer can be one of the best decisions you make for your business? Whether you're a new or growing company, a professional designer will save you time, improve your image, and even help you generate more revenue.
With that being said, hiring a full-time designer can be a time-consuming and potentially expensive process for a business owner or hiring manager. Whether you're considering hiring a designer or ready to start your search, keep reading to learn how designers can add value to your business, and follow the 8 step process below to ensure you hire the right one.
Step 1: Assess your team's needs
The first thing you should do when considering a new full-time design hire is to make sure you understand where your current team's strengths and weaknesses lie.
Here's how to get started:
Talk to team leads and colleagues
Conduct formal skill assessments
Review past work and performance reviews
Ideally, you want to find a new designer who will fill the gaps in your team's current skill set. If you already have designers who are particularly strong in one area, such as interaction design, then you might want to focus your search efforts toward a designer with strong UI/UX skills. 
Also be sure to assess where your team spends most of their time. Are they overwhelmed with particular design tasks? If so, make sure that whatever graphic designer you hire has solid skills in those areas.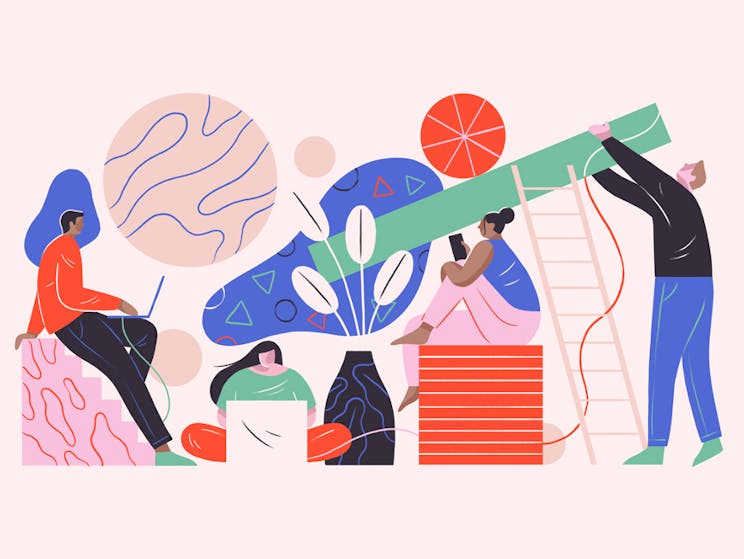 Art by Brad Cuzen
Step 2: Determine the type of designer you need to hire
Now it's time to determine exactly what kind of designer you need to hire. This step is especially important because it sets the stage for the rest of the hiring process. To help you understand the intricacies of each type of designer role, it can be helpful to look at examples of job descriptions other companies are posting as a reference:
Step 3: Write a job description
Think of the job description a bit like a personal ad. The point is to make the job opening seem appealing to potential candidates while also weeding out those who aren't qualified. 
Your job description should include the following information:
The responsibilities and tasks that the designer will be expected to perform
Whether the job is in person or remote and how flexible the hours are
The qualifications you're looking for
The benefits of working for your company 
Information about the company and team culture
The compensation range
Some employers resist including their compensation ranges for job openings, but if you want to attract the best talent, it's a good idea. Many prospective job applicants may skip over jobs that don't include it, assuming the pay is low. 
Be sure that your job posting also includes what applicants need to send to apply. This should include a resume, cover letter, and a link to their portfolio or some of their work. 
Once your job description is written, it's time to post it online. It's a good idea to post it both on specialized design job boards as well as more general sites like LinkedIn. This will ensure you get the highest number of qualified candidates applying for your open position.
Pro Tip: Be specific about what type of designer you're looking to hire and draft your job description accordingly. Here are a few helpful resources with job description templates to help you get started: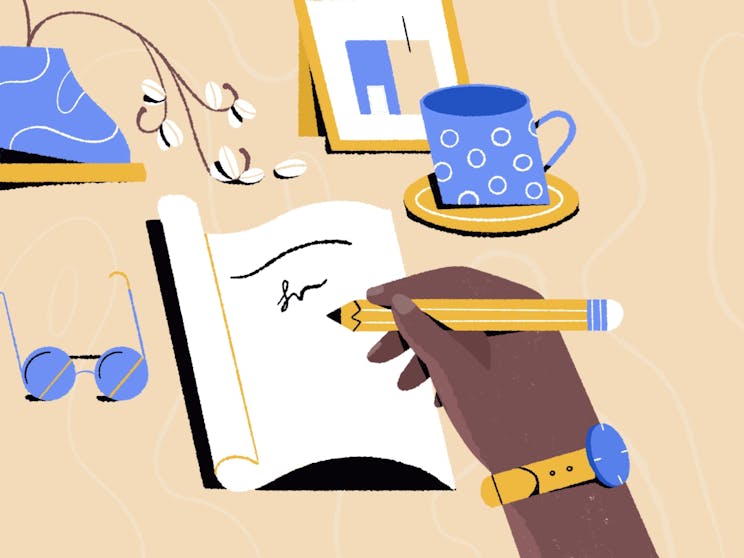 Art by Bulma illustrates
Step 4: Invite designers to apply
You don't want to just sit back and passively wait for people to apply for your design job opening. You'll want to actively seek out designers that you feel have the necessary skills and experience for the job and invite them to apply.
Use Dribbble's Designer Search as a starting point for finding the right applicants. It allows you to search by skill, location, experience level, and more. 
It's also possible to search for designers on sites like LinkedIn, though it can result in an overwhelming number of potential contacts. Instead, consider looking at companies whose designs you admire and check out their current and former employees, or look at members of design groups. 
Step 5: Screen candidates
Once you've received some applicants for the open position, it's time to screen those candidates.
Start by looking over resumes and portfolios. Decide which parts of your job description are the most vital for applicants to meet, since it's rare to find applicants who meet 100% of the items you've listed. You might overlook the number of years of experience or education level, for example, for a candidate who is otherwise highly qualified.
From there, you can narrow down which candidates you want to interview, and which aren't qualified enough to move further in the hiring process. It's best to notify candidates you're rejecting. It's fine to use a form email for this purpose, but don't make the mistake of BCCing everyone who applied to the same email. 
You'll then want to notify those that you'd like to interview. Setting up a calendar where candidates can select their own interview date and time (such as with an app like Calendly) can make this process much more streamlined, especially if you're interviewing more than a handful of designers.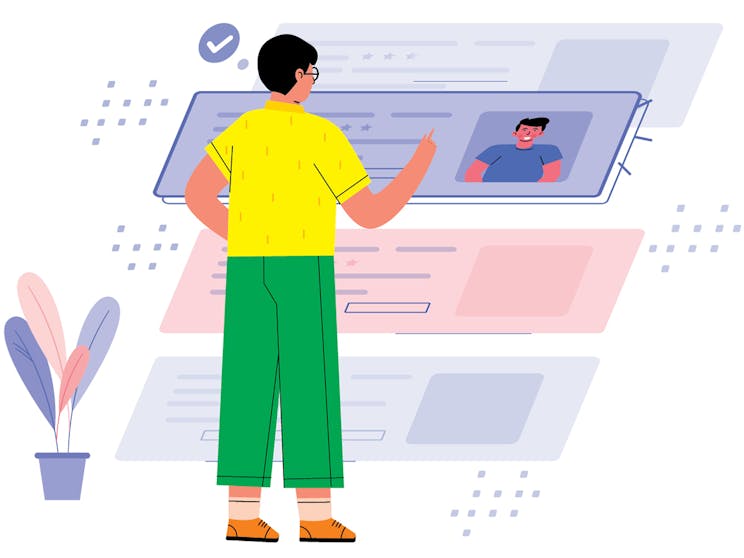 Art by Tiep Nguyen
Step 6: Prepare for interviews
Set aside at least half an hour, but preferably an hour, for each interview. You don't want to feel rushed, and you don't want your candidates to feel rushed, either.
Also give yourself a buffer in between interviews so that if you run over you won't keep other candidates waiting, but also so that you have time to make any notes or take care of personal business in between. 
Know what questions you want to ask prior to your first interview. General interview questions are great, but be sure to review each designer's portfolio so that you can ask them specific questions about their work. This will give you more insight into how they approach design and how they'll fit into your team. Check out these helpful resources to help you prepare:
For many positions, especially remote ones, you'll likely have more than one interview before extending an offer. Take that into consideration when figuring out how long it will take to hire someone.
It's also a good idea to let candidates know at this stage what the interview and hiring process looks like, including whether you'll be including a design exercise or test project.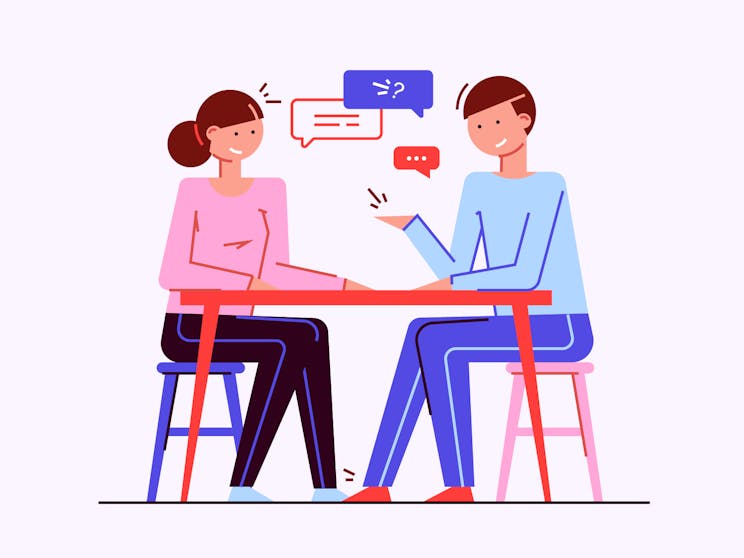 Art by Egor Kosten
Optional Step: Conduct a design exercise
Design exercises can be useful in the hiring process, but they can also be a deterrent for many qualified candidates.
If you're interviewing people who are currently employed as designers, it can be difficult for them to find the time and energy to work on a design exercise outside of their usual working hours. This can mean that they invest less time in the project than candidates who are unemployed or underemployed, even though they may actually be better designers.
If you do decide to conduct a design exercise, make sure it's one that's simple and straightforward, and won't require any of your candidates to invest hours of their time. Also, if this is an exercise that might result in something your company will use, be sure that you compensate designers for their time and efforts in completing the exercise (this can also be a good idea even on smaller test projects). 
Some good examples of test projects include something like a wireframe for a single page if hiring a UX designer (be sure to give them a well-defined design problem to solve along with at least one user persona), or asking someone to redesign a social media post if you're hiring a visual designer.
Then, you'll want to have a follow-up interview with them where they can explain their process and thinking. This part of the process is actually more valuable than the exercise itself, as it gives you insight into how they approached the design problem and what their logic was behind the completed test.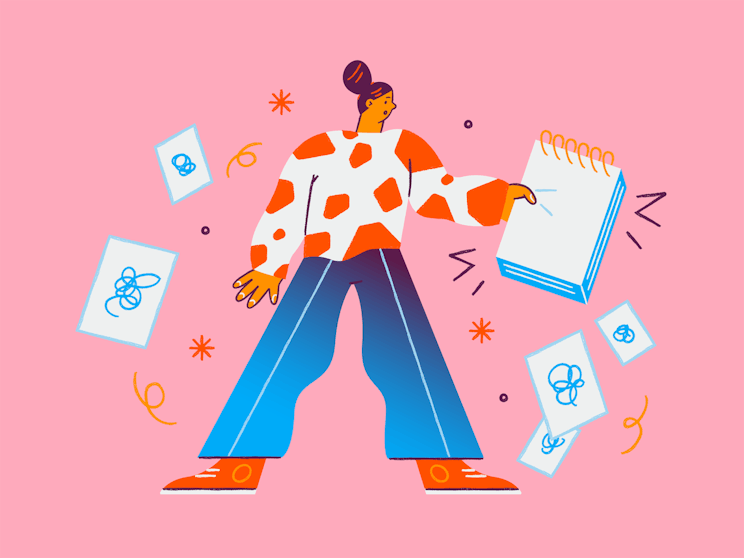 Art by Ksu Angeltseva
Step 7: Extend an offer
You've screened, interviewed, and tested your potential candidates, and now you've selected the best fit and you'd like to make an offer. What should that offer include and how should you make it?
One of the best ways to make an offer is to schedule a final call where you can discuss it face to face. You can let the candidate know ahead of time that you'd like to make an offer and ask them to schedule a time. This allows them to be prepared going into the call. 
Be sure that you include details about the graphic designer salary (including pay frequency), any bonus structure that might exist, as well as details about benefits like paid time off, health insurance, retirement plans, and the like. You want to give the candidate a full picture of all of the compensation they'll receive. 
Don't expect an immediate answer on this call. Give them a day or two to think about the offer and compensation, or to ask any questions they might have. Expect that the best designers may want to negotiate, but don't use that as a reason to give them a low offer to start with.
If your offer is reasonable and in line with industry standards, they may not do any negotiating on the finer details of it.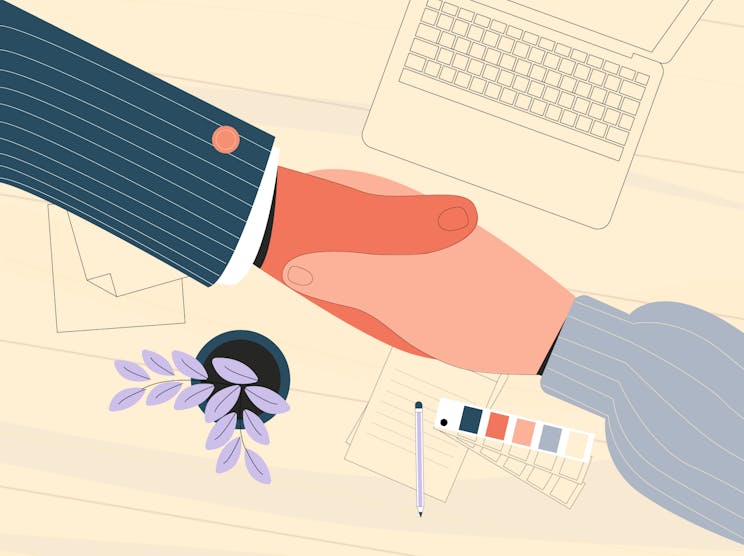 Step 8: Notify other candidates
Once your chosen candidate has accepted your offer, be sure to notify the other candidates that the position has been filled (don't notify them before that point, in case your offer is rejected).
Thank them for their time and efforts and be sure to keep them in mind for future designer jobs that become available. It's best to keep the lines of communication open in case your first choice doesn't end up working out.
Hire your next designer today
Investing time upfront to hire the right designer for your business will save you time, effort, and a lot of money in the long run. Follow the steps above for the smoothest and most effective hiring process possible. Best of luck!
Hire the world's top designers on Dribbble.
Find a designer
#1 Design Job Board

Advanced search filters

Unlimited messages