Design Hiring
10 important questions you should ask in a product design interview
A list of essential questions you should come prepared to ask in your next product design interview.
September 16, 2021
Hire Designers Today
Art by Christine Soules
Are you preparing for your next product design interview? Before you sit down in front of any hiring manager, it's important to understand that an interview is meant to be a discussion session and not a one-way question and answer process.
Hiring managers aren't only looking for designers who can do the job well — they want to hire employees that show a genuine interest in the company and taking their product to the next level. Interviewers are looking out for opportunities to identity forward-thinking in designers, and one of the best ways they are able to do so, is by carefully listening to the questions you ask them during the interview session.
On the other end of the spectrum, asking the right questions is essential for you to gauge whether certain product designer jobs are the right fit for you as a designer — in terms of the role itself and the company culture.
Below is a list of 10 sure-fire questions to engage your interviewers and get a full picture of your potential new job.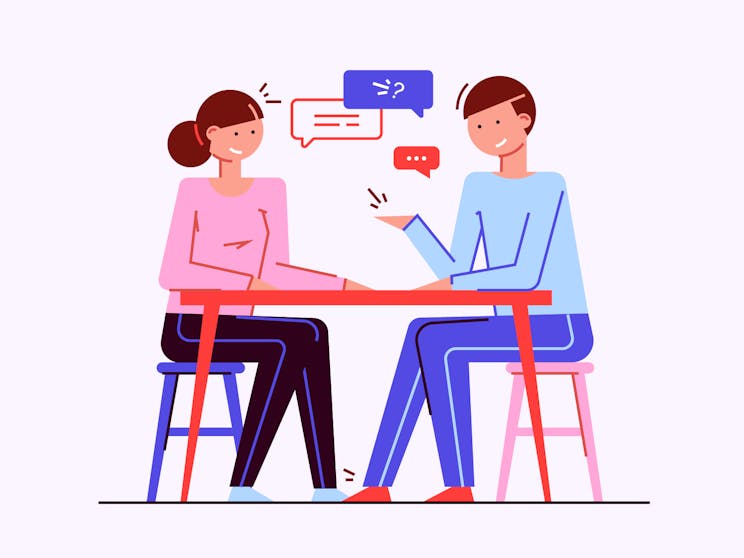 Art by Egor Kosten
1. What do you enjoy most about working here?
While the question might sound generic, extending your interview discussion session with this question already puts you at an advantage. Asking about your interviewers' interests and motivations for their current working position is indirectly prompting them to talk about the same things you might enjoy about the work or the company if you're brought onto the team.
Hiring managers, in general, are more than happy to answer this question because it gives them the opportunity to incite some excitement around working on the team.
2. How does product design contribute to the success of this company?
Even though the value placed on design might be obvious from the product designer job description, you should try to get a better understanding of the importance of product design to the business's greater mission. For example — how will design improve their sales matrix, what makes design an important differentiator from their competitors, or why is design key to connecting with their target audience, etc.
3. What is the single biggest challenge facing the company/department today?
Yes — Before a company goes hunting for a great product designer, there must be a challenge or problem they need to solve. Otherwise, why would they want to hire another expert? Maybe they need more hands to get the job done faster, maybe they need someone with new ideas to help make better design decisions, or maybe they just need to do some task shifting to enhance their performance.
Whatever it is, the team is trying to solve a problem, and you should know what that problem is before you start working there.
"The team is trying to solve a problem, and you should know what that problem is before you start working there."
While some interviewers may be generous enough to explain the challenge they're facing without you asking, others may just be waiting to hear you bring it up into the discussion first. If you're fortunate enough to ask them this question before they initiate it, trust me — you could just be their next employee.
Look out for the best chances to shoot this question at them, and be ready to talk about how your expertise and experience can help them solve some of these problems.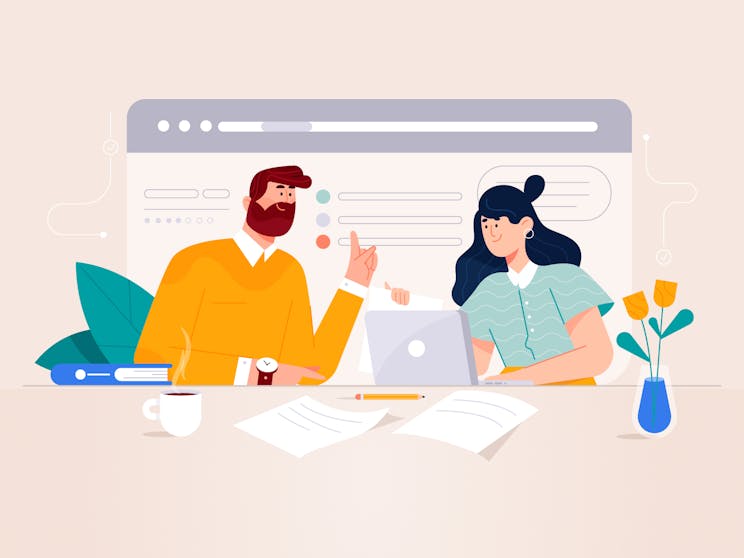 Art by Carolina Contreras
4. What are the current strengths and weaknesses of your design team?
In an effort to impress their candidates, most interviewers may only disclose the strengths of their team during the interview sessions, even though they understand that exposing their weaknesses would help them find the right candidate for the job.
Asking them this question will give them a better opportunity to open up to you, and you'll know exactly why you're coming in and what they'll require from you along the line.
5. What does success look like here?
Success has different meanings to different companies — especially when it comes to product design. Success to one company could mean an innovative breakthrough in their product design, but to another, their greatest accomplishment could be achieving a seamless user experience across their website.
Whatever their definition of success is, showing interest in this before getting hired is already putting you on their list of potential problem solvers who are coming in to help them achieve these desired goals.
6. What metrics would you use to measure success in this role?
This question doesn't only help you understand the company's idea of success, but it also gives you an idea of what may be expected of you as the role-player.
A good answer to this question would reveal how much of your efforts would be appreciated and at what length would the company go to ensure you get the work done. What kind of assistance would they provide to help you succeed? Would they leave everything to you alone to handle without support? How much time would you spend on the job? These are things you want to know before accepting any position.
Ask your interviewers what metrics they'd use to measure your success in the role when you're finally hired. You can also ask them for examples of past employees who were particularly good or bad at the job and why.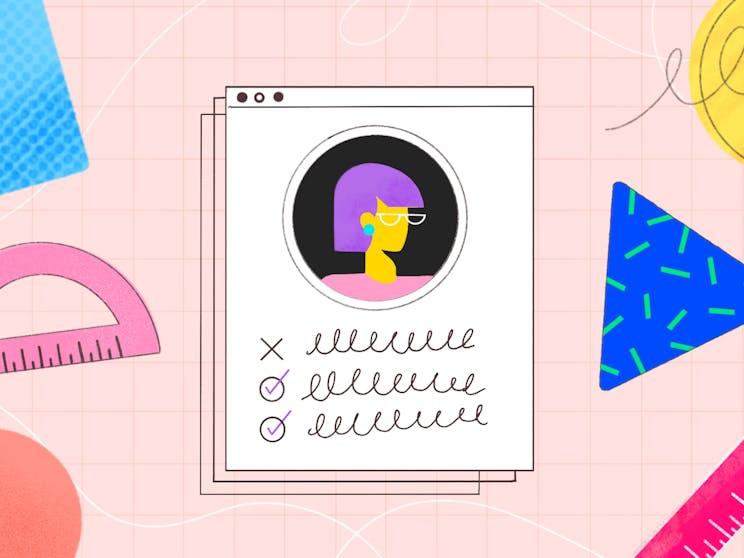 Art by Renee Fleck
7. What part of the design process does the team spend the most time on?
You interviewers may not make it a point to tell you which part of the design process the team spends the most time on — whether it be user research, design, and/or usability testing. This question doesn't only demand to know where you'll be most needed when hired, but will also indirectly reveal what the product manager believes is the most important area to focus on.
8. Can you describe a typical day for someone in this role?
A good answer to this question will help you understand your entire duties and responsibilities for the job on a day-to-day basis. This question will also help you gauge what skills you may need to learn on the job to help you succeed and the opportunities you'd have to learn these skills throughout the design cycle.
9. Why did you decide to work at this company?
This may seem like a personal question but it isn't actually. Everyone has personal reasons for choosing the kinds of companies they work for, but that shouldn't be applicable here. Of course, one of the most common questions interviewers would ask you is, "Why do you want to work here"?
Reciprocating the question will give you a glimpse of what their ideal answer is to the question they asked you earlier. If they could ask you such a question, there's nothing wrong with wanting to know why they chose to work for the company too.
Never ignore this question because most often, it's the first approach to building a connection with your interviewers given you share the same values and beliefs.
10. What keeps you motivated to work with this company?
Here's talking about motivation – What keeps them going with the company irrespective of the daily challenges encountered in their role? Is it the salary they're paid or is it other incentives? Maybe it's the working hours, the team culture, or the promotions. Whatever it is that motivates them could be your motivation too. So, make an effort to know more about what drives them so you understand what you might be facing if you get the offer.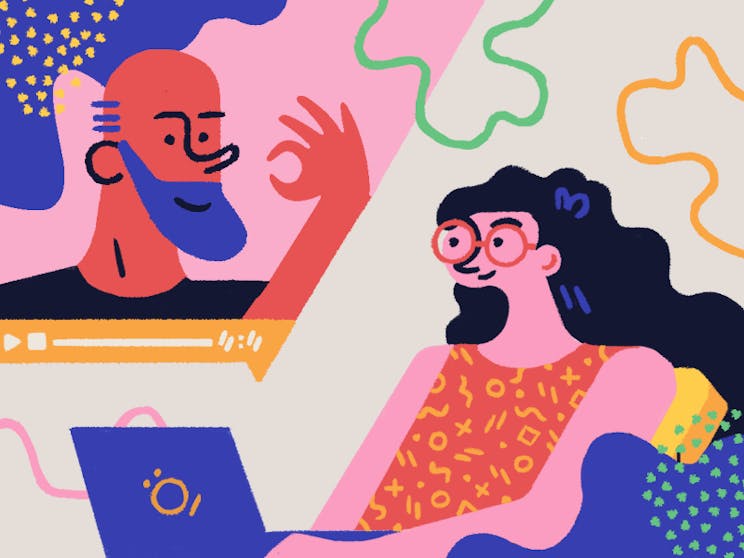 Art by Christine Soules
Conclusion
Remember, an interview session isn't a one-way question and answer process. While an interviewer's goal is to figure out whether you're the perfect fit for the job, you also have a role in interviewing the hiring manager to help you determine whether the position is right for you. So, come prepared to ask the right questions, and you'll be well on your way to having a productive discussion with your potential new employer. Good luck!
Simplify hiring your next designer today with Dribbble Hiring
Learn More Now
Top quality candidates 

Advanced filtering & search

Connect directly with designers