In the past, many organizations separated their employees into departments, creating "silos" that made it difficult to collaborate. Today, skilled managers recognize the value of using cross-functional teams, or teams composed of employees from different functional areas.
A product team is an example of a cross-functional team, as it may contain employees with experience in marketing, product design, product development, operations, engineering, and other key areas of the business.
This guide explains what a product team does and how some of the most successful companies in the world use product teams to meet their goals. You'll also learn about the major roles and responsibilities of a product team.
What does a product team do?
A product team is responsible for designing, developing, and shipping a product. In simple terms, a product is anything that fulfills the target customer's needs. Depending on where you work, that could mean designing, developing, and delivering a mobile application, a digital platform, or a tangible item. Some companies focus on B2C products, or products sold to consumers, while others focus on B2B products, or products sold to other companies.
A product team is responsible for designing, developing, and shipping a product.
The product development process
Product development refers to the process of coming up with a product idea, designing the product to meet the user's requirements, and bringing the product to market. Although product design and product development sound similar, they're not exactly the same thing. Product development is the whole process, while product design is a single stage in the process.
Product development typically involves several stages:
Needs assessment: To create the best product possible, a product development team must understand what users truly want and need. This involves researching common pain points and thinking about ways to address those pain points with a new product or an update to an existing product.
Conceptualization: During this stage, members of the product team think about potential solutions to the problems identified previously.
Product discovery: Product discovery is when team members have a chance to discuss their initial concepts and think about which ones are most likely to fulfill the user's needs. They may decide to move forward with an existing idea or come up with an idea for a different product.
Roadmap creation: To promote product success, team members develop a roadmap that lays out their overall strategy and facilitates discussions with other members of the organization.
Design/development: This is when team members start implementing some of their ideas. First, the team creates a minimum viable product, or a basic version of the product that has just a few key features. Then they release that MVP and use the feedback to create a product backlog. In Scrum, the backlog is a list of everything that needs to be included in the final version of the product. This stage of the process may involve software development, product design, and other activities.
Iteration: To "iterate" means to refine or improve a product. During this stage of the process, team members use customer feedback to make improvements, such as the addition of new features or the refinement of existing features.
Product development is the whole process, while product design is a single stage in the process.
Qualities of a successful product team
The product team contributes directly to a company's bottom line by developing items that generate revenue. As a result, it's essential to have the right people and the right structure. So what makes for a great product team? Generally, a good product team meets the following criteria.
✔️ High level of autonomy
A product team can't design innovative products and services if someone is always micromanaging their decisions. That's why it's important for team members to have a high level of autonomy. When employees are allowed to think independently and take reasonable risks, they tend to be more engaged with their work. This translates into higher levels of creativity and innovation.
✔️ Strong communication
Everyone on the product team, from the VP of product to the product designer, must be skilled at communicating with stakeholders. For example, team members must be able to work with users to identify their requirements for new products and services. The brand manager, director of product, and other high-level team members may also have to give presentations to department heads to explain new initiatives. The best product teams are composed of people who excel at tailoring their communication styles to each stakeholder's needs.
✔️ Continuous drive to improve
The overall goal of the product team is to identify and fulfill customer needs. It's difficult to do that if your company never makes any changes to its core products and services. Think about what would happen if Apple released the original iPhone and then never made any improvements. The original model was good, but subsequent models have done an even better job of delivering what consumers want and need.
Apple would have missed out on a lot of revenue and positive publicity if its leaders weren't dedicated to continuous improvement. The same principle applies whether your company manufactures clothing or develops accounting software. A product team should always be looking for ways to turn a good product into a great product.
✔️ Efficient processes
To maximize efficiency, you must find ways to reduce waste. Depending on your product strategy and business goals, that could involve saving money, saving time, or minimizing the amount of waste created by your company's production processes. The best product teams have efficient processes in place to promote consistency without getting everyone bogged down in bureaucracy.
✔️ High level of visibility
For a product team to succeed, it must have a high level of visibility. Employees at all levels of the organization should understand the value created by having a product team and the benefits of collaborating with product team members. To increase visibility, the chief product officer and other product leaders should regularly communicate the following to company executives:
How do the company's products compare to offerings from major competitors?
Are members of the team working on new product designs?
Have team members been looking for ways to refine existing products?
How are the company's products changing to better meet customer needs?
Product Team Roles & Responsibilities
The composition of a product team depends on several factors, including the size of the company and the type of product it sells. Many startups use product teams to speed up decision-making processes and bring their products to market much faster, but established companies also use product teams to their advantage. Depending on your needs, your product team may include people in the following roles.
✏️ Product Designers
Product designers have a wide range of responsibilities, but their main goal is to create a successful product or revamp an existing product to make it more useful to customers. A product designer typically collaborates with UX researchers, marketing professionals, and members of the sales team to better understand customer needs and determine how to satisfy those needs.
A good product designer must be able to use a variety of design elements, including color and typography, to create appealing products. For best results, a product designer should also be able to incorporate customer feedback into their designs, communicate effectively with colleagues, and use prototyping to make their ideas come to life. One of the most important roles of a product designer is to come up with product ideas for a specific user persona. In marketing terms, a persona is a fictionalized representation of a company's ideal customer.
🔭 Product Managers
Product management involves overseeing the entire product life cycle, from initial concept to product launch and beyond. In some companies, a product manager serves as the product owner, ensuring that each product meets the needs of all stakeholders. Customers are the top priority, but a product line must also meet the needs of shareholders, employees, and community members.
The product manager role may include the following duties:
Monitoring the marketplace to identify potential opportunities for new products
Empowering product team members to make independent decisions
Creating a product vision
Getting stakeholders excited about new products
Making sure product designers and developers always have the user's needs in mind
📣 Product Marketers
Product marketing is a set of activities designed to increase awareness of a product and convince members of the target audience to buy it. One of the most important aspects of this role is determining the best way to promote a product. Product marketing professionals develop messaging strategies and work with graphic designers, copywriters, and other experts to make their products more appealing than the options offered by competing firms. A product manager is also involved in developing promotional strategies, setting the price of a new product, and determining where to distribute a company's products.
🤝 Project Managers
Good project management is essential for product success. No matter how good a product idea is, it won't benefit the company unless the product team is able to develop it, bring it to market, and make audience members aware of it. Project managers are responsible for planning projects, managing project-related resources, and ensuring that projects are completed according to the stated requirements. As a result, the project manager skill set includes negotiation, collaboration, communication, and budgeting.
📈 Operations
The operations role is responsible for big-picture thinking, so it may involve the VP of business operations, business analysts, business consultants, and even C-suite executives. Team members involved in the operations role are typically in charge of monitoring product-related metrics (KPIs), looking for ways to minimize costs, and defining the overall strategy for the business.
🛠 Engineers
The engineering role is responsible for building key product functions and making sure they work as intended. Depending on how your company operates and how many employees it has, a product team may include an engineering manager, a user interface designer, a director of software development, a quality assurance tester, a UX designer, and other team members who are responsible for engineering functions.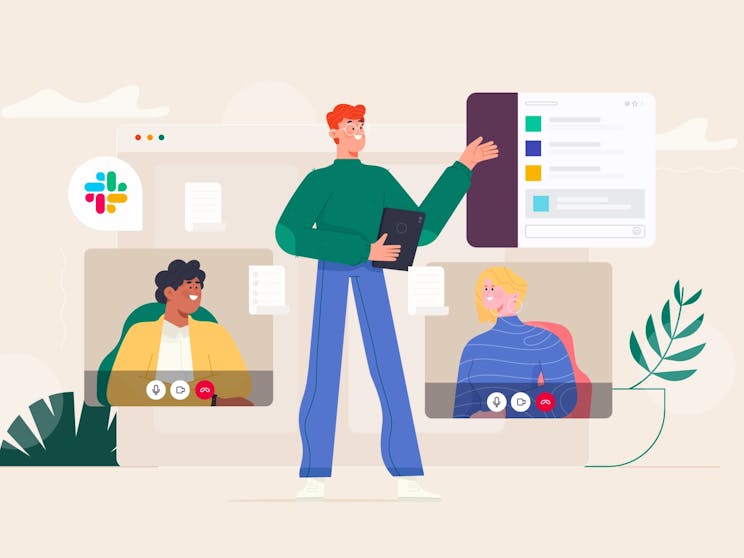 Art by Carolina Contreras
How are top product teams structured?
Many companies are now using product teams to increase collaboration and promote innovation, including Google and Apple.
Product teams at Google
At Google, product managers have many responsibilities, including user research, UI design, engineering, and product marketing. Their team members contribute to the design and development of new products and features, helping Google maintain its market share and deliver a positive user experience. Lucy Yin, a former Google PM, explains that she was also responsible for coming up with a product vision and bringing that vision to life.
Product teams at Amazon
Amazon uses a "two-pizza" approach to cross-functional teams. Under this approach, a team should have around six members — the number of people who could be fed with just two pizzas. Keeping teams small encourages innovation and autonomy, allowing Amazon to use Scrum and other approaches to reduce development times and meet the needs of each customer segment. This product team structure also enhances creativity and encourages employees to take ownership over their projects.
Product teams at Apple
What makes Apple so different from many other companies is that the management team doesn't interfere with the decisions made by the design team. Instead, designers have the freedom to come up with a vision for each product and do whatever it takes to make that vision come to life. Members of the design team come up with new product features and have complete control over their workflow, allowing Apple to release some of the world's most innovative products.
Why hire a product team?
In a company with a traditional organizational structure, it's usually the VP of operations who oversees employees responsible for product development and deployment. Unfortunately, even the most successful VP of operations may not have specific experience in assessing user needs, designing products, or developing products. Without hands-on experience, it's difficult to determine if product designers, product developers, and other employees are effective at assessing customer needs and fulfilling those needs.
Product teams are composed of experts in product design, development, and testing. Firms rely on that expertise to launch innovative new products and redesign existing products to make them more useful.
Here are just a few of the most important reasons to hire a product team instead of using a more traditional approach:
Product management professionals do more than just create products. They can also help make decisions related to pricing and positioning, maximizing the revenue generated by each product.
Having a product team makes it possible to create a detailed product roadmap, ensuring that everyone in the organization knows what to expect.
Many product team members are skilled in using the Agile methodology, reducing lead times and making it easier to meet customers' expectations.
A product team works together to manage the entire product life cycle, increasing efficiency.
Succeed as part of a product team
If you're interested in joining a product team, start with Dribbble's Certified 16-Week Product Design Course. You'll learn more about UX design and UI design, complete projects for your product design portfolio, and find out how to craft an effective resume. In just a short time, you'll have the skills you need to collaborate with product managers, product designers, and other high-level product team members.
Hire the world's top designers on Dribbble.
Find a designer
#1 Design Job Board

Advanced search filters

Unlimited messages