Design Portfolio
How To Create A UX Portfolio From Scratch
Learn how to create a UX Portfolio from scratch. Get expert UX portfolio tips and advice from a UX career coach.
December 10, 2021
Build Your Portfolio
How do lawyers win legal cases? Oftentimes, it's through two key things.
First, is the evidence they can bring to the trial. Evidence provides irrefutable facts that support their case. A video of someone committing a crime is hard to dispute. The second way lawyers win legal cases is the story they tell. It's how they talk about the case and the context they provide. Combining strong evidence with a succinct story is what helps lawyers win.
To create a UX design portfolio that helps you win roles, you need to think like a lawyer. You need evidence of your skills and you need to tell compelling stories about the projects you've worked on.
"Creating your UX portfolio from scratch requires that you think about it strategically, just like you would think about a product."
If you are new to UX and don't have many projects or case studies, then you don't have much evidence. Or, the evidence you do have is made up of class projects from bootcamps, intensives, or graduate programs. Oftentimes, this work is not treated the same as "real-world" projects. So what can you do?
You have to be a problem spotter. You must identify unique problems (that surround you every day) and then, go solve them as a side project in your UX portfolio.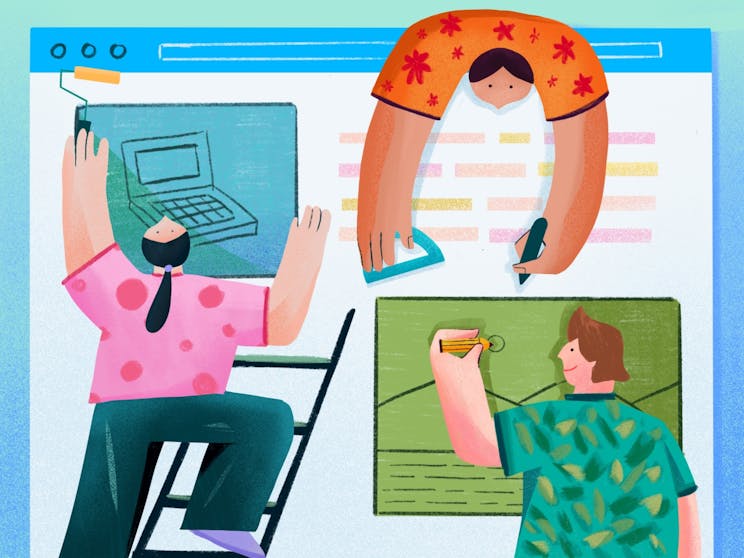 Art by Frances To
Communicate who you are and what you do
Before you start to create your portfolio, you have to get clear about who you are and what you do. This is crucial because it will help you decide which projects to include in your portfolio.
But don't just say "I'm a UX Designer". That means something different depending on the company or recruiter you're talking to. If you do research and experience design, but not visual design, then communicate that. Otherwise, people will assume you do visual design and you'll waste time interviewing for roles you don't want or aren't qualified to do.
Pro Tip: Before you create your portfolio, create a clear elevator pitch that communicates who you are and what, specifically, you do.
Write out your projects
After you select your projects, DO NOT just start "designing" your portfolio. If you jump straight to design, you will focus on the visuals first and you'll likely skip over the all-important process and the "why" behind your designs.
Writing your projects forces you to stay laser-focused on your content. An added bonus to writing your projects is that you'll have a great bank of content you can pull from to go update your LinkedIn, resume, etc. And, you can also review these write-ups before an interview with a potential employer or potential client to refresh your mind about key project details.
Pro Tip: If you want to tell a compelling story about your projects, write your projects before you design them. Writing your projects is like wireframes in the design process. Without wireframes, your end product is in for a disaster.
Explain the context behind your visuals
Now that you have written about your projects, you know the story you need to tell about each one and you can now figure out how to present the project visually. Keep in mind, this doesn't mean that you just dump screenshots onto a webpage or into a PDF.
Your portfolio must be more than screenshots. Imagine you are presenting a set of wireframes to clients or colleagues for example. You wouldn't simply put the wireframe mockups on the screen and stand there in silence—that would be extremely weird. You would explain to them. You would add context.
The same applies to your UX portfolio. You must explain the deliverables. For wireframes, what part of the wireframe should we pay attention to? What was the purpose of that specific part of the dashboard? How did that help the user solve a problem or complete a crucial task? That's what I mean when I say that each deliverable needs context.
Pro Tip: Every visual must have a purpose and you must explain that visual. If your portfolio contains screenshot after screenshot, then you must go back and add that crucial context.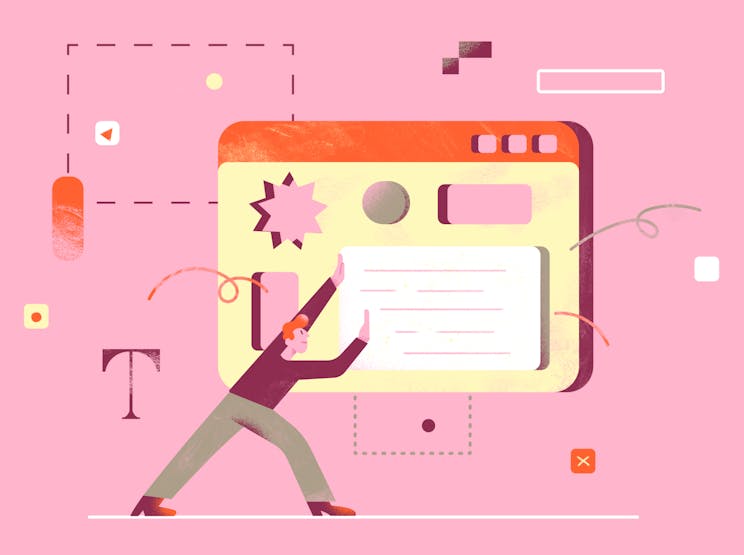 Art by Anton Kakhidze
Create a professional UX portfolio from scratch
Creating your UX portfolio from scratch requires that you think about it strategically, just like you would think about a product. You can't just jump right to design. You can't only focus on what it looks like.
As you've maybe experienced, you are your own worst client! If you've been struggling to start or finish your portfolio, then use these steps to help yourself focus on the content first.
By focusing on the content first, the "design" phase of your UX portfolio will go much faster and you'll also be better equipped to be amazing in the interviews because your portfolio has a job to do! The job of a great portfolio is to show your best work to get you in the door; then you have to nail the interview to get hired.
Build your portfolio & unlock new 
opportunities with Dribbble Pro
Get started
Create a client-facing portfolio instantly

Get hundreds of new leads weekly

Connect with the #1 creative community

Promote your goods seamlessly