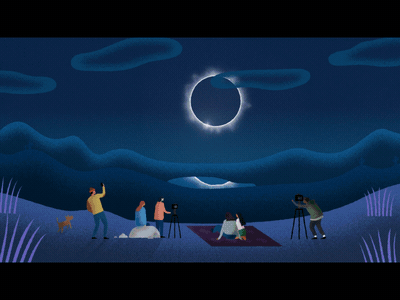 Today's the day! North America will experience a total solar eclipse—our first since 1979. If you're not on the path of totality, don't worry—most folks will experience at least a partial solar eclipse. Find information and watch a live webcast on NASA's website.
There are a ton of incredible eclipse shots on Dribbble today—including this one by Brien Hopkins. The folks at Google and U.C. Berkeley are collaborating on the Eclipse Megamovie Project. This project will stitch together images of the 2017 total solar eclipse from thousands of photographers! Read more info on the project and check their site later today to see the first version of the movie.
Overtime
Dribbble's audio companion. Our official podcast.
In episode 19, Dan chats with Ryan Putnam. Dan and Ryan chat about being creative. Ryan is always looking for different ways to make stuff that's functional but beautiful at the same time. They also discuss Riso printing, how Ryan got into pottery, building a shared illustration language, experimenting on the web, and more. This episode is brought to you by FreshBooks.
Courtside
Last week's stories from the Dribbble community. To see all of our stories on designers and their work, visit Courtside.
Jobs for Designers
What could you be working on? Below are a few of the organizations hiring on Dribbble. Check out Jobs for Designers to see the full list.
Who's New?
Please welcome our latest designers by checking out their debuts last week.
Meetups
The following Dribbble Meetups are happening soon. For the full list of upcoming meetups, visit our Meetups page.
Find more Weekly Replay stories on our blog Courtside. Have a suggestion? Contact stories@dribbble.com.