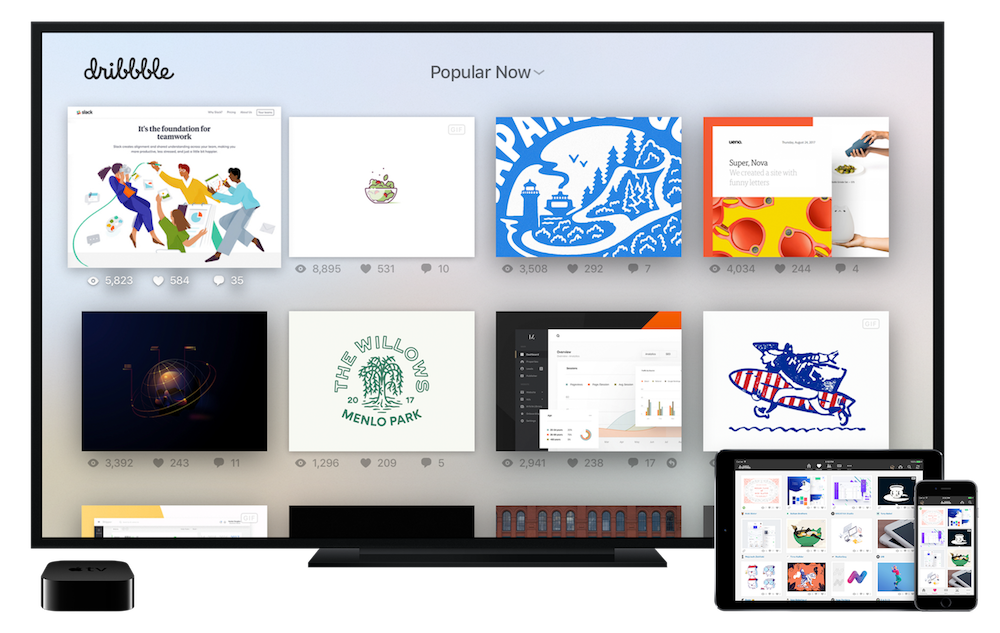 Since launching in June, our Dribbble iOS app has seen over 100k downloads! Last week we released our first major update and we're really excited about all the new features—including Dribbble for Apple TV and mobile uploads.
If you've ever wanted to see Dribbble shots on the big screen, you're in luck. You can now browse your favorite feeds—popular, following, debuts, GIFs and more with Apple TV. Additionally, you can sync the app and Apple TV to favorite and bucket shots.
Mobile uploads is a game-changer and we're already seeing some incredible work posted with the app. With the latest update, you can upload shots right from your iPad or iPhone. The app even has share extensions for some of your favorite creative apps like Procreate, Affinity Photo, Linea, Paper53, Adobe Sketch and more.
Read the full feature list and see shots created with the iPad on our blog, Courtside.
Overtime
Dribbble's audio companion. Our official podcast.
In episode 20, Dan chats with Alice Lee, an independent San Francisco-based illustrator and designer who loves drawing and telling clever stories. In this episode, Alice shares how she transitioned from product designer into illustration, the value of design systems, the pros and cons of working remotely, why she thinks of her career as a garden, and more. This episode is brought to you by FreshBooks.
Courtside
Last week's stories from the Dribbble community. To see all of our stories on designers and their work, visit Courtside.
Shots from Dribbblers help the community to find both solace and opportunities to help Texas in the wake of Hurricane Harvey, as well as the devastating floods in South Asia.
Our team has been hard at work on some new features and updates that we think you're going to love including mobile uploading, Dribbble for Apple TV, and more!
Who is Lara Paulussen and what is she working on? Find out in this week's Timeout.
Jobs for Designers
What could you be working on? Below are a few of the organizations hiring on Dribbble. Check out Jobs for Designers to see the full list.
Who's New?
Please welcome our latest designers by checking out their debuts last week.
Meetups
The following Dribbble Meetups are happening soon. For the full list of upcoming meetups, visit our Meetups page.
Find more Weekly Replay stories on our blog Courtside. Have a suggestion? Contact stories@dribbble.com.