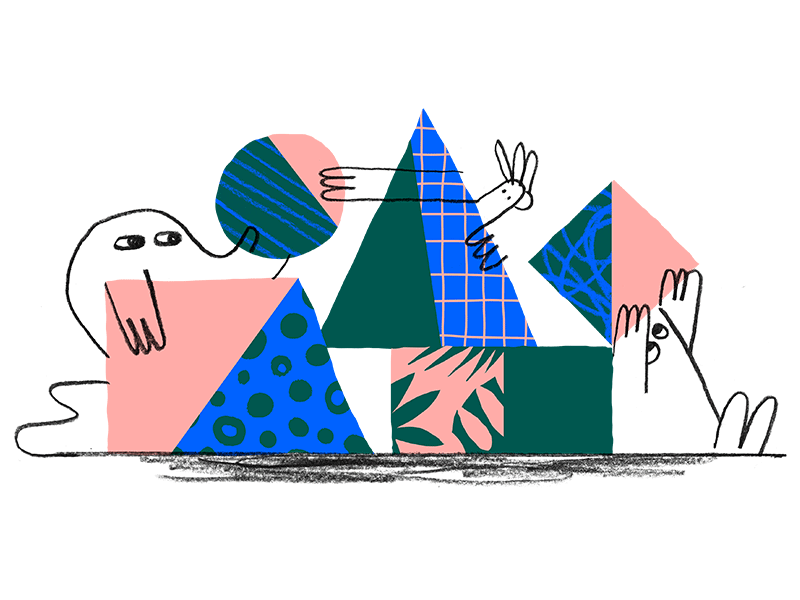 Recently, Dropbox announced a playful rebrand, complete with a new illustration style and typeface. A collaborative effort, several artists contributed to the project including Fanny Luor, Justin Tran, Brandon Land, Michael Jeter, Tim Lahan, Roman Muradov, and animation studio Animade.
In their design overview, they explained, "Our new brand system shows that Dropbox isn't just a place to store your files—it's a living workspace that brings teams and ideas together."
Overtime
Dribbble's audio companion. Our official podcast.
Meg Lewis is a designer and founder of Ghostly Ferns—a family of freelancer BFFs. She also founded Fool Proof—a coworking space to support creativity in Minnesota. She's also a really nice person. In this episode, Meg tells us about her recent move to Minnesota, why she started a coworking space, the importance of working with friends, why you should be yourself when working with clients, personal branding, and much more. Thanks to FreshBooks. for supporting Overtime.
Courtside
Last week's stories from the Dribbble community. To see all of our stories on designers and their work, visit Courtside.
Dribbble's first conference in Boston was a huge success. For those of you who couldn't be there, or want to relive the magic, check out the Hang Time recap.
Who is Joanna Ngai and what is she working on? Find out in this week's Timeout interview.
Jobs for Designers
What could you be working on? Below are a few of the organizations hiring on Dribbble. Check out Jobs for Designers to see the full list.
Who's New?
Please welcome our latest designers by checking out their debuts last week.
Meetups
The following Dribbble Meetups are happening soon. For the full list of upcoming meetups, visit our Meetups page.
Find more Weekly Replay stories on our blog Courtside. Have a suggestion? Contact stories@dribbble.com.