Since Last Week

Acting on your feedback, Dan refined the new logo. We launched Design For, an occasional series exploring hyper-specific design niches, with Design on a Can. Part one ran Thursday with insight and shot-sharing from Jose Canales (Power and Light Pale Ale, center) and The Little Friends of Printmaking (Fresh IPA, right). Part two runs Wednesday and will feature the beer can wizardry of Josh Emrich.
Tomorrow Dan and Rich are heading into Boston for Intro to the Boston Creative Community, hosted by General Assembly Boston and the organizers of Creative Mornings Boston. Speakers will cover key events, companies, people, current issues, and career paths in the local creative industry. Afterwards, Dan and Rich will kick off an Analog Playoff. Boston, come on out and join us!
Vote for the best stickers in the Universe!
Good Works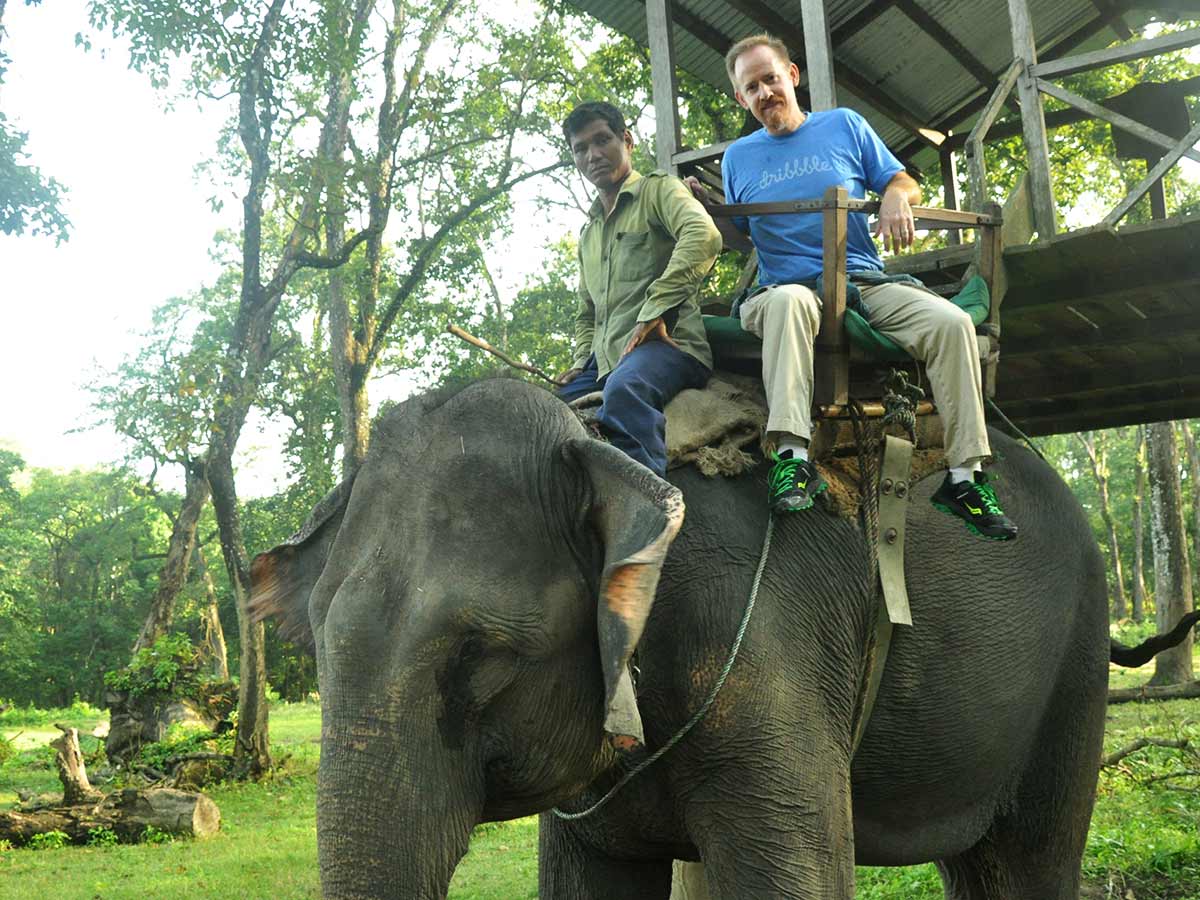 Shirt Sighted
Welcome to Shirt Sighted, in which we feature photos of Dribbble shirts in cool places. We were inspired by this photo of Rich's friend Colby Loucks, deputy director of the World Wildlife Foundation's Wildlife Conservation Program. Colby's wearing his Dribbble tee atop an elephant in Chitwan National Park in Nepal. Send pictures of you in your Dribbble tee in cool places to stories@dribbble.com and we'll publish them here!
Ninja
Stoned
You Let the Dogs Out
Personal
Sliders
Kidding Around
Coaches' Picks
Teams
Meetup Wrap-up
New Orleans, Louisiana, October 13

Dribbble at Cafe du Monde. Photo credit: <a href='https://dribbble.com/TheBlueDog'>Erich Rainville</a>.
Beignets and coffee for everyone! New Orleans Dribbblers and designers in town for CSS Dev Conf. (including our own Dan Cederholm) turned up at Cafe du Monde to talk design and sample NoLa's finest pastries. Thank you to organizer Christopher Schmitt, who pulled it all together at the same time he was organizing the conference.
London, United Kingdom, October 24
Badoo teamed with 3Beards to host a monster developer and designer meetup at The Vinyl Factory in Soho. Thank you both!
Meetups
Meetups is under construction! Please excuse the less-than-sleek design — it's just temporary. Meetups with shots run first, then meetups without shots. Bear with us!
Thanks, as always, to our Meetup co-sponsor Shopify.
Belfast, Northern Ireland
Dribbble Meetup at Break, Wednesday, November 12, 9 p.m., 21 Social, 1 Hill Street. Sponsored by Dribbble, Get Invited, and Shopify. RSVP.
Riga, Latvia
Saturday, November 15, The Mill, Brivibas 33. RSVP.
Sydney, Australia
Friday, November 21, 7 p.m., The Grasshopper, 1 Temperance Lane. RSVP.
Ahmedabad, India
Saturday, November 22, 5 p.m., location information to come. RSVP.
Boulder, Colorado
Thursday, December 4, 6:30 p.m., Quick Left, 902 Pearl Street. RSVP information to follow.
San Francisco, California
Thursday, December 11, Hired.com HQ. More details to come.
Have a shot you'd like considered for Replay? Send the link to stories@dribbble.com.
Find more Weekly Replay stories on our blog Courtside. Have a suggestion? Contact stories@dribbble.com.