Design Portfolio
New Design Job? Negotiate Your Salary Like A Pro
Learn the average salary for your design job and how to approach the salary conversation in a design interview. Get paid what you deserve.
December 10, 2021
Get Hired
F_rederique
On the hunt for a new design job? Before you dive head-first into interviews, best practice suggests a hearty dose of preparation. While you're likely researching the company in question, the role you're interested in, and the team you may be joining, the sharpest candidates also spend time researching and preparing for one of the most important yet often anxiety-inducing questions: "What salary are you looking to make?"
Dribbble's very own Alayna Burton is an expert at matching designers with their dream jobs. Based on her experience facilitating interviews between designers and hiring managers, Alayna shares a few best practices for approaching the salary conversation and navigating the negotiation process for your new design job.
First thing's first: Know your numbers
One of the most important pieces of the puzzle when it comes to negotiating a higher salary is knowing your value. This is based on many factors, but most notably your experience level as a designer and the standard salary for your design discipline (whether you're a graphic designer, user experience designer, illustrator, etc.)
If you're not sure what the salary baseline is for your specific skill-set in design, we've got you covered. We recently surveyed our global design community to discover what designers are earning around the world. Explore the average graphic design salary for your specialty and location.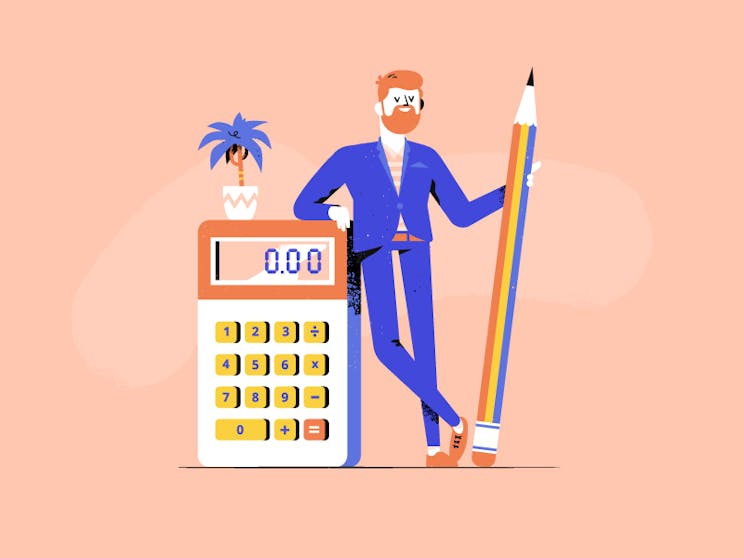 Art by Patswerk
Now that you know your numbers, what's the best approach to communicating salary expectations in the interview process? And most importantly, how do you professionally approach a salary negotiation so you get the pay you deserve?
There are three different scenarios in which salary expectations might be brought up in conversation throughout the interview process.
During the initial interview
In the middle of the interview process
When you receive the job offer
To help set you up for success, here are some best practices for approaching the salary conversation in each of these scenarios:
1. During the initial interview
In some cases, salary expectations will be laid out in your first interview session with a company. Typically these conversations happen with a recruiter, an HR representative, or possibly even the hiring manager. Remember that this initial conversation about salary should be approached as a "ballpark" number—this is the given salary range you'd be comfortable with if you and this company joined forces.
Pro Tip: Remember that your employer has a salary "ceiling" and they will often throw you a lower offer than the actual ceiling or top offer. If this offer seems too low, don't be afraid to counteroffer a more acceptable number—know your worth!
"If an offer isn't brought up, it's always acceptable to ask."
Curious what the position pays but the person interviewing you doesn't bring it up? If an offer isn't brought up, it's always acceptable to ask. If you think about it, you're interviewing this company just as much as they are interviewing you. If you feel like the discussion is coming to an end and salary expectations haven't been discussed yet, an acceptable question to ask could be:
"I'm curious if you can share salary expectations with me as I'm looking for a role that can offer around [$]"
Experts will also tell you to always communicate your number first—because at this point, you should have an idea from your research what the role will pay. This way, you avoid entering a situation where the employer mentions a pay rate that's way off from what you expected.
Pro Tip: Remember, in many U.S. states it's illegal for potential employers to ask what your currently salary is. They can, however, ask what you would like to earn or what you are expecting to earn. Cutting to the chase quickly might help save both you and the employer's time if it's not the right fit.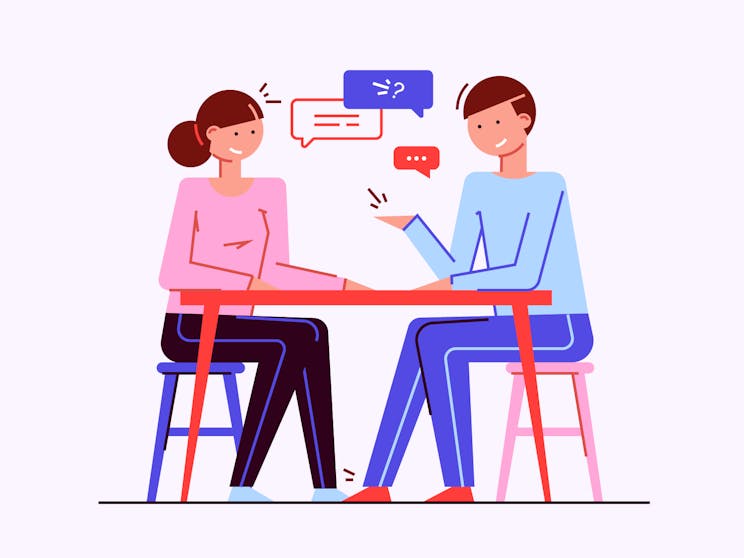 Art by Egor Kosten
2. In the middle of the interview process
At this point, you've had a few interviews with different team members, and now it's your turn to chat with People Ops/HR. This part of the interview typically either comes first or last. If you've already brought up your salary requirements this may be a good time to speak up and solidify those expectations.
Ideally, the salary you have in mind matches up perfectly with the company's—yay! However, (and quite frequently), offers won't match up with the initial salary you asked for. Don't fret. Remember that it's common for companies to offer the salary on the lower end of the spectrum. Which is why it's important to be clear about your salary expectation range. DO discuss your number!
Pro Tip: Counteroffers are typically always welcome, especially if the number presented was well below your expectations and what you had researched for the role. Don't be afraid to counteroffer the initial offer you receive. Just keep in mind that the second offer will quite frequently be the final and best offer.
Art by Mia Ditmanson
3. When you receive the job offer
Congrats! You got to the offer stage. This is a huge accomplishment, and you should feel proud. Salary expectations should have been talked about previously, but this point is when you'll receive a specific offer. (Remember: this first offer isn't necessarily the final offer).
Your salary requirements should have been made clear in your previous conversations, so this offer shouldn't be too far off from that. However, if you're in a position where you feel it's worth negotiating for an extra 5-10%, this is the time to do so.
"Make sure you go over any questions about the overall role responsibilities, and delicately bring up the salary offered."
Typically, it's professional to request a phone call to review the offer and offer letter. At this time, make sure you go over any questions about the overall role responsibilities, and delicately bring up the salary offered. Good language to use for this could be:
"I'm so thankful to be considered for the role and thrilled to make my next career move. However, given my experience and expertise in the industry, I was hoping to be more in the ballpark of [$]."
Do also let them know that if your number is too far off from the departmental goals, that you'd be happy to cheer the company on from the sidelines as you watch them grow with a designer that's better suited for their needs.
Pro tip:Remember that benefits, equity, and other perks of your compensation package should be discussed in the upfront. However, know that there are always reasonable negotiations to be made in these areas too (for example, kicking off benefits immediately rather than after 30 days). In many cases, smaller things like "perks" are much easier to negotiate! More likely than not, employers will be willing to budge as these are easy wins to get a great candidate in the door—don't be afraid to speak up if it's important to you.
Negotiate your design salary like a pro
Communicating and negotiating your salary can be scary. But if you practice the approaches above, you'll be negotiating like a pro in no time. In fact, employers typically expect you to negotiate their initial offer, so do so with confidence. Here are a few key tips to walk away with during your job search:
Do your research. What is the average graphic designer salary for your discipline? How many years of experience do you have? Know your numbers.
It's always acceptable to bring up your salary expectations in an interview. You'll end up saving both you and the employer's time if it's not the right fit.
The initial offer is typically not the final offer. Don't be afraid to counter the first offer if it's not too far off from what you asked for. There's likely a little wiggle room.
Don't forget to discuss your compensation package (health insurance, perks, etc.)—negotiations can also be made in this area.
Know your worth. It's ok to walk away from a job offer if it isn't right.
Build your portfolio & unlock new 
opportunities with Dribbble Pro
Get started
Create a client-facing portfolio instantly

Get hundreds of new leads weekly

Connect with the #1 creative community

Promote your goods seamlessly