Design Portfolio
How to Start Your Character Design Portfolio
Learn how to make a character design portfolio that attracts new opportunities. Get top tips for creating your character design portfolio from scratch.
November 02, 2022
Create your portfolio
Art by Tamanna Mundhra
A character designer's job is to create an aesthetic representation of a character's story. They choose each detail of a character's appearance using shapes, styles, and colors to convey meaning, often working alongside storyboard artists (or as storyboard artists themselves) to ensure the character's journey or purpose is shown in the art.
Landing work in this niche of visual development requires a strong portfolio that demonstrates you have the skills and knowledge to develop animated characters and other representations for a variety of purposes. Whether your journey takes you through 2D and 3D illustration, animation, or concept art, a platform and portfolio that lets you connect with future employers and show off your capabilities is worth investing in.
What is the purpose of a character design portfolio
A character design portfolio showcases your projects as well as the processes you use in character design. Recruiters, art directors, and hiring managers want to see that you have the skills and creative abilities necessary to do the job. It's one of the most important tools you have to impress prospective employers, whether you're going after a studio job or freelance design jobs.
What makes a great character design portfolio?
How you showcase your skills and artwork is as important as what's in your portfolio. Many artists wonder how to best showcase their character design portfolio online. While you'll no doubt have a physical portfolio to present to potential employers when you go in for an interview, you also need an equally impressive online presence. 
Your online character design portfolio should follow a few simple rules:
Your work is prominent: When someone lands on your portfolio page or site, your work should be immediately visible and prominent. Some designers and artists use the front page of their portfolio site to introduce themselves, but studios and hiring managers probably didn't find you by chance. They came to your site to see your work, so ensure that work is front and center.
It's easy to use: Whether you're creating your portfolio website yourself or having someone build it for you, strive for simplicity and ease of use. Make sure people can navigate your work easily and that any information prospective clients and employers might want to view isn't hard to find. The last thing you want is to lose someone's interest because your portfolio site is difficult to use.
It includes a short bio: If a hiring manager or client likes your work, they'll want to find out more about who you are and what you do. A bio page is where you'll introduce yourself and talk a little about your character creation process or what inspired you to pursue character design. You can also include which tools you use in your design process, such as Photoshop, Illustration, Artstation, and Procreate.
You're easy to contact: Lastly, prospects should be able to easily contact you. While some people are hesitant about putting their phone number on a public website, your portfolio should at least include an email address that you check often. You might also consider a simple form where people can send you a message. 
Skills to showcase in your character design portfolio
As mentioned, your portfolio isn't just about showing off your best work — you should also be demonstrating how you think and what processes you use to get there. 
✏️ Draftsmanship
An illustrator should demonstrate their core abilities in a portfolio, and character designers should demonstrate draftsmanship skills. Your drawing abilities are core to your work as a character designer, and prospective employers want to see that you understand shapes and silhouettes and that you can turn your understanding into amazing drawings of character designs. 
Some 2d artist portfolios include 3d characters and other digital art relevant to their designs. If you have the chops, these kinds of additions can add to your portfolio. But if your focus is character design, there's no need for added dazzle — show your best drawing work with simple silhouettes and turnarounds.
📖 Great storytelling
Great concept artists start with a story, so it's important to demonstrate concept designs in a way that conveys those stories. Show how your characters would react in different situations given their backstory by creating character art with action poses. You can create all new situations or do a creative retelling of another story, as long as you're telling viewers who your characters are and not only what they look like.
Character designer Jerrod Maruyama summarizes it nicely, saying, "There has to be a story. There has to be a reason for this character to exist."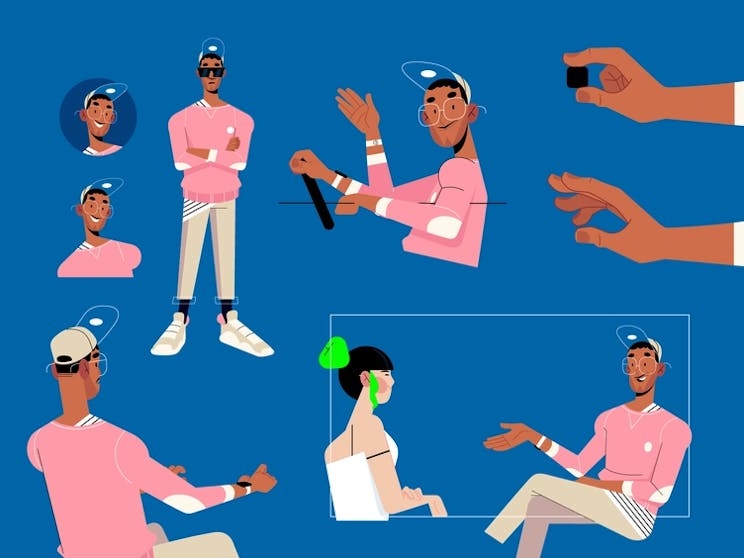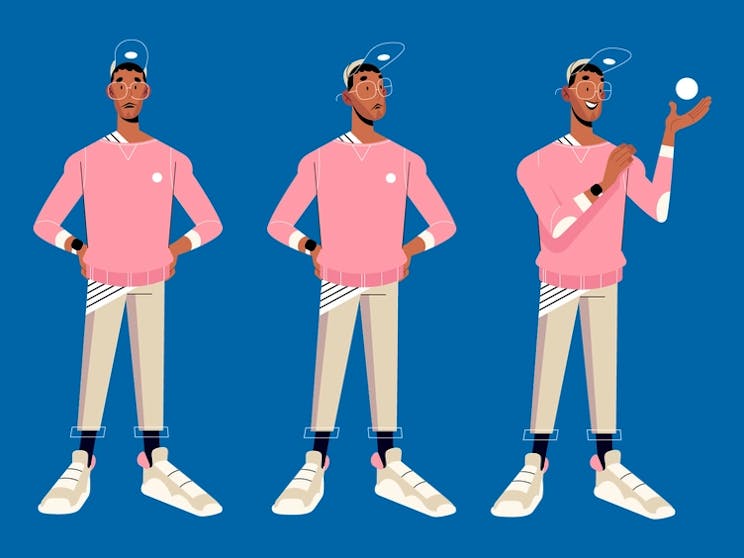 Art by Jordi Ayguasenosa Jara
✨ Versatility and variety
Finally, studios want to see variety and versatility in your work. Every artist has an individual style that makes them unique, but flexibility is an important trait that studios look for. The people who pay you for your work want to know that you can adapt to bring new creative ideas to the table. 
"Don't worry about posting work that doesn't follow the trends or doesn't receive a lot of attention," says character designer Svilen Petrov. "Have you ever stopped to think, "What if the things I'm creating now are a step ahead of their time? If not, think about it."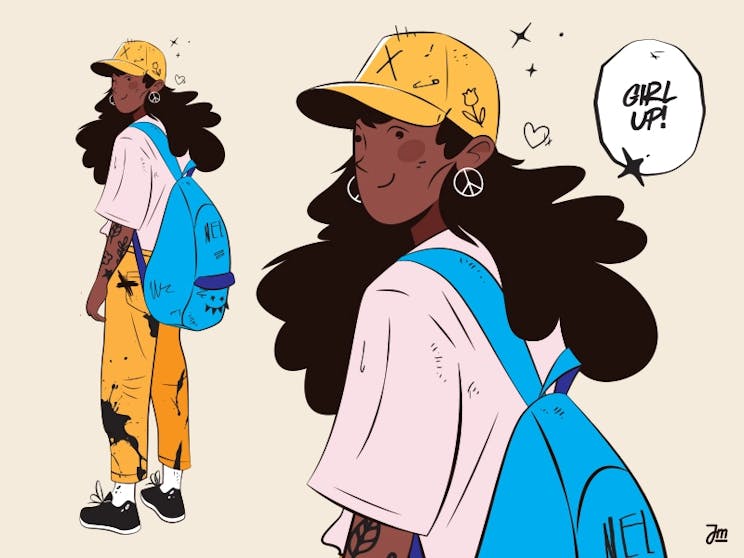 Art by Jerzy Wierzy
How to make a character design portfolio
Whether you're focused on cartoon characters for children's book illustrations, game character design, or designing characters for movie studios, you need an effective portfolio. As is true for creating memorable characters, there's a process for creating a character design or animation portfolio.
1. Gather and sort your best work 
Designers and artists may want to put every piece of work they've completed in their portfolios. Unless you're just starting out on your character design journey and you only have a few pieces to showcase, you should only include your best work. For most designers, this is likely your most recent work, but that's not always the case.
The idea is to gather everything you've worked on and look at it from the perspective of an employer. Naturally, you'll include the pieces that stand out in terms of quality, but you also want to include work that challenged you in new or unique ways. For example, if you worked on a project that included many characters, this can show that you're comfortable with large projects.
Lastly, for the projects and pieces you do choose, include some of the character drafts and sketches that lead to the final design. Studios want to see how you approach and explore character design challenges. Select work that helps tell the story of how you arrived at the finished design.
2. Choose a portfolio platform
There are plenty of methods to get your character designs into the digital world that don't require learning web design. Dribbble Pro, for example, lets you instantly create a portfolio site from the work you've already uploaded. Other platforms, such as Wix, Squarespace, Webflow, and Dunked, allow you to create and publish sites without expert tech knowledge. 
Don't get too bogged down with features and add-ons — the important part is that the platform helps you get your work in front of potential employers and clients in a way that's simple and attractive.
3. Create and share your portfolio
Next, you'll create a portfolio on your platform of choice. Dribbble Pro makes it easy — the work you share on your Dribbble profile gets uploaded to your portfolio automatically. If you decide to design your site yourself, the other options provide plenty of templates to choose from.
Finally, with your work out in the world, it's time to start sharing your portfolio far and wide. Add a link to your social media accounts, your email signature, and your resume. And don't forget to share it with your professional network — someone in that circle could be the link that leads to your character design dream job. 
Start your character design portfolio today 
For many designers, creating new characters for a studio like Disney, Pixar, or even Marvel is the dream. Others imagine themselves creating memorable character concepts for video games. No matter where your aspirations lie, a great portfolio is the first step on your journey. If you haven't created your art portfolio yet, it's time you gathered your best work and shared it with the world.
Build your portfolio & unlock new 
opportunities with Dribbble Pro
Get started
Create a client-facing portfolio instantly

Get hundreds of new leads weekly

Connect with the #1 creative community

Promote your goods seamlessly