Education
A Beginner's Guide to Learning 3D Design & Illustration
Everything you need to get started in 3D design and illustration. Learn the right 3D tools to use, where to learn, and the best industries for you to explore.
January 05, 2022
Learn Design
3D design isn't as scary as you think! In this beginner's guide, designer and instructor Roman Klčo explains how to start learning 3D, the right tools to use, and the best industries for you to explore based on your background.
What started decades ago as a cutting-edge technology that transformed many industries is now a convenient design tool that's more available than ever.
Today, when you open Dribbble's homepage, you'll come across tons of beautiful 3D designs. 3D is a very convenient way for designers to create illustrations and visual content for their layouts, web designs, and digital products. But it doesn't end there. A whole industry has emerged in the past few years that heavily depends on the use of 3D somewhere in the pipeline. Whether it's new digital product interfaces, automotive designs for virtual dashboards, smart home interfaces, or VR and augmented reality, 3D is there.
"There's still a huge need for 3D designers and this demand only continues to grow."
But even with its popularity, the 3D job market doesn't feel saturated in any way. On the contrary, there's still a huge need for 3D designers and this demand only continues to grow. Even your refrigerator has enough computing power to run a simple 3D engine, which means the application opportunities have exploded. This in parallel drives the development of design tools, so what was once only possible using proprietary five-figure software and hardware, can be now done in a web browser. Literally.
Let's have a quick look at what actually happens under the hood in 3D design.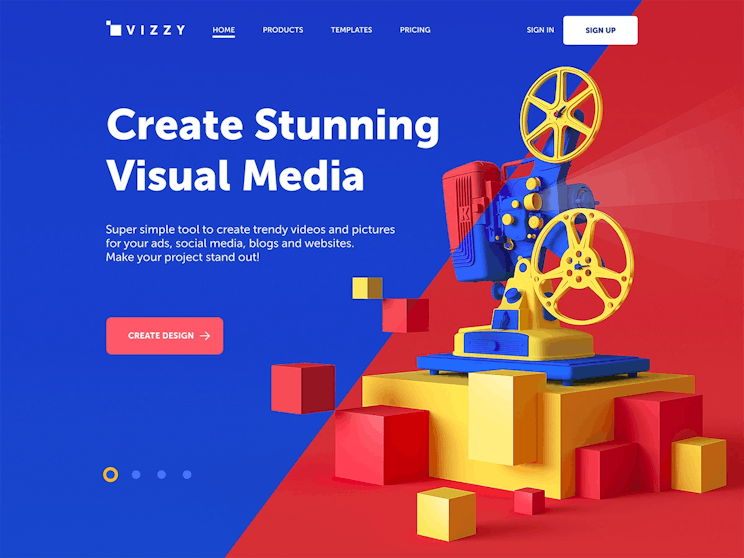 Art by tubik
How 3D design & illustration works
If you think about it, 3D design has a lot in common with photography. Of course, there's the very technical aspect of modeling objects—but similar to photography, you need a scene to place these objects on, you need to set up a virtual camera that takes the shot, and you need to create proper lighting. And as you can imagine, composition plays a huge role here.
Luckily, as a designer, you're probably already familiar with a lot of these skills. This means you can take all of this knowledge, and directly apply it within a new tool.
There are multiple approaches to modeling objects based on the software you use. Each approach includes the manipulation of points and surfaces in a three-dimensional space. Every 3D software will offer a wide range of features to help you achieve your desired results and to prevent repetitive and time-consuming tasks.
"Similar to photography, 3D design requires a scene to place objects on, a virtual camera that takes the shot, and proper lighting."
The good news is, you really don't need to dive deep into all of these techniques. Simply learning to use a few of them to accommodate your creative needs will be enough to start. And there are many resources available to get ready-made objects and libraries, so you can always jump right into scene creation.
The next step in the process is taking the scene and throwing it into a render engine. In general, there are two main ways to get an image out of a 3D scene. Either it's real-time, which is used for games and interactive applications, or it's ray-traced.
Ray tracing
Ray tracing means there's an algorithm that simulates shooting light rays (just like in the real world) and computes the resulting color for each pixel on your final render. This obviously takes some time and computing power, but the result is a realistic appearance of materials, lights, and shadows.
Real-time
Real-time engines, on the other hand, have features that allow them to take shortcuts and basically "fake" some of that real-world behavior with help of graphic cards. With real-time engines, you get the best results for the least amount of computing power.''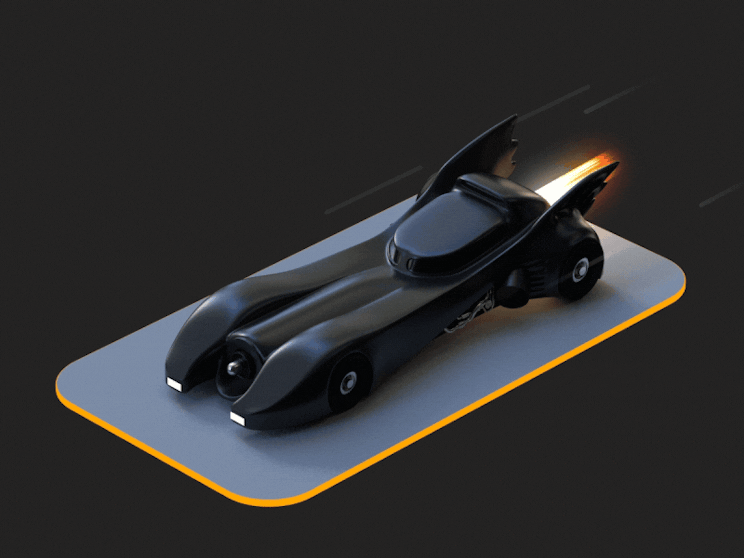 Art by Jake Whiteman
3D industries to explore
Before you jump right into learning 3D, it's a good idea to figure out which industry draws your attention the most and how it incorporates these kinds of visuals.
There are giant industries like movies, visual effects, full feature animation or AAA games, that all heavily depend on these technologies and they all have very specific and demanding workflows with their particular selection of tools. If you're interested in this avenue, I recommend starting off with projects in indie game development, short animated movies, or production in independent content creation.
3D illustration
On the other hand, 3D illustration as a part of graphic design, interactive 3D apps, or animation for advertising might make more sense for you as a designer if you're already established in these fields. In this case, 3D illustration can serve as a natural extension of your toolkit and help you move further in your existing career.
If you're a designer, 3D illustration is probably the most common and accessible avenue to explore (and where I recommend starting out). It can be as easy as stacking a few primitive geometry objects on top of each other and trying to render a nice hero visual for your next project. It doesn't have to be complex, but you will be forced to get a grip on the whole process of layout, setting up camera, lights, and getting it all to render nicely. You'll have all the freedom to add more complex shapes and learn to model more sophisticated geometry later, while still being able to complement your professional workflow from the start.
Real-time rendering
It can get more interesting when you bring real-time rendering and interaction into the mix. Even if you don't dream of becoming an indie game developer, remember that many of the upcoming and new technologies will probably use some version of 3D. It's a great tool for prototyping interactive interfaces for automotive design, or the next augmented reality application.
To create some of these experiences, you'll need some knowledge of how games, scripting, and real-time engines work. Then again, there are so many new tools emerging, it's sometimes enough to have some surface knowledge and dive into the creative work right away.
3D tools to explore
By now, you should have a rough idea of the kind of work you want to create in 3D, so the next step is figuring out the right toolkit to use. There actually aren't many 3D suites on the market, and with the context of a designer in mind, you can put a few of them aside right away.
The evergreen industry-standard tools like 3dsmax and Maya are powerful workhorses that drive most of the multi-million dollar productions you see in movies and games. If you want to go that route, you'll probably need to learn some of these softwares. It's important to point out, that seldom is a single software suite used for a whole production pipeline. There are powerful tools like ZBrush for sculpting, Houdini for complex simulations and procedural modeling, Substance tools for texturing, and many more that handle certain tasks exceptionally well.
Cinema 4D
If you're a designer looking to create 3D characters, illustrations, or simple animations for your clients, you're much better off with a single piece of software that can handle all of your needs in one package. One tool, very popular among illustrators and motion graphic designers, is Cinema 4D. It can be very intuitive and simple to use, has many powerful tools for animation and motion graphics, and you can choose from multiple external render engines, like Redshift.
I don't think you can go wrong with Cinema 4D so if it's already included in your employer's toolkit, go for it. The pricing situation with Cinema has changed with the introduction of the monthly subscription, but still, it can be a bit steep for a single tool.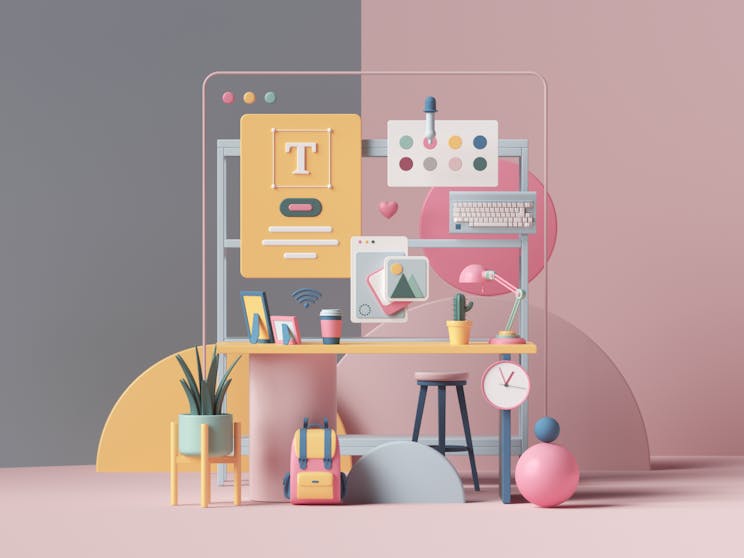 Art by Peter Tarka
Blender
If you're on a budget, or simply can't justify the money for the sake of creating 3D illustrations once in a while, I have great news. You can try Blender—an open-source and free software. Don't scroll away just yet, because Blender is quite a unicorn in the industry. After two decades of development, it reached the maturity of a professional-grade tool and right now, it's firing up on all cylinders with the development support from companies like Nvidia, AMD, and Epic.
Blender has all the features you can possibly want including powerful non-destructive modeling, sculpting, animation, and a built-in photo-realistic render engine. It even has some features that most prominent tools don't have—for example, a real-time render engine EEVEE that allows you to preview and work on your scene as close to the rendered result as you can possibly get in real-time.
I use Blender for all of my 3D work so you might think I'm somewhat biased. That might be true, but I firmly believe that Blender is by far the best choice for designers looking to enter the world of 3D.
Unity
For games, working interactive prototypes, and XR (AR & VR), I would recommend using Unity, as it's probably the most popular and accessible game engine that offers a wide community of support and tons of documentation and tutorials. You'll need to have some modeling tool at hand, but Unity is implementing a lot of modeling and animation options right inside their suite—so for certain projects, you might get away with just using Unity.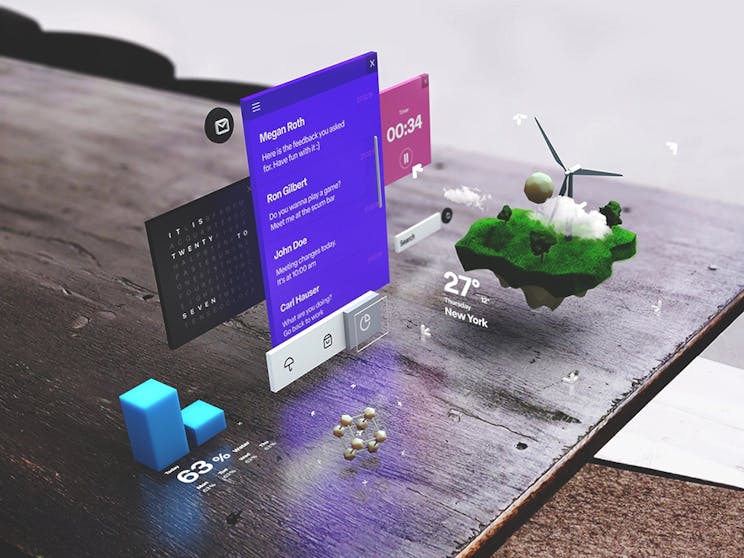 Art by Sebastian Stapelfeldt
Vectary
I mentioned before that you can literally create 3D work from within your web browser. To be true to my words, I want to mention a web-based tool called Vectary. Vectary allows you to model, layout, and render your scenes online, similar to Figma (which it has a plugin for). It's probably very useful if you're looking to use 3D as a way to mockup your designs on 3D devices, showcase 3D models on a website, or present a brand stationery.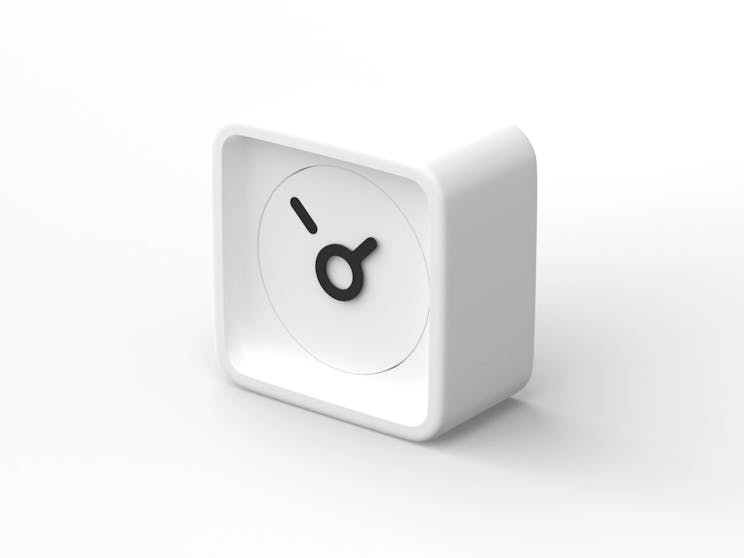 Art by VECTARY
How to get started learning 3D design & illustration
So, what's the next step? Create something, of course! If a certain area of 3D mentioned in this article grabbed your attention, get the piece of software you like and start learning.
Because the world of 3D has many layers, I wouldn't suggest jumping into any individual tutorial right away. Instead, I recommend investing in a well-built course that covers your specific area of 3D and closely matches what you want to visually achieve. This way, you'll get immediate results that motivate you, and you can start building on this knowledge right away with your own projects, filling in and learning any missing fundamentals as you go.
If you're in a position where you can afford to invest your time in on-site learning or formal education, this is also a great option. You'll need to weigh all of your options and account for recommendations and reviews—but being in a room with a tutor and other motivated people around you while also being in a space that allows for undistracted focus and creativity, can work real charms.
Personally, I'm a fan of quick action. If you feel that inner nudge to try something new, don't let it go with endless research and overthinking. Just pick something, go with the flow, and it might just lead you on a path that you never imagined.
Learn design online with industry leaders on Dribbble.
Upskill today
Design mentorship

Flexible learning

Hiring connections