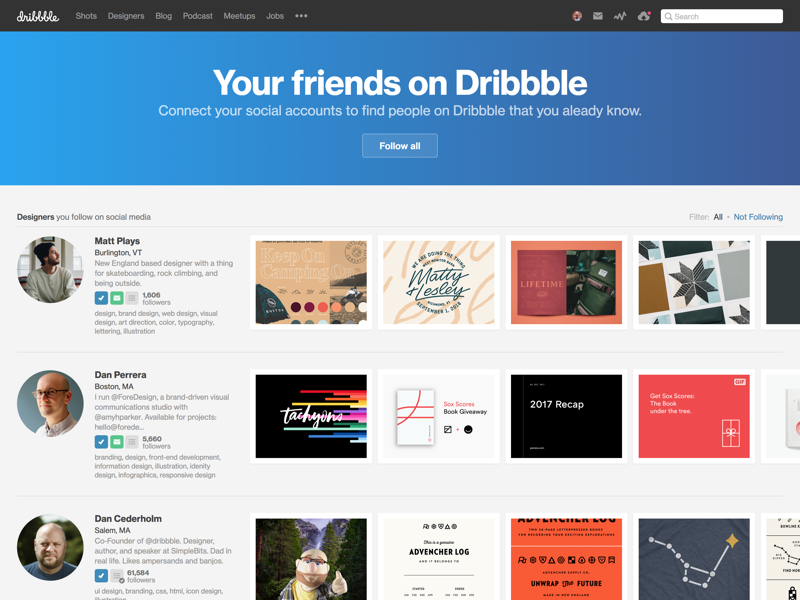 We're always amazed at the productivity of the Dribbble community, but we gotta say, we've been pretty busy ourselves. Last week we rolled out a handful of updates, and in case you missed it, we wanted to catch you up:
We recently began showing folks just getting started what friends they might already have on Dribbble from their other connected social accounts, but now everyone has this capability.
While we strive to keep our ads visually streamlined and relevant to our community's interests, Pros can now hide ads entirely without having to utilize an ad blocker.
Our search inquiries for hirers using Scout are now more powerful and precise. This way, you get exactly you want to see, and nothing you don't.
Overtime
Dribbble's audio companion. Our official podcast.
Debbie Millman has worked with some of the world's biggest brands including Burger King, Hershey's, Haagen-Dazs, Twizzlers—just to name a few. She's written six books, is a frequent keynote speaker on design and branding, and she hosts the first and longest running podcast about design, Design Matters. In this episode, we discuss the drawing that started it all, why rejection can be worse than failure, how Design Matters got started, and why persistence is the key to success. This episode is brought to you by Wix.
Courtside
Last week's stories from the Dribbble community. To see all of our stories on designers and their work, visit Courtside.
We talked with two Creative Market designers who love their jobs about their work, process, and what's going on over there. Check it out!
Who is the Dribbble team's iOS developer Devin Ross? Find out in his Timeout interview.
Jobs for Designers
What could you be working on? Below are a few of the organizations hiring on Dribbble. Check out Jobs for Designers to see the full list.
Who's New?
Please welcome our latest designers by checking out their debuts last week.
Meetups
The following Dribbble Meetups are happening soon. For the full list of upcoming meetups, visit our Meetups page.
Find more Weekly Replay stories on our blog Courtside. Have a suggestion? Contact stories@dribbble.com.