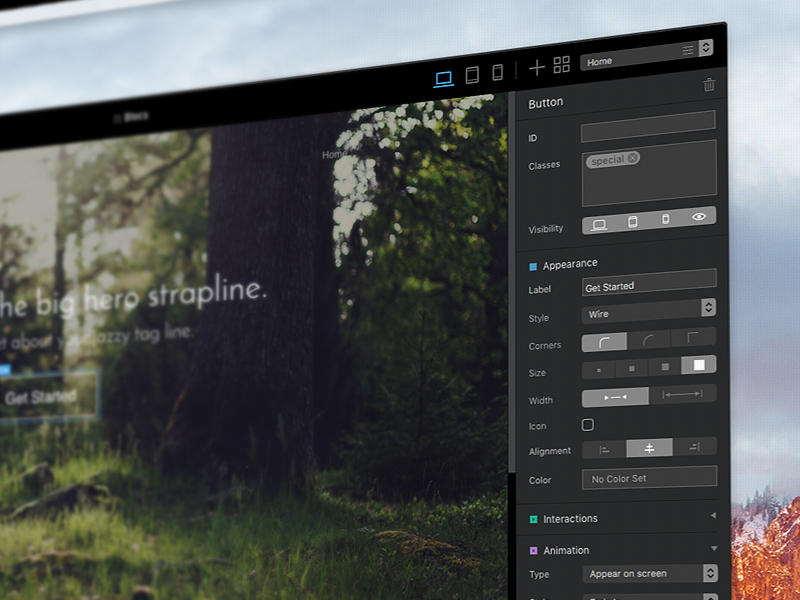 One of the great things about being a designer today is the sheer amount of apps available that can help you streamline your process. Our friend Norm Sheeran created Blocs for Mac—a fast and powerful visual web design tool that makes creating a beautiful website super easy—no code needed. Blocs 2.5 is now in beta, so give it a spin!
Overtime
Dribbble's audio companion. Our official podcast.
In episode 26, we chat with Khoi Vinh, Principal Designer at Adobe, co-founder of Mixel and Kidpost, and former Design Director of New York Times Online. We discuss Khoi's role at Adobe, the recent launch of Adobe XD, the pros and cons of working for big (or small) companies, Adobe's recent effort to impact diversity in creativity in a positive way, how Khoi got started with design, publishing on personal websites vs Medium, the benefits of having your own custom blog, and more. This episode is brought to you by Wix.
Courtside
Last week's stories from the Dribbble community. To see all of our stories on designers and their work, visit Courtside.
We're sharing our team's core values and how we developed them.
Check out these cozy winter getaways in Shot Block, guaranteed to make you want to curl up by the fire.
In this Team Timeout, we chat with Product Designer Sheta Chatterjee about what it's like to work on the Dropbox Paper design team.
Jobs for Designers
What could you be working on? Below are a few of the organizations hiring on Dribbble. Check out Jobs for Designers to see the full list.
Who's New?
Please welcome our latest designers by checking out their debuts last week.
Meetups
The following Dribbble Meetups are happening soon. For the full list of upcoming meetups, visit our Meetups page.
Find more Weekly Replay stories on our blog Courtside. Have a suggestion? Contact stories@dribbble.com.