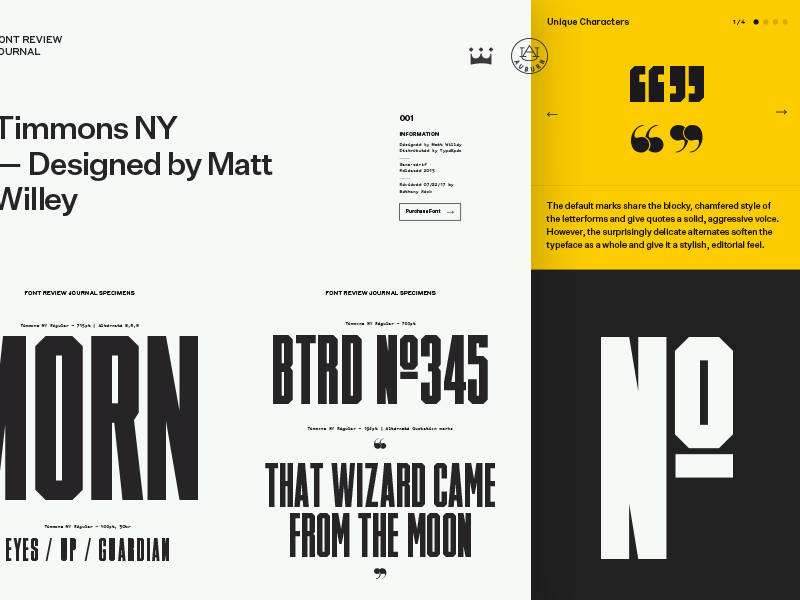 Long-time Dribbbler Bethany Heck recently announced the launch of the Font Review Journal —a type review site.
The Font Review Journal is a place designed to give typefaces the attention they're due in the form of analysis, use cases, trends, quirks, and more. It also aims at bridging the gap between type designers and those who use their work. Be sure to keep up with this project!
Want to find out more about Bethany and her work? Head over to her site, or check out her interview in episode 4 of Overtime if you missed it.
Overtime
Dribbble's audio companion. Our official podcast.
In episode 20, Dan chats with Alice Lee, an independent San Francisco-based illustrator and designer who loves drawing and telling clever stories. In this episode, Alice shares how she transitioned from product designer into illustration, the value of design systems, the pros and cons of working remotely, why she thinks of her career as a garden, and more. This episode is brought to you by FreshBooks.
Courtside
Last week's stories from the Dribbble community. To see all of our stories on designers and their work, visit Courtside.
Hang Time is a full-day inspiration fest for designers of all disciplines.
Summer break is coming to an end, and it's time for students to hit the books and resume their studies. Check out these "back to school" shots from Dribbblers and feel the school spirit!
Who is Piotr Rybacki and what is he working on? Find out in this week's Timeout.
Jobs for Designers
What could you be working on? Below are a few of the organizations hiring on Dribbble. Check out Jobs for Designers to see the full list.
Who's New?
Please welcome our latest designers by checking out their debuts last week.
Meetups
The following Dribbble Meetups are happening soon. For the full list of upcoming meetups, visit our Meetups page.
Find more Weekly Replay stories on our blog Courtside. Have a suggestion? Contact stories@dribbble.com.