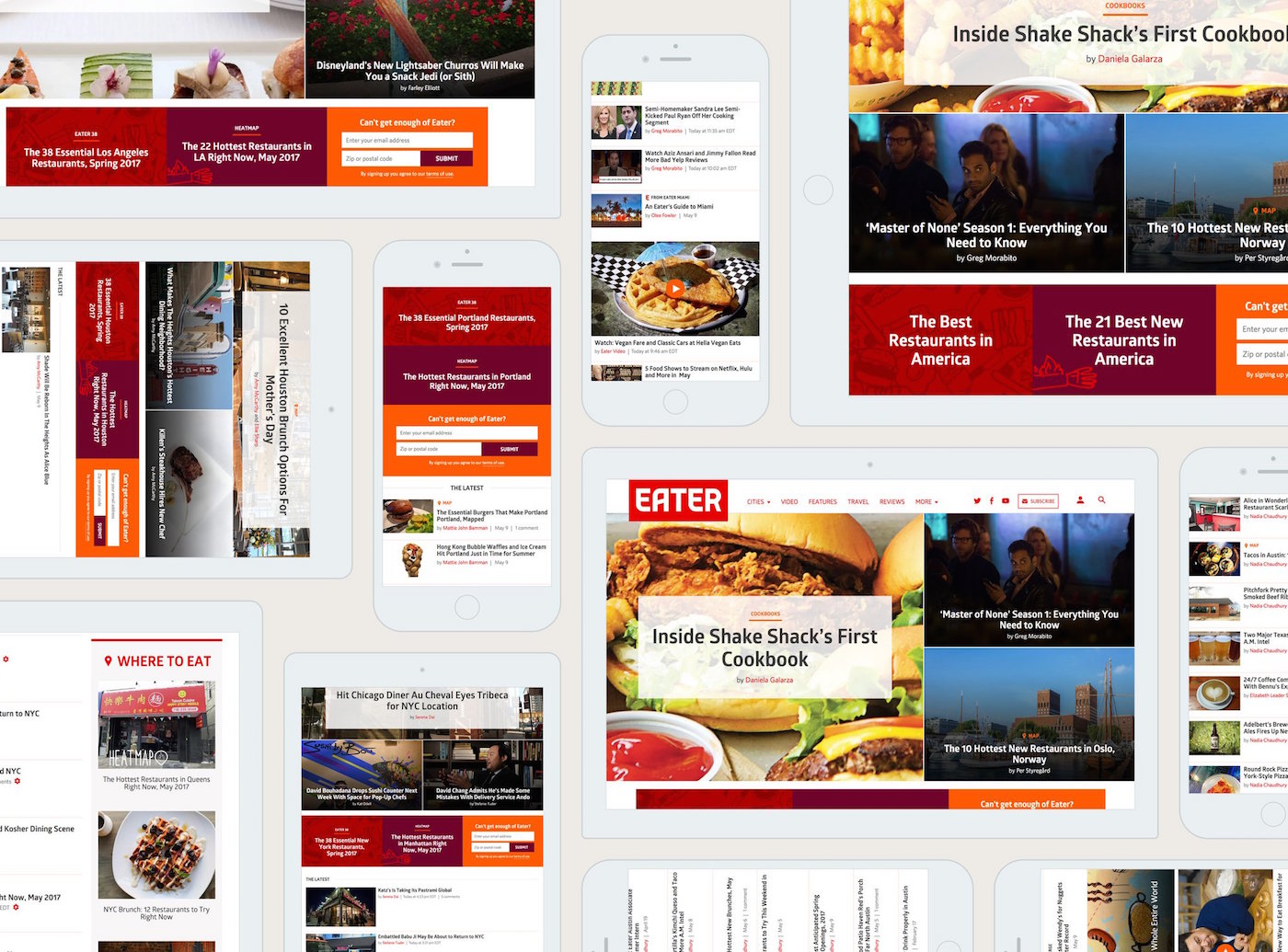 What's it like to redesign a network of 24 websites? Sanette Tanaka and Yesenia Perez-Cruz share the process behind relaunching Eater—the source for people who care about dining and drinking in the world's best food cities.
The Eater redesign is part of a unified effort to move all Vox Media brand homepages to its content management platform, Chorus. The brands include The Verge, Curbed, Vox, Polygon, SB Nation, Recode, Racked and of course, Eater.
The TL;DR? Here are the top three things they learned when creating the design system. See more work by the Vox Media team on Dribbble.
Mouth watering for more food and design? Check out what the Yelp design team has been working on—including these cute food icons.
Overtime
Dribbble's audio companion. Our official podcast.
Our guests for lucky episode 13 are Amy and Jennifer Hood of Hoodzpah Design Co., a boutique branding firm specializing in bold, unapologetic design across print and web. They also run Odds and Sods, an online shop where they sell enamel pins, shirts, posters, and other unnecessary necessaries. This episode is brought to you by My Favorite Five, the brand new MyFonts newsletter series that profiles hardworking designers.
Courtside
Last week's stories from the Dribbble community. To see all of our stories on designers and their work, visit Courtside.
We're following along, 3 characters at a time, as Dribbblers participate in 36 Days of Type.
Over 800 designers attended Dribbble Meetups in April. There were huge turnouts for meetups in Poland, Ukraine, and the Philippines.
Jobs for Designers
What could you be working on? Below are a few of the organizations hiring on Dribbble. Check out Jobs for Designers to see the full list.
Who's New?
Please welcome our latest designers by checking out their debuts last week.
Meetups
The following Dribbble Meetups are happening soon. For the full list of upcoming meetups, visit our Meetups page.
Find more Weekly Replay stories on our blog Courtside. Have a suggestion? Contact stories@dribbble.com.