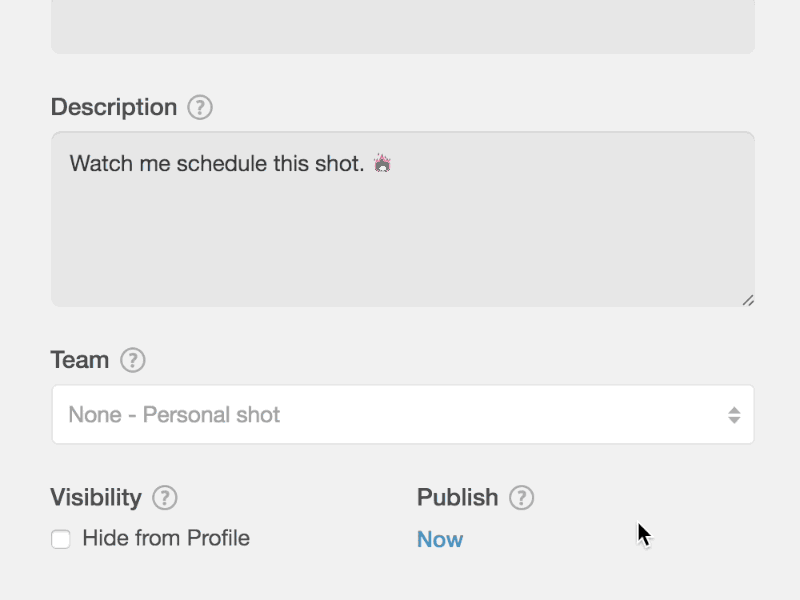 Schedule For Later
Pros can now schedule their shots to publish in the future. Ever have a design epiphany late at night and think "Oooh, I'm gonna Dribbble this!", but then you remember that everyone you know is asleep? Now you can schedule shots to post in the morning when your friends wake up… or a week from now… or a month from now. Create your shots when the inspiration hits and publish them when the time is right.
In addition to shot scheduling, Pros have access to features like projects, attachments, and advanced stats. Pros can also list themselves for hire, sell goods, and curate their profiles with low profile shots. Ready to step up your Dribbble game? Go Pro now.
Overtime
Dribbble's audio companion. Our official podcast.
In this episode, Gleb Kuznetsov shares the struggles he overcame while learning design and development in Russia, how he got his job at Fantasy, why it pays to work on side projects just for fun, and more.
Courtside
Last week's stories from the Dribbble community. To see all of our stories on designers and their work, visit Courtside.
Join designers in Peru for the Lima Dribbble Meetup on Friday, February 3rd.
Join designers in Minneapolis / Saint Paul for the 3rd MSP Dribbble Meetup on February 8th.
Who is James Oconnell and what is he working on? Find out in Timeout.
Jobs for Designers
What could you be working on? Below are a few of the organizations hiring on Dribbble. Check out Jobs for Designers to see the full list.
Who's New?
Please welcome our latest designers by checking out their debuts last week.
Meetups
The following Dribbble Meetups are happening soon. For the full list of upcoming meetups, visit our Meetups page.
Find more Weekly Replay stories on our blog Courtside. Have a suggestion? Contact stories@dribbble.com.