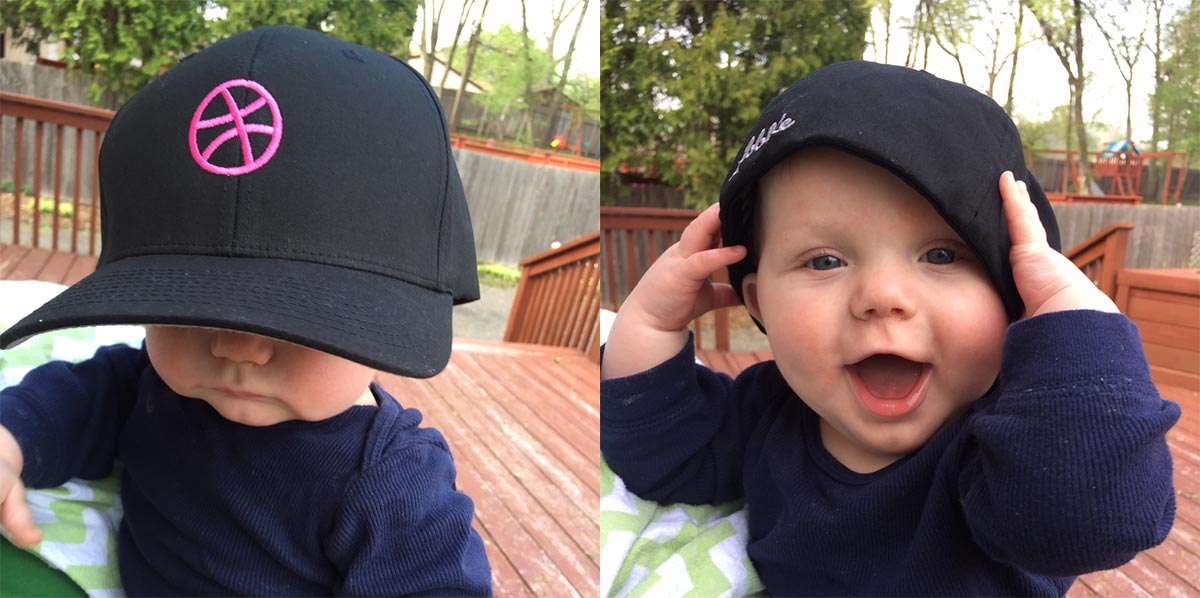 Have you ever seen a cuter baby? We think not. Have you ever seen a sweeter hat? Again, we doubt it. The baby belongs to our developer Patrick, but the hat can be yours. Head on over to the Equipment Shop.
Once the hat's in the bag, click over to our Pro page, where you'll find not one but two new perks in our awesome Deals for Designers package. An Event Apart is offering $100 off any two- or three-day registration. Sticker Mule will print you 50 kick-ass custom stickers for only $29.
Go, go, Pro! Now, on to news of the week that was.
On Saturday, the Dribbble development team — Ian, Patrick and Rich — migrated our entire operation to new infrastructure, Amazon Web Services (AWS). Unfortunately, we encountered a few mishaps and the migration took a bit longer than we hoped. Apologies to Dribbblers on the other side of the world from our Salem, MA, HQ, and to those in the U.S browsing in the wee hours of the night. (You guys know how to party!)
While we didn't deploy any new functionality, things DID change. In addition to lowering our costs and increasing our flexibility to improve and scale our technical infrastructure, we — i.e. YOU — picked up some performance improvements, too.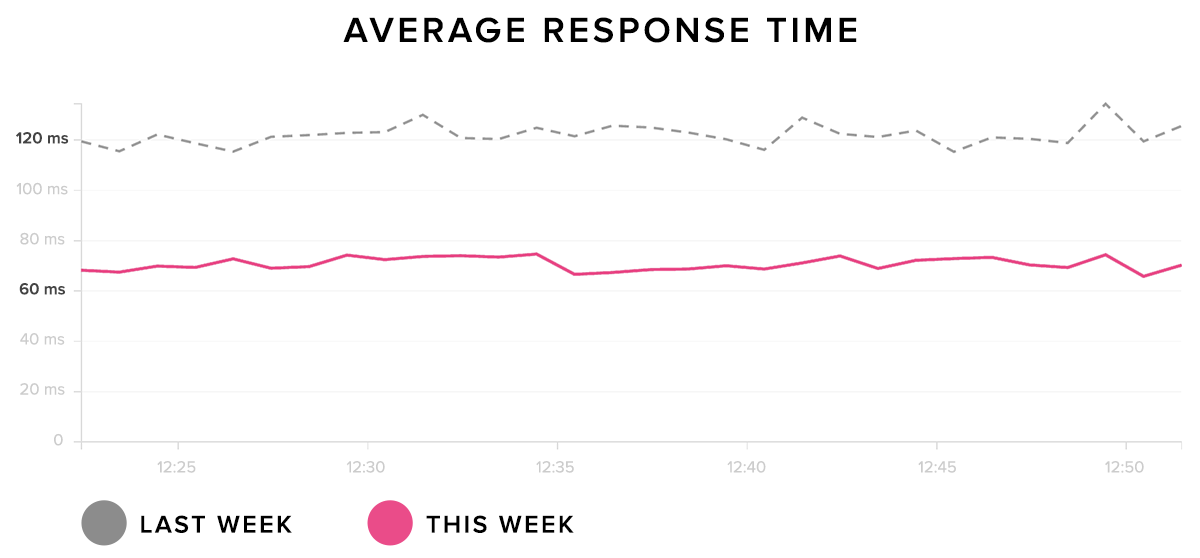 Average response time is admittedly a pretty high-level metric, but we're thrilled by the performance we've seen following the move. We hope you're enjoying a snappier Dribbble and we're happy that we can return our attention to working on our application.
Over at the Dribbble blog, we visited with Baltimore illustration and stationery company Jolly Edition. And on Twitter, Stephen Lynch offered a great Dribbble Pro Tip:
Pro Tip: when viewing an individual shot on @dribbble mobile web - swipe right to left to hop to the next shot. Nicely done @dribbble team.

— Stephen Lynch (@bydefault_tv) April 30, 2015
Meetups
Dribbble is headed to Chicago! The Facebook Design team is hosting an evening with Dan and Jon Lax (Design Director at Facebook, formerly of Teehan+Lax) at the Chicago Dribbble Meetup. It should be a fun night of conversation and design in the Windy City. (Due to limited amount of space at the venue, registration is now closed.)
This week the Austin Dribbble community is meeting up Thursday, May 7th. And it's a big day for meetups on Saturday, May 9th—with meetups in Jakarta, Indonesia; Mumbai, India; and ShenZen, China.
We've already added a bunch of new meetups for May and June, so keep your eyes on on the meetups page for one in your area. Don't see one near you? Start your own Dribbble meetup.
Courtside
Last week's stories from Dribbble. To see all stories, visit Courtside.
And now, a few of the many excellent shots from the week that was …
Hey, You!
100 Days, 100 ...
Whatcha Got Cookin?
package deal
May the 4th
ROFL
Fontificate
Teams
Coaches' Picks
Dribbble Meetups
The following Dribbble Meetups are happening soon. For the full list of upcoming meetups, visit: dribbble.com/meetups
| | | |
| --- | --- | --- |
| | Dec 8, 2015 | Ann Arbor, MI |
| | Dec 10, 2015 | Charleston |
| | Dec 11, 2015 | Winston-Salem, NC |
| | Dec 17, 2015 | Zagreb |
| | Dec 25, 2015 | Mirleft |
| | Dec 26, 2015 | Allahabad |
| | Dec 31, 2015 | Toulouse, France |
| | Dec 31, 2015 | Pokhara, Nepal |
| | Jan 14, 2016 | Seattle, WA |
| | Jan 15, 2016 | London |
Have a shot you'd like considered for Replay? Send the link to stories@dribbble.com.
Find more Weekly Replay stories on our blog Courtside. Have a suggestion? Contact stories@dribbble.com.