Design Portfolio
How to Build a UX Writing Portfolio with No Experience
Learn how to launch your career as a professional UX Writer. Get tips for building a UX writing portfolio with no experience.
December 10, 2021
Build your portfolio
Art by Marina Verdú
What is UX Writing and how can you launch your career in this fast-growing field of Product Design? UX writer Alysa Yamada sheds light on the role of UX writers and how you can start building your career in this area.
UX writers are in high demand these days, grabbing hot seats right next to UX designers. It's clear tech companies are beginning to notice the value this pair can bring to the table when working together.
If you're curious about becoming a UX writer, you might be wondering what skills you need and how to start building your career in this field. In this article, I'll shed light on the role of UX writers, why this kind of writing is needed in Product Design, and how you can get started in this field.
What does a UX Writer do?
UX is short for User Experience. This aspect is what really sets UX writers apart from copywriters, technical writers, marketers, and bloggers—although already having experience with any digital content strategy can make your transition easier.
"UX writers are focused on making sure people experience digital products as smoothly and efficiently as possible."
The UX part means we're focused on making sure people experience digital products as smoothly and efficiently as possible. Instead of writing content to impress, we want to inform and guide people to understand what's happening on their screens and what they can expect to happen next.
To get a more solid idea of what it means to be a UX writer and how to get started, let's take a look at exactly where these wordings often live: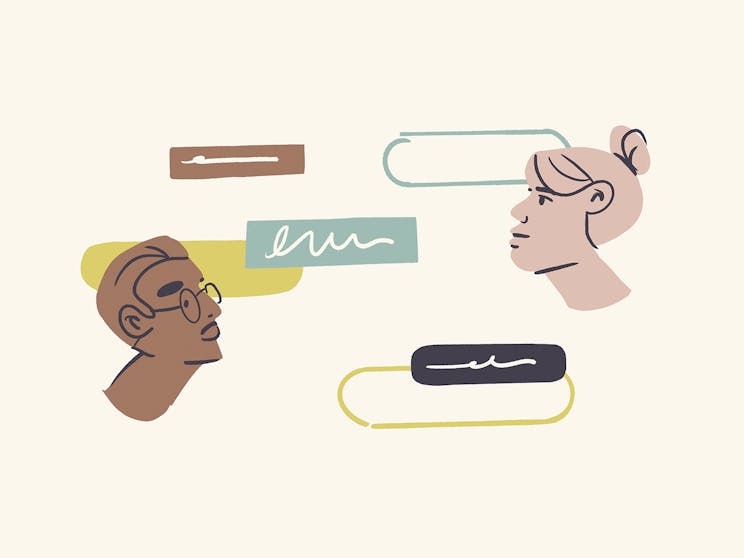 Art by Marina Verdú
Where UX Writing lives
UX writers work closely with UX designers to create design flows and microcopy that make so much sense, you really don't have to think about it. Or at least that's how it should be. The essence of our job is to make lives easier online by constantly keeping journeys in mind when creating copy.
You can think of UX writers as a navigational guide.
Here are some of the most common places you can find UX writing:
Onboarding flows (login, registration, how to get started)
Checkout flows (e-commerce, etc)
Any flow or process where users need instructions
Tooltips / hover texts
Error and confirmation messages
Buttons
Notifications
404 pages
Now that we know where and why this role exists, I'd like to share my own UX writing starter kit that I've put together from experience, research, and a bunch of trial and error to help you get started. Keep in mind that this starter kit can differ for every person and company, but this is what I've found to be most useful and common across both startups and corporations.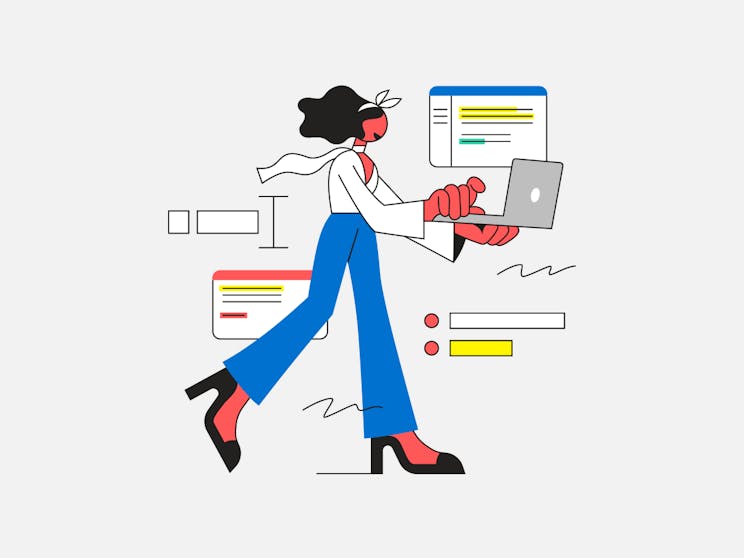 Art by Camille Pagni
The UX Writer's Starter-Kit
Since UX writers work very closely with design teams, it's extremely helpful to know how you will fit into that process and to get familiar with some of the tools and terminology you'll be working with. Not only will you dabble in some design, but a big chunk of it is also doing research and understanding different concepts to prep you in making informed UX decisions.
Here's what I recommend getting yourself familiar with:
Navigating design mockups or wireframes (Figma, InVision, Sketch, Adobe XD and the like)
Collaborative project and content management tools like Notion or Trello
Taking a look at different style guides and how bigger companies are using them (Shopify, Google, Mailchimp)
Understanding the UX design process and common patterns
Understanding what user-centered design is
Writing for user interfaces (front-loading content, consistency, concise, accurate)
Understanding the importance of usability and accessibility
Knowing the agile and the jobs-to-be-done framework and methodologies
Familiarizing yourself with information architecture and information hierarchy
Creating your own portfolio to showcase your work (if you don't have any experience yet, don't be afraid to create mockups of existing brands with your new copy)
Believe it or not, writing is not the make or break here. Don't worry if you don't have that writing degree. While it will certainly help you to know how to write well, writing for interfaces is a whole new ballgame that tends to rely more on being consistent with your company's writing style guide and following UX principles.
Other skills that can go a long way:
The ability to research to make informed decisions
Being empathetic to your users and their online journey
Not being afraid to ask questions to get the data or info you need
Paying attention to existing UX copy in the wild on other sites and apps for patterns
Befriending and bouncing ideas off of other UX writers
Ability to work in teams and collaborate cross-functionally
UX writing opportunities are rolling in
As the field is still growing, there are loads of opportunities for aspiring UX writers. Just pull up your LinkedIn Jobs page and you'll quickly see the booming demand around the globe, so you can rest assured you're on a promising path.
We're all pretty excited to have more UX writers to bounce ideas off of and get inspired by. Once you start ticking all the boxes and understanding the concepts, don't be afraid to put your own copy out there and share your online UX Writing portfolio. Looking forward to you, fellow writers!
About the Author: Alysa Yamada is a UX writer, content strategist, and artist originally from Hawaii but is now based in Prague, Czechia. She loves board games, learning, comedy shows, and having free time.
Build your portfolio & unlock new 
opportunities with Dribbble Pro
Get started
Create a client-facing portfolio instantly

Get hundreds of new leads weekly

Connect with the #1 creative community

Promote your goods seamlessly