Design Hiring
What is the Role of a Principal Designer?
Find out what a principal designer does, what skills they need, and how principal designers help design teams build better products.
February 18, 2022
Search designers
Art by Darya Semenova
Many design-led companies choose to hire a principal designer to oversee the creation of their web-based products. Hiring the right designer can vastly improve your customers' experiences, but many hiring managers and business owners are unsure what the role requires. Below, you can find out what a principal designer does, what skills they require, and how to choose the right candidate for your design team. 
What Is A Principal Designer?
A principal designer leads a team of designers on different design projects. These design professionals usually work on product design projects producing web pages and applications and require specific programming knowledge to turn visual concepts into workable digital products. Principal designers are also responsible for mentoring members of the design team and developing strategies to maximize brand engagement and positive user experiences.
Principal Designer vs. Lead Designer vs. Senior Designer
In graphic design, the terms principal designer and lead designer are often used interchangeably. The roles are more defined in the construction industry, where the design lead or lead designer coordinates and directs a design team.
In graphic design, the terms principal designer and lead designer are often used interchangeably.
However, it's important to note the distinction between a principal designer and a senior designer in graphic design. These roles may overlap, and designers in either position may assume responsibility for directing and developing junior staff and building client relationships. 
However, senior designers generally focus on formatting visual design elements and devising artistic branding strategies. On the other hand, the principal designer leads the entire team and focuses on the visual layout and user interactivity of digital products.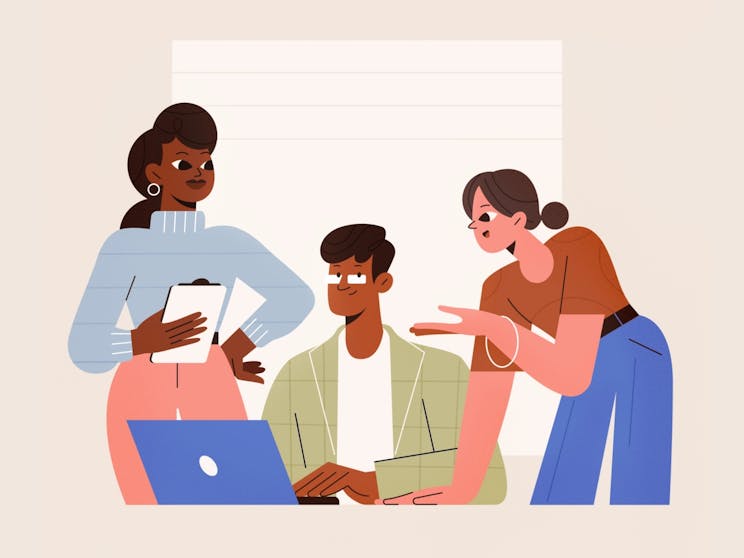 Most Important Skills of a Principal Designer
Many principal designers begin their careers as junior graphic designers, but they may follow various career paths. Whatever their backgrounds, principal designers require a diverse skill set to create appealing, user-friendly web pages and applications and lead a design team successfully. Desirable skills include:
Expert knowledge of web page and application layout strategies
Understanding of visual hierarchy creation
Strong communication and client management skills
Ability to create cohesive branding and visual merchandising concepts
Detailed understanding of CSS, HTML, and JavaScript
Excellent market research skills and keen understanding of how visual layouts affect user experiences
Experience working with content management systems, such as WordPress
Ability to lead, monitor, and mentor a team of graphic designers and content creators from other specialisms
Strong performance analysis skills
Ability to collaborate with other management professionals to generate reports
Principal Designer Job Description
Writing a detailed principal designer job description can be challenging, especially if you have limited knowledge of graphic design practices. However, a clear job description is essential for communicating your expectations and attracting the best candidates. Answering the following questions in your job description can help you find the best person for the role:
What type of projects will your principal designer lead?
Where does the role fit in your company's hierarchy?
What size team will the candidate manage?
How many years' experience do you expect, both as a graphic designer and in a leadership position?
Which tools and languages do you require proficiency in? (WordPress, JavaScript etc.)
What roles and responsibilities does the role entail?
Do you prefer candidates with experience designing products in your specific industry?
Which soft skills matter for the role?
What type of person would fit with your company's culture and values?
Which qualifications do you consider mandatory and which are desirable?
What client duties will the candidate perform?
Formatting your job description compellingly can make it more attractive to the best talent. Ensure that the job title is clear and specific, and provide a role summary followed by a list of responsibilities and required attributes. Don't forget to mention what your company can offer a principal designer in terms of benefits and salary. 
Find your next creative professional today.
Post a job
Roles and Responsibilities of a Principal Designer
Principal designers work with the project manager to ensure the smooth running of design projects. The primary roles and responsibilities of a principal designer include:
Overseeing the work of the design team and providing performance-related feedback
Supporting and mentoring junior designers and providing ongoing professional development and training opportunities
Interviewing and assessing job candidates and onboarding new hires
Planning and scheduling the design and planning stages
Diagnosing and troubleshooting design issues
Ensuring adherence with the design brief and addressing client feedback
Monitoring project output to ensure consistency, quality, and compliance with client specifications
Generating design specifications and creating product prototypes
Analyzing existing products and making improvement recommendations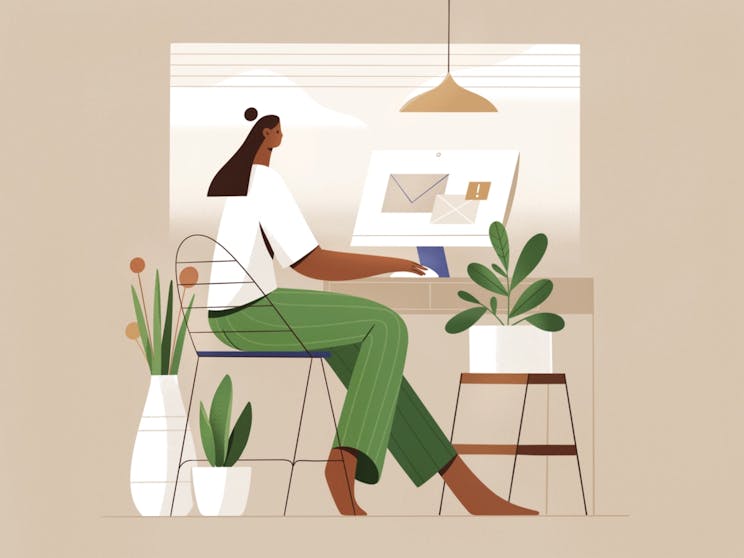 Art by Darya Semenova
Principal Designer Salary
According to Glassdoor, the average salary for a principal designer in the graphic design sector is around $91,144 per year. The surveyed salaries ranged between $52,000 and $159,000. Several factors affect a principal UX designer's salary, including their job location, skills, and years of experience.
Principle Designers Help Build Better Products
Hiring a principal designer for your project or your business can help you in more ways than one.
1. They help implement a smoother design process
A strong principal designer can create practical project schedules and monitor the design team's progress to ensure that they meet critical deadlines. They can also evaluate and resolve web page and application design issues so that glitches don't impact your product's functionality or your overall project timeline. 
2. They keep your brand consistent & improve user experience
Another potential advantage of hiring a principal designer is that they can ensure consistency across your branding and improve user experiences. A principal designer is responsible for seeing the bigger picture when creating web pages and applications. They ensure that your page hierarchy and layout are as user-friendly as possible. Therefore, they can bring together all the incredible design elements created by your team into a cohesive whole. 
3. They develop the performance of your entire design team
Finally, a principal designer can help develop the performance of your entire design team. Hiring a principal designer with strong leadership and mentoring skills can help support your junior design staff, allowing them to improve their workflows and technical knowledge. They form an integral part of your employee support structure, which can help you retain skilled workers and improve staff wellbeing and job satisfaction.
How to Hire a Principal Designer
Before you start writing a job description, it's a good idea to gain a solid understanding of graphic design principles. Understanding what makes a good visual product can make you better placed to assess a designer's skills and experience. Reading reputable graphic design blogs or taking a free design class is an excellent way to hone your knowledge of good design practices.
Next, focus on creating a detailed job description that clearly lays out your expectations of a new principal product designer. It's essential to explain which technical skills you're looking for, but you should also mention any soft skills that would make someone a good fit for your company. Leadership and mentoring skills are especially important for principal designers overseeing large teams or inexperienced individual contributors. Crafting a detailed job description can help you attract the most suitable candidates for the role. 
Generally, looking over a prospective designer's portfolio is more important than their resume. Doing so lets you see firsthand if they have the skills to create compelling, uncluttered, and user-friendly products. However, don't neglect to scrutinize a principal designer's resume as well to ensure that they have the necessary design and leadership experience. Reviewing resumes against your published job description is an effective way to find candidates who meet as many of your must-have criteria as possible.
Once you've shortlisted candidates for an interview, it's time to consider your interview strategy. Asking principal designers to talk you through some of their major projects can help you understand their working processes. It can also provide insight on whether they're a good match for your company. You could also consider asking them to complete a paid design exercise to assess their design and organizational skills. 
Finally, don't underestimate the importance of choosing a principal designer who you enjoy working with. The principal designer will be the main point of contact between you, your clients, and the design team. Therefore, clear and positive communication is a must. 
Hire a Principal Designer Today
Hiring the right principal designer is a major decision and can make or break the success of a design team. Understanding as much as possible about the product design process and the role of the principal designer can help you choose the best candidate for the task. The wide range of resources for design-led business owners available on Dribbble is ideal for growing your knowledge of good design.
Hire the world's top designers on Dribbble.
Find a designer
#1 Design Job Board

Advanced search filters

Unlimited messages