Freelance
5 marketing strategies for your graphic design business
Use these marketing strategies to grow your graphic design business, generate leads, and get new graphic design clients.
September 22, 2021
Get Leads Today
Art by Spencer Gabor
As a freelance designer, marketing can feel like a daunting task. There are so many options out there, and so many different approaches.
Do you need to spend hundreds or thousands of dollars on ads to get results? Do you need an Instagram account with 10,000 followers before you land a solid freelance graphic design job? What if you just don't feel like you have any time for marketing?
But for the self-employed creative, marketing doesn't have to be complicated, and doesn't have to be time-consuming. Start slow: pick one or two strategies to try out and spend an hour or two each week working on them. Keep trying different things until you find a strategy that both works for you and that you don't hate!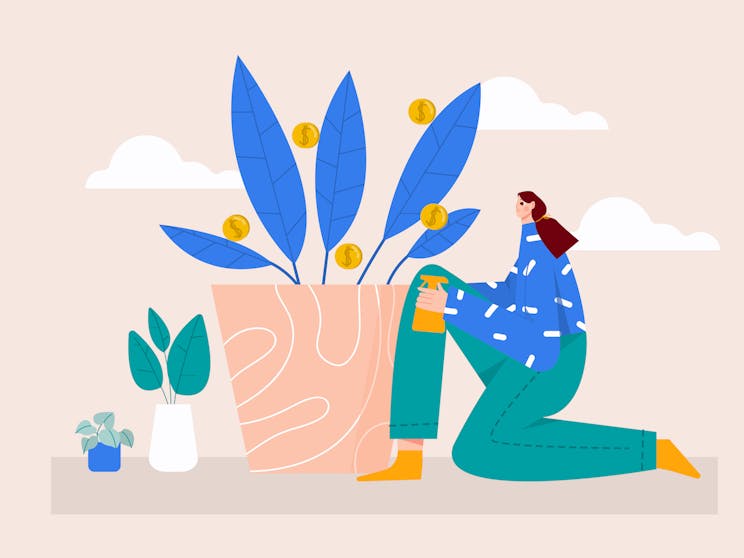 Art by UIGO Design 👑
1. Build (and maintain) a strong brand identity
When much of your work revolves around creating or reinforcing brands for your clients, it can be easy to overlook your own brand. But designers and other freelance creatives who have a strong, consistent brand will find it easier to attract customers.
You might think of "brand" as purely the visual representation of a company. But there's more to it than that. The visual representation reinforces the brand, but the brand itself is the promise that a company makes to its customers. It's also largely dependent on people's perception of the company and the company's reputation.
"Everything you say, do, and post should reinforce the impression you want your clients and customers to have."
This is why everything you do has an impact on your branding, from your logo to the random images you post on Instagram at 3 am. As a creative entrepreneur, you need to make sure that everything you say, do, and post reinforces the impression you want your clients and customers to have.
Branding, at its core, creates trust between you and your potential clients. It gives them a sense of what you stand for and what you can do for them. This is incredibly valuable in attracting the right kinds of clients, the ones who have similar values and goals.
Pro Tip: Dribbble Pro Business lets you showcase your personal brand, introduce yourself to clients, and win new opportunities with Pitch—your own personalized video that lives on your Dribbble profile.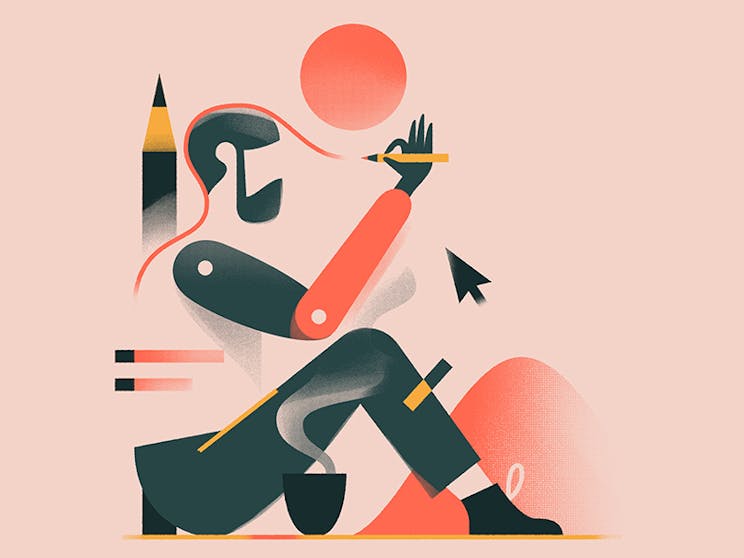 Art by Timo Kuilder
2. Use networking to build relationships
Networking often gets a bad rap. True networking—online or in-person—is about building relationships. Don't approach networking with the idea of finding out what you can get from someone. Instead, approach it as building a mutually beneficial relationship.
When I'm meeting new people, my first goal is to get to know them. Not to pitch myself, not to find out what they can do for me (or what I can do for them), and not to just add them to my contacts list. People can tell when you're only talking to them to pitch them something. But if you listen to what they're saying and ask them relevant questions, they'll remember you more than if you just tell them what you do for a living.
"Being able to build connections between other people improves your reputation."
Keep those connections and conversations in mind going forward. You may meet someone who isn't a good fit for your services, but maybe they'd be a perfect fit for someone you know. Being able to build connections between other people improves your reputation. And those people you connect are more likely to refer people they know to you in the future.
Art by Justina Leisyte
3. Study the competition, and do it better
Look for ways you can set your work apart from other creatives you're in competition with. This could be in the quality of your work itself, or it could be through other things: your customer service, how fun you are to work with, or your project management skills.
Making your actual marketing better than your competition is also a strong strategy. What are your competitors doing? Are they just posting self-promotional content on social media or running boring search ads? How can you serve your customers better through your marketing?
Answer those questions and you'll have the basis for a solid marketing plan.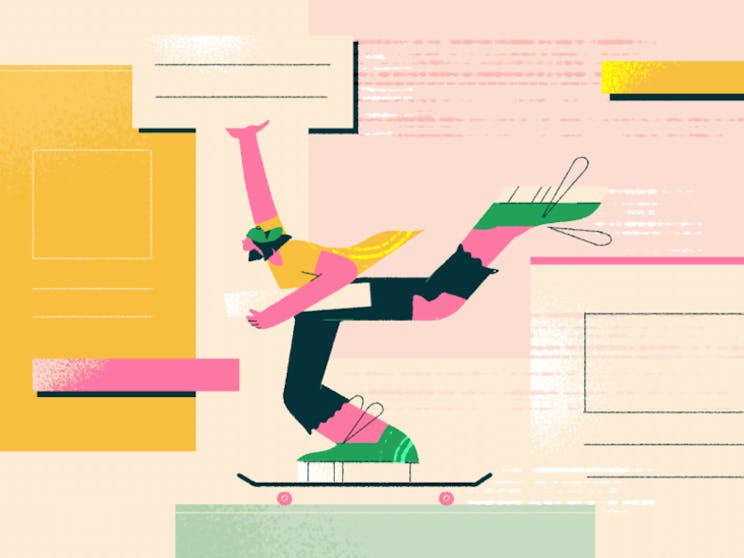 Art by Julia Hanke
4. Ads, Social Media, and Other Specific Tactics
I've talked a lot about the basis for creating a solid marketing plan, but you're probably interested more in the specific tactics you should use to market your freelance design services.
The most obvious place to start is with a strong portfolio. If you don't have a solid body of work to show prospective clients, you'll be fighting an uphill battle. If your portfolio isn't the best it can be, take some time to work on that before you start actively marketing.
Create content
One of the best ways to get work is through creating content. It can be tempting to write blog posts or record videos and just post them on your own website. But that's not the best way to start out unless you already have a large following.
Instead, look for established websites that accept freelance content. One of the best ways to find the right websites for this kind of strategy is to search for the kinds of terms your clients might use when looking for the kind of work you do, and see which sites come up that accept articles from people outside their own staff (look for "submit" or "contributor" links, often hidden in a site's footer).
"One of the best ways to get work is through creating content."
You don't have to write specifically for clients, as strange as that may sound. Just establish yourself as an authority on the subject. I've written content for other designers that have landed me freelance design projects from people with no design background—just because they saw an article I wrote about color theory or brand design or design for nonprofits. Just make sure whatever site you're writing for allows you to include a link to your social media profiles or website in your byline.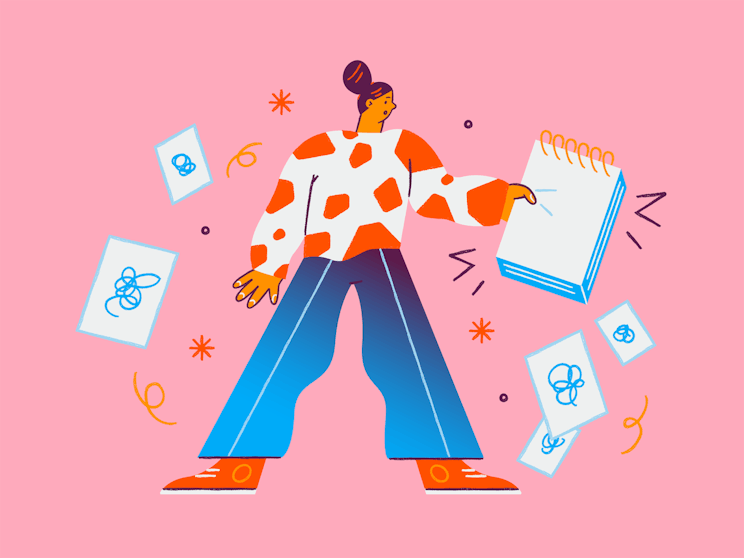 Art by Ksu Angeltseva
Social Media
Posting regularly to social media is a good way to market virtually any creative business. Because design is a visual medium, sites that prioritize image posts tend to work best when looking for clients.
Dribbble, Instagram, and Pinterest are some of the best platforms for designers to utilize in their marketing. With a Dribbble Pro account, your work is discoverable by millions of people every month and you get access to an exclusive Freelance Project board. With Instagram and Pinterest, make sure to set up a business profile so that you can access analytics data about your followers and activity around your content.
Share a mix of your work and more personal images. People want to know the person behind the brand. Yes, they want to see your work and know what you can do, but they also want a sense of whether you're a person they'd actually want to work with.
Don't overlook the importance of using hashtags and keywords in your social posts. This is the best way to expand your reach beyond the followers you already have.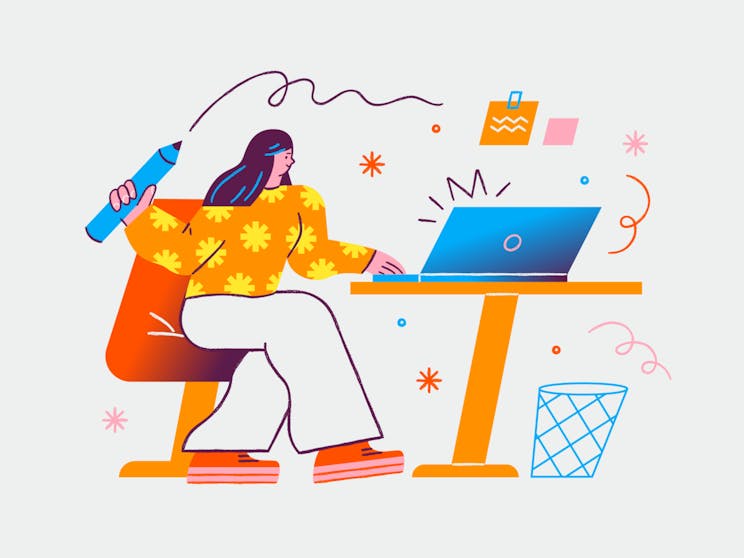 Art by Ksu Angeltseva
Advertising
Running search ads for key topics your ideal clients might search for can be an economical way to get more leads. The same goes for social media advertising. It expands your reach beyond your organic traffic.
You can start small with ads. I've had good results running ads with budgets of less than $50 for a week.
Create a lead magnet
Whether you're only doing unpaid marketing or you're running ads, creating some kind of lead magnet is a great way to start conversations with the kinds of clients you want. A lead magent for a designer could include things like a checklist for design elements your brand needs, a guide to planning a redesign, or even a quiz about whether your website needs a revamp.
Lead magnets help you pre-vet customers and collect their email addresses. From there, you can start a conversation with them to see if they might need your products or services.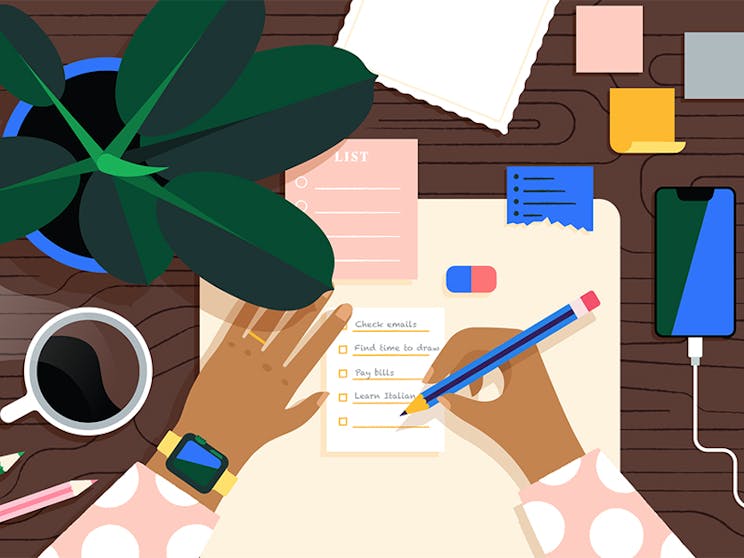 Art by Morgane Sanglier
5. Don't be afraid to experiment
The best marketing strategies come from a lot of experimentation. Don't be afraid to try new ideas and new strategies. Constantly look at how others (both your competitors and completely unrelated businesses) are marketing themselves and try similar things if they appeal to you.
Keep in mind that marketing is something that takes some time. Don't expect instant results from your first ad or your brand new Instagram account. Look at it as a long-term investment and keep trying new things until you find a formula that works.
Build your brand & unlock new 
opportunities with Dribbble Pro
Learn more now
The #1 creative community online

Exclusive access to 1000s of leads

Create an instant portfolio in minutes

Promote your goods seamlessly