Education
7 Design Prompt Generators To Inspire Your Next Project
Use these design prompt generators to improve your design skills, build your portfolio, and flex your creative muscles.
December 10, 2021
Find design jobs
Art by Burnt Toast ®
We've all been there—struggling to come up with what to create today. Whether you're looking for a new personal project, an exercise to challenge your design skills, or a way to grow your design portfolio, it can be hard coming up with ideas, especially when creative block hits.
If you need help getting your creative juices flowing, we've got you covered. The following design prompt generators are perfect for whenever you're feeling uninspired or just want to take on a fun creative challenge. Inspiration for designers is all around but can sometimes be hard to find. If you're struggling to get the creative juices flowing, try these out for yourself, bookmark your favorites, and share your work on Dribbble. We'd love to see it!
1. Sharpen Design
Sharpen Design has generated over five million design prompts to help you prep for an interview, think on your toes, try out new tools or techniques with low consequence, or just to have fun. It's also a fantastic way to show companies how you think through problems and solve them in unique ways. We couldn't think of a better way for both new and seasoned designers to, well, sharpen their skills! Great for branding, marketing, and Product/UX designers.

2. Briefz
You can thank Austin Baird for creating a simple and fun brief generator for every kind of designer. Briefz lets you sift through all kinds of design prompts with the click of a spacebar. A few examples include recreating your favorite emojis, designing a thank-you card for someone in your life, or designing an app that finds nearby dog parks. You're sure to find an idea that sparks your interest here—just keep hitting that space-bar.

3. Designercize
Designercize is a digital version of an analog whiteboard exercise meant to test your problem-solving skills as a designer. Choose a level of difficulty and generate a random prompt instantly. Each prompt includes a specific design need with information about the product, its users, and an optional timer to really up the challenge.
According to the creators Zach Albert and Jake Fleming, Designercize "works best with a friend and a whiteboard, but you can designercize on a screen too. Keep challenges short enough to complete over your lunch break. Do one every day for best results."

4. What should I design?
For a plethora of hilarious (yet surprisingly challenging) design prompts, check out What should I design. It's fairly simple—the tool randomizes both a design task and a very specific user base. There's no telling what kind of crazy combination you'll end up with. Take a look at the examples below, and you'll get the idea. The ridiculous combinations make for a great challenge and will force you to really think out of the box.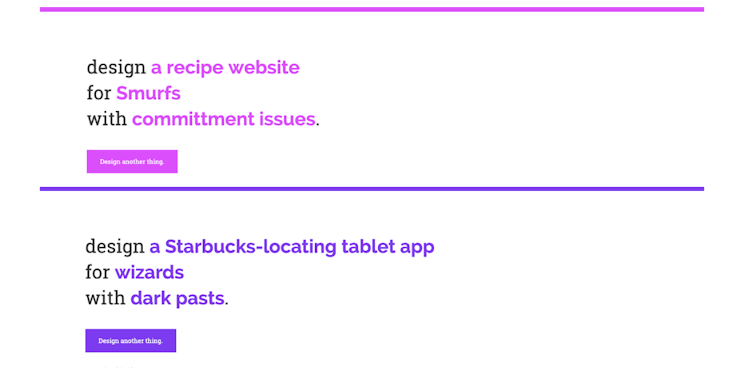 Get tools to grow your design career with Dribbble Pro.
Learn more
5. The Daily Logo Challenge
This one is for all of you logo and branding designers out there. When you sign up for The Daily Logo Challenge, expect to receive a daily email containing a new logo design challenge to tackle. The idea is to do these logo challenges daily so you continue to expand your style and develop a faster workflow. The challenges are pretty open-ended which leaves a lot of room for creativity—great for letting the mind wander especially if you're not into working with too many constraints.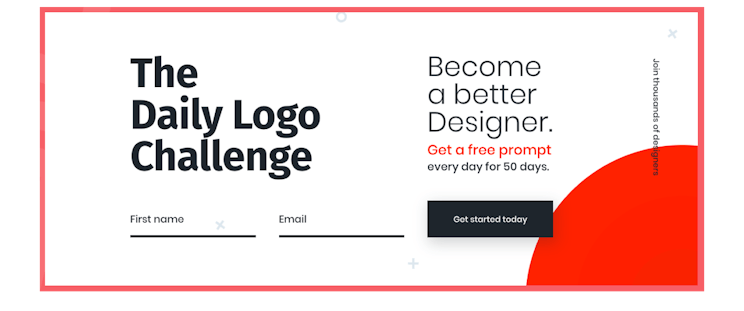 6. Daily UI
One of the more well-known design prompt websites out there is Daily UI. Dribbblers are constantly posting and sharing their work from this challenge with the tag #dailyUI, and it's inspiring to see so many different interpretations of the same creative brief. You can sign up to get a free UI prompt sent to your inbox every day for the next 100 days. Sometimes, they'll even slip in a free design resource into the email. Score!

7. Dribbble's Weekly Warm-Up
Last, but certainly not least, we can't forget to mention Dribbble's Weekly Warmup. Each week, Dribbble posts a new Shot prompt that challenges designers to exercise their creativity together and try new things. Use these design exercises to get those creative juices flowing and work those creative muscles. Sketch, doodle, and mockup with as much fervor and time investment as you want to spare.
Find the latest Weekly Warm-Up: To access our most recent Weekly Warm-Up Prompt, hover over Inspiration in Dribbble's navigation menu, and click Weekly Warm-Up.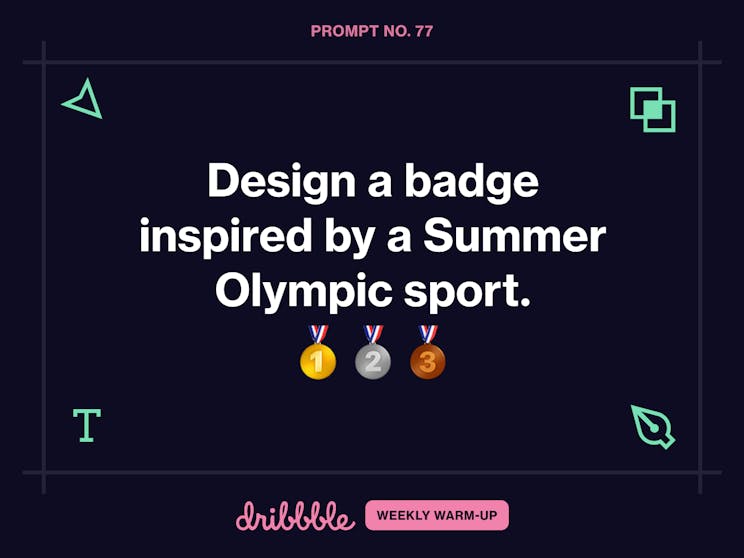 Art by Dribbble
Build your portfolio & unlock new 
opportunities with Dribbble Pro
Get started
Create a client-facing portfolio instantly

Get hundreds of new leads weekly

Connect with the #1 creative community

Promote your goods seamlessly