Freelance
How to write a design proposal that wins freelance jobs
Everything you need to include in a winning design proposal. Learn best practices for sending design proposals to potential clients and template options to help you get started.
August 06, 2021
Browse Freelance Jobs
Art by Kasia Bojanowska
If you're a freelance graphic designer, chances are you'll need to write a design proposal for some of your prospective clients. But if you've never written a design proposal before (or your design proposals aren't winning you work), the process can be a bit daunting.
What should you include? What sets a winning design proposal apart from all the ones that are passed over? The answers are simpler than you might think.
Before we show you how to write a design proposal that wins you more work, let's talk about what a design proposal is (and why you really need one).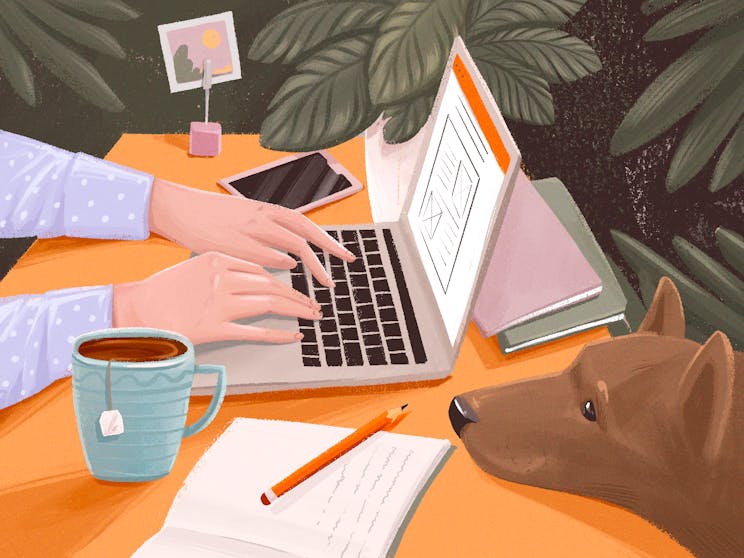 Art by tubik.arts
What is a design proposal?
A design proposal is a formal document (or presentation) that freelance graphic designers typically create and send to prospective clients after an initial kickoff meeting discussing high-level project objectives.
The purpose of a design proposal is to outline the core details and deliverables of the project along with your proposed solution for how you would go about accomplishing the client's goals.
For a client, design proposals help set project expectations and emphasize your value (should this client decide to hire you). For freelancers, a well-written design proposal can ultimately make the difference between you getting hired or not.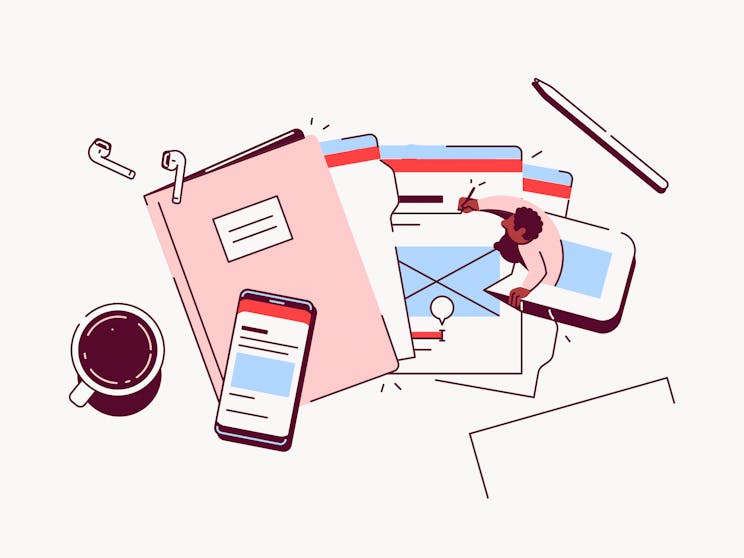 Art by Julian Burford
Your design proposal checklist
Writing a proposal doesn't have to be hard. As long as you follow the proposal format outlined below, you'll be winning over new freelance graphic design clients and projects in no time.
Note: Different types of proposals call for different formats. For the sake of this article, we'll be outlining a design proposal example that works great for freelance creatives pitching their design services to a prospective client.
There are a number of things an effective design proposal should include. We'll go through each item in more detail below.
Scope of the work
Past Results
"Why me?"
Pricing and fee details
Terms & conditions
Next steps
✔️ Scope of the Work
One of the most important parts of your design proposal is to spell out the scope of the work you're going to complete for the potential client—in other words, the project deliverables.
This should be as detailed as you can make it. For example, don't just say you'll complete a web design for them. Instead, detail what that website will include (pages, features, if it will be built on a CMS, etc.). This way, there's little room for misunderstanding later.
You can also include a timeline in this part of your business proposal. While the final dates and timelines should be spelled out in your graphic design contract, giving your potential client an idea of how many days or weeks you plan to spend on the project (or each part of the project) is helpful.
✔️ Past Results
This is an often overlooked section of many design proposals. But a section that explains the results you've gotten in the past for clients is an excellent selling point.
For example, as a freelance graphic designer, this could include an e-commerce website design that increased a client's sales, a design you created that won an award, or any other positive results your work has gotten.
Past results are a form of social proof for clients. It tells your prospective clients that you've done excellent work for previous clients. And it gives them an idea of what kind of results they can expect from your work.
Virtually every proposal I've done that included a solid past results section has secured the project for me.
That's how powerful this section can be.
Ready to Start your Freelance Design Business? Get Leads Today!
Learn More Today
✔️ "Why Me?"
Make sure your design proposal sells prospective clients on why you're the perfect freelancer for their design project.
Why do you want to work on it? How do your skills and prior experience make you a perfect match for their business? Detail how your background makes you the best fit for their design project.
This is also a place in your proposal where you can add a testimonial or two from previous clients to provide further social proof.
Clients like to know that they're dealing with a known entity who has proven themselves successful in the past.
Don't be afraid to show them that.
✔️ Pricing and Fee Details
This can be the most stressful part of proposal writing for many freelancers. Even if you have standard package prices, it can still be agonizing to wonder whether your prospective client is willing to pay those prices (or even has the budget to).
If you're billing hourly or by the project, it's a good idea to factor in a bit of padding in your pricing—just in case there are unexpected delays or overages. You always have the option to charge a client less in the end, but trying to charge more than your proposed rate will often result in resistance or an outright refusal to pay more.
This is also where you should detail when payments are due, including an upfront deposit before beginning the work.
Let clients know how long they'll have to pay invoices and if there are any consequences for late payments.
✔️ Terms & Conditions
Some freelance designers opt to have a lawyer write up this portion of their proposals, which isn't a bad idea by any means.
But if that's not something you're interested in doing, your best bet is to spell out terms in clear, straightforward language. 
So what should you include here? You should reiterate details like a deposit being due upfront and any penalties for late payments.
You should also include details about intellectual property rights, such as that you retain the copyright to all work until payment is made in full. Also be sure to include things that you're not transferring ownership of, such as fonts.
You might want to include a point about how long the proposal is valid for (such as 30 or 60 days), so that you don't have a client come back two years later expecting you to honor the same terms and pricing for your product or service.
Pro Tip: Keep this part as short and simple as you can. Clients don't want to read a 20-page section of terms and conditions, so this can be an easy place to outshine your competition.
✔️ Next Steps
The point of a design proposal is to win a client's business. But one thing so many freelancers overlook is actually asking for that business and telling the client what comes next.
This section of your project proposal doesn't need to be complicated. If your proposal also serves as your contract, you can simply instruct clients to sign off on the proposal, send the deposit, and then you can set up your initial meeting if necessary or get right down to work.
The important thing here is to make it easy for them to know exactly what to do next in order to hire you.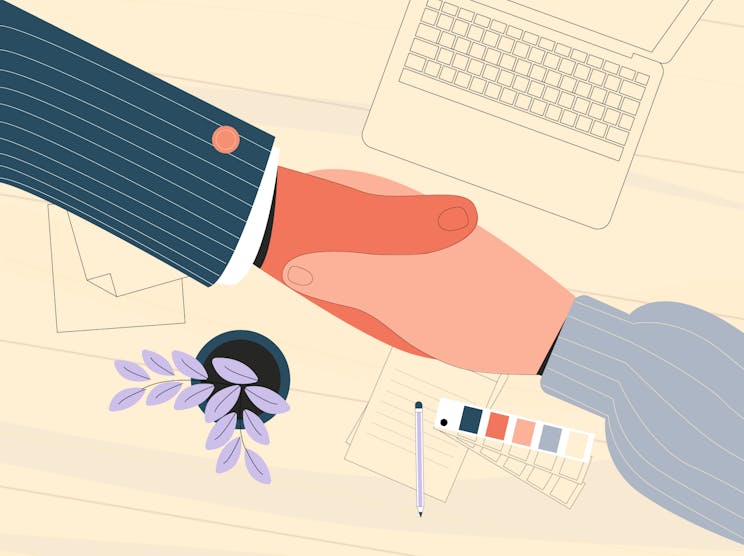 Presenting your design proposal
In many cases, you'll "present" your design proposal by emailing it to the client.
When emailing the client, be sure you clarify that you're including a proposal for the specific project you discussed, mention anything in particular you want them to take notice of, and let them know when you're available to begin work on their graphic design project.
This is also a good time to thank them for their time and let them know that you're looking forward to working on their project.
On the off chance that you have a meeting to present the proposal, be sure to cover the most important sections first: the scope of the work, your past results and why you're the perfect freelancer for the project, and the pricing.
Give them a written version of the design proposal as well, so that they can review everything and refer to it if they have questions.
Always follow up with your clients!
Writing a winning proposal is the first step to gaining a client's trust (and money). Keep in mind, best practices say to follow up a few days after you present your design proposal to see if the client has any questions about what you've sent.
Freelance graphic designers who are proactive about keeping in touch with clients are more likely to earn their business than freelancers who send a design proposal and never follow up.
Whether you use a design proposal template or decide on writing your own, use the checklist above to make sure you've covered all of the important points and set yourself up for success.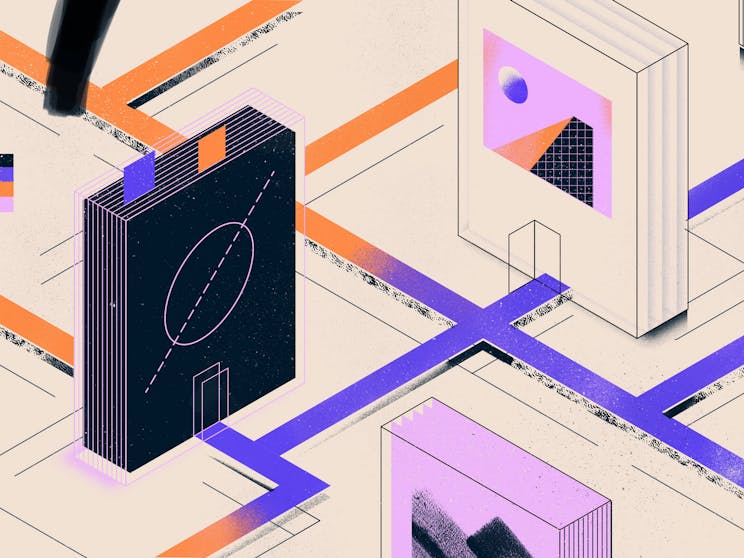 Art by Kasia Bojanowska
Use a design proposal template to get started
There's never a better time to start working on your next design proposal than now.
Still not convinced you can do it on your own? Then Bonsai is your answer—it's our favorite tool for freelance graphic designers. Bonsai lets you write design proposals with the help of their professional proposal templates and seamlessly sends them to clients for instant approval.
If you're just starting out in the world of freelancing, and don't need a full suite of tools just yet, try exploring a few project proposal templates on Creative Market. They've got a ton of downloadable templates you can customize based on the type of proposal you're looking for.
Good luck!
Build your brand & unlock new 
opportunities with Dribbble Pro
Learn more now
The #1 creative community online

Exclusive access to 1000s of leads

Create an instant portfolio in minutes

Promote your goods seamlessly