A professional freelance graphic design contract makes a massive difference to your client relationships, your job satisfaction, and ultimately, your earnings. Yet, not writing a contract is one of the most common mistakes new freelancers make when starting out. 
In this article, we'll break down what a freelance contract is, why every freelance graphic designer needs one, and finally, how to write a contract. We'll then take you through the must-have elements your graphic design contract should include for a smooth and streamlined workflow with clients. 
Let's get straight into it.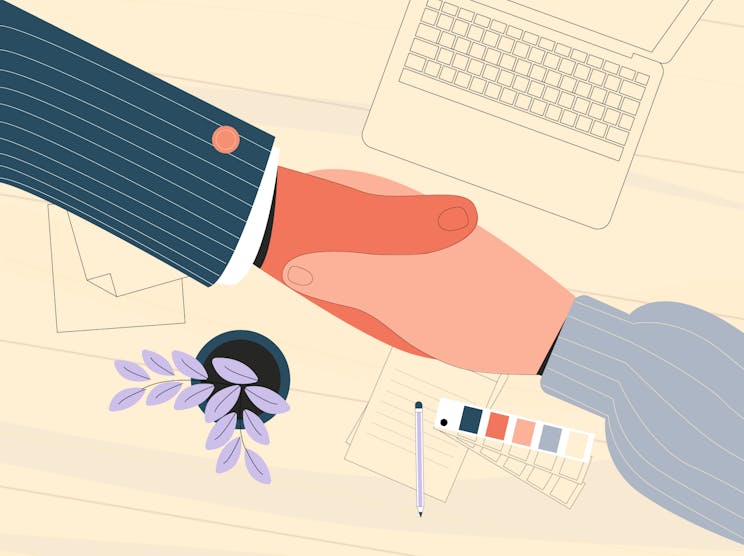 What is a freelance graphic design contract? 
A graphic design contract is an official, legally binding document that outlines project details and working terms between a client and a freelance designer.
Contracts are typically created by the freelance designer, and is signed by both parties involved before any goods or services are rendered.
Why do you need a graphic design contract? 
The purpose of a freelance design contract is to legally protect you, your business, and your client should any issues arise throughout a project. When in doubt, get it in writing.
On the freelancer's side, a written contract is especially helpful for ensuring you get compensated for any freelance work you complete should your client disappear on you, or refuse to pay you for whatever reason. 
On the other hand, a graphic design contract also benefits clients as it builds trust by establishing you as a professional, and improves overall workflow and communication throughout the entirety of your projects. 
Having a freelance design contract ultimately ensures that all parties involved are on the same page, know exactly what to expect, and are held accountable throughout every step of the project lifecycle, from start to completion.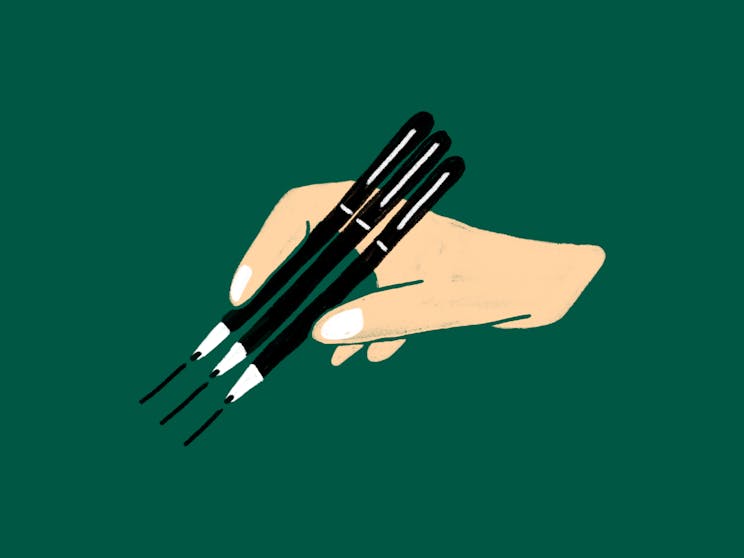 Art by Garrett Prince
What should your freelance design contract include?
Now that you know why you need a formal freelance contract, let's break down how to write a contract by listing out the most important elements yours should include as a freelance graphic designer. 
1. Project Overview
Start off with a brief statement outlining what design services you'll be providing to your client. Be sure to also include the project start date you've agreed upon and an estimated timeline for completion. 
This section should be fairly simple to craft because you can easily refer back to the project proposal you sent your client earlier on (which should already cover most of this information).
2. Payment terms
Next, you'll need to define your payment terms so everyone's clear on when and how you get paid. Here are the most important questions you'll want to answer in this section: 
Which payment methods do you accept?
Do you require a deposit upfront? 
How many payment milestones will be created?
Will you charge a late fee for any missed payment deadlines? 
We highly recommend writing up a detailed payment schedule to avoid any miscommunication around how and when you get paid. 
3. Design deliverables
Now it's time to get specific about what deliverables your client will walk away with. List them out and add important details around things like file types or design variations. 
It's also best practice to include a clause for any additional design assets your client may request that are not already part of the original project scope. More on that below. 
4. Number of revisions
One of the most common challenges freelance designers face when working with clients is scope creep. Scope creep happens when clients start adding extra work in the form of revisions, design assets, tasks, etc. that you haven't already agreed to. 
To avoid scope creep from happening, it can be helpful to outline how many revisions your client will get as a part of the original scope of work. Then, include how much you will charge for any additional work or revisions that may be requested outside of the scope. 
5. Copyright ownership & IP Protection
As a freelance designer, showcasing your past client projects can be a great marketing strategy that leads to even more work. But what if your client unexpectedly asks you to sign an NDA? 
Use your freelance contract to get your client's approval (in writing) to showcase their project in your design portfolio. Also, clarify whether your client will receive exclusive rights and ownership of the final work (once you've been paid of course.) 
6. Termination clauses 
Unfortunately, not every freelance project goes to plan. This could be for various reasons: Maybe you and your client aren't getting along, or perhaps an unexpected life event requires your full attention at the moment. 
Whatever the reason, you should always include a termination clause in your design contract that specifies what should happen in the event you or your client need to cancel the project. Make sure to include details around who owns the copyright to the work completed thus far, and what fees (if any) are associated with your client canceling on you. 
Ready to Start your Freelance Design Business? Get Leads Today!
Learn More Today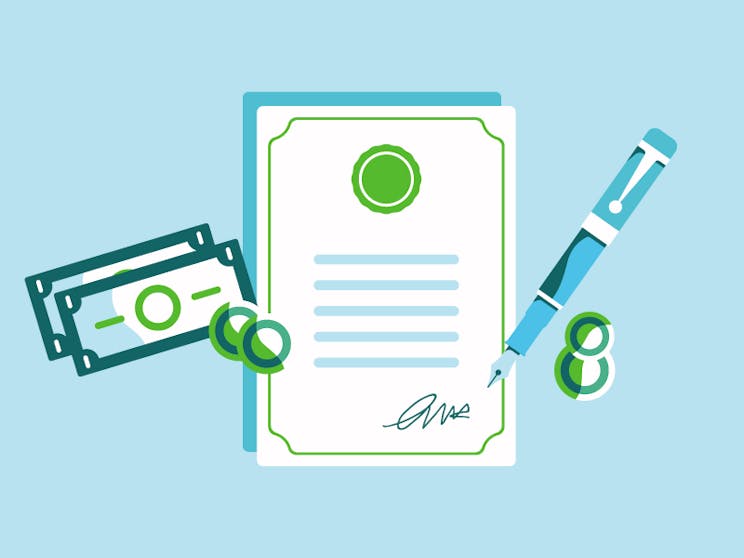 Art by Kemal Sanli
When should you send a contract to clients? 
Your graphic design contract is key to ensuring a smooth and seamless project execution. But when is it the right time to present it to your clients? 
You should always send clients a contract (and have them sign it) before you begin any freelance work. In fact, some graphic designers like to include a copy of their contract as a part of their initial project proposal to help set expectations and project terms from the get-go. 
After sending your contract, be sure to follow-up with clients to ask whether they have any questions or concerns regarding the terms of the agreement. This will help all parties get on the same page and ultimately set your project up for success.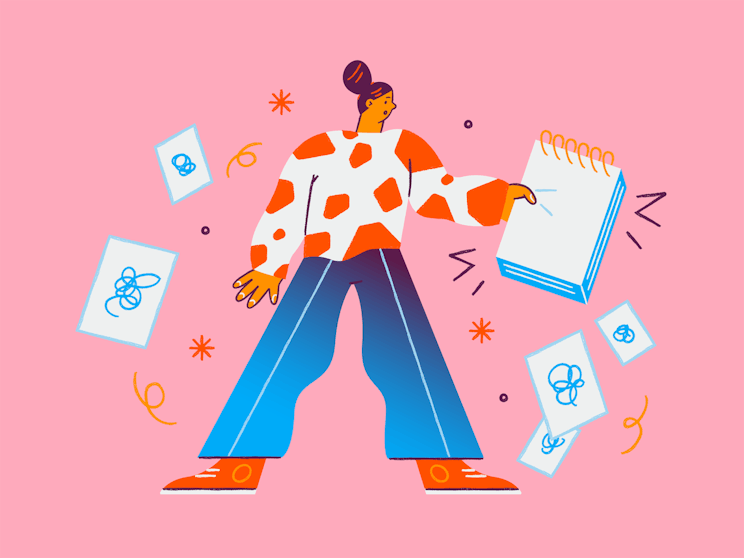 Art by Ksu Angeltseva
Use a contract template to get started
Whether you're new to freelancing or want to improve your existing business operations, you should always use a legally binding contract—whether you create your own or customize an existing template. 
One of the main benefits of using a premade contract template is that they are typically already reviewed by lawyers, which means you can rest assured that you're sending clients a legitimate legal agreement. 
Below you can find our top freelance contract template options for graphic design professionals:
1. Bonsai
Bonsai is our favorite all-in-one freelance management app that offers over 100 fully legal business contract templates for freelancers—including a specific graphic design contract.
Vetted by real lawyers, Bonsai's freelance contracts work internationally and eliminate the guesswork around what you should include in your client service agreements. Simply fill in the blanks, customize to your needs, and send off to clients. It's that easy. 
Bonsai offers a free trial that lets you edit and create as many freelance design contracts as you like. And when you sign up for Bonsai, you'll also get access to hundreds of invoice templates, project proposal templates, time-tracking software, accounting & tax tools, and so much more. 
Price: Start your free trial then sign up for $19/month to get unlimited access to a full-suite of freelance management tools 
2. The Contract Shop
The Contract Shop offers an attorney-prepared contract template especially for freelance graphic designers and digital product designers. 
When you purchase their freelance contract template, you'll also get access to handy guides that explain the major provisions in your template in simple terms so you know exactly what you're sending to clients. Plus, you'll get access to an exclusive portal with tutorials that demonstrate how to customize your template. 
Price: One time purchase of $455 USD
3. PandaDoc 
PandaDoc's graphic design contract template is an in-browser, editable template that makes it extremely easy for you to jump in and customize.
This baseline template gives you the ability to add sections or clauses that give you complete control over what you want to include in your client contract. Plus, PandaDoc provides helpful tips and explanations throughout the customization process to help guide you through the terms of the contract. 
Price: $19/month for unlimited access to PandaDoc's contract templates
4. Signaturely 
The team at Signaturely have worked with lawyers and proofreaders to create a basic freelance contract exclusively for graphic designers. Downloadable as a PDF of Word document, this formal agreement includes the most important baseline elements a design contract needs: Project description, fees, and confidentiality terms. 
Signaturely's contract template is great for new freelancers, but if you're looking for something a little more robust, we recommend finding a template with more detailed terms around payment structure and revision clauses.
Price: Free download 
5. Honeybook 
Honeybook is another full suite of tools for freelancers and small business owners. Their ready-to-use templates let you actually create and send contracts straight from their mobile app so you can easily manage your business on-the-go.
You'll also get notified immediately once your client signs a contract and you'll have the option to trigger files or an email to send once signed so you can keep your business moving quickly and smoothly.  
Price: $9/month for access to all of Honeybook's freelance management tools.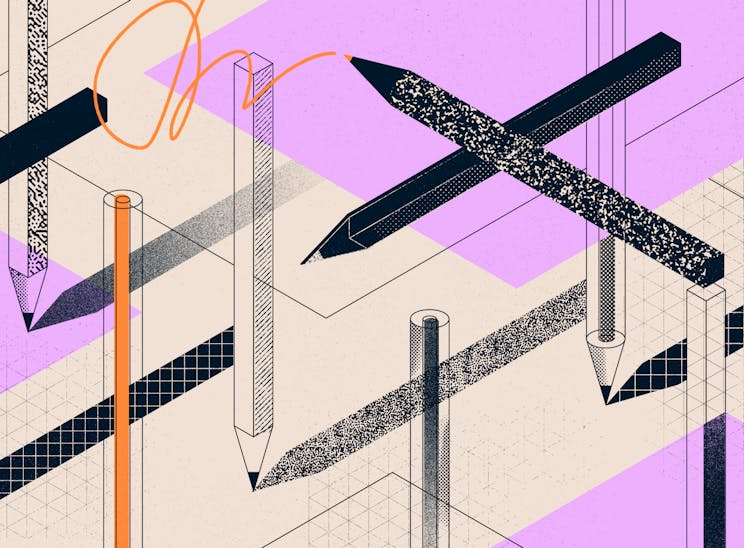 Art by Kasia Bojanowska
A freelance design contract is the foundation of a successful project
NPR research found that 20% of jobs in the U.S. are held by contract workers, and that number will rise as the freelance revolution continues to grow. Many freelancers will make the mistake of diving into work without a design contract.
Why take the chance? By taking the time to create a freelance design contract, not only will you secure a fair deal for yourself, and your client, you'll also look like a true professional. You'll be more than ready to take on new projects with clarity, structure, and security. Trust us—you won't regret it!
Build your brand & unlock new 
opportunities with Dribbble Pro
Learn more now
The #1 creative community online

Exclusive access to 1000s of leads

Create an instant portfolio in minutes

Promote your goods seamlessly