Freelance
How to write freelance design cold emails that land work
Discover the best freelance design cold email templates and why they work. Learn how to tailor your design cold emails to land your dream clients.
July 07, 2021
Find freelance work
Art by Erick M. Ramos
Wouldn't it be great if there was a clear-cut, copy-and-paste email template for cold emails that just works for landing new freelance design jobs? Unfortunately, this is not the case, and cold emailing does take a fair amount of time and effort… at least at first.
A cold email needs to be short, powerful, and intriguing to be successful. While there may not be a freelance design cold email formula that wins every time, in this guide, we'll show you how to improve your graphic design cold emails and pitching in 5 simple steps.
A freelance design cold email needs to be short, powerful, and intriguing to be successful.
You'll learn how to find the right person to contact, write engaging subject lines, the art of the follow-up, and everything in between. Plus, find freelance graphic and web design cold email templates to help you get started below.
But first, Let's start with the basics.
What is a freelance design cold email?
A cold email is when you contact someone you do not know with a specific mission or purpose in mind. It's important to note that cold emails are not just limited to sales (although, in our case, it is); you have probably experienced cold emailing in your everyday life. 
For freelance graphic and web designers, a cold email is usually considered the first email sent to a potential client to gain a mutually beneficial opportunity or a sale.
The benefits of sending cold emails
As a freelance graphic designer, writing effective cold emails can make it easier for you to find jobs. Your goal with a cold email should be to inform the potential client how you will add value to their company.
You won't dive into a cringy sales pitch here, simply take time to introduce yourself as an expert and include a call to action (CTA). Usually, your CTA will be hopping on an actual phone call and eventually sending over a design proposal.
Unless you're a freelance designer overflowing with referrals, sending a cold email will probably be part of your approach at some point throughout your career. 
Cold emails are useful for a few reasons:
They build relationships with industry colleagues
They connect you with potential design clients 
They demonstrate how you can add value 
You'll need to try (and refine) it for yourself to see its full potential! 
Get new freelance design leads emailed to you every morning.
Sign me up!
Write a great freelance design cold email in 5 steps
As mentioned, cold emails aren't solely for lead generation. You can use them to connect with other graphic designers, people doing other exciting creative work, or even for strategic partnerships.
Here's how to send a freelance design cold email in five simple steps:
Research the potential client or business
Identify the right person to email
Create an engaging subject line
Draft a personalized email
Follow-up
Remember, the context of this approach is to find new design clients as a freelance designer!
✔️ 1. Research the potential client or business
First, you want to make sure you're hoping to work with the right people/organization. Understand who they are, what you can do, and (most importantly) how you can help. You'll want a clear understanding of their current business position, where they want to be, and how you can get them there. Otherwise, why would they be interested in what you have to say? 
✔️ 2. Identify the right person to contact
After you've qualified the business or client, you need to find the right person to email. This can be extremely difficult in larger organizations, so we recommend contacting smaller to medium-sized businesses where decision-makers are still relatively "accessible" for requests like this. You can look on LinkedIn to see how many employees an organization has and get a better idea of who the senior-level employees are. 
This step includes finding their email. Don't send your messages to a generic inbox. Use Hunter to find their email address or invest in LinkedIn Premium to send messages to anyone. 
✔️ 3. Create an engaging subject line 
Cold email is not about you. Repeat after us. Cold email is not about you. Cold email is about them, their business, and how you can help.
Now that we're clear on the mission of freelance design cold email and you have a company/person to send your message to, you need to get their attention using a strong cold email subject line.  
Why? Poorly written subject lines may create bias against us and our cold email. If your subject line is not engaging enough, your recipient might decide not to open the email, or manually mark it as spam which may cause problems with email deliverability. So ask yourself the question:
What subject line will make my addresses open my cold email?
In a world full of emojis, sales, and "reply alls," it can be challenging to stand out in someone's inbox. Think of the problem or solution you're suggesting and start there to create a compelling subject line. Work on creating a cold email subject line that reflects your personality and positively catches their attention. 
✔️ 4. Personalize your message
Depending on who you are reaching out to, your cold email approach will vary. One thing is for sure, though; you'll want to personalize your message and keep it simple. Not only does this show you have a genuine interest in the recipient of your cold email, but also, potential design clients likely have no idea who you are. You will only have their attention for a moment. 
Follow the triangle approach with your emails:
Greeting/salutation, 
Introduce yourself, and explain why you are writing. 
Follow with a longer sentence or two about their problem, your proposed solution, and how you can add value. 
End with a call to action, like hopping on a call tomorrow at 3:00 PM PT or 5:30 PM (if after work is better)? 
Thank them for their time.
See how simple that was! 
As you continue your cold email journey, you'll develop a few cold email templates for different kinds of businesses and potential clients as you discover what works best for each industry or company size. 
✔️ 5. Follow-up
The follow-up is arguably more important than the first cold email because the recipient will probably have already seen your name and message. You'll be familiar, and you might strike a chord with them to respond. 
Remember that the people you're contacting are probably busy! If you're speaking with CEOs of small/medium companies, or even startups, they have a lot on their plate. They would probably love a solution to their problems but can't always reply to every email.
Send your follow-up 3-5 business days after sending your first message and make it as simple as your first one.
Maybe offer a little tidbit of value in there, like something they can quickly fix right away, but that shows you care about their organization. Perhaps a link is broken on their website, or you have a referral discount code for a service they're using. 
If the email is truly cold and you have no prior connection to this contact, limit your follow-up attempt to 3 or 4 messages.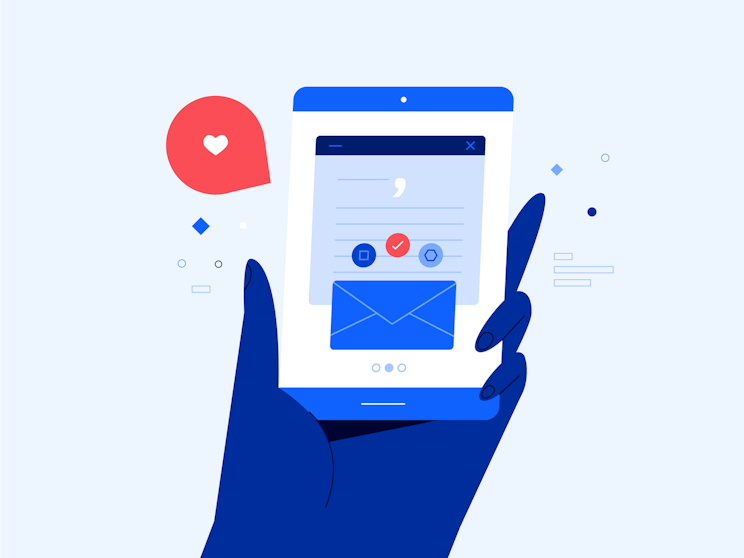 Art by studiokat
Freelance design cold email templates to get started  
Here's the cold hard truth. You're going to send a LOT of cold emails. Many people will never respond to your cold email, and it might be a bit disheartening, but hey, at least it's not the phone! Cold emailing opens up a world of opportunity for freelance designers, not only in getting new contracts but also in mentorship, collaboration, and sometimes even friendship. 
Check out our list of cold email templates below for freelance graphic designers to get started. These sample freelance design cold emails are all tailored to fit different types of potential clients. Brackets indicate areas to personalize.
If you're reaching out to small businesses
Hi [Name],
[Your Name] here from [your company name]. I first wanted to say that I love what you're doing at [their company name]!
Small businesses can struggle to customize their website design using the limited templates [Squarespace/Shopify/website they are using] has to offer.
I create custom web designs that work with [website platform] templates to drive more sales to your business. Now that almost every business is online, having an optimized website design is essential! 
Would you be interested in discussing how to optimize your website design to convert more sales? 
I'd love to have a quick call sometime soon if you're open to it. Would tomorrow at [XX:XX AM] or [XX:XX PM] work for you? 
I'll be happy to hear from you.
Thanks,
[Your name]
📌 Why it works
Choosing a problem that many small business owners face will resonate with these types of clients. When you can identify a pertinent concern and explain how you can help in your cold email, they will be more receptive to your services. Offering two times to give them a call makes them more likely to choose whichever works best for them. 
If you're reaching out to large brands
Hi [Name],
[Your name] here from [your company name]. [Their company name] is doing some great things lately!
I loved your recent collaboration with [X designer]. 
OR 
I loved your recent campaign for [X product] - were the designs done in-house, or did you work with independent designers? That campaign reminded me of my recent project here. 
OR 
After working with [X Companies — list of companies] on their campaign landing pages, I instantly thought of your brand. My landing page designs increased their signups by 15% over past campaigns! 
I have a few slots open for landing page design next month - are there any upcoming campaigns where you need extra hands on deck? 
Let's hop on a quick call! Would tomorrow at [XX:XX AM] or [XX:XX PM] work for you? 
Looking forward to speaking with you,
[Your name]
📌 Why it works
Large brands and companies are more likely to have completed collaborations or have dedicated budgets for their marketing campaigns, so referencing something specific that they have done gives you an automatic "in." You'll likely be addressing the CEO or a higher-up individual in this case, so by providing relevant examples of similar projects and the results that impacted the bottom line, they will be intrigued by how you can do the same for their company. 
If you're reaching out to creative agencies
Hi [Name],
[Your Name] here from [your company name]. [Their agency name] is crushing it lately!
I loved your recent campaign for [Brand / Product]. Were the designs created in-house, or did you work with independent designers?
With [X event, Pride Month/Father's Day/Canada Day, etc.] coming up, I know you probably have a lot on your plate.
Your [X campaign] reminded me of a few projects I've done here [link to projects]. As I'm sure you've got a busy few weeks ahead, I'd be happy to offer my design services as an auxiliary designer.  
Are you looking for some extra hands on deck for any overflow design projects you have coming up? 
Want to hop on a quick call to discuss? Would tomorrow at [XX:XX AM] or [XX:XX PM] work for you? 
Thank you for your attention, chat soon!
[Your name]
📌 Why it works
Agencies will have several clients on the go at any given time. In your cold email, show that you recognize their work out in the wild and that you have work on similar projects with positive results. Contact them ahead of their "busy season" and offer your services when you know they will have some projects coming up. 
If you're reaching out to startups
Hi [Name],
[Your Name] here from [your company]. 
Big fan of the work you're doing at [their company name]. 
I read your recent blog post on [topic]. It was a fantastic read. I loved the part where you mention [specific part of the blog relevant to your services]. 
I can tell you're trying to drive traffic to your site through SEO blog posts. If you're open to recommendations, I specialize in creating beautifully designed blogs that drive traffic, like this one here [link an example]. 
Would you be up for a chat or call anytime soon? I've got some time tomorrow between [XX:XX AM] or [XX:XX PM].
I'll be happy to hear from you.
Thanks,
[Your name]
📌 Why it works
Almost all startups have a blog and are utilizing content marketing to drive website views on Google, so if you are a web designer, this cold email is a pretty safe bet. If you're not a web designer, find a specific problem that a particular startup could be facing that would be solved with thoughtful designs. 
Choose a cold email template based on your goals
Craft your follow-up emails in a similar fashion, using the triangle email structure, keeping it simple, and providing a clear call to action at the end. Offering a choice of two times for a call will help your case since the lead will feel more compelled to check their calendar to see if they are free. 
Remember, the best cold email templates are thoughtfully customized with the recipient in mind. Adapt these cold email templates for your own use cases, and let us know if you have success with them! 
Start winning more freelance design clients
A highly personalized cold email dedicated to a specific client or company is a great way to start new business relationships. Eventually, as you build up your portfolio by completing work for clients, you'll start receiving more referrals, and you'll eventually be able to limit your time spent sending cold emails and pitching. For tips, advice, and direct referrals to new freelance design clients, sign up for Dribbble Pro.
Build your brand & unlock new 
opportunities with Dribbble Pro
Learn more now
The #1 creative community online

Exclusive access to 1000s of leads

Create an instant portfolio in minutes

Promote your goods seamlessly