Freelance
8 Steps to Becoming a Freelance UX Designer
Learn 8 essential steps to kickstart your freelance UX design career without any experience. Plus, explore the expanding career opportunities for new freelance UX designers.
February 03, 2023
Find freelance jobs
Art by Folio Illustration Agency
Full-time design jobs can be rewarding, but they're not everyone's cup of tea. If you want to increase your income and have more control over your schedule and work environment, freelancing may be a better fit. Instead of working full-time or part-time for a single company, freelance UX designers lend their talents to several companies at a time. As a result, freelancing can help you grow your professional network and gain additional skills.
Here's what you need to know to become a successful freelance UX designer.
UX design career overview
User experience design, commonly known as UX design, is the process of creating useful, relevant products for a specific user audience. If you have the right combination of knowledge and skills, this field has a tremendous amount of growth potential. For example, you can start out as a junior UX designer, move into a mid-level position as an interaction designer and then take on the role of senior UX designer to increase your earnings. After several years of experience, you may even be able to become a product designer or get involved in app design.
With right combination of knowledge and skills, UX designers have tremendous growth potential in their field.
Many companies hire freelance UX designers to achieve their goals. Startups often use freelancers as a way to reduce their payroll costs, while large corporations may hire freelance designers to supplement their existing workforces. Some companies have limited design needs, so hiring a freelancer is a way to meet those needs without investing in an additional employee.
8 steps to becoming a freelance UX designer
If you're convinced that a freelance career is right for you, here are the steps you need to take to get started.
1. Learn UX design skills
You can't become a principal UX designer if you don't understand the fundamentals of user experience design. If you're new to the field, take time to learn how to use Figma, Adobe Illustrator, Adobe InDesign, and other common tools. You should also know how to create user personas, create wireframes, develop prototypes, and justify your design decisions. If you're interested in developing mobile apps, make sure you know the ins and outs of the iOS and Android operating systems as far as how they affect user interface design.
2. Apply your skills to real-world projects
Now, it's time to practice your new skills. Don't worry if you haven't had any designer jobs yet. You can get UX design experience in several other ways. First, consider taking an online course that has a portfolio component. Many UI/UX courses include assignments that you can add to your portfolio once you finish them. Treat every assignment seriously and make sure the finished product is something you can be proud to show to recruiters who are searching for freelance UX designers for hire.
Another option is to complete a UX internship with a company in your area. These days, internships aren't just for college students. Many companies are open to hiring career changers who want to transition into freelance UX design. Completing an internship is a great way to learn about interaction design, web design, user research, and other elements of user experience work. Working in a collaborative environment is also helpful for building your network and learning how to communicate clearly with graphic designers, web developers, product designers, and other professionals involved in UX design.
3. Create a UX design portfolio
Once you complete a few projects, it's time to create your UX design portfolio. A good portfolio includes several design case studies, which are examples of successful projects accompanied by an explanation of your design process. Each case study should include the following components:
Client background. First, introduce your client. This brief section should name the company and explain what industry it operates in and what products or services it sells. If you can't name the business due to a nondisclosure agreement, just describe what it does.
Design problem. The next step is to explain the client's design problem in simple terms. This section should help the reader understand why the client hired you in the first place.
Constraints. Tell the reader if you were working with a tight deadline or a limited budget.
Solution. Before you dive into a complete description of the project, provide a short description of the solution to the client's problem.
Design process. Walk potential clients through your design process. Provide as much context as possible to explain your decisions.
Results. Now, tell readers how your design helped the client. Did it solve the problem it was supposed to solve?
Conclusion. Summarize the main points of the case study.
If you're new to the design field, try to include three case studies in your portfolio. Experienced designers should have about five. Any more than that and you risk overwhelming potential clients with too much information. For each case study, make sure you have high-quality photos, screenshots, wireframes, and other graphics.
4. Build your social media presence
For a freelance UX designer, social media is one of the most cost-effective marketing methods available. It costs nothing to set up an account and start letting people know about your services, making it possible for solo designers to compete effectively with large agencies. LinkedIn is the first place to start, as the platform focuses on business-to-business, or B2B, networking. That means you'll have a chance to interact with business owners and decision-makers at large companies.
You should also consider setting up accounts with Facebook and Instagram. Facebook's advertising platform is fairly easy to use, and it also allows advertisers to market to very narrow audience segments. If you want to promote your design services to lawyers between the ages of 40 and 50 who live in Atlanta, for example, you can do so with Facebook. Instagram focuses on visual content, so it's a great place to show off your design work. If you decide to promote yourself on Instagram, make sure you take high-quality photos of your work.
Once you open your accounts, make sure you use them regularly. You don't have to write hundreds of words about your design process or wax poetic about the Pantone color of the year — just write about your design projects, comment on industry news, or interact with other UX design professionals.
Get new freelance design leads emailed to you every morning.
Learn more
5. Create a website
No matter how much experience you have, you need a website to showcase your work and let visitors know that you're available for new projects. Your site should be well-organized and have enough information to help potential clients decide if they want to contact you for more information about your services. It should also have an appropriate level of functionality. Don't make it difficult for visitors to access your portfolio or find out more about your background. To make it easier for people to find you via the search engines, include relevant keywords in your content, such as "freelance UX designer in New York" or "Miami UX designer."
Once you complete a few UX designer jobs, ask satisfied clients to give you some testimonials for your website. Testimonials are important because they show prospective clients that you're a real person providing a valuable service. If you're not confident in your web development abilities, there are thousands of free templates available to help you make your vision come to life.
6. Market your services
Creating a website is just the first step in promoting your services as a freelance UX designer. Now, you have to market your business consistently. Potential clients won't hire you if they don't know you exist or don't know that you have the skills needed to solve their design problems. Even though you're not looking for a full-time job, it's still important to have an up-to-date UX designer resume. Post this resume on your website or offer to send it to recruiters via email when you're applying for gigs.
Some companies screen their freelancers just as closely as they screen their employees. If you want to work for a large corporation, you should be prepared to go through a formal interview process. Before you start pitching to this type of company, practice answering common UX design interview questions. Once you have your foot in the door, you can keep marketing to key decision-makers.
Applying to job postings isn't the only way to land work as a freelance UX designer. You should be actively promoting your business via social media and looking for other ways to increase awareness of your business. If you have a limited marketing budget, that's no excuse to sit back and wait for work to come to you. Using the following low-cost marketing methods can help you attract clients without spending a lot of money:
Blogging
Appearing as a guest on design-related podcasts/YouTube streams
Optimizing your website for search engines (SEO)
Cold emailing and calling
Recommended reading:
7. Network with other designers
Networking with other designers is one of the most effective ways to grow your freelance business. Once you have a solid relationship with another design professional, they may feel comfortable sending you clients or hiring you to handle some of their overflow work. Try to network with people who don't do exactly the same type of work you do. Otherwise, you'll be competing against them for some of the same jobs, which isn't much of an incentive for them to give you referrals.
8. Keep your skills current
Once you have a few projects under your belt, don't forget to keep learning about UX design. There's always some new development in the field, such as a software update or a new design trend. Taking online classes or teaching yourself new skills is a great way to gain new knowledge and increase your hourly rate.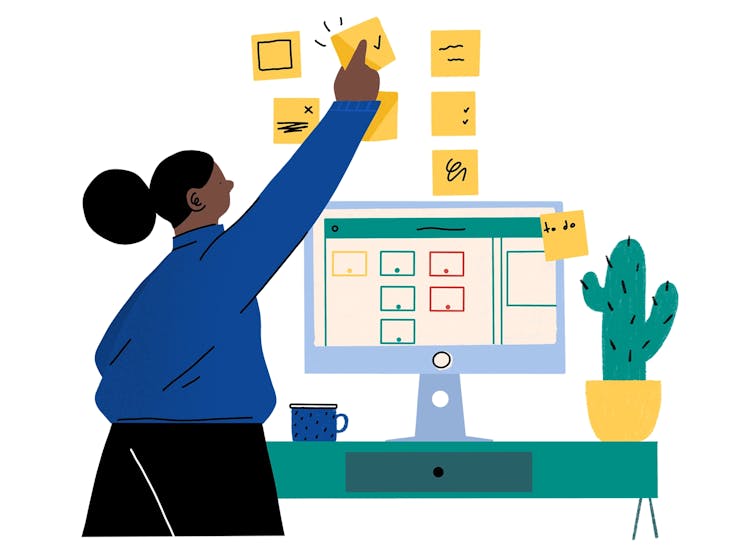 Art by Ryan Johnson
How much do freelance UX designers make hourly?
How much you earn as a freelance UX designer depends on several factors, including where you live, how you find work, and what types of UX design jobs you complete. For example, a freelance designer on Upwork typically charges between $25 and $39 per hour. However, Upwork and several alternatives allow you to set your own rates, so don't be afraid to charge more based on the value you bring to each project. According to ZipRecruiter, freelance UI/UX designers have an average salary of $103,164 per year, which translates into $49.60 per hour if you work 40 hours per week.
What skills do you need to become a good UX freelancer?
To succeed as a freelance user experience designer, you should have the following skills:
User research. Every successful UX project starts with research to find out what the end user needs. You should be able to conduct user research, analyze the findings, and apply those findings to your work. Some self-taught UI/UX designers spend so much time focusing on their technical skills that they don't know much about conducting this type of research. If you become a skilled UX researcher, you'll have a bit of an edge when you start looking for clients.
Wireframing. As a UX designer, you'll need to create wireframes to show how each screen works.
Information architecture. UX designers must be able to organize information in a logical way.
Prototyping. Once you have a solid grasp of prototyping, you'll be able to make sure a proposed product matches the end user's needs.
Graphic design. Visual communication is an essential component of UX design. You should have a good command of colors, layouts, images, typography, and icons.
Usability testing. You should know how to perform usability testing, including how to solicit useful feedback from testers.
Design software. UX designers use a wide range of design tools, including Adobe products, to complete their work. You should be skilled at using each program to accomplish your clients' objectives.
Once you master the UX/UI skills described above, you'll need a few more skills to manage a freelance business. Successful freelancers are adept at the following:
Business management. As a freelancer, you'll need to deal with invoicing, estimated tax payments, and other business tasks. Take time to learn how to use Microsoft Office or a similar software suite to ensure you can keep track of your design projects, revenue, and business expenses.
Marketing. If you want to run a profitable business, you'll need to market your services. Marketing activities include advertising, search engine optimization, and content creation.
Communication. To convince potential clients that you're the right designer for their needs, you'll need to communicate effectively on the phone, in person, and in writing. Good communication also makes it easier to retain clients.
Project management. Once you have a few clients, you'll need to juggle multiple projects without missing any deadlines.
Negotiation. Freelance UX/UI designers need to negotiate the terms of each new project. You'll need strong negotiation skills to command above-average rates.
Problem solving. If a problem arises with one of your clients, you'll need to think logically and come up with a solution.
Where can I find jobs as a UX freelancer?
Thousands of companies use the Dribbblejob board to find talented UX designers. Each potential client posts a short description of their project and an estimated budget, giving freelancers a chance to pitch their services. Dribbble also has an exclusive list of freelance design jobs available, doubling the number of opportunities you have to grow your business. Other hiring platforms for freelance designers include AIGA's job board, Upwork, and TopTal.
Build your brand & unlock new 
opportunities with Dribbble Pro
Learn more now
The #1 creative community online

Exclusive access to 1000s of leads

Create an instant portfolio in minutes

Promote your goods seamlessly