If you're like most creatives, you likely have more than one creative focus or passion. Side projects (also known as passion projects) are an excellent way to explore creative pursuits outside of your day job and diversify the ways in which people can discover you.
For digital creatives, side projects can also be a great opportunity to strengthen your existing skills, learn new ones, and boost your resume when it makes sense.
In this article, we'll explore 10 great side project ideas that will not only supercharge your creativity, but also open new doors to places you never imagined.
"There's a lot of benefits that come from having side projects. Creativity is one, potential future jobs could be another. I actually got my job at Uber through my side projects." — Femke van Schoonhoven, Product Designer @Uber
1. Start a Podcast
It seems like everyone has a podcast these days. And for good reason. 37% of Americans listen to at least one podcast per month. Podcasts listening stats have grown nearly 40% in the last three years, too.
If you're trying to connect with an audience, podcasts are a great option.
You might want to consider starting a podcast directly related to your professional creative pursuits. Or you could start one related to a creative hobby or passion outside of your profession. Either way, podcasting is an excellent creative personal project to explore.
2. Start Blogging
If you enjoy writing, blogging is an excellent side project. You don't have to start your own blog, either. Blogs in virtually every creative niche are always looking for guest bloggers or regular contributors. Some of them look for free contributions and will share your links in exchange, while others pay for your articles.
3. Start a Newsletter
When thinking about newsletters, it's common to think of them only in terms of content marketing. But there are tons of topical and personal newsletters out there that are written without a specific marketing goal in mind.
Think about what you're passionate and knowledgeable about and consider writing a regular newsletter around that. If you're interested in it, chances are others are, too.
Besides being a great creative project, a regular email newsletter can also help you create a sense of community.
4. Create a Website About an Offbeat Passion
If sending out a regular newsletter isn't your thing, consider creating a website about an offbeat passion you might have. A well-designed niche website with unique content can draw a lot of attention.
Niche websites like this can be an excellent way to try out different interaction methods, new design ideas, and other experimental design elements. They can let you show off your design skills while also being fun to build and maintain.
5. Create Digital Art
If you're looking for a purely creative side-project, creating digital art might be the perfect option. There are a lot of different types of digital art, from digital painting to photo manipulations. Digital art also has the advantage of being less expensive than analog art, as your materials are infinitely reusable.
There are some really creative digital art projects that have come out of side-projects such as Windows of New York
 by Jose Guizar or Brewskies
 by Kevin Yang. Check those out for some major inspiration.
One thing I love about digital art is that you don't necessarily need to feel like an "artist" to make some pretty amazing things. I can't paint my way out of a paper bag but I can create amazing photo manipulations that allow me to express my creativity in ways I was never able to with traditional analog mediums.
6. Create an App
Making money with an app can be a challenging and risky prospect. But if you create an app as a side project rather than a full-time focus, profit doesn't need to be your primary motivator.
Think about the gaps you find in the current app marketplaces and the kinds of apps you wish existed for ideas. If you create something you'd like to use yourself, chances are others will also want to use it.
Creating an app entirely by yourself is doable, but this is also a great opportunity to work with other creatives. Reach out to designers, programmers, or others you admire who might be interested in your project and able to help you out.
"I think everyone should have some side projects boiling up in their kitchen. I'd advise designers that want to start a side project to think of a product they would use themselves or have friends that are in need of it. The best products come from a deep problem or a need." — Gal Shir, Creator of Color Hunt
7. Create a Digital Product
Digital products can run the gamut from ebooks to audio files to templates to icon sets to typefaces. Plenty of designers and other creatives create free digital products as a way to give back to the design community, while others monetize their products as an extra source of income (and some do both).
Consider the kinds of digital products you like to create. Also, consider if there are design elements you've already created for projects that you could modify or refine and offer as products to a wider audience (this can be a great way to reuse elements of a design that didn't make it into the final project).
Whether you decide to offer them for free or at premium prices, there are plenty of options for delivering your products, from marketplaces to Dropbox files with a link from your website or social media accounts.
8. Start an Open Source Project
Wikipedia estimates that there are more than 180,000 open source software projects out there. There are open-source alternatives to virtually every commercial, proprietary software or technology on the market. Popular open-source projects include plenty of platforms and frameworks you've heard of, including WordPress, jQuery, and React.
But that doesn't mean there isn't room for more. Open source projects are a great way to create something useful, and can be monetized in unique ways if you choose to do so (such as through support contracts, consulting, or add-ons).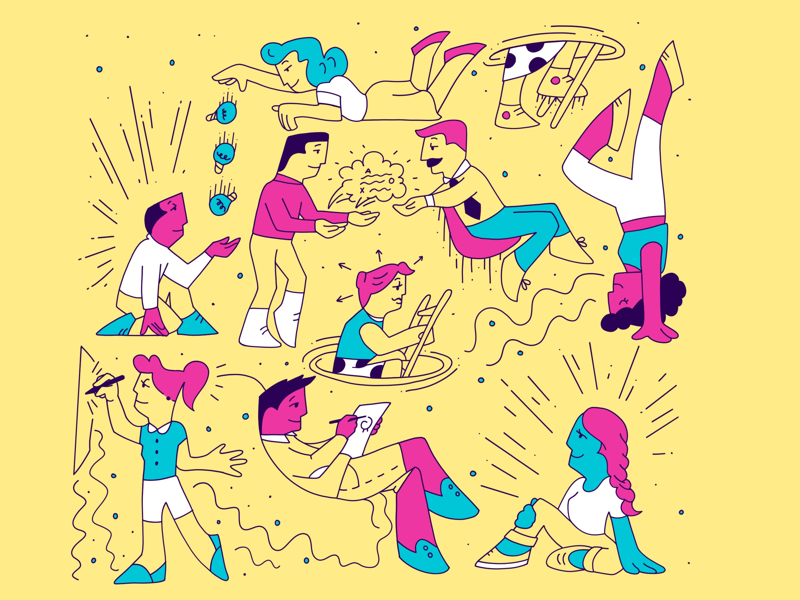 9. Create Online Courses or Tutorials
If you've mastered pretty much any creative endeavor, whether on a professional level or as a hobby, chances are you could teach others to do it. Remember, you don't even need to be an expert; you just need to know more than the people you're teaching.
You can create online design courses and offer them directly from your website or through a site like Udemy. Tutorials can be hosted on any video-hosting site, though YouTube is generally the most common. Whether or not to monetize your courses or tutorials is up to you.
"One thing that my side projects fulfill for me that my job doesn't is teaching. I like to connect with other people and share my process. Teaching people about design and watching them get it makes me feel like I'm helping." — Charli Prangley, Designer & side-project aficionado
10. Make (and sell) merchandise
If you love seeing your digital creations come to life, consider making merch on the side and selling it online. Lots of creative professionals use their designs to create custom apparel or physical products as a hobby, but also as a way to earn some extra income.
Here's a quick guide to making merch on the side from designer and merchandise expert Lisa Champ.
How to start a successful side-project
Regardless of what kind of side project you decide to take on, make sure it's something you enjoy and meets your needs—both creatively and in terms of the time involved. Use your side project as a way to express yourself, to build community, to earn extra income, or to give back (or some combination of all of them). ■
About the Author — Cameron Chapman: Editor. Blogger. Author. Designer. Copywriter. Marketer. Entrepreneur. Speaker. Consultant. Coach. I wear a lot of hats. What most of them have in common, though, is storytelling.
Inspirational Side Project Stories
Find more Inspiration stories on our blog Courtside. Have a suggestion? Contact stories@dribbble.com.