josh higgins
Who are you?
My name is Josh Higgins and I'm a designer, illustrator, web developer, and hand-stand enthusiast in Houston, TX. By day I'm a UX/UI designer for an application development company that focuses on fan engagement and community building named FanReact. By night I make shirts, prints, pins, patches, stickers, and other designed goods through my company HMD Stuff & Thangs.
What are you working on?
The big thing that I've been working on recently is my lettering and illustration side project, Introflirted. Every week, I post a new flirty thought, feeling, or situation from an introvert's perspective. My art and design work revolves heavily around connecting with and entertaining people through shared experience and culture. This project was to help me develop and showcase my illustration and lettering skills, while also exploring thoughts, feelings, and situations that I've come across in relationships as an introvert.
Choose a favorite shot of yours. Why is it a favorite?
I think Saint Marvin is my favorite. Marvin Zindler was a local newscaster/hero/celebrity/saint in Houston, TX. The character Melvin P. Thorpe in the Broadway musical and movie Best Little Whorehouse in Texas is based on him and his investigative report which shut down a brothel in La Grange. Locally, he is best known for delivering an entertaining and over-the-top restaurant health and safety report complete with the catchphrase "Sliiiiime in the ice machine!"
When I first drew this portrait, it was a love letter to the Houston I knew growing up and a celebration of a hero from my childhood. Slowly, as more people saw it, it got more and more buzz and eventually landed me my first solo art show. Everyone who saw the piece and knew Marvin had a story for me, or for the person next to them that didn't know Marvin. This piece was one of the first times my art really succeeded at entertaining and connecting people. It helped me realize that maybe I could be successful with art, and not just do design work all the time.
Tell us about your setup. What tools did you use to create the shot (e.g. hardware, software, pens, paper, blowtorch)?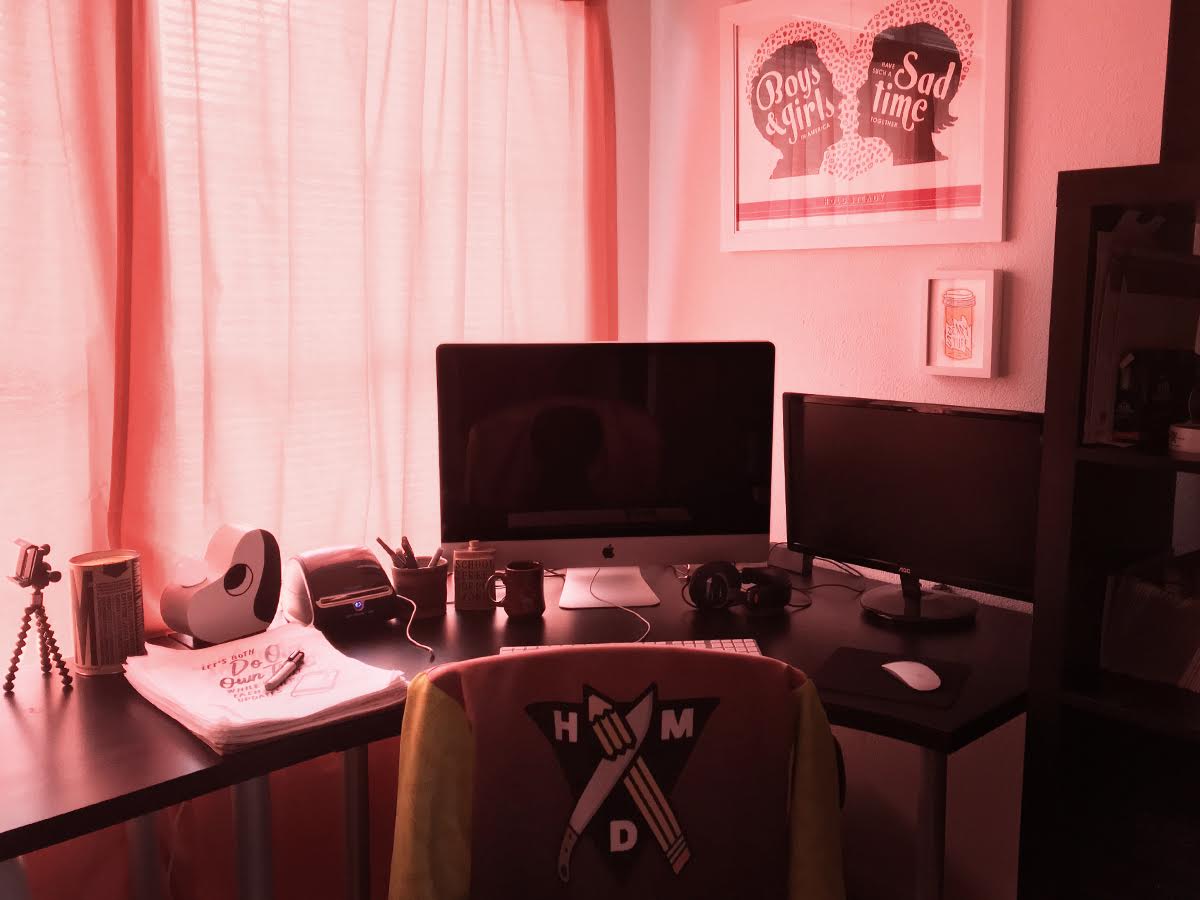 My setup is pretty basic. For design and super clean vector stuff, I usually jump right into Illustrator from pencil sketches. My desk setup is just a basic Ikea desk with an aging 27" iMac and an Intuos4 Wacom tablet.
For artwork, I usually work mostly in sharpies, markers, and brush pens on tracing paper before scanning and cleaning up in photoshop or vectoring in illustrator. If I'm doing a block print, I use Shinwa Power Grip carving tools on MDF.
Choose a favorite shot from another Player. Why do you dig it?
I love this badge that my buddy Chris Jones made for AIGA Houston. All the tiny details in it, like the lightbulb and USB mouse filigree, were amazing in the vector line form I originally saw. Then when I saw it in an actual metal police-style badge, it blew me away. I'm lucky enough to have one, and this thing is even more impressive and hefty in person. You really want to flip it out and show it to a client or slam it on their desk like in police movies.
Find Josh on Dribbble, Instagram, and hmdstuff.com.
Find more Interviews stories on our blog Courtside. Have a suggestion? Contact stories@dribbble.com.