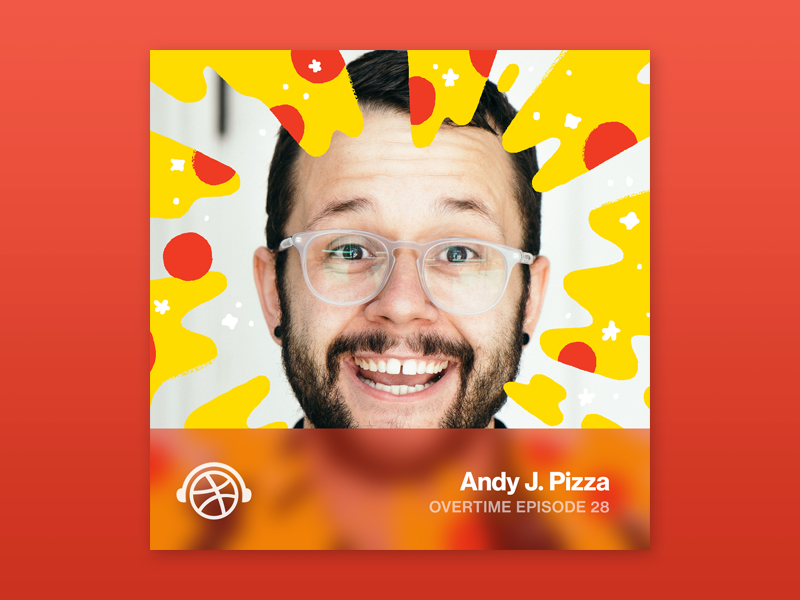 It's time for more Overtime! Season three kicked off strong—and a little bit meta—with Dan interviewing a fellow podcast host. Andy J. (Pizza) Miller, creator and host of Creative Pep Talk, discusses his transition from an illustrious illustration career to hosting—or being what he terms a "professional encourager." Andy has an endless capacity for believing in people and the creative future. Listen. Get inspired.
Don't forget, you can now find and follow Overtime on Spotify!
Overtime
Dribbble's audio companion. Our official podcast.
Season 3 of Overtime is here! In this episode, we find out what pizza and Dribbble have in common, how Andy transitioned from illustration to podcasting, and the secret to Creative Pep Talk's success. Andy also shares how to "find your gift," what he thinks all creative people have in common, how to embrace change when it comes to your career, his hope for the creative future, and much more. This episode is brought to you by Wix.
Courtside
Last week's stories from the Dribbble community. To see all of our stories on designers and their work, visit Courtside.
How are your 2018 resolutions going? See what other Dribbblers hope to accomplish in the new year and get inspired!
Who is Barbora Tőgel and what is she working on? Read up in this week's Timeout interview.
Jobs for Designers
What could you be working on? Below are a few of the organizations hiring on Dribbble. Check out Jobs for Designers to see the full list.
Who's New?
Please welcome our latest designers by checking out their debuts last week.
Meetups
The following Dribbble Meetups are happening soon. For the full list of upcoming meetups, visit our Meetups page.
Find more Weekly Replay stories on our blog Courtside. Have a suggestion? Contact stories@dribbble.com.