Who are you?
Hi. I'm Murat Kalkavan. I'm an illustrator and character designer. I graduated from Istanbul Marmara University, Fine Arts Faculty.
I make illustrations and character designs for advertisement agencies. In the meantime, I work on independent game projects, poster designs, and short comics. I love to do improvisations and random designs when I'm working on an idea for a drawing. Besides that I like to use various color compositions and use different digital brushes. I am working with Alex Dukal's Impastoshop brushes a lot these days.
What are you working on?
I have two exhibitions in Istanbul in the near future. The first one is an independent group exhibition based on a concept of Fantastic Turkish movies—Süper Fantastik! For this exhibition, I tried to interpret a Turkish hero, Tarkan, and his struggle with the giant octopus. This also is going to be my very first acrylic work.
The second exhibition is called Villainz. I am interpreting an Anatolian mythological character design called Gulyabani.
Besides that, I'm working on a collaborative project for Star Wars Day (May 4th). I am printing copies of my illustrations on small badges to give away to my friends.
Additionally, I'm preparing to work on an illustration project with my traveller friend Burcu Başar.
Choose a favorite shot of yours. Why is it a favorite?
This work was a breakthrough for me. I was trying to adapt my style of projects for advertisement agencies and I didn't have the courage to create a language and style of my own—until this. My first breakthrough happened to be Autumn Beast and it made a reference point for my new customers too.
Tell us about your setup. What tools did you use to create the shot (e.g. hardware, software, pens, paper, blowtorch)?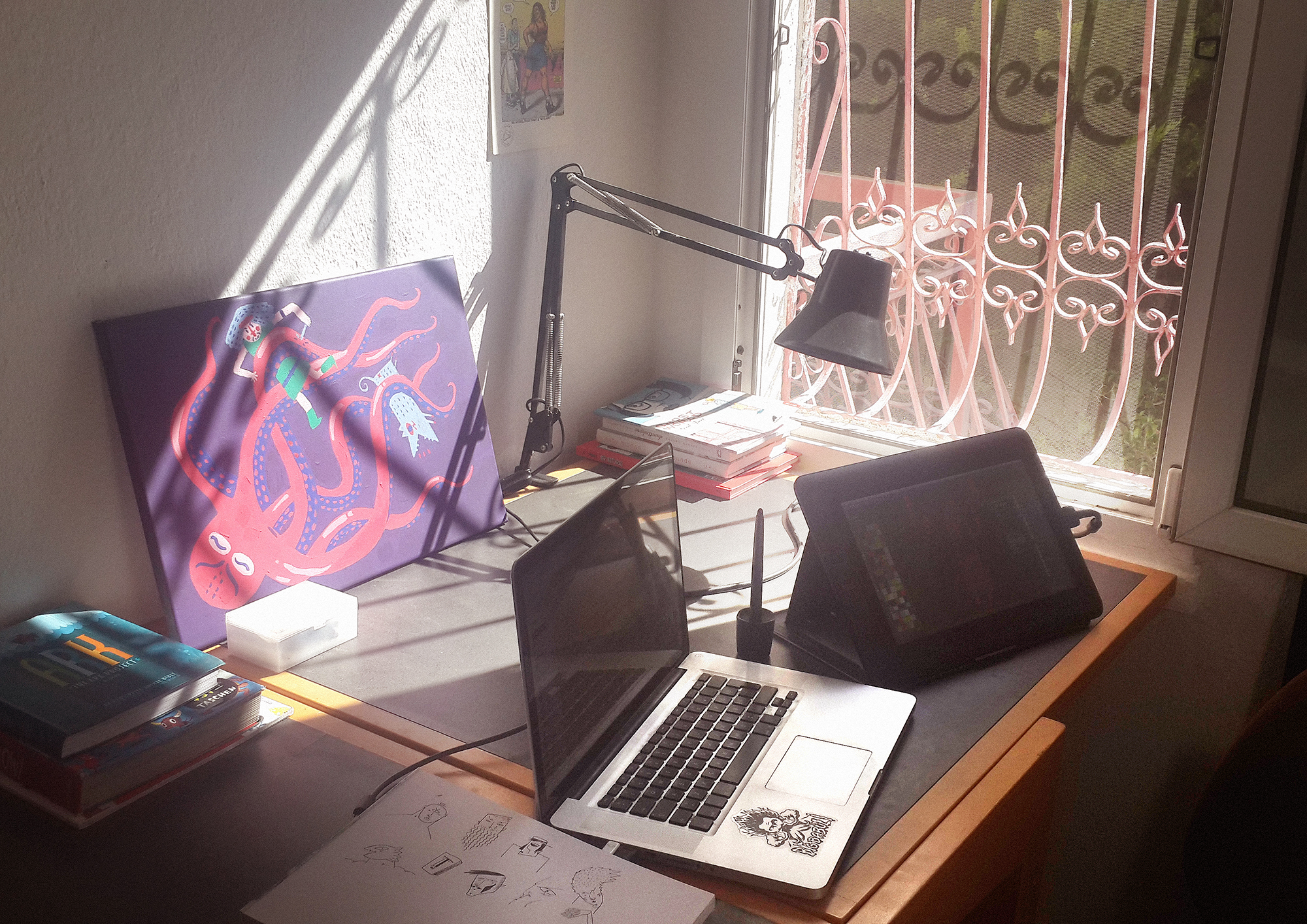 I moved to Gumusluk, Bodrum recently and I am trying to setup a new working environment for myself. I'm trying to enjoy the simpler life after moving from big city chaos.
I usually start my work on paper with pencil, then move the drawing to digital and complete it there. For my digital work I use Adobe Photoshop CC and Wacom Cintiq 13 HD. I also enjoy drawing with Posca markers on different surfaces like stone, wood, and ceramic.
Choose a favorite shot from another Player. Why do you dig it?
It's hard to say only one shot, but this shot of MUTI's has affected my style.
Find Murat on Dribbble, on Twitter, and at muratkalkavan.com.
Find more Interviews stories on our blog Courtside. Have a suggestion? Contact stories@dribbble.com.