Who are you?
I am Sergio Ingravalle. I work as a freelance illustrator and live in a small town in Germany named Bielefeld. During my study in Visual Communication in Düsseldorf, I worked as a fashion graphic designer for various brands. before I began to dig deeper into illustration. Since my childhood, I have enjoyed working with pencils, watercolors and ink. Now, I combine the elements digitally to create portraits, product and sport related illustrations.
What are you working on?
I just finished a series of portrait illustrations for a magazine and website and used some free time these days to work on a new portrait style, which you can find on Dribbble. It's a scribble technique where I try to finish each portrait as fast as possible. I love football/soccer, so it was a lot of fun to draw some of my favorite players like Ibrahimovic and Roberto Baggio.
Choose a favorite shot of yours. Why is it a favorite?
It's this portrait of Johnny Depp. I did it back in 2014 and there might be some details I would like to add or change today. Nevertheless it's still my favorite one because of the process. I always liked to draw people and faces, but I've never been quite satisfied with the outcome. I wanted to create at least one portrait I would be happy with. So I stuck at it for about a week. I erased, deleted, and changed the drawing constantly till it looked right. After that, I was able to create further portraits much easier and this led to some very exciting jobs.
Tell us about your setup. What tools did you use to create the shot (e.g. hardware, software, pens, paper, blowtorch)?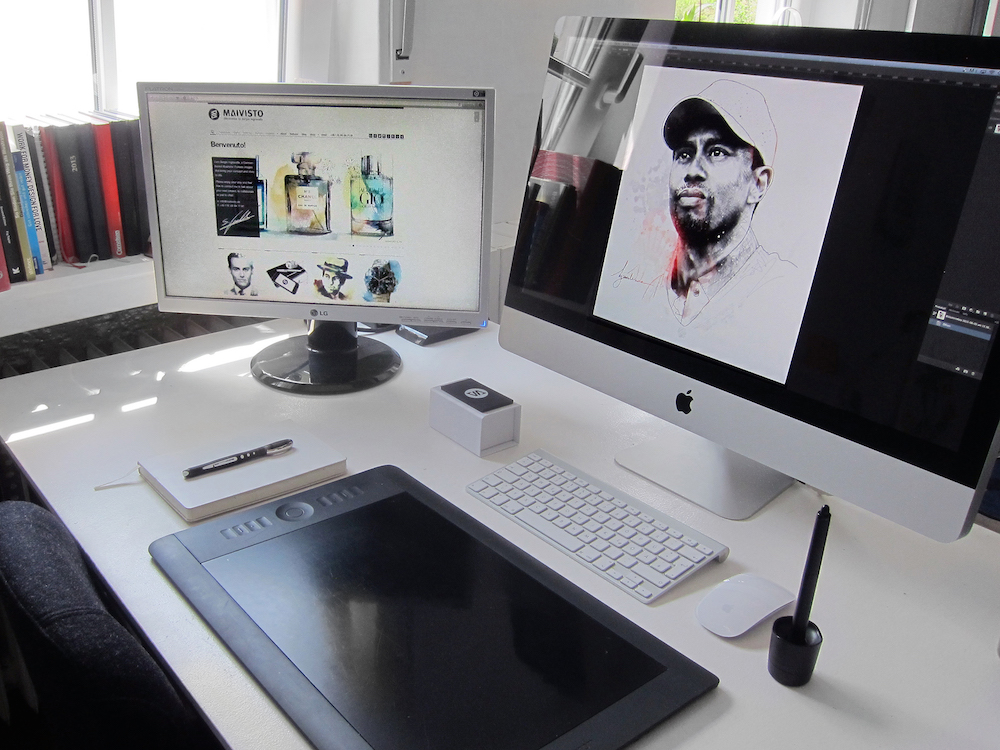 I work on a Mac and a Wacom Intuos 5 tablet (L) as well as with analog materials. Usually I draw with a fine tip. After that I use "Aero Color" ink by Schmincke, Chinese ink and/or Winsor & Newton watercolors, scan some textures and splashes into photoshop and adjust the colors.
Choose a favorite shot from another Player. Why do you dig it?
Usually, it would be so hard to choose one shot from this amount of amazing artists. But the work of Romain Trystram blew me away from the very beginning. Especially his night-time/urban illustrations with the flashy lights and great attention to detail create a fantastic atmosphere. He even inspired me to try some night-time illustrations by myself, even though his work is so different from what I usually do.
Find Sergio on Dribbble, on Twitter, on his Blog, and at www.maivisto.de.
Find more Interviews stories on our blog Courtside. Have a suggestion? Contact stories@dribbble.com.