The bent bottle-caps and slick sticker-backs from the Last Dribbble Meetup of 2014 (Woohoo Dnipropetrovsk!) have been swept away. Before launching into 2015 — are you ready, Miami? — we'll pause to take a look at the Year in Meetups.
2014 Meetup Wrap-up




Thank you, thank you
First off, a huge thank you to our 2014 Global Meetup Sponsor Shopify for supporting all the activity taking place around the world. In particular, thanks to Shopify CPO Harley Finkelstein and Community Development Manager Arati Sharma for your help. Also a big thank you to the bajillion sponsors who got involved with individual meetups.
Thanks as well to the many, many hard-working, creative-thinking organizers for pulling together an impressive array of events, from the Over-the-Top Mega-Bash (San Francisco, London) to the Dribbble Meetup-Conference (Moscow) to the Humble Swill-and-Swag meetup (us!).
Dropping the royal pink "we" for a moment, I — Susanna — want to personally thank every last organizer for being polite, patient, helpful, enthusiastic, and appreciative. Your parents should be proud. I've enjoyed getting to know you all in 2014, and can't wait to work with you again in the new year. If I were a designer, I'd create a lovely shot to say thank you, but all I've got are words so — thanks.
Dribbble + nvite
Online, Meetup.com ended its "Everywhere" program, thereby ending Meetup.com/dribbble, so we moved Meetups on over to dribbble.com/meetups. Still working out the kinks, but it's nice to have you all on our turf. Nvite set up i.nvite.com/dribbble for all our organizers to use (code: dribbblehost) — thank you to Martin Ringlein and Katie Harris for all your efforts on behalf of our users.
Firsts

First Dog: Walter (who came with Anna from Tomboy), DC Dribbble Meetup, November
First Whiteboard Welcome: Cambridge/Boston @ Hubspot, developed by Ben Lodge and drawn by Tyler Blake Littwin, Matt Plays, and Jon Smith
First Cat: Dribbble Meetup Kyvi 2014 @ MacPaw
First Playlist: Dribbble Hangout created by Adriaan de Groot, Amsterdam @ Publitas, November
First Launch Video: Oslo's Dribbbleriet not only created a poster for its second meetup, but made a launch video for the poster.
Trends

Photo Booths, for example … SoCal Dribbbe Meetup @ Envoy, October (left); Chalk, for example … Nashville, September, by Derrick Castle (center); Meetup-Specific Swag, for example … Melbourne @ Redubble, November, designed by Ryan Impey (right)
Best Activities

Best Swag

Because You're Happy
We love all the photos. We can't be at most of the Meetups, so we live vicariously. We not only share them in Replay, we share them internally too. Some of our favorites below.


Meetup Wrap-up
Belfast, Northern Ireland, November 12

Nearly 200 Break Conference-goers gathered at 21 Social in Belfast last month to do the Meetup thing, plus listen to talks from Paddy Donnelly (above left) and Coby Chapple (above right). Thanks to sponsor Get Invited and to Break organizer Christopher Murphy for putting on what looks to be great time.
Edmonton, Alberta, November 18
Early-rising Dribbblers gathered at Startup Edmonton for coffee and a talk from the folks at Paper Leaf. Thanks to Lisa Hagen for organizing.
Dublin, Ireland, November 27

Hap-Hap-Happy Birthday, Dublin Dribbble Meetup! The gang celebrated their first anniversary by bowling and eating cake. Thank you as always to organizer Stephanie Francis. Dublin, keep your eyes on the meetups calendar for another gathering not far into 2015!
Boulder, Colorado, December 4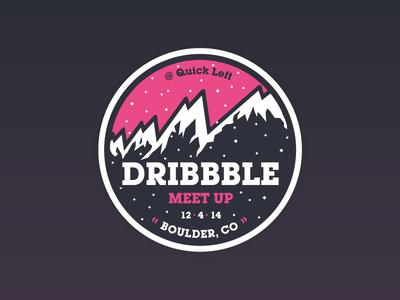 Design-minded people gathered for a Drink and Draw Dribbble Meetup at Quick Left. Thank you to Quick Left UX Design Lead Dave Stadler for organizing what we think was the first Colorado meetup ever. (If we're wrong, correct us by emailing stories@dribbble.com, we'd love to know.)
San Francisco Dribbble Meetup @ Hired, California, December 12

Hired is bookending New Year's with two Dribbble Meetups - one on the West Coast, held earlier this month (shot left, photo center), and one on the East Coast, on January 9 in New York City. Thanks to Shrav Mehta, who not only organized the meetups, but created the shots as well.
Dribbble MCR, Manchester, England, December 16

Hurrah for Dribbble MCR! Organizer Mark Wheeler has made meetups and related playoffs a regular occurence in Manchester, and we are grateful. This month Dribbblers were challenged to create a holiday card. Winners: Emma Jane Owens, Steven Ratcliffe (above left), Christian Shannon and Alex Smith.
Dribbble MCR also used the December gathering to put their nametags to new use. Instead of the usual Name and Dribbble Handle, attendees were asked to fill in Skill You Have and Skill You Want. (See graphic designer/illustrator/developer Kat Loveday's tag, center.) Thank you to all the sponsors: SpacePort, Capsule CRM, Thortful, GatherContent, NeoMam Studios, and Design By Day.
Next up for Dribbble MCR? Design your own iPhone case (top right)!
Meetups
Below, find listings for the next three weeks. Meetups with shots appear first, ordered by date; after, meetups without shots, ordered by date. For a full list of upcoming meetups, visit dribbble.com/meetups.
Thanks, as always, to our Meetup co-sponsor Shopify.
Miami Dribbble Meetup, January 6, Panther Coffee. RSVP.
For more upcoming meetups, visit dribbble.com/meetups.
Have a shot you'd like considered for Replay? Send the link to stories@dribbble.com.
Find more Weekly Replay stories on our blog Courtside. Have a suggestion? Contact stories@dribbble.com.