Freelance
WFH Goals: Get inspired by home offices of 10 freelance designers
Get inspired by ten unique home offices and workspaces of freelance graphic designers from around the world.
November 23, 2021
Browse Freelance Jobs
Art by ✨ Lilla Bardenova ✨
Working from home lately? There's never been a better time to spruce up your workspace so it's a more enjoyable space to spend your time in. You can get some quality home office inspiration looking at the workspaces of freelance creatives. After all, freelance creatives have plenty of experience designing a workspace that's comfortable, functional, and conducive to productivity—and creative too!
Keep scrolling to get inspired by the vibrant and eclectic workspaces of freelance graphic designers and illustrators around the world.
1. Miguel Camacho — Andalusia, Spain
"From my desk, I can see birds building their nests, storks feeding their babies on top of a tower, and a stunning blue sky as a background. I don't need anything more to be inspired. I feel lucky." — Miguel Camacho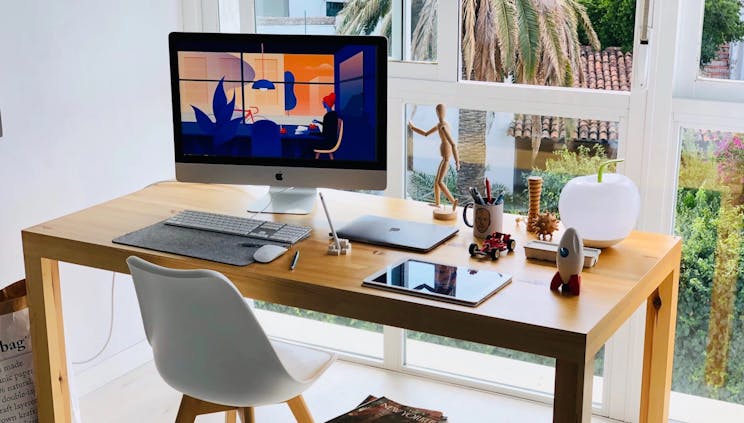 2. Cami Dobrin — Lisbon, Portugal
"I like working from home because it's a quiet space where I can concentrate. I think a peaceful space to work in and my graphic tablet are the essentials to my productivity." — Cami Dobrin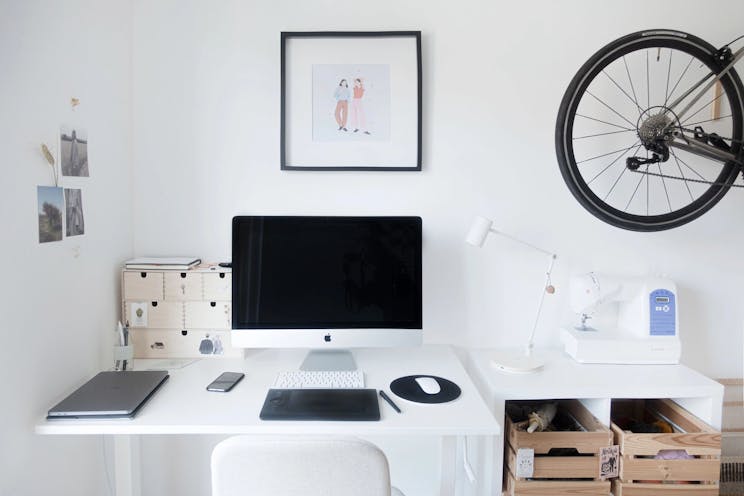 3. Marisol Ortega — Seattle, Washington
"The wall next to my desk is my moodboard. I add or remove things as my mood changes, or if I'm working on something bigger to keep me in the right headspace. I also have my desk set up so I can do things analog (paint, ink, or linocut), with the scanner under my desk and work on the computer." — Marisol Ortega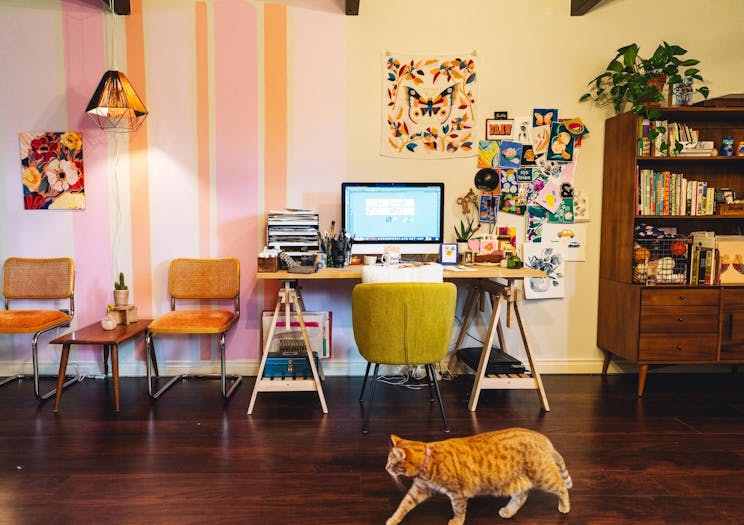 4. Lilla Bardenova — London, United Kingdom
"I live in a small studio so I keep things organized and functional. I've got my drawing materials at hand, and I have a desk that perfectly fits my iPad, laptop, a cup of tea, and my tiny self. It's not about the space or the tools—it's all about good habits and balance." —  Lilla Bardenova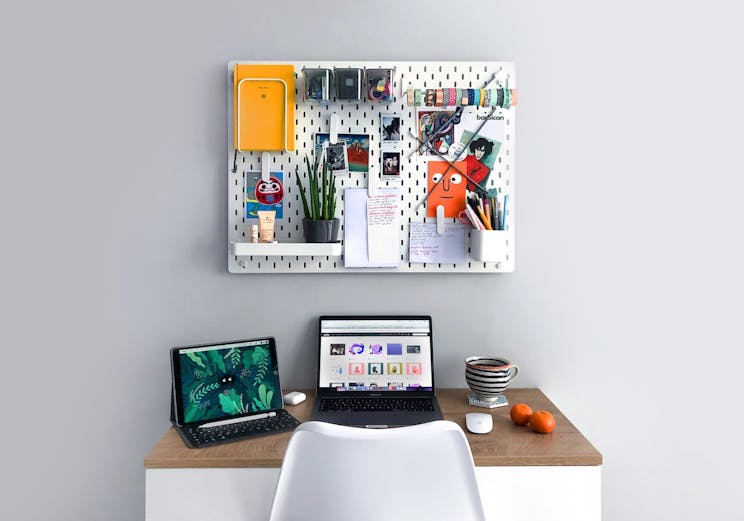 Art by ✨ Lilla Bardenova ✨
5. Scott Fuller — Atlanta, Georgia
"My space isn't big—maybe 10x11 square feet, but I pack a ton of stuff in there! The crazy thing is, there's a story behind each and every piece of junk, stuff, or paraphernalia on my desk. Each piece speaks to a different era of design—of life, really. It's so much fun dissecting the little tricks that each design seems to hide." — Scott Fuller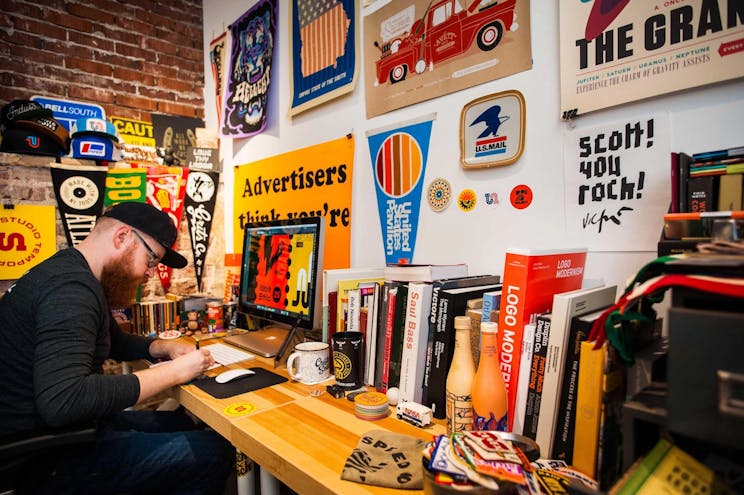 6. Diana Traykov — Sofia, Bulgaria
"I don't need a super zen arrangement of elements to get that creative juice flowing. I really like looking at plants and taking care of them. I started collecting some cool looking vinyls from the Soviet Bloc, which are an easy find in Bulgaria. The one in the picture above has an awesome color combo and typography on it." — Diana Traykov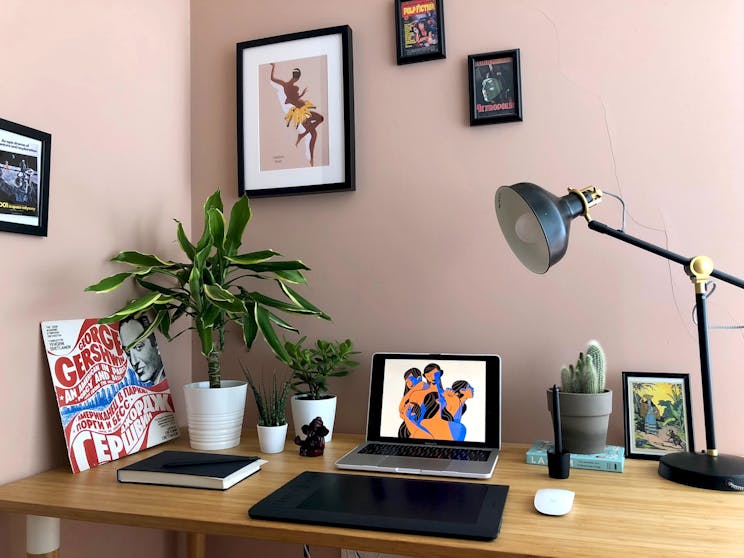 7. Kath Nash — Greenpoint, Brooklyn
"When I work on freelance projects, I work from my home studio in Greenpoint. I love that space so much. It's airy and bright. I keep it full of plants, art, books, and random little things that make me happy, like a Ketnipz Bean plushie." — Kath Nash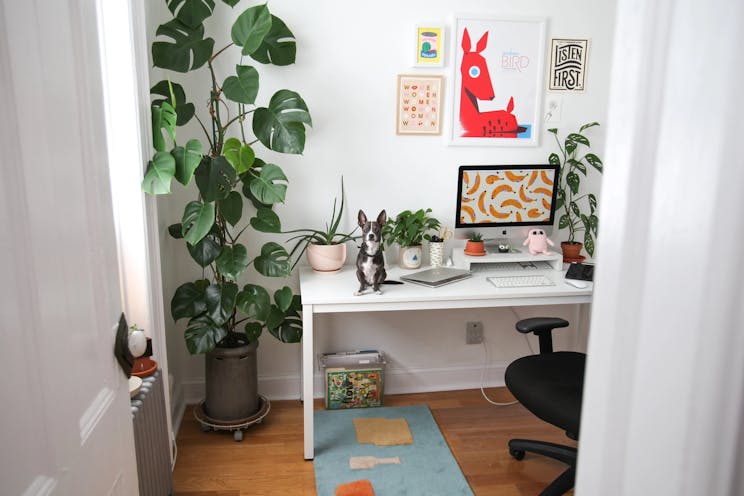 8. Scott Biersack — Phoenix, Arizona
"The home office consists of a little bit of everything I love. Action figures, everything Nintendo related, video games, inspiring artwork from friends, and of course, natural light! Personally, I knew I needed an inspiring yet effective space to get my work done." — Scott Biersack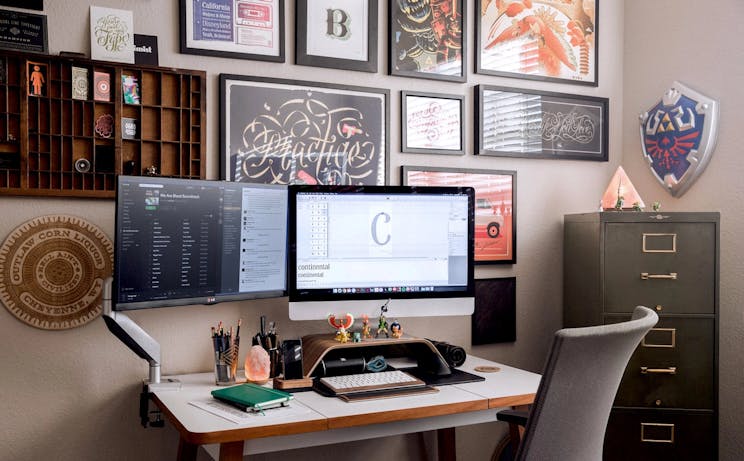 9. Chloe Jackson — Bristol, United Kingdom
"My home studio is a bright and airy space full of artwork, books, and trinkets that I've collected from my travels. I have a lot of plants and love looking after them as it gets me away from my computer. There's also a park close by so I always hear the birds first thing in the morning. It's a nice way to start the day."— Chloe Jackson
10. Radostina Georgieva — Sofia, Bulgaria
"My desk is big enough to fit everything I need: a bunch of paper & pencils, my tablet & laptop, my plants, and even some of my Kinder egg toys. The wall above my desk is filled with work in progress, sketches, and posters. It might seem a bit cluttered at first, but it makes the space feel cozier & helps me get into play mode." — Radostina Georgieva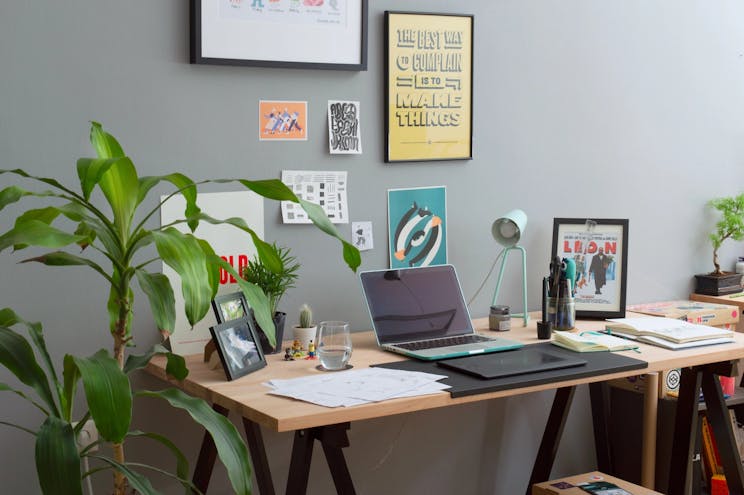 Build your brand & unlock new 
opportunities with Dribbble Pro
Learn more now
The #1 creative community online

Exclusive access to 1000s of leads

Create an instant portfolio in minutes

Promote your goods seamlessly