Graphic Designer and Illustrator Anna Lillian Martinez
Who are you?
I'm a graphic designer and illustrator originally from Barcelona, Spain. I majored in Graphic Design in Barcelona and worked there for a few years before I moved out to the Bay Area. I've been here for almost 5 years now and have worked for a couple large companies including The North Face and Pottery Barn.
I moved to San Francisco because I had been obsessed with the city ever since I can remember, I have no idea why. When I finally moved out here, I knew very little about the city. But exploring and getting to know the area and making new friends was probably the best part of the experience. I think that's why I love traveling in general, because it's experiencing that feeling every single time.
What are you working on?
My main gig is with The North Face, creating prints for men's and women's Sportswear. Back in 2016, a good friend of mine was working there creating prints for the youth team and asked me if I was interested in a job that had recently come up. I ended up working there full time for two years until I negotiated a remote situation because I wanted to have time to focus on other projects.
Recently, I worked on a logo and t-shirt design for a friend who's starting a very ambitious large-scale project called SpotMe. I can't give more details but it'll be interesting to see how his idea develops. You can see the work I did for him on my website.
I'm also starting a small apparel and accessories line with the same good friend who helped me get into The North Face. We're in the early stages of development but we're working hard to bring all the pieces together. The brand is called Dioscvri, which is the name for the Gemini twins. Funny story, we met through friends on Instagram (when I was still living in Barcelona) because we both have pugs. We realized we had a lot of other things in common too: we're both graphic and print designers, born the same year, and we both drive Minis. But the creepiest part? We both have the same tattoo in the same place. I'm too embarrassed to reveal what the tattoo is, but it was also our first tattoo for the both of us. That's why we decided to name our brand after the twins.
So, we're making wood blocks to print ourselves to create a quirky, graphic-heavy line. Working at North Face we both experienced creating print for an apparel heavy company where print and graphics sort of felt like an afterthought. We want to flip the focus and create a very minimal, carefully sourced apparel line with a great textural, hand-made vibe. No website yet. but an Instagram name reserved to post content as soon as it's ready! Keep your eyes on @dioscvri.
Choose a favorite shot of yours. Why is it a favorite?
Because it was 100% inspired by the first time I visited the desert in Phoenix. My mom moved down there in 2015 so I decided to go visit her since I had never seen the desert. I was so amazed at its beauty and how different it was to anything I had ever seen before. The vegetation and animals were inspiring and easy content to work with. I've gone once a year since then and will probably keep going.
I'm always inspired by travel and try to do it as often as I can. Last year was the luckiest travel year I've had. I started with a road trip from Oakland, to Palm Springs, to Joshua Tree, to Salvation Mountain, to Phoenix, to Sedona, to Las Vegas, and back to Oakland. Later that year I went to Houston, New York, several Cuban cities, Taipei, Seoul, Tokyo and several other Japanese cities, and finally to Miami. Some for pleasure, some for work, but I wish every year could be like 2017.
Tell us about your setup. What tools did you use to create the shot (e.g. hardware, software, pens, paper, blowtorch)?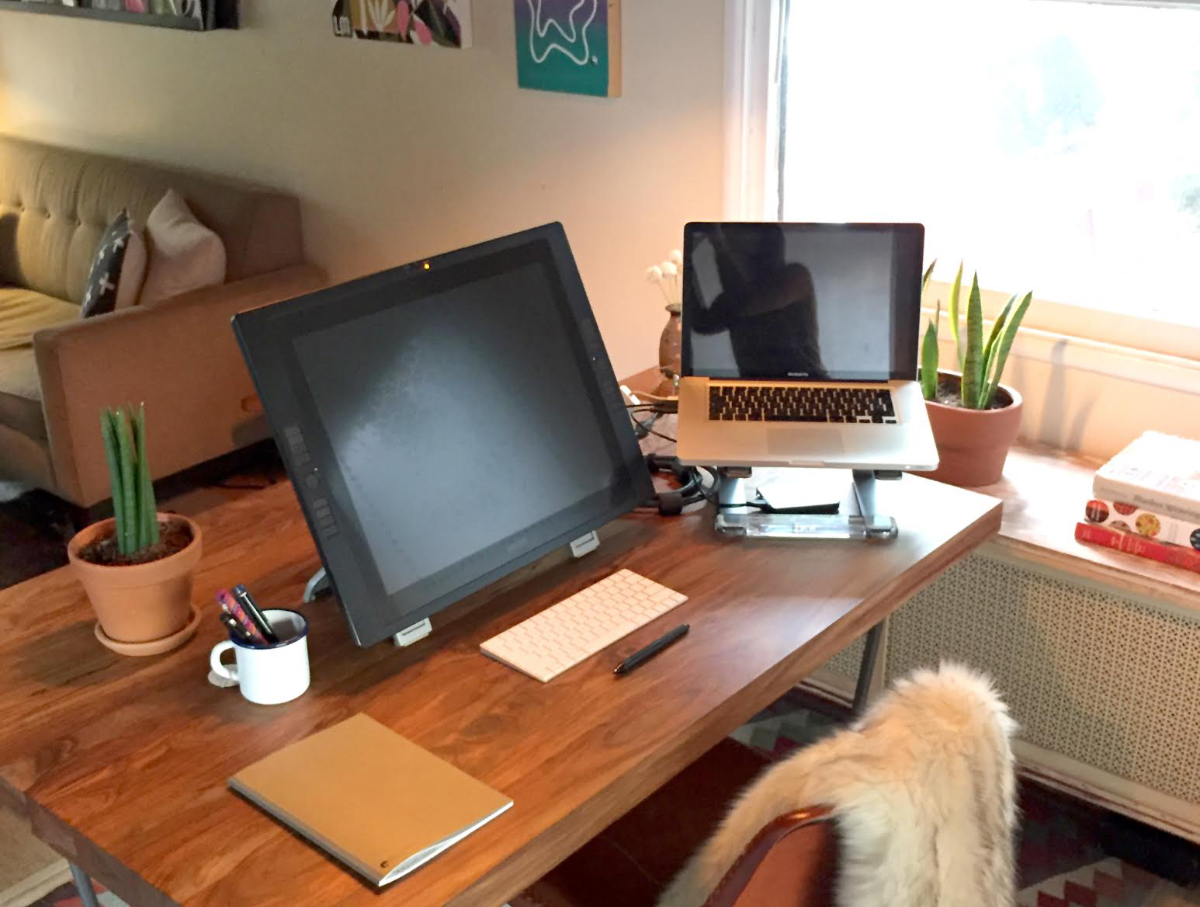 I'm currently working part-time at my home in Alameda, and part-time at a studio in Oakland where I can get dirty block printing. I was going to move my entire setup to Oakland until an old woman drove her car into the front of the building so there is currently no front door. It's an old car parts store/ warehouse that has been refurbished to house different artists. It's a cool spot, I look forward to moving in there permanently.
I work on a Macbook Pro with a Cintiq attached to it so that I can draw digitally. I used to draw everything by hand then scan it but this saves so much time. I was only recently introduced to these. I get stuck in my ways but I finally gave it a chance and loved it.
My schedule is pretty flexible, but I try to keep my corporate projects to a 9-5 so that I can communicate with my coworkers during the workday and then switch focus on to my side gigs for the rest of the day.
Choose a favorite shot from another Player. Why do you dig it?
Her use of color and texture is superb. I haven't been on Dribbble for that long, but I've been noodling around and finding some really great talent. I have not personally interacted with Sharon, but her work is great. Just altogether good taste and use of color. For some reason, I'm really drawn to minimalistic images with good texture. Maybe that's why I'm starting my own brand with exactly those characteristics.
Find Anna on Dribbble, and at anna-martinez.com.
Find more Interviews stories on our blog Courtside. Have a suggestion? Contact stories@dribbble.com.