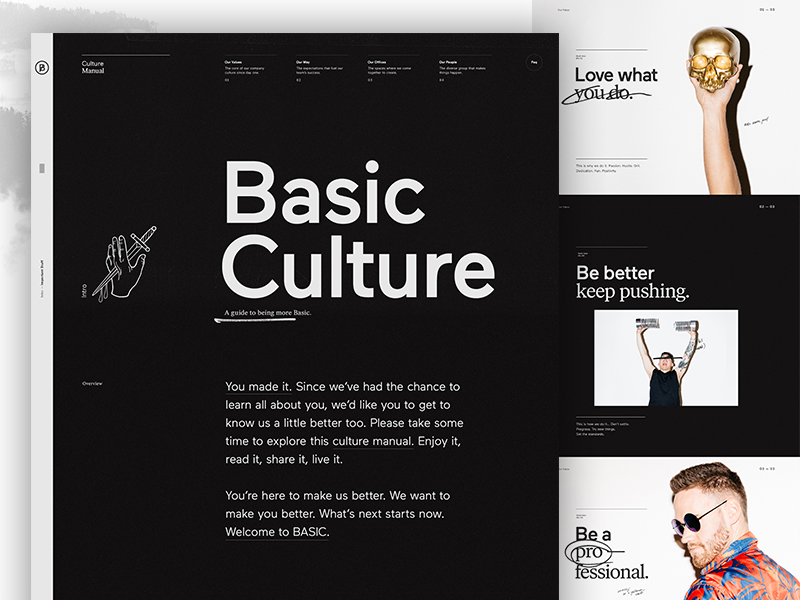 The BASIC design agency has created a phenomenal culture manual outlining their values and how they work. Bold—yet basic—graphics and insanely smooth animation make this a stand-out example for user experience and brand communication. We're blown away by this creative way of conveying team values, which has been on our mind as well. You can check out some other work like this on Dribbble with the team values and employee handbook tags!
Overtime
Dribbble's audio companion. Our official podcast.
In episode 31, we explore how Creative Market's Gerren Lamson got started in design, the value in teaching yourself new skills, the differences in working agency vs. product, and how to transition from making to managing. Dan and Gerren also chat about what Creative Market and Dribbble have in common, community and company culture, and his team's newest product, Creative Market Pro. This episode is brought to you by Wix.
Courtside
Last week's stories from the Dribbble community. To see all of our stories on designers and their work, visit Courtside.
Josh Schielie is a designer and illustrator with some awesome clients and a penchant for sports. Read up on his process and current projects in his Timeout interview.
Three of our own here at Dribbble attended the Winter Work Week, a four-day productive retreat in the heart of Yosemite National Park. Read Dan's personal account of the experience.
Jobs for Designers
What could you be working on? Below are a few of the organizations hiring on Dribbble. Check out Jobs for Designers to see the full list.
Who's New?
Please welcome our latest designers by checking out their debuts last week.
Meetups
The following Dribbble Meetups are happening soon. For the full list of upcoming meetups, visit our Meetups page.
Find more Weekly Replay stories on our blog Courtside. Have a suggestion? Contact stories@dribbble.com.