Timeout: Christian Franklin
Who are you?
Hello! I'm Christian, a graphic designer located in north Texas. Originally I'm from El Salvador, but I spent a large part of my life in the Philippines. Self-taught for the most part, I design anything from advertisements to logos to web banners. Only recently have I decided to jump into focused, part-time, freelance designing. Under the pennant Imminent Designworks, I've spent the last couple years seeking out new branding opportunities— there is something rewarding about designing a new logo mark for a client. 
If I'm not glued to my laptop, I will typically be found tinkering in the garage or on the soccer field playing some competitive indoor soccer. Also, my wife and I welcomed our first child on October 17th. As a new father to my son, Oliver, I've been spending the last couple months thinking of what cool things I want to teach him.
What are you working on?
At the moment, I'm taking some time off during the holidays to revamp my business. I haven't spent much time trying to propagate my social image, so I've decided to learn more about creating a public, virtual face for Imminent Designworks. I'm sure most freelancers know it's not easy to gain recognition or a steady client list, but my hope is to get more exposure and bring more validity to my business.
Choose a favorite shot of yours. Why is it a favorite?
It was extremely hard to pick my one favorite design. I am my own biggest critic and always seem to find something I'd change after a project is completed. That being said, I've chosen the logo I did for a local group of arsenal enthusiasts. I support a bevy of sports teams but this badge was designed for the Fort Worth group of Arsenal fans, (sometimes known as Gunner fans or more comically, Gooners). We typically meet up to watch games at a local pub in Fort Worth. This piece, as simple as it is, had a few different iterations before the group eventually settled on this one!
Tell us about your setup. What tools did you use to create the shot (e.g. hardware, software, pens, paper, blowtorch)?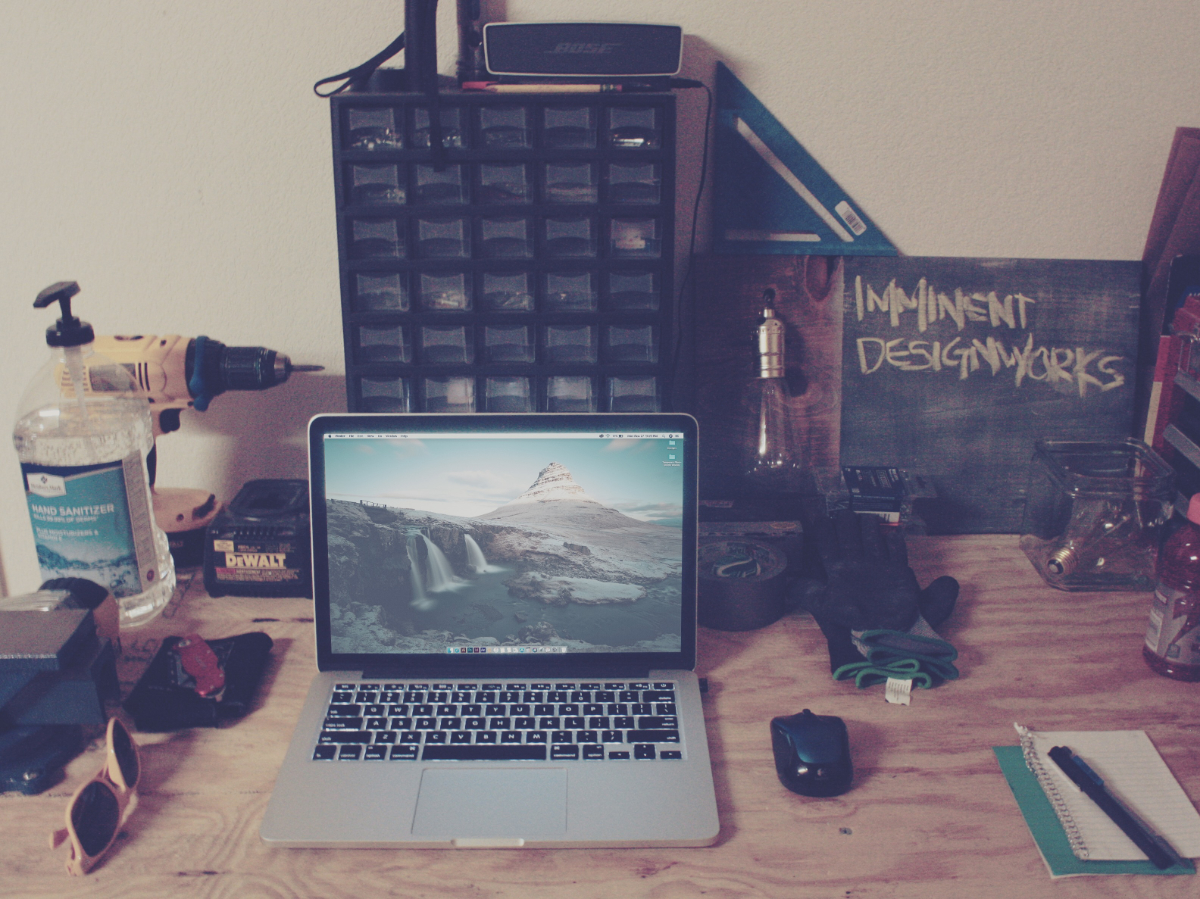 My setup is nowhere near elaborate. Since most of what I do is logo and branding, I trust my 13" MacBook Pro. I will occasionally break out my Wacom Bamboo, but this is a rare occasion. I find inspiration in many places, so having a laptop really allows me to work from wherever, like the garage for instance.
When designing the Arsenal shot, I went straight to the computer as I typically do. I used to be all for the pen-and-paper approach, but nowadays I like to dive headlong into Illustrator. This may be an atypical approach, but it's what I've gotten used to. 
Choose a favorite shot from another Player. Why do you dig it?
I could spend days sifting through all of the work on Dribbble to find a piece that would top the list of inspiring shots, but at the moment my favorite shot is Rat Race by Philip Eggleston. When I saw this shot, I immediately felt a sense of envy and asked myself, why didn't I think of designing that? I think it's brilliant. Philip's color choice, the type treatment, and the content of the design are altogether amazing. I actually reached out to him and asked what it was for and he said it was, and I quote, a "random dumb idea." He is mistaken, beacuse it's awesome!
Find Christian on Dribbble, Twitter, and at imminentdesignworks.com.
Find more Timeout stories on our blog Courtside. Have a suggestion? Contact stories@dribbble.com.