Who are you?
Hi! I'm Barbora Tőgel, a freelance illustrator from Prague, Czech Republic. I got my bachelor's degree in illustration and now I'm finishing my masters in graphic design. I wanted to explore possibilities of where to go with illustration besides just digital and print, so I extended my canvas to tattooing.
What are you working on?
These days, I'm working on a few illustrations for a clock that will be laser-burned into the wood. I'm also working on t-shirt design merch for a screenprinting studio based in Brno. We decided that they're going to pay me in free screen printing, which I'm really excited about. Also in my "free time," I'm working on some custom tattoo designs of my own. People usually just tell me the theme of what they want and I manage the rest. I consider this to be my side job, and I get to do whatever I want to do for it.
Choose a favorite shot of yours. Why is it a favorite?
I made this tattoo design for myself, actually, because I just love Toy Story so much and Sid Philips was kinda my first crush. So, that's sorta my thing.
Tell us about your setup. What tools did you use to create the shot (e.g. hardware, software, pens, paper, blowtorch)?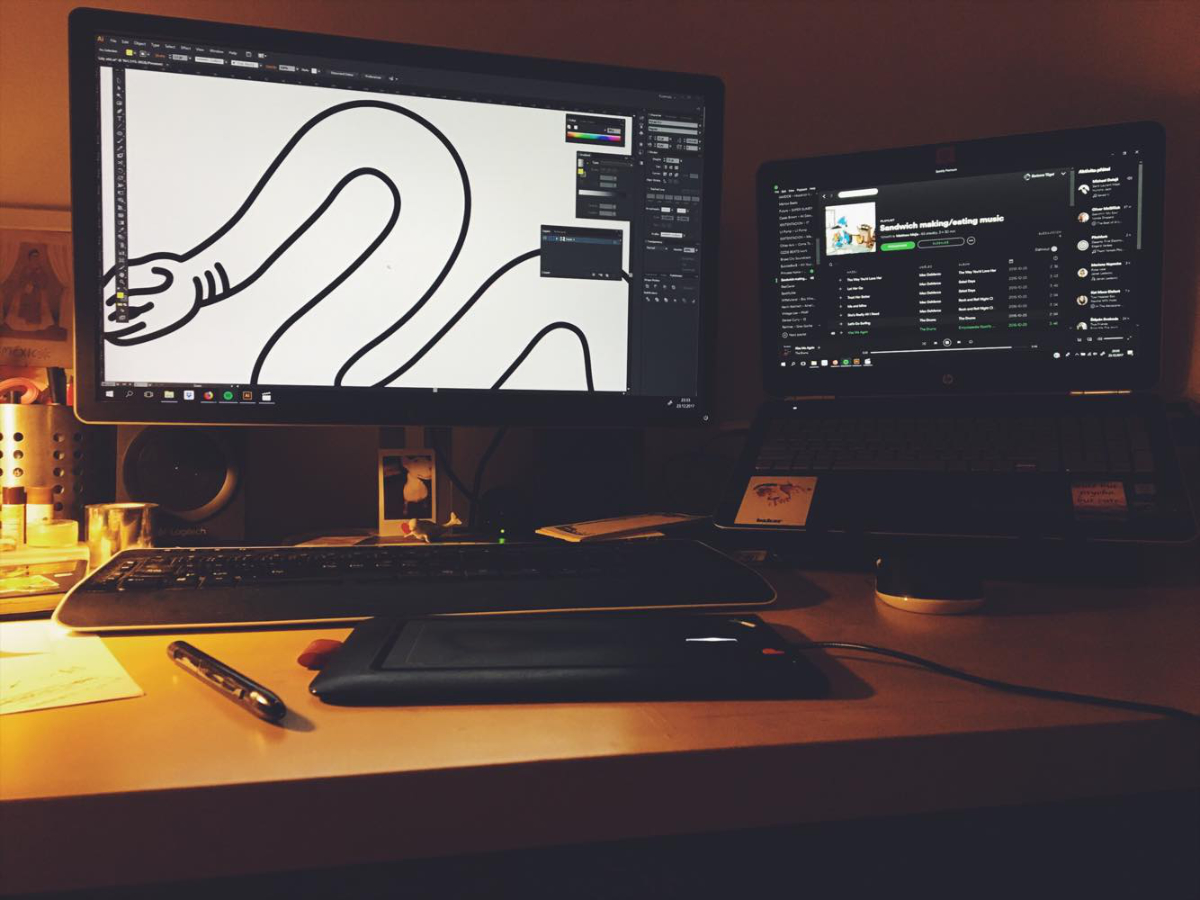 All the magic happens straight in Illustrator. I use the smallest Wacom bamboo tablet, which is perfect for traveling. To be honest I'm not really squeezing the benefits of freelancing as much as I would like to. I work mainly at home, but I take a notebook and tablet with me to school (which is in a different city an hour and a half away by train), to my grandma's cottage, where I spend the most of the summer, or when I'm visiting my mother and I need to finish something. I hope that someday I will be designing tattoos on the top of mountains somewhere in Nepal.
I doodle in my sketchbook only when I´m starting a storyboard. Also, I got my Spotify on twenty-four-seven. Check out my favorite work playlist called Sandwich Making/eating music, the best playlist I've found by accident. I mostly listen to hip-hop and rap, but sometimes I need to switch off and listen to some instrumental music, like the Sims 2 soundtrack or Kraftwerk.
Choose a favorite shot from another Player. Why do you dig it?
I dig all his merch, but this is the best one. Also, I got some Umbro memories associated with childhood. This would be my state emblem and national flag if I were a president in some wicked parallel universe.
Find Barbora on Dribbble, Instagram, and barboratogel.com.
Find more Timeout stories on our blog Courtside. Have a suggestion? Contact stories@dribbble.com.